Super7 ReAction figures bring back the classic look and feel of 1980s action figures with a catalog of the eras most iconic or most obscure pop culture references.
Standing 3.75 inches tall and displayed on classic cardbacks, these action figures are actually labeled as "not for children" and "not a toy". Not that many children would want to play with an Alfred Hitchcock action figure.
The licenses owned by Super7 are incredibly varied and run the gamut from iconic films, classic television shows, and legendary baseball players, to cult 1970s films, obscure television shows, and punk rock bands.
Our checklist includes all of the released in this line of action figures. Due to the mixed nature of this list, we have separated the figures based on overall genre which you can choose below or simply scroll through the entire list. Clicking a link will direct you to an affiliate retailer or to relevant eBay listings.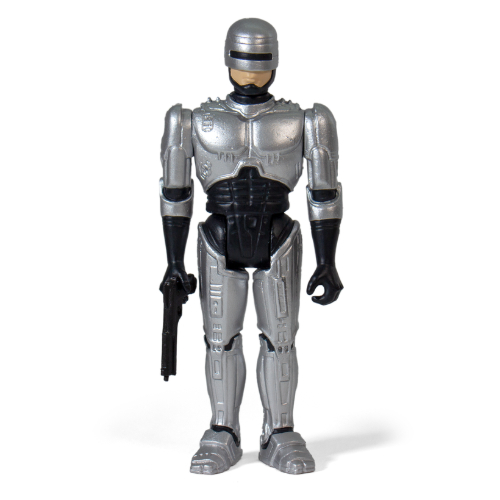 Super7 ReAction Figures Checklist
Select a franchise from this list to view a full checklist of its Super7 ReAction figures.
Monsters
| Character | Variant | Genre | Exclusive |
| --- | --- | --- | --- |
| Creature from the Black Lagoon | | Horror | |
| Metaluna Mutant | | Horror | |
| Mole People | | Horror | |
| Mummy | | Horror | |
| Nosferatu | | Horror | |
| Phantom of the Opera | Masque of the Red Death | Horror | |
| Wolfman | | Horror | |
| Bride of Frankenstein | | Universal Monsters | |
| Bride of Frankenstein | GITD | Universal Monsters | NYCC19 |
| Creature | | Universal Monsters | |
| Creature | GITD | Universal Monsters | NYCC19 |
| Dracula | | Universal Monsters | |
| Dracula | GITD | Universal Monsters | NYCC19 |
| Frankenstein | | Universal Monsters | |
| Frankenstein | GITD | Universal Monsters | NYCC19 |
| Invisible Man | | Universal Monsters | |
| Phantom of the Opera | | Universal Monsters | |
| Batula | | Worst | |
| Cortex Commander | Color 3 | Worst | |
| Frankenghost | | Worst | |
| Red Tiger | | Worst | |
| Shedusa | Human | Worst | |
| Shedusa | Human (Color 3) | Worst | |
| Shedusa | Snake | Worst | |
| Shedusa | Snake (Color 3) | Worst | |
| Werewolf Biker | | Worst | |
Movies
Music
| Character | Variant | Band | Exclusive |
| --- | --- | --- | --- |
| Eliminator | | Agnostic Front | |
| Among the Living | | Anthrax | |
| Flight of Icarus | | Iron Maiden | |
| Killers Eddie | | Iron Maiden | |
| Live After Death | | Iron Maiden | |
| Number of the Beast | | Iron Maiden | |
| Piece of Mind | | Iron Maiden | |
| Powerslave | | Iron Maiden | |
| Somewhere in Time | | Iron Maiden | |
| Stranger in a Strange Land | | Iron Maiden | |
| Trooper | | Iron Maiden | |
| Twilight Zone | | Iron Maiden | |
| Rob Halford | | Judas Priest | |
| King Diamond | | King Diamond | |
| King Diamond | Top Hat | King Diamond | |
| Vic Rattlehead | | Megadeath | |
| Lemmy | | Motorhead | |
| War-Pig | | Motorhead | |
| War-Pig | Black | Motorhead | |
| War-Pig | Bloody | Motorhead | |
| Bark at the Moon | | Ozzy Osbourne | |
| Skeletim | | Rancid | |
| Skeletim | Charged | Rancid | |
| Minotaur | | Slayer | |
| Minotaur | GITD | Slayer | |
| Venom | GITD | Slayer | |
Television
| Character | Variant | Series | Exclusive |
| --- | --- | --- | --- |
| Beavis | Burger World | Beavis and Butt-Head | |
| Beavis | | Beavis and Butt-Head | |
| Beavis | Great Cornholio | Beavis and Butt-Head | |
| Butt-Head | Burger World | Beavis and Butt-Head | |
| Butt-Head | | Beavis and Butt-Head | |
| SDF-1 | | Robotech | |
| VF-1A | | Robotech | |
| VF-1D | | Robotech | |
| VF-1J | | Robotech | |
| VF-1S | | Robotech | |
| Zentraedi Battle Pod | | Robotech | |
| Doublas M2 | | Shogun | |
| Rokuron Q9 | | Shogun | |
| Mr. Krabs | | SpongeBob SquarePants | |
| Patrick | | SpongeBob SquarePants | |
| SpongeBob | | SpongeBob SquarePants | |
| Squidward | | SpongeBob SquarePants | |
| Dr. Killemo | | Toxic Crusaders | |
| Headbanger | | Toxic Crusaders | |
| Junkyard | | Toxic Crusaders | |
| Major Disaster | | Toxic Crusaders | |
| Radiation Ranger | | Toxic Crusaders | |
| Toxie | | Toxic Crusaders | |
Toys/Trading Cards
| Character | Variant | Franchise | Exclusive |
| --- | --- | --- | --- |
| Burning Flesh | | Mars Attacks | |
| Destroying a Dog | | Mars Attacks | |
| The Invasion Begins | | Mars Attacks | |
| Football Monster | | My Pet Monster | |
| Monster | | My Pet Monster | |
| Adam Bomb | | Garbage Pail Kids | |
Video Games
Wrestling