Funko Pop Star Wars figures bring a galaxy's worth of characters to your collection.
This expansive checklist is devoted to every aspect of the Star Wars franchise and is filled with chase figures and retail/convention exclusives. Hundreds of characters from the films, television shows, and video games are represented and this line is one of Funko's most frequently updated checklists.
Many Star Wars characters are also featured in other Funko products including Funko Dorbz and Funko Rides among others.
Most of this line is branded simply as Star Wars but there are several figures with branding specific to a film or television show. Clicking a link on the checklist will direct you to an affiliate retailer or to relevant eBay listings.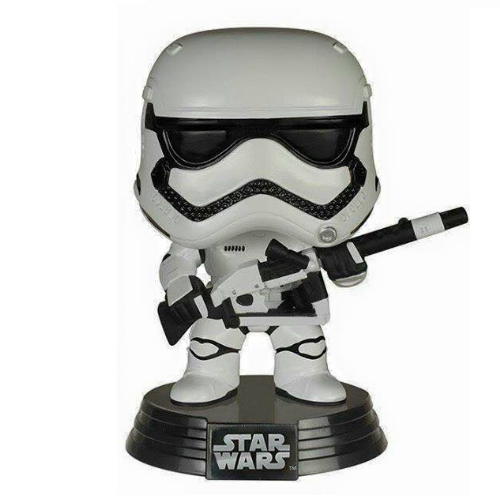 Funko Pop Star Wars Checklist
| # | Character | Variant | LE | Exclusive |
| --- | --- | --- | --- | --- |
| 1 | Darth Vader | | | |
| 1 | Darth Vader | Chrome | | Hot Topic |
| 2 | Yoda | | | |
| 2 | Yoda | GITD | | Walgreens |
| 3 | Han Solo | | | |
| 3 | Han Solo | Vault | | |
| 4 | Princess Leia | | | |
| 5 | Stormtrooper | | | |
| 6 | Chewbacca | | | |
| 6 | Chewbacca | Flocked | | SDCC11 |
| 6 | Chewbacca | Hoth | | GameStop |
| 7 | Greedo | | | |
| 7 | Greedo | Vault | | |
| 8 | Boba Fett | | | |
| 8 | Boba Fett | Prototype | | Walgreens |
| 9 | Darth Maul | | | |
| 9 | Darth Maul | Gold Metallic | | Walmart |
| 10 | Obi Wan Kenobi | | | |
| 10 | Obi Wan Kenobi | Vault | | |
| 11 | Luke Skywalker (Jedi) | | | |
| 11 | Luke Skywalker ( Jedi) | Vault | | |
| 11 | Dagobah Yoda w/ Hut | | | |
| 12 | Gamorrean Guard | | | |
| 12 | Gamorrean Guard | Vault | | |
| 13 | C-3PO | | | |
| 13 | C-3PO | Gold Chrome | | SDCC15 |
| 14 | Shadow Trooper | | | SDCC11 |
| 15 | Han Solo (Stormtrooper) | | | ECCC11 |
| 16 | Luke Skywalker (Stormtrooper) | | | ECCC11 |
| 17 | Luke Skywalker (X Wing Pilot) | | | |
| 18 | Princess Leia (Slave) | | | |
| 18 | Princess Leia (Slave) | Vault | | |
| 19 | Tusken Raider | | | |
| 19 | Tusken Raider | Vault | | |
| 20 | Jawa | | | |
| 20 | Jawa | Vault | | |
| 21 | Clone Trooper | | | |
| 21 | Clone Trooper | Vault | | |
| 22 | Jabba the Hutt | | | |
| 23 | Darth Maul (Holographic) | | | SDCC12 |
| 24 | Biggs Darklighter | | | SDCC12 |
| 25 | 501st Clone Trooper | | | SDCC12 |
| 26 | Wicket | | | |
| 26 | Wicket | Flocked | | Fugitive Toys |
| 27 | Jar Jar Binks | | | |
| 28 | Admiral Ackbar | | | |
| 29 | Queen Amidala | | | |
| 30 | Lando Calrissian | | | |
| 31 | R2-D2 | | | |
| 31 | R2-D2 | Futura | | Target |
| 31 | R2-D2 | | | Target |
| 32 | Boba Fett (Droids) | | 480 | SDCC13 |
| 32 | Boba Fett (Droids) | | | Europe |
| 33 | Holographic Darth Vader | GITD | | Toy Matrix, DCC14 |
| 34 | Luke Skywalker (Hoth) | | | |
| 35 | Bossk | | | |
| 36 | Emperor Palpatine | | | |
| 37 | Hammerhead | | | |
| 38 | Biker Scout | | | |
| 39 | Wampa | | | |
| 39 | Wampa | Flocked | | Hot Topic |
| 40 | Emperor (Holographic) | | | Toy Wars |
| 41 | R2-Q5 | | | SW Celebration |
| 42 | Shock Trooper | | | SW Celebration |
| 43 | Unmasked Vader | | | SW Celebration |
| 44 | R2-R9 | | | SW Celebration |
| 45 | R2-B1 | | | GameStop |
| 46 | E-3PO | | | SW Celebration |
| 47 | Han Solo (Hoth) | | | GameStop |
| 48 | Figrin D'an | | | GameStop |
| 49 | Luke Skywalker (Tatooine) | | | |
| 50 | Princess Leia (Boushh) | | | |
| 51 | TIE Fighter Pilot | | | |
| 51 | TIE Fighter Pilot | Metallic | | NYCC15 |
| 52 | Nalan Cheel | | | |
| 53 | Bib Fortuna | | | |
| 54 | Princess Leia (Boushh Unmasked) | | | |
| 55 | K-3PO | | | |
| 56 | Stormtrooper | | | Walgreens |
| 57 | Imperial Guard | | | Walgreens |
| 58 | Rey | | | |
| 59 | Finn | | | |
| 60 | Kylo Ren | | | |
| 61 | BB-8 | | | |
| 62 | Poe Dameron | | | |
| 63 | Chewbacca | | | |
| 63 | Chewbacca | Flocked | | Smuggler's Bounty |
| 63 | Chewbacca | Blue Chrome | | SW Celebration 2019 |
| 63 | Chewbacca | Gold Chrome | | Galactic Convention 2019 |
| 63 | Chewbacca | Gold Metallic | | Walmart |
| 64 | C-3PO | | | |
| 64 | C-3PO | Metallic | | Barnes and Noble |
| 64 | C-3PO | Futura | | Target |
| 65 | Captain Phasma | | | |
| 66 | First Order Stormtrooper | | | |
| 67 | First Order Stormtrooper | | | |
| 68 | First Order Flametrooper | | | |
| 69 | Snaggletooth (Blue) | | | Smuggler's Bounty |
| 70 | Snaggletooth (Red) | | | Smuggler's Bounty |
| 71 | Legends: Shadow Guard | | | Walgreens |
| 72 | Poe Dameron | | | Walmart |
| 73 | Rey w/ Goggles | | | Hot Topic |
| 74 | First Order Stormtrooper | Fir | | Amazon |
| 75 | First Order Storm Trooper | w/ Riot Shield | | Walgreens |
| 76 | Finn (Stormtrooper) | | | GameStop |
| 77 | Kylo Ren (No Hood) | | | Target |
| 78 | R2-L3 | | | |
| 79 | Han Solo | | | |
| 80 | Princess Leia | | | |
| 81 | Admiral Ackbar | | | |
| 82 | Nien Nunb | | | |
| 83 | Sidon Ithano | | | |
| 84 | Varmik | | | |
| 85 | Finn / Lightsaber | | | Barnes and Noble |
| 86 | Han Solo (Snow Gear) | | | Loot Crate |
| 87 | Kylo Ren (Unmasked) | | | Walmart |
| 88 | Nien Nunb (Helmeted) | | | GameStop |
| 89 | TIE Fighter Pilot | | | Smuggler's Bounty |
| 90 | TIE Fighter Pilot (Red Stripe) | | | Smuggler's Bounty |
| 90 | Luke Skywalker (Ceremonial) | | | |
| 91 | Captain Phasma | Chrome | | Smuggler's Bounty |
| 91 | Han Solo (Ceremonial) | | | |
| 92 | AT-AT Driver | | | Walgreens |
| 93 | Luke Skywalker (Bespin) | | | |
| 93 | Luke Skywalker | Gold Metallic | | Walmart |
| 94 | Luke Skywalker (Bespin) | | | |
| 95 | Ree Yees | | | Walgreens |
| 96 | Kit Fisto | | | Walgreens |
| 97 | Plo Koon | | | Walgreens |
| 98 | Senate Guard (Blue) | | | |
| 99 | Ben Kenobi | | | Smuggler's Bounty |
| 100 | FN-2187 (Blood) | | | Target |
| 101 | 4-LOM | | | |
| 102 | Bobba Fett | Action Pose | | Smuggler's Bounty |
| 103 | IG-88 | | | Smuggler's Bounty |
| 104 | Rey w/ lightsaber | | | |
| 105 | Kylo Ren (Unmasked) | | | |
| 106 | Luke Skywalker | | | |
| 107 | General Leia | | | |
| 108 | Maz Kanata | | | |
| 109 | General Hux | | | |
| 110 | Snap Wexley | | | |
| 111 | FN-2199 | | | |
| 112 | Guavian | | | |
| 113 | ME-809 | | | |
| 114 | Rey | | | Walgreens |
| 114 | Rey | Gold Metallic | | Walmart |
| 115 | Han Solo w/ Bowcaster | | | SDCC16, GameStop |
| 116 | BB-8 (Thumbs Up) | | | SDCC16, Hot Topic |
| 117 | Poe Dameron | | | Hot Topic |
| 118 | Maz Kanata (Goggles Up) | | | Target |
| 119 | Rey w/ X-Wing Helmet | | | GameStop |
| 120 | Poe Dameron (Orange Suit) | | | FYE |
| 121 | R2-D2 | | | Smuggler's Bounty |
| 122 | Zuckuss | | | Toy Wars |
| 123 | Luke Skywalker (Endor) | | | |
| 124 | Yoda | | | |
| 124 | Yoda | Blue Chrome | | SW Celebration 2019 |
| 124 | Yoda | Gold Chrome | | Galactic Convention 2019 |
| 124 | Yoda | Green Chrome | | SDCC19 |
| 124 | Yoda | Gold Metallic | | Walmart |
| 125 | Princess Leia | Hoth | | SW Celebration 2017 |
| 126 | Luke Skywalker | Hooded Jedi | | SW Celebration 2017 |
| 127 | Garindan (Empire Spy) | | | Galactic Convention 2017 |
| 128 | Qui Gon Jinn | | 2000 | NYCC16 |
| 129 | General Grievous | | | Walgreens |
| 130 | Ahsoka Tano | | | Hot Topic |
| 131 | Sabine (Masked) | | | Walgreens |
| 132 | Kanan Jarrus | | | |
| 133 | Chopper | | | |
| 134 | Ezra Bridger | | | |
| 135 | Sabine | | | |
| 136 | Hera | | | |
| 137 | Zeb | | | |
| 138 | Jyn Erso | | | |
| 139 | Captain Cassian Andor | | | |
| 140 | Chirrut Imwe | | | |
| 141 | Baze Malbus | | | |
| 142 | Director Orson Krennic | | | |
| 143 | Darth Vader | | | |
| 144 | Imperial Death Trooper | | | |
| 145 | Scarif Stormtrooper | | | |
| 146 | K-2S0 | | | |
| 147 | C2-B5 | | | |
| 148 | Jyn Erso | | | Smuggler's Bounty |
| 149 | Imperial Death Trooper | | | Smuggler's Bounty |
| 150 | Jyn Erso (Hooded) | | | Hot Topic |
| 151 | Captain Cassian Andor | | | Target |
| 152 | Jyn Erson (Imperial Disguise) | | | Target |
| 153 | Saw Gererre | | | Walmart |
| 154 | Imperial Death Trooper | Chrome | | Walmart |
| 155 | Bistan | | | NYCC16 |
| 156 | Scarif Stormtrooper Striped | | | Walgreens |
| 157 | Darth Vader (Force Choke) | | | GameStop |
| 157 | Darth Vader | Black Chrome | | Smuggler's Bounty |
| 157 | Darth Vader | Blue Chrome | 2500 | SW Celebration 2019 |
| 157 | Darth Vader | Gold Chrome | | Galactic Convention 2019 |
| 157 | Darth Vader | Red Chrome | | Target |
| 157 | Darth Vader | Gold Metallic | | Walmart |
| 157 | Darth Vader | Futura | | NYCC19, Target |
| 158 | Darth Vader (Bespin) | | | Smuggler's Bounty |
| 159 | Grand Moff Tarkin | | | Smuggler's Bounty |
| 160 | Max Rebo | | | Specialty Series |
| 161 | Rey w/ Finn's Jacket | | | Target |
| 162 | Young Anakin Skywalker | | | Target |
| 164 | Captain Rex | | | Smuggler's Bounty |
| 165 | Darth Maul | | | Smuggler's Bounty |
| 166 | Inquisitor | | | Walmart |
| 167 | Seventh Sister | | | Walmart |
| 168 | Fifth Brother | | | Walmart |
| 169 | Han Solo | Action Pose | | SW Celebration 20017, Hot Topic |
| 170 | Grand Admiral Thrawn | | | SW Celebration 2017 |
| 171 | 442nd Clone Trooper | | | SW Celebration 2017 |
| 172 | Mace Windu | | | Walgreens |
| 173 | Muftak | | | ECCC17 |
| 174 | Rey w/ Speeder | | | SW Celebration 2017 |
| 175 | Luke Skywalker w/ Speeder | | | Smuggler's Bounty |
| 176 | Darth Vader in Tie Fghter | | | Target |
| 176 | Clone Commander Cody | | | Walgreens |
| 177 | Saw Gerrera | | LE | NYCC17 |
| 178 | Jyn Erso | | LE | NYCC17 |
| 179 | K-2S0 | | LE | NYCC17 |
| 180 | R5-D4 | | | Smuggler's Bounty |
| 181 | C-3PO (Unfinished) | | | Smuggler's Bounty |
| 182 | Supreme Leader Snoke 6″ | GITD | | SDCC17 |
| 183 | Bodhi | | | SDCC17 |
| 184 | Combat Assault Tank Trooper | | | SDCC17 |
| 185 | Jyn Erso (Young) | | | |
| 186 | Galen Erso | | | |
| 187 | Weeteef Cyubee | | | |
| 188 | Death Star Droid (White) | | LE | NYCC17 |
| 189 | Death Star Droid | | | |
| 190 | Rey | | | |
| 191 | Finn | | | |
| 192 | Poe Dameron | | | |
| 193 | Luke Skywalker | | | |
| 194 | Kylo Ren | | | |
| 194 | Kylo Ren | Gold Metallic | | Walmart |
| 194 | Holographic Kylo Ren | | | Target Online |
| 195 | Chewbacca | | | |
| 195 | Chewbacca | Flocked | | FYE |
| 196 | BB-8 | | | |
| 197 | Rose | | | |
| 198 | Porg | | | |
| 198 | Porg | Open Mouth | Chase | |
| 198 | Porg | Flocked | | Hot Topic |
| 198 | Porg | Open Mouth/Flocked | Chase | Hot Topic |
| 198 | Porg | Wings Spread | | Target |
| 198 | Porg | 10″ | | Target |
| 199 | Supreme Leader Snoke | | | |
| 200 | Praetorian Guard | | | |
| 201 | First Order Executioner | | | |
| 202 | BB-9E | | | |
| 202 | BB-9E | | | BoxLunch |
| 203 | Kylo Ren | Masked | | Toys R Us |
| 205 | Rose | | | Specialty Series |
| 207 | DJ | | | GameStop |
| 208 | Praetorian Guard 2 | | | Walgreens |
| 209 | Praetorian Guard 3 | | | Walgreens |
| 210 | Resistance BB Unit | Orange | | Target |
| 211 | Resistance BB Unit | | | Walmart |
| 212 | Medical Droid | | | Walgreens |
| 213 | Boba Fett w/ Slave 1 | | LE | NYCC17 |
| 214 | Obi-Wan Kenobi | | | Smuggler's Bounty |
| 215 | Kylo Ren w/ TIE Fighter | | | |
| 217 | Aayla Secura | | | Smuggler's Bounty |
| 218 | Princess Leia | | | Walmart |
| 219 | Wedge Antilles | | | Walgreens |
| 220 | BB-8 (Giants) | | | San Francisco Giants |
| 221 | TIE Pilot w/ TIE Fighter Vehicle | | | |
| 222 | Escape Pod Landing | | | Walmart |
| 222 | Duel on Mustafar | | | Smuggler's Bounty |
| 223 | Cantina Faceoff | | | Walmart |
| 224 | Trash Compactor Escape | | | Walmart |
| 225 | Death Star Duel | | | Walmart |
| 226 | Cloud City Duel | | | Walgreens |
| 227 | Poe Dameron w/X-Wing | | | Smuggler's Bounty |
| 228 | Leia on Speeder Bike | | | |
| 229 | Luke Skywalker on Speeder Bike | | Chase | |
| 230 | Dengar | | LE | NYCC17 |
| 231 | Anakin Skywalker (Young) | | | Walgreens |
| 232 | Luke Skywalker w/ X-Wing | | | Walmart |
| 233 | Count Dooku | | | Smuggler's Bounty |
| 234 | Scout Trooper w/ Speeder Bike | | | Smuggler's Bounty |
| 235 | Vice Admiral Holdo | | | |
| 236 | Chewbacca w/ AT-St | | | |
| 237 | Padme Amidala | | LE | ECCC18 |
| 238 | Han Solo | | | |
| 239 | Chewbacca | | | |
| 239 | Chewbacca | Flocked | | BoxLunch |
| 240 | Lando Calrissian | | | |
| 241 | Qi'ra | | | |
| 242 | Tobias Beckett | | | |
| 243 | Val | | | |
| 244 | Rio Durant | | | |
| 245 | L3-37 | | | |
| 246 | Range Trooper | | | |
| 247 | Enfy's Nest | | | |
| 248 | Han Solo | | | Target |
| 248 | Mudtrooper | | LE | Funko Shop |
| 250 | Tobias Beckett | | | Walmart |
| 251 | Lando Calrissian | | | Hot Topic |
| 252 | Stormtrooper | | | SDCC18, Amazon |
| 253 | Dryden Voss | | | FYE |
| 254 | Dryden Gangster | | | Target |
| 255 | Han Solo | | | Walgreens |
| 256 | Vulptex | | | |
| 257 | Rematch on the Supremacy | | | |
| 258 | Ewok w/ Speeder Bike | | | Funko Shop |
| 260 | C'ai Threnalli | | | |
| 261 | Porg | | | |
| 262 | Cad Bane | | | SDCC18 |
| 263 | Caretaker | | | |
| 264 | Clash on the Supremacy (Rey) | | | |
| 265 | Clash on the Supremacy (Kylo) | | | |
| 266 | Luke Skywalker | | | |
| 267 | Paige | | | |
| 268 | Ahsoka | | | |
| 269 | Yoda | | | |
| 270 | Obi Wan enobi | | | |
| 271 | Anakin Skywalker | | | |
| 272 | Ahsoka | | | Hot Topic |
| 273 | Obi-Wan Kenobi | | | Walgreens |
| 274 | Captain Rex | | | Hot Topic |
| 275 | R2-D2 | | | |
| 276 | C-3PO | | | |
| 277 | Yoda | | | |
| 278 | Chewbacca | | | |
| 279 | Darth Vader | | | |
| 279 | Darth Vader | GITD | Chase | |
| 280 | Boba Gets His Bounty | | | Smuggler's Bounty |
| 281 | Anakin Skywalker (Dark Side) | | | Walgreens |
| 282 | Lando Calrissian | Skiff Guard Disguise | | Smuggler's Bounty |
| 283 | Klaatu (Skiff Guard) | | | Smuggler's Bounty |
| 284 | Dagobah Face-Off | | | Smuggler's Bounty |
| 285 | Jango Fett | Gold Metallic | | Walmart |
| 286 | Han Solo | | | |
| 287 | Princess Leia | Ewok Village | | |
| 287 | Princess Leia | Gold Metallic | | Walmart |
| 288 | Darth Vader | | | |
| 288 | Darth Vader (Electrocuted) | GITD | | Target |
| 289 | Emperor Palpatine (Electric Charge) | | | |
| 290 | Wicket W. Warrick | | | |
| 291 | Lando Calrissian | | | |
| 292 | Baby Nippet | | | Target |
| 292 | Baby Nippet | Flocked | | Target |
| 293 | Wicket W. Warrick | 10″ | | Target |
| 294 | Encounter on Endor | | | |
| 295 | Princess Leia | Blue Chrome | | SW Celebration 2019 |
| 295 | Princess Leia | Gold Chrome | | Galactic Convention 2019 |
| 296 | Stormtrooper | Blue Chrome | | SW Celebration 2019 |
| 296 | Stormtrooper | Gold Chrome | | Galactic Convention 2019 |
| 296 | Stormtrooper | Futura | | Target |
| 297 | Boba Fett | Blue Chrome | 2500 | SW Celebration 2019 |
| 297 | Boba Fett | Gold Chrome | | Galactic Convention 2019 |
| 297 | Boba Fett | Green Chrome | | SDCC19, Amazon |
| 297 | Boba Fett | Futura | | Target |
| 297 | Boba Fett 10″ | Futura Black | | Target |
| 297 | Boba Fett 10″ | Futura Red | | Target |
| 297 | Boba Fett | Black | LE | ECCC20, Target |
| 297 | Boba Fett | Red | | WonderCon20, Target |
| 298 | Watto | | | SW Celebration 2019 |
| 299 | Darth Maul | | | SW Celebration 2019 |
| 300 | Chewbacca | | | Smuggler's Bounty |
| 301 | DJ R3X | | | Disneyland |
| 302 | Hondo Ohnaka | | | Disney Parks |
| 303 | Aurra Sing | | | Smuggler's Bounty |
| 304 | Sebulba | | | Smuggler's Bounty |
| 305 | Boba Fett | Animated | | GameStop Insider Club |
| 306 | Sith Trooper | | | SDCC19 Debut |
| 306 | Sith Trooper | | | |
| 307 | Rey | | | |
| 308 | Kylo Ren Supreme Leader | | | |
| 308 | Kylo Ren Supreme Leader | GITD | | Target |
| 308 | Kylo Ren Supreme Leader | Lights & Sound | | |
| 309 | Finn | | | |
| 310 | Poe Dameron | | | |
| 311 | Zorii Bliss | | | |
| 312 | D-0 | | | |
| 313 | Lando Calrissian | | | |
| 314 | BB-8 | | | |
| 315 | Jannah | | | |
| 316 | Rose | | | |
| 317 | First Order Jet Trooper | | | |
| 318 | Sith Jet Trooper | | | |
| 319 | Lieutenant Connix | | | |
| 320 | First Order Tread Speeder | | | |
| 321 | Kylo Ren in the TIE Whisper | | | |
| 321 | Han Solo in the Millennium Falcon | 13″ | | Amazon |
| 322 | Sandtrooper | | | NYCC19, Target |
| 324 | Kylo Ren Supreme Leader | Hooded | | Smuggler's Bounty |
| 325 | Knight of Ren (Long Axe) | | | Smuggler's Bounty |
| 325 | Knight of Ren (Long Axe) | Hematite Chrome | | |
| 326 | The Mandalorian | | | |
| 327 | Cara Dune | | | |
| 328 | IG-11 | | | |
| 329 | Kuiil | | | |
| 330 | Manalorian | w/ Pistol | LE | NYCC19, Funko Shop |
| 331 | Knight of Ren (Blaster Rifle) | | | GameStop |
| 331 | Knight of Ren (Blaster Rifle) | Hematite Chrome | | |
| 332 | Knight of Ren (War Club) | | | Hot Topic |
| 332 | Knight of Ren (War Club) | Hematite Chrome | | |
| 333 | Knight of Ren (Scythe) | | LE | Funko Shop |
| 333 | Knight of Ren (Scythe) | Hematite Chrome | | |
| 334 | Knight of Ren (Cannon Arm) | | | Walmart |
| 334 | Knight of Ren (Cannon Arm) | Hematite Chrome | | |
| 335 | Knight of Ren (Heavy Blade) | | | FYE |
| 335 | Knight of Ren (Heavy Blade) | Hematite Chrome | | |
| 336 | D-0 | 10″ | | Target |
| 337 | Cal Kestis & BD-1 | | | |
| 338 | Second Sister Inquisitor | | | |
| 339 | Purge Trooper | | | GameStop |
| 340 | Babu Frik | | | Smuggler's Bounty |
| 341 | C-3PO w/ Bowcaster | | | Smuggler's Bounty |
| 342 | Jawa | Futura | | Target |
| 343 | Darth Vader | Light & Sound | | |
| 344 | Kylo Ren Supreme Leader | 10″ GITD | | |
| 345 | The Mandalorian | | | |
| 345 | The Mandalorian | Gun to the Side | | |
| 345 | The Mandalorian | Beskar Chrome | | Amazon |
| 346 | The Client | | | |
| 347 | Greef Karga | | | |
| 348 | Heavy Infantry Mandalorian | | | |
| 349 | Q9-0 | | | |
| 350 | Incinerator Stormtrooper | | | |
| 351 | Offworld Jawa | | | |
| 352 | Convert Mandalorian | | | |
| 353 | The Armorer | | | |
| 354 | Death Watch Mandalorian (Two Stripes) | | | GameStop |
| 355 | The Mandalorian Flame Throwing | | | Target |
| 355 | The Mandalorian Flame Throwing | Metallic | | Target |
| 356 | Cara Dune | w/ Heavy Blaster | | FYE |
| 357 | Trandoshan Thug | | | Walgreens |
| 358 | The Mandalorian on Blurrg | | | |
| 359 | Dark Side Rey | | | |
| 360 | C-3PO | | | |
| 360 | C-3PO | Gold Metallic | | |
| 361 | Death Watch Mandalorian (No Stripes) | | | GameStop |
| 362 | Princess Leia | | | |
| 363 | Luke Skywalker & Yoda | | | |
| 364 | Han Solo (Carbonite) | | | |
| 365 | Darth Vader in Meditation Chamber | | | |
| 366 | Luke Skywalker w/ Tauntaun | | | |
| 367 | Boba Fett | 10″ | | Target |
| 368 | The Child | | | |
| 369 | The Child | 10″ | | |
| 371 | Jawa | | | |
| 372 | Wampa (Battle at Echo Base) | Deluxe | 1 of 6 | Amazon |
| 373 | Han Solo w/ Tauntaun (Battle at Echo Base) | Deluxe | 2 of 6 | Amazon |
| 374 | Chewbacca (Battle at Echo Base) | Deluxe, Flocked | 3 of 6 | Amazon |
| 378 | The Child w/ Cup | | | |
| 379 | The Child w/ Frog | | | |
| 380 | Moff Gideon | | | |
| 383 | Sith Jet Trooper | | | SDCC20, Amazon |
| 385 | The Child Force Wielding | | | Walmart |
| 390 | The Mandalorian w/ The Child | Television Moments | | |
| 393 | Yoda (Hooded) | | | GameStop |
| 394 | Shadow Stormtrooper | | | GameStop |
| 395 | Darth Malak | | | GameStop |
| 396 | Darth Revan | | | GameStop |
| 425 | Yoda (Concept Series) | | | |
| Combo Pack | D-O & BB-8 | | | BAM! |
| Combo Pack | Holographic Princess Leia & R2-D2 | | | SDCC17 |
| Combo Pack | Hoth Luke Skywalker & Wampa | | | SDCC14 |
| Combo Pack | Sandtrooper & Dewback | | | Walmart |
| Combo Pack | Jabba, Slave Leia, Salacious B. Crumb | | | Walmart |
| Combo Pack | Rancor, Luke Skywalker, Slave Oola | | | PX Previews |
| Combo Pack | Rogue One 8 -Pack | | 3000 | Disney Store UK |
| Combo Pack | Tarfful, Unhooded Emperor & Utapau Clone Trooper | | | Walmart |
| Combo Pack | Greedo, Hammerhead & Walrus Man | | | Walmart |
| Combo Pack | Teebo, Chirpa & Logray | | | Walmart |
| Combo Pack | Lobot, Ugnaught & Bespin Guard | | | Walmart |
| Combo Pack | Han Solo & Chewbacca | | | Smuggler's Bounty |
| Combo Pack | Fighting Droids | | | GameStop |
| Combo Pack | BB-8 & BB-9E | | | Best Buy |
| Combo Pack | Praetorian Guards | | | Popcultcha |
| Combo Pack | Rey, Chewbacca & BB-8 | | | Costco |
| Combo Pack | Rey, Luke Skywalker, Chewbacca, BB-8 | | | Costco |
| Combo Pack | Rey, Luke Skywalker, Chewbacca, BB-8 | GITD | | Costco |
| Combo Pack | Kylo Ren, Supreme Leader Snoke, BB-9E | | | Costco |
| Combo Pack | Kylo Ren, Supreme Leader, Snoke, BB-9E | | | Costco |
| Combo Pack | Kylo Ren, Supreme Leader Snoke, BB-9E | GITD | | Costco |
| Combo Pack | Kylo Ren Supreme Leader & Rey | | | Barnes and Noble |
| Combo Pack | The Mandalorian & IG-11 | | | Barnes and Noble |
| Combo Pack | Han Solo & Princess Leia | | | |