I love baseball cards, and I'm always searching for the perfect card. Today's candidate is from the 1987 Donruss "The Rookies" set. These were small sets issues by Donruss each year after the season to celebrate players who qualified as rookies in the year just completed.
For these sets, Donruss always used a similar design to that of the base set from that year. In the case of 1987, they maintained a border with a section of baseballs contained between stripes but made the main border color green instead of black. The resulting color scheme goes quite nicely with the Oakland A's warmup jerseys from the day. There's no better example than Terry Steinbach's card, #26, from that set: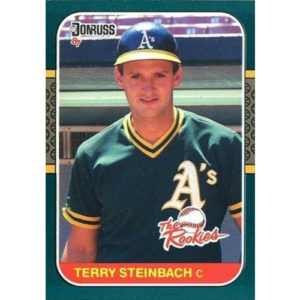 As you can see, the result is bliss–amazing color and design unity across the card. Steinbach's helmet and uniform are near-perfect matches from a color perspective, and the yellow brim of his helmet lines up nicely with the yellow stripes on the card. The double-banded yellow stripes around his neck and sleeves also nicely mirror two double-banded yellow stripes on the border of the card.
The card itself wasn't even all that interesting. Steinbach actually had a rookie card in the base 1987 set. If you were a collector at the time, this card is likely more memorable.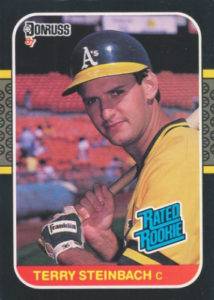 This is Steinbach's true rookie card for Donruss and was of much more interest to collectors when he won the Rookie of the Year award. Still, if you ask me, his update card from The Rookies set is the clear winner.
---