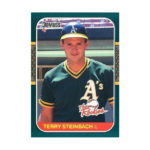 Today's candidate for the perfect baseball card is number 26, Terry Steinbach, from the 1987 Donruss The Rookies collection.
1987 Donruss The Rookies baseball cards were a hobby store exclusive, 56 card set commemorating the rookie class of that year.
1964 Donruss Addams Family cards immortalize one of the 60s most iconic television sitcoms: The Munsters. No, that's not right.