Let's not beat around the bush here. This article is about a cool stat. Let's get to the cool stat.
Mike Moustakas, recent All-Star selection and stat-head botherer, has struck out 56 times this season. Nothing especially remarkable about that. His strikeout percentage of 17% ranks 110th out of 166 qualified batters this season. It's the same strikeout rate as Alex Bregman, Jason Kipnis and Freddy Galvis.
What is remarkable is the manner in which those strikeouts have come. That's because Moustakas has struck out swinging 56 times this season, which you may notice is the same number of strikeouts as his season total.
In other words, Mike Moustakas has yet to strike out looking this season. He's taken 90 pitches on a two strike count this season, and every one has been called a ball.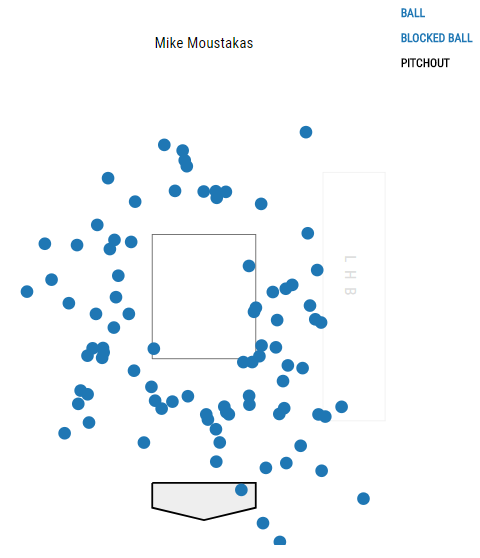 For comparison, here are the pitches taken on a two strike count by the league leader in strikeouts looking, Chris Davis.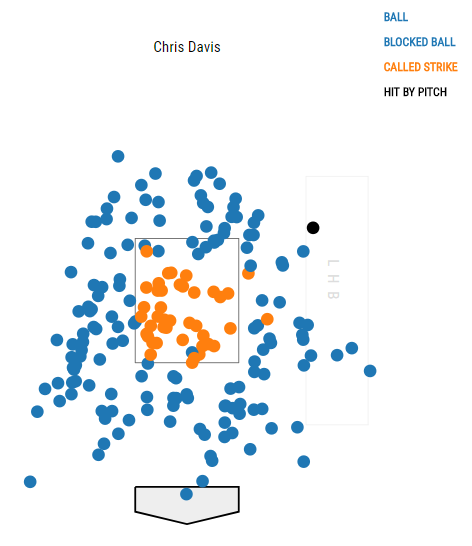 As you can see from the first chart, Moustakas hasn't exactly been making things difficult for umpires. Moustakas has almost entirely refrained from taking pitches that look like a strike or bear a family resemblance to one. Despite only seeing the 65th most two strike counts in the majors this year, Moustakas has the fifth most swings on two strike counts and the second most swings on two strike pitches outside the zone.
On borderline two-strike pitches, Moustakas is almost guaranteed to swing. The third baseman has seen 128 borderline pitches in a two strike count (using Baseball-Savant's detailed strike zone map) and he's swung at 120 of them. Moustakas' 93.8% swing rate at these pitches is the highest of the 385 players who have seen at least 50 such pitches this season.
This isn't new behavior for Moustakas. Across his career he has one of the highest ratios of swinging strikeouts to strikeouts looking in the game. Among actives with 250 career strikeouts, only Eddie Rosario, Jonathan Schoop, Corey Dickerson and Nolan Arenado have a higher percentage of their strikeouts coming from swinging Ks. Moustakas' figure of 89.9% puts him in the top ten among those with 250 Ks since 1988 (when pitch data started being tracked).
Nor is it unfamiliar for the Kansas City Royals as a group. The Royals have the fewest strikeouts looking in the majors this season, and with just 18.5% of their strikeouts coming via a called strike they have the lowest percentage of strikeouts looking in MLB. This would be the fourth year in a row the Royals have ranked 30th in MLB in both of those stats. It's as clear a organizational philosophy as you can find in the majors.
The 'swing at everything' strategy isn't necessarily paying off for Moustakas. His OPS in two strike counts is .557, which is comparable to his career average in that split of .554, but looks less impressive in the context of his career high overall OPS this season.
Of more interest to the trivia aficionados out there is the following question: is Moustakas' swinging strikeout streak a record? To which the answer is: "depends which record".
Moustakas current streak of 59 swinging strikeouts without one looking (which dates back to last season) has certainly been bettered. Delmon Young struck out 58 times swinging to close out the 2008 season, but then added a further 15 to start 2009, giving him 73 consecutive strikeouts that ended with him going down swinging. Young, like Moustakas a top-two overall draft pick who struggled to live up to the hype, then bettered that streak in 2012 by striking out 78 times swinging in between strikeouts looking.
Utility man Alberto González's first strikeout of 2010 was of the looking variety. He then reeled off 87 swinging strikeouts without any looking across four seasons, a streak that spanned five different clubs and that only ended when González ran out of teams that would give him a major league job.
As far as this researcher can tell, however, our record holder is no-glove, only-slightly-better-bat infielder Jorge Cantú. The final 61 strikeouts of Cantú's 2010 season ended with a swing. Cantú followed that up with 28 strikeouts in the 2011 season – his last – all of which were swinging. That gave him a total of 89 swinging strikeouts without one looking.
González and Cantú's streaks coming at the end of their careers might suggest a certain pressing, an attempt at sustaining a career through big hits rather than ho-hum, unsexy plate discipline. MLB hosts a Home Run Derby, not a Joey Votto Memorial Walk Derby after all.
Moustakas is in with a shout of breaking Cantú's record then. He could also set the record for most Ks in a season with zero looking. The aforementioned González holds that "crown" currently, with 37 swinging strikeouts in 2011 without any looking. If Moustakas' season ended today, he'd have that record in the bag.
If Moustakas wants to claim a record already then I believe he can. As far as this author could tell, Moustakas' 56 swinging Ks are a record to start a season since 1988. No player has struck out so often to start a year without taking at least one called strike three.
So there's your stat. Was it cool? Maybe. Perhaps it's just the breeze from Moustakas' bat.
All data comes from the invaluable Baseball-Reference and Baseball Savant websites. Featured image 2017 Topps Series 1 #63
---