Funko Sonic the Hedgehog figures have been around since nearly the beginning, first appearing as numbers 6, 7, and 8 on the Funko Games line of figures.
This checklist is sorted by franchise as well as Funko line so, for example, figures that appear in the Games collection will be separated by Sonic the Hedgehog 1 and Sonic the Hedgehog 2.
You can scroll through the entire list or jump to a preferred collectible by selecting it from the key below. Clicking a link within the checklist may direct you to an affiliate retailer or to relevant eBay listings.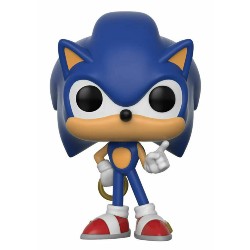 Funko Sonic the Hedgehog Checklist
Funko Pop Games Checklist
Master List – Funko Pop Games
Sonic the Hedgehog
| # | Character | Variant | LE | Exclusive |
| --- | --- | --- | --- | --- |
| 6 | Sonic | | | |
| 7 | Tails | | | |
| 8 | Knuckles | | | |
| 283 | Sonic with Ring | | | |
| 283 | Sonic with Ring | Metallic | | GameStop |
| 283 | Sonic with Ring | GITD | | Toys R Us |
| 284 | Sonic with Emerald | | | |
| 285 | Shadow | | | |
| 285 | Super Shadow | | 1500 | E318 |
| 286 | Dr. Eggman | | | |
| 287 | Super Sonic | | | GameStop |
| 288 | Shadow w/ Chao | | | Hot Topic |
| 632 | Classic Sonic | | | |
| 632 | Classic Sonic | Flocked | LE | Funko Shop |
| 633 | Silver | | | |
| 633 | Silver | GITD | | Hot Topic |
| 641 | Tails | | LE | Target Con 2021 |
| Combo | Super Tails and Super Silver | | | |
Funko Pop Game Covers Checklist
Master List – Funko Pop Game Covers
Sonic the Hedgehog 2
| # | Character | Variant | LE | Exclusive |
| --- | --- | --- | --- | --- |
| 1 | Sonic | | | |