Major League Baseball's Statcast tracking technology has been collecting a treasure trove of data to help us understand and appreciate different dimensions of the game. The latest tool for fans to fool around with? Sprint Speed.
Any MLB player with at least 10 "maximum effort runs" as a baserunner in a season is included on Baseball Savant's leaderboards (using feet per second as the unit of measurement). Here are some initial findings you might enjoy.
1. Kyle Schwarber is the slowest player under 25
The Chicago Cubs developed Schwarber as a catcher and he still has the stocky physique we're accustomed to seeing at that position. Plus, this is the slugger's first season coming off reconstructive knee surgery. That might partially explain why his sprint speed has dipped from 26.9 ft/sec in his 2015 debut to 26.0 ft/sec this year. So next time you see Schwarber make an impressive-looking running catch, keep in mind that it would likely be a routine play for your team's left fielder. Of course, it might be awhile until he generates any more Statcast data at the major league level—the Cubs demoted him to their Triple-A affiliate earlier this month. Schwarber's bat was severely underperforming at the plate (.171/.295/.278 in 261 PA), and metrics like sprint speed emphasize his struggle to impact the game in other ways.
2. J.T. Realmuto is lapping all other catchers
Realmuto is in many ways the anti-Schwarber. He starred as a shortstop in high school, but immediately moved behind the plate once turning pro. A lack of power is one of the few weaknesses in his game. While average sprint speed for a catcher in 2017 is a Schwarber-like 25.9 ft/sec, Realmuto clocks in at an astounding 28.7 ft/sec. No other qualifier comes close, and those who rank second and third—Willson Contreras and Austin Barnes, respectively—have been frequently utilized in other defensive roles. He's a freak, so enjoy his athleticism while it lasts. The 26-year-old admits to MLB.com's Mike Petriello that the punishment he takes when catching will cause him to "slow down over time."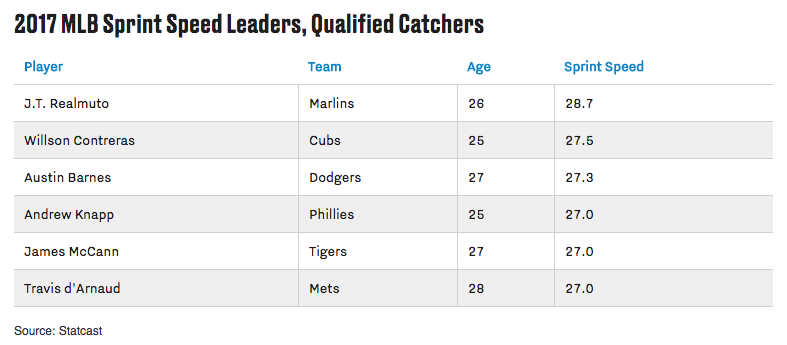 3. Adrian Beltre and Josh Donaldson are still feeling the effects of early injuries
Both guys have critical roles on ordinary teams that desperately need to perform well in the coming weeks to salvage their seasons. No chance that Beltre or Donaldson would ask out of the lineup, even if they're still recovering from previous calf strains. Statcast suggests that those injuries are forcing them to operate at far less than 100 percent. Beltre, in particular, is battling through one of MLB's largest season-to-season sprinting slumps, plummeting from 26.1 ft/sec in 2016 to 24.7 ft/sec in 2017 (slowest among qualified third basemen). It's been a similar story for Donaldson, who is down from a solid 27.1 ft/sec to a concerning 26.0 ft/sec. Moving forward, I imagine MLB teams themselves might begin looking for trends like this to potentially detect lower-body injuries that haven't been diagnosed.
4. Not your older brother's New York Yankees
In their efforts to remain relevant each season, the Yankees have spent most of this millennium prioritizing decorated veteran players. They would use either trade or free agency to address roster holes, resulting in a clubhouse that was consistently very old…and very slow. Their 2015 and 2016 squads included five qualifiers apiece who averaged less than 26.0 ft/sec on their sprints. However, after changing their tune last summer and infusing the lineup with prospects in their physical primes, Chase Headley (25.8 ft/sec) is New York's only current player who falls below that threshold. There aren't many opportunities to watch these athletes reach full acceleration on the basepaths, considering the Yankees rank third in the majors with 121 home runs (#FirstPlaceProblems).
5. Eight of the 13 fastest sprinters are African-American
Billy Hamilton is the lone qualifier who tops 30.0 ft/sec, followed closely by Byron Buxton. These two led the sport in 2016, too, but in reverse order. The declining presence of African-American players in MLB has been well-documented—they represented just 7.73 percent of major leaguers at the start of this season. Transcendent athletes can attract tons of new fans and frankly, improve the product for those of us who are already hooked. This particular minority group contributes more than their fair share of electrifying highlights. Now, we have a new way to quantify that talent.
Featured image: Billy Hamilton 2016 Topps NOW 210
---