2016 Topps Now Baseball cards highlight the biggest moments of the game in real time.
Each card is released to commemorate a feat from the previous day and is available for sale for 24 hours. Final print runs are determined by consumer demand.
This series began mid-season as the inaugural NOW product. Subsequent seasons include a much larger checklist. For a statistical rundown of this set, please visit our 2016 Rundown.
Our checklist includes all of the cards in this collection. Clicking a link within the checklist will direct you to an affiliate retailer or to relevant eBay listings for that card.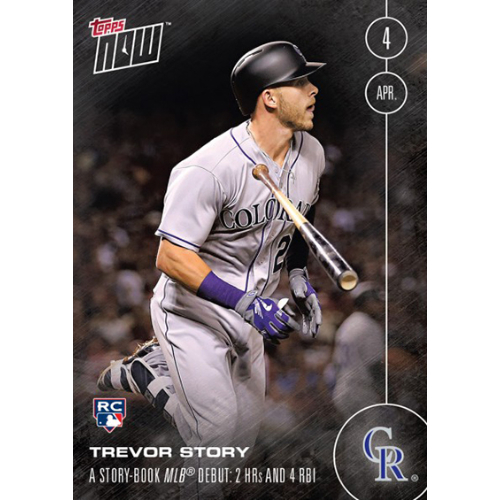 2016 Topps Now Baseball Checklist
Base Set – 665 Cards
All Star Game (AS) – 2 Cards
Chicago Cubs Team Set (CHC) – 15 Cards
Texas Rangers Team Set (TEX) – 15 Cards
Los Angeles Dodgers Team Set (LAD) – 15 Cards
Washington Nationals Team Set (NAT) – 15 Cards
Off-Season (OS) – 45 Cards
Cleveland Indians Team Set (CLE) – 15 Cards
Boston Red Sox Team Set (BOS) – 15 Cards
San Francisco Giants Team Set (SF) – 15 Cards
New York Mets Team Set (NYM) – 15 Cards
Baltimore Orioles Team Set (BAL) – 15 Cards
Toronto Blue Jays Team Set (TOR) – 15 Cards
| # | Player | RC | Variant | Print Run |
| --- | --- | --- | --- | --- |
| 8 | Albert Pujols | | | 244 |
| 38 | Albert Pujols | | | 527 |
| 106 | Mike Trout | | | 1245 |
| 114 | C.J. Cron | | | 273 |
| 144 | Matt Shoemaker | | | 216 |
| 182 | Albert Pujols | | | 413 |
| 204 | C.J. Cron | | | 298 |
| 227 | Mike Trout | | | 718 |
| 255 | Matt Shoemaker | | | 196 |
| 260 | Albert Pujols | | | 324 |
| 267 | Albert Pujols | | | 261 |
| 293 | Los Angeles Angels | | | 362 |
| 314 | Albert Pujols | | | 270 |
| 321 | Mike Trout | | | 679 |
| 328 | Mike Trout | | | 761 |
| 383 | Albert Pujols | | | 523 |
| 390 | Albert Pujols | | | 670 |
| 409 | Mike Trout | | | 755 |
| 415 | Ricky Nolasco | | | 278 |
| 419 | Kole Calhoun | | | 476 |
| 419 | Albert Pujols | | | 476 |
| 419 | Mike Trout | | | 476 |
| 420 | Albert Pujols | | | 656 |
| 459 | Mike Trout | | | 410 |
| 469 | Albert Pujols | | | 316 |
| 495 | Los Angeles Angels | | | 256 |
| AS2 | Mike Trout | | | 1898 |
| OS-31 | Mike Trout | | | 1488 |
| OS-31A | Mike Trout | | Black Auto | 99 |
| OS-31B | Mike Trout | | Blue Auto | 49 |
| OS-31C | Mike Trout | | Purple Auto | 25 |
| OS-31D | Mike Trout | | Red Auto | 10 |
| OS-31E | Mike Trout | | Gold Auto | 1 |
| OS-TBA | Mike Trout | | Purple Auto | 25 |
| OS-TBB | Mike Trout | | Red Auto | 10 |
| OS-TBC | Mike Trout | | Gold Auto | 1 |
| # | Player | RC | Variant | Print Run |
| --- | --- | --- | --- | --- |
| 11 | Tyler White | RC | | 1350 |
| 66 | Marwin Gonzalez | | | 253 |
| 79 | Evan Gattis | | | 212 |
| 84 | George Springer | | | 450 |
| 96 | Carlos Correa | | | 536 |
| 101 | Houston Astros | | | 357 |
| 109 | Carlos Correa | | | 452 |
| 118 | George Springer | | | 320 |
| 126 | Carlos Correa | | | 381 |
| 170 | Erik Kratz | | | 552 |
| 172 | Carlos Correa | | | 315 |
| 177 | George Springer | | | 298 |
| 214 | Jose Altuve | | | 326 |
| 232 | Luis Valbuena | | | 236 |
| 251 | Carlos Correa | | | 246 |
| 287 | Alex Bregman | | | 2310 |
| 306 | Carlos Correa | | | 269 |
| 307 | Joe Musgrove | | | 558 |
| 319 | Dallas Keuchel | | | 234 |
| 364 | Jose Altuve | | | 546 |
| 366 | Alex Bregman | | | 923 |
| 381 | Yulieski Gurriel | | | 777 |
| 397 | Carlos Correa | | | 261 |
| 474 | Carlos Correa | | | 442 |
| 485 | Jose Altuve | | | 358 |
| OS-21 | Alex Bregman | RC | | 665 |
| # | Player | RC | Variant | Print Run |
| --- | --- | --- | --- | --- |
| 38 | Reggie Jackson | | | 527 |
| 77 | Danny Valencia | | | 414 |
| 81 | Khris Davis | | | 569 |
| 253 | Ryon Healy | | | 323 |
| 276 | Coco Crisp | | | 251 |
| 280 | Ryon Healy | | | 295 |
| 374 | Kendall Graveman | | | 226 |
| 424 | Khris Davis | | | 188 |
| # | Player | RC | Variant | Print Run |
| --- | --- | --- | --- | --- |
| 49 | Justin Smoak | | | 252 |
| 141 | Edwin Encarnacion | | | 207 |
| 159 | Michael Saunders | | | 280 |
| 323 | Devon Travis | | | 323 |
| 363 | Toronto Blue Jays | | | 239 |
| 401 | Josh Donaldson | | | 524 |
| 502 | Edwin Encarnacion | | | 253 |
| 533 | Toronto Blue Jays | | | 315 |
| 537 | Jose Bautista | | | 255 |
| 538 | Edwin Encarnacion | | | 365 |
| 538-B | Edwin Encarnacion | | Black Auto | 99 |
| 538-C | Edwin Encarnacion | | Blue Auto | 49 |
| 538-D | Edwin Encarnacion | | Purple Auto | 25 |
| 538-E | Edwin Encarnacion | | Red Auto | 10 |
| 538-F | Edwin Encarnacion | | Gold Auto | 1 |
| 539 | Toronto Blue Jays | | | 252 |
| 539-B | Toronto Blue Jays | | Black Relic | 99 |
| 539-C | Toronto Blue Jays | | Blue Relic | 49 |
| 539-D | Toronto Blue Jays | | Purple Relic | 25 |
| 539-E | Toronto Blue Jays | | Red Relic | 10 |
| 539-F | Toronto Blue Jays | | Gold Relic | 1 |
| 546 | Marco Estrada | | | 186 |
| 547 | Josh Donaldson | | | 198 |
| 550 | Toronto Blue Jays | | | 550 |
| 560 | Josh Donaldson | | | 1041 |
| 560-B | Josh Donaldson | | Black Relic | 99 |
| 560-C | Josh Donaldson | | Purple Relic | 25 |
| 560-D | Josh Donaldson | | Red Relic | 10 |
| 560-E | Josh Donaldson | | Gold Relic | 1 |
| 560-F | Josh Donaldson | | Blue Relic | 49 |
| 561 | Toronto Blue Jays | | | 443 |
| 583 | Marco Estrada | | | 250 |
| 597 | Josh Donaldson | | | 269 |
| 598 | Edwin Encarnacion | | | 261 |
| TOR-1 | Jose Bautista | | | 145 |
| TOR-2 | Edwin Encarnacion | | | 145 |
| TOR-3 | Josh Donaldson | | | 145 |
| TOR-4 | Kevin Pillar | | | 145 |
| TOR-5 | Michael Saunders | | | 145 |
| TOR-6 | Russell Martin | | | 145 |
| TOR-7 | Troy Tulowitzki | | | 145 |
| TOR-8 | Justin Smoak | | | 145 |
| TOR-9 | Devon Travis | | | 145 |
| TOR-10 | J.A. Happ | | | 145 |
| TOR-11 | Aaron Sanchez | | | 145 |
| TOR-12 | Marco Estrada | | | 145 |
| TOR-13 | Marcus Stroman | | | 145 |
| TOR-14 | Francisco Liriano | | | 145 |
| TOR-15 | Roberto Osuna | | | 145 |
| # | Player | RC | Variant | Print Run |
| --- | --- | --- | --- | --- |
| 117 | Freddie Freeman | | | 310 |
| 157 | Freddie Freeman | | | 432 |
| 163 | Julio Teheran | | | 291 |
| 257 | Chase D'Arnaud | | | 180 |
| 366 | Dansby Swanson | | | 923 |
| 367 | Dansby Swanson | | | 1450 |
| 382 | Jace Peterson | | | 270 |
| 429 | Dansby Swanson | | | 646 |
| 442 | Adonis Garcia | | | 273 |
| 479 | Aaron Blair | RC | | 309 |
| 489 | Ender Inciarte | | | 273 |
| 513 | Freddie Freeman | | | 221 |
| 540 | Freddie Freeman | | | 271 |
| # | Player | RC | Variant | Print Run |
| --- | --- | --- | --- | --- |
| 58 | Aaron Hill | | | 246 |
| 345 | Milwaukee Brewers | | | 236 |
| 492 | Milwaukee Brewers | | | 243 |
| 523 | Chris Carter | | | 178 |
| # | Player | RC | Variant | Print Run |
| --- | --- | --- | --- | --- |
| 19 | Jaime Garcia | | | 300 |
| 52 | Stephen Piscotty | | | 217 |
| 52 | Matt Holliday | | | 217 |
| 56 | Matt Carpenter | | | 298 |
| 91 | Randal Grichuk | | | 428 |
| 140 | Adam Wainwright | | | 316 |
| 161 | Frank Thomas | | | 1060 |
| 254 | Adam Wainwright | | | 272 |
| 271 | Aledmys Diaz | RC | | 1087 |
| 275 | Matt Adams | | | 319 |
| 336 | St. Louis Cardinals | | | 313 |
| 337 | Alex Reyes | | | 838 |
| 359 | Stephen Piscotty | RC | | 527 |
| 431 | St. Louis Cardinals | | | 334 |
| 432 | St. Louis Cardinals | | | 345 |
| 448 | Lou Brock | | | 561 |
| 452 | Aledmy Diaz | RC | | 482 |
| 520 | Yadier Molina | | | 332 |
| 528 | Jedd Gyorko | | | 268 |
| OS-28 | Seung-Hwan Oh | RC | | 665 |
| # | Player | RC | Variant | Print Run |
| --- | --- | --- | --- | --- |
| 14 | Addison Russell | | | 331 |
| 26 | John Lackey | | | 244 |
| 29 | Kris Bryant | | | 1644 |
| 30 | Jake Arrieta | | | 1808 |
| 40 | Jake Arrieta | | | 365 |
| 60 | Javier Baez | | | 640 |
| 99 | Chicago Cubs | | | 724 |
| 129 | Chicago Cubs | | | 1278 |
| 136 | Albert Almora Jr | RC | | 766 |
| 152 | Albert Almora Jr | RC | | 738 |
| 164 | Wilson Contreras | RC | | 2404 |
| 186 | Kris Bryant | | | 3075 |
| 191 | Javier Baez | | | 651 |
| 219 | Anthony Rizzo | | | 540 |
| 220 | Ben Zobrist | | | 479 |
| 221 | Kris Bryant | | | 726 |
| 222 | Addison Russell | | | 507 |
| 235 | Dexter Fowler | | | 386 |
| 246 | Kris Bryant | | | 1025 |
| 288 | Aroldis Chapman | | | 660 |
| 301 | Jon Lester | | | 671 |
| 305 | Kyle Hendricks | | | 347 |
| 322 | Jorge Soler | | | 317 |
| 339 | Chicago Cubs | | | 962 |
| 361 | Anthony Rizzo | | | 1126 |
| 370 | Kris Bryant | | | 1861 |
| 370-B | Kris Bryant | | Black Relic | 99 |
| 370-C | Kris Bryant | | Blue Relic | 49 |
| 370-D | Kris Bryant | | Purple Relic | 25 |
| 370-E | Kris Bryant | | Red Relic | 10 |
| 370-F | Kris Bryant | | Gold Relic | 1 |
| 398 | Kris Bryant | | | 870 |
| 407 | Jorge Soler | | | 591 |
| 407 | Miguel Montero | | | 591 |
| 416 | Jon Lester | | | 444 |
| 423 | Jason Heyward | | | 357 |
| 439 | Chicago Cubs | | | 544 |
| 447 | Kyle Hendricks | | | 538 |
| 460 | Chicago Cubs | | | 878 |
| 460-B | Chicago Cubs | | Black Relic | 99 |
| 460-C | Chicago Cubs | | Blue Relic | 49 |
| 460-D | Chicago Cubs | | Purple Relic | 25 |
| 460-E | Chicago Cubs | | Red Relic | 10 |
| 460-F | Chicago Cubs | | Gold Relic | 1 |
| 461 | Miguel Sano | | | 556 |
| 475 | Ben Zobrist | | | 2968 |
| 497 | Chicago Cubs | | | 452 |
| 504 | David Ross | | | 775 |
| 508 | Chicago Cubs | | | 902 |
| 554 | Jon Lester | | | 644 |
| 555 | Javier Baez | | | 756 |
| 556 | Travis Wood | | | 851 |
| 565 | Jake Arrieta | | | 732 |
| 566 | Kris Bryant | | | 837 |
| 571 | Zobrist/Baez/Contreras | | | 1316 |
| 572 | Chicago Cubs | | | 3836 |
| 572-B | Chicago Cubs | | Black Relic | 99 |
| 572-C | Chicago Cubs | | Blue Relic | 49 |
| 572-D | Chicago Cubs | | Purple Relic | 25 |
| 572-E | Chicago Cubs | | Red Relic | 10 |
| 572-F | Chicago Cubs | | Gold Relic | 1 |
| 573 | David Ross | | | 886 |
| 587 | Javier Baez | | | 910 |
| 588 | Dexter Fowler | | | 739 |
| 589 | Miguel Montero | | | 926 |
| 607 | Addison Russell | | | 954 |
| 608 | Anthony Rizzo | | | 945 |
| 610 | Addison Russell | | | 743 |
| 610-B | Addison Russell | | Black Auto | 99 |
| 610-C | Addison Russell | | Blue Auto | 49 |
| 610-D | Addison Russell | | Purple Auto | 25 |
| 610-E | Addison Russell | | Red Auto | 10 |
| 610-F | Addison Russell | | Gold Auto | 1 |
| 611 | Jon Lester | | | 717 |
| 612 | Javier Baez | | | 745 |
| 613 | Kris Bryant | | | 1816 |
| 613-B | Kris Bryant | | Black Auto | 199 |
| 613-C | Kris Bryant | | Green Auto | 99 |
| 613-D | Kris Bryant | | Blue Auto | 49 |
| 613-E | Kris Bryant | | Purple Auto | 25 |
| 613-F | Kris Bryant | | Red Auto | 10 |
| 613-G | Kris Bryant | | Gold Auto | 1 |
| 614 | Kyle Hendricks | | | 1667 |
| 615 | Chicago Cubs | | | 2447 |
| 615-B | Chicago Cubs | | Black Relic | 99 |
| 615-C | Chicago Cubs | | Blue Relic | 49 |
| 615-D | Chicago Cubs | | Purple Relic | 25 |
| 615-E | Chicago Cubs | | Red Relic | 10 |
| 615-F | Chicago Cubs | | Gold Relic | 1 |
| 616 | Anthony Rizzo | | | 1745 |
| 617 | Jon Lester | | | 1784 |
| 617 | Javier Baez | | | 1784 |
| 623 | Kyle Schwarber | RC | | 1341 |
| 628 | Kyle Schwarber | RC | | 1646 |
| 631 | Kyle Schwarber | RC | | 3036 |
| 631-B | Kyle Schwarber | RC | Auto | 199 |
| 631-C | Kyle Schwarber | RC | Black Auto/Relic | 99 |
| 631-D | Kyle Schwarber | RC | Blue Auto/Relic | 49 |
| 631-E | Kyle Schwarber | RC | Purple Auto/Relic | 25 |
| 631-F | Kyle Schwarber | RC | Red Auto/Relic | 10 |
| 631-G | Kyle Schwarber | RC | Gold Auto/Relic | 1 |
| 632 | Jake Arrieta | | | 1272 |
| 633 | Anthony Rizzo | | | 1461 |
| 634 | Ben Zobrist | | | 1175 |
| 635 | Chicago Cubs | | | 1519 |
| 645 | Jason Heyward | | | 1249 |
| 646 | Kris Bryant | | | 1688 |
| 646-B | Kris Bryant | | Black Auto | 199 |
| 646-C | Kris Bryant | | Green Auto | 99 |
| 646-D | Kris Bryant | | Blue Auto | 49 |
| 646-E | Kris Bryant | | Red Auto | 10 |
| 646-F | Kris Bryant | | Gold Auto | 1 |
| 647 | David Ross | | | 1288 |
| 648 | Aroldis Chapman | | | 1384 |
| 648-B | Aroldis Chapman | | Black Relic | 99 |
| 648-C | Aroldis Chapman | | Blue Relic | 49 |
| 648-D | Aroldis Chapman | | Purple Relic | 25 |
| 648-E | Aroldis Chapman | | Red Relic | 10 |
| 648-F | Aroldis Chapman | | Gold Relic | 1 |
| 649 | Chicago Cubs | | | 1516 |
| 650 | Kris Bryant | | | 2628 |
| 651 | Addison Russell | | | 2886 |
| 652 | Anthony Rizzo | | | 2217 |
| 652-B | Anthony Rizzo | | | |
| 652-C | Anthony Rizzo | | Blue Auto | 49 |
| 652-D | Anthony Rizzo | | Purple Auto | 25 |
| 652-E | Anthony Rizzo | | Red Auto | 10 |
| 652-F | Anthony Rizzo | | Gold Auto | 1 |
| 654 | Jake Arrieta | | | 1967 |
| 655 | Kris Bryant | | | 3105 |
| 655 | Anthony Rizzo | | | 3105 |
| 656 | Dexter Fowler | | | 2161 |
| 656-B | Dexter Fowler | | Black Auto | 99 |
| 656-C | Dexter Fowler | | Blue Auto | 49 |
| 656-D | Dexter Fowler | | Purple Auto | 25 |
| 656-E | Dexter Fowler | | Red Auto | 10 |
| 656-F | Dexter Fowler | | Gold Auto | 1 |
| 657 | Javier Baez | | | 2204 |
| 657-B | Javier Baez | | Black Auto | 99 |
| 657-C | Javier Baez | | Blue Auto | 49 |
| 657-D | Javier Baez | | Purple Auto | 25 |
| 657-E | Javier Baez | | Red Auto | 10 |
| 657-F | Javier Baez | | Gold Auto | 1 |
| 658 | David Ross | | | |
| 658-B | David Ross | | Green Auto | 199 |
| 658-C | David Ross | | Black Auto | 99 |
| 658-D | David Ross | | Blue Auto | 49 |
| 658-E | David Ross | | Purple Auto | 25 |
| 658-F | David Ross | | Red Auto | 10 |
| 658-G | David Ross | | Gold Auto | 1 |
| 660 | Ben Zobrist | | | 2396 |
| 661 | Albert Almora | | | 2209 |
| 662 | Mike Montgomery | | | 2103 |
| 663 | Kris Bryant | | | 4516 |
| 663 | Anthony Rizzo | | | 4516 |
| 663-B | Kris Bryant | | Black Auto/Relic | 99 |
| 663-B | Anthony Rizzo | | Black Auto/Relic | 99 |
| 663-C | Kris Bryant | | Blue Auto/Relic | 49 |
| 663-C | Anthony Rizzo | | Blue Auto/Relic | 49 |
| 663-D | Kris Bryant | | Purple Auto/Relic | 25 |
| 663-D | Anthony Rizzo | | Purple Auto/Relic | 25 |
| 663-E | Kris Bryant | | Red Auto/Relic | 10 |
| 663-E | Anthony Rizzo | | Red Auto/Relic | 10 |
| 663-F | Kris Bryant | | Gold Auto/Relic | 1 |
| 663-F | Anthony Rizzo | | Gold Auto/Relic | 1 |
| 664 | Ben Zobrist | | | 4445 |
| 664-B | Ben Zobrist | | Black Relic | 99 |
| 664-C | Ben Zobrist | | Blue Relic | 49 |
| 664-D | Ben Zobrist | | Purple Relic | 25 |
| 664-E | Ben Zobrist | | Red Relic | 10 |
| 664-F | Ben Zobrist | | Gold Relic | 1 |
| 665 | Chicago Cubs | | | 6009 |
| CHC-1 | Kris Bryant | | | 2270 |
| CHC-2 | Anthony Rizzo | | | 2270 |
| CHC-3 | Ben Zobrist | | | 2270 |
| CHC-4 | Dexter Fowler | | | 2270 |
| CHC-5 | Willson Contreras | RC | | 2270 |
| CHC-6 | Jorge Soler | | | 2270 |
| CHC-7 | Addison Russell | | | 2270 |
| CHC-8 | Javier Baez | | | 2270 |
| CHC-9 | Jason Heyward | | | 2270 |
| CHC-10 | David Ross | | | 2270 |
| CHC-11 | Jake Arrieta | | | 2270 |
| CHC-12 | Jon Lester | | | 2270 |
| CHC-13 | Kyle Hendricks | | | 2270 |
| CHC-14 | John Lackey | | | 2270 |
| CHC-15 | Aroldis Chapman | | | 2270 |
| OS-1 | Kris Bryant | | | 1509 |
| OS-4 | Chicago Cubs | | | 1276 |
| OS-5 | Kyle Schwarber | RC | | 981 |
| OS-5B | Kyle Schwarber | RC | Green Auto | 199 |
| OS-5C | Kyle Schwarber | RC | Black Auto | 99 |
| OS-5D | Kyle Schwarber | RC | Blue Auto | 49 |
| OS-5E | Kyle Schwarber | RC | Purple Auto | 25 |
| OS-5F | Kyle Schwarber | RC | Red Auto | 10 |
| OS-5G | Kyle Schwarber | RC | Gold Auto | 1 |
| OS-6 | Willson Contreras | RC | | 898 |
| OS-6B | Willson Contreras | RC | Black Auto | 99 |
| OS-6C | Willson Contreras | RC | Blue Auto | 49 |
| OS-6D | Willson Contreras | RC | Purple Auto | 25 |
| OS-6E | Willson Contreras | RC | Red Auto | 10 |
| OS-6F | Willson Contreras | RC | Gold Auto | 1 |
| OS-32 | Kris Bryant | | | 3193 |
| OS-38 | Wade Davis | | | 311 |
| OS-43 | Chicago Cubs | | | 1200 |
| OS-44 | Chicago Cubs | | | 1238 |
| OS-45 | Chicago Cubs | | | 1301 |
| OS-BZA | Ben Zobrist | | Black Auto | 99 |
| OS-BZB | Ben Zobrist | | Blue Auto | 49 |
| OS-BZC | Ben Zobrist | | Purple Auto | 25 |
| OS-BZD | Ben Zobrist | | Red Auto | 10 |
| OS-BZE | Ben Zobrist | | Gold Auto | 1 |
| OS-TBA | Kris Bryant | | Purple Auto | 25 |
| OS-TBB | Kris Bryant | | Red Auto | 10 |
| OS-TBC | Kris Bryant | | Gold Auto | 1 |
| 618 | Cubs/Indians Infielders | | | 1577 |
| 619 | Cubs/Indians Outfielders | | | 1129 |
| 620 | Cubs/Indians Catchers and DH | | | 1132 |
| 621 | Cubs/Indians Starting Pitchers | | | 1330 |
| 622 | Cubs/Indians Relief Pitchers | | | 1132 |
| # | Player | RC | Variant | Print Run |
| --- | --- | --- | --- | --- |
| 134 | Zack Greinke | | | 281 |
| 387 | Paul Goldschmidt | | | 294 |
| # | Player | RC | Variant | Print Run |
| --- | --- | --- | --- | --- |
| 7 | Kenta Maeda | RC | | 952 |
| 21 | Jackie Robinson | | | 759 |
| 35 | Kenta Maeda | RC | | 784 |
| 45 | Clayton Kershaw | | | 453 |
| 65 | Trayce Thompson | RC | | 566 |
| 71 | Clayton Kershaw | | | 694 |
| 80 | Clayton Kershaw | | | 421 |
| 92 | Clayton Kershaw | | | 511 |
| 102 | Julio Urias | RC | | 2992 |
| 109 | Trayce Thompson | RC | | 749 |
| 123 | Corey Seager | RC | | 1900 |
| 135 | Trayce Thompson | RC | | 431 |
| 169 | Kenley Jansen | | | 310 |
| 175 | Yasiel Puig | | | 376 |
| 190 | Julio Urias | RC | | 872 |
| 209 | Corey Seager | RC | | 749 |
| 231 | Yasmani Grandal | | | 286 |
| 239 | Kenta Maeda | RC | | 322 |
| 252 | Chris Taylor | | | 260 |
| 290 | A.J. Ellis | | | 261 |
| 310 | Josh Reddick | | | 256 |
| 332 | Rob Segedin | | | 524 |
| 334 | Corey Seager | RC | | 886 |
| 362 | Chase Utley | | | 4221 |
| 383 | Adrian Gonzalez | | | 298 |
| 384 | Andrew Toles/Rob Segedin | | | 330 |
| 399 | Corey Seager | RC | | 1084 |
| 413 | Andrew Toles | | | 458 |
| 426 | Jose De Leon | | | 426 |
| 440 | Rich Hill | | | 307 |
| 471 | Corey Seager | RC | | 696 |
| 480 | Adrian Gonzalez | | | 233 |
| 505 | Corey Seager | | | 704 |
| 505 | Charlie Culberson | | | 704 |
| 506 | Los Angeles Dodgers | | | 433 |
| 551 | Corey Seager | RC | | 869 |
| 557 | Corey Seager | RC | | 817 |
| 574 | Chase Utley | | | 367 |
| 576 | Julio Urias | RC | | 817 |
| 577 | Joc Pederson | | | 509 |
| 579 | Clayton Kershaw | | | 2018 |
| 579-B | Clayton Kershaw | | Black Auto | 199 |
| 579-C | Clayton Kershaw | | Black Auto/Relic | 99 |
| 579-D | Clayton Kershaw | | Blue Auto/Relic | 49 |
| 579-E | Clayton Kershaw | | Purple Auto/Relic | 25 |
| 579-F | Clayton Kershaw | | Red Auto/Relic | 10 |
| 579-G | Clayton Kershaw | | Gold Auto/Relic | 1 |
| 580 | Los Angeles Dodgers | | | 486 |
| 590 | Adrian Gonzalez | | | 397 |
| 591 | Clayton Kershaw | | | 695 |
| 592 | Kenley Jansen | | | 381 |
| 599 | Corey Seager | RC | | 527 |
| 600 | Yasmani Grandal | | | 273 |
| 601 | Justin Turner | | | 264 |
| 602 | Rich Hill | | | 260 |
| 609 | Julio Urias | RC | | 475 |
| LAD-1 | Corey Seager | RC | | 383 |
| LAD-2 | Adrian Gonzalez | | | 383 |
| LAD-3 | Justin Turner | | | 383 |
| LAD-4 | Yasmani Grandal | | | 383 |
| LAD-5 | Joc Pederson | | | 383 |
| LAD-6 | Chase Utley | | | 383 |
| LAD-7 | Howie Kendrick | | | 383 |
| LAD-8 | Yasiel Puig | | | 383 |
| LAD-9 | Josh Reddick | | | 383 |
| LAD-10 | Clayton Kershaw | | | 383 |
| LAD-11 | Kenta Maeda | | | 383 |
| LAD-12 | Julio Urias | | | 383 |
| LAD-13 | Scott Kazmir | | | 383 |
| LAD-14 | Joe Blanton | | | 383 |
| LAD-15 | Kenley Jansen | | | 383 |
| OS-3 | Kenley Jansen | | | 452 |
| OS-16 | Corey Seager | RC | | 1040 |
| OS-16B | Corey Seager | RC | Black Relic | 199 |
| OS-16C | Corey Seager | RC | Green Relic | 99 |
| OS-16D | Corey Seager | RC | Blue Relic | 49 |
| OS-16E | Corey Seager | RC | Purple Relic | 25 |
| OS-16F | Corey Seager | RC | Red Relic | 10 |
| OS-16G | Corey Seager | RC | Gold Relic | 1 |
| OS-22 | Corey Seager | RC | | 665 |
| OS-26 | Julio Urias | RC | | 665 |
| OS-27 | Kenta Maeda | RC | | 665 |
| # | Player | RC | Variant | Print Run |
| --- | --- | --- | --- | --- |
| 10 | Brandon Crawford | | | 316 |
| 15 | Trevor Brown | RC | | 590 |
| 90 | Madison Bumgarner | | | 632 |
| 93 | Johnny Cueto | | | 428 |
| 100 | Brandon Crawford | | | 379 |
| 104 | Buster Posey | | | 577 |
| 119 | Madison Bumgarner | | | 479 |
| 138 | Mac Williamson | RC | | 441 |
| 143 | Buster Posey | | | 365 |
| 161 | Willie McCovey | | | 1060 |
| 179 | San Francisco Giants | | | 405 |
| 184 | Bruce Bochy | | | 340 |
| 196 | Madison Bumgarner | | | 506 |
| 223 | Buster Posey | | | 402 |
| 240 | Madison Bumgarner | | | 386 |
| 243 | Johnny Cueto | | | 307 |
| 300 | San Francisco Giants | | | 389 |
| 335 | Brandon Crawford | | | 522 |
| 371 | Madison Bumgarner | | | 489 |
| 394 | Matt Moore | | | 366 |
| 511 | Buster Posey | | | 542 |
| 521 | Johnny Cueto | | | 339 |
| 521 | Jeff Samardzija | | | 339 |
| 521 | Matt Moore | | | 339 |
| 526 | Madison Bumgarner | | | 406 |
| 529 | Ty Blach | | | 425 |
| 536 | San Francisco Giants | | | 422 |
| 541 | San Francisco Giants | | | 322 |
| 542 | Conor Gillaspie | | | 361 |
| 543 | Madison Bumgarner | | | 585 |
| 543-B | Madison Bumgarner | | Black Relic | 99 |
| 543-C | Madison Bumgarner | | Blue Relic | 49 |
| 543-D | Madison Bumgarner | | Purple Relic | 25 |
| 543-E | Madison Bumgarner | | Red Relic | 10 |
| 543-F | Madison Bumgarner | | Gold Relic | 1 |
| 567 | Conor Gillaspie | | | 350 |
| 568 | Joe Panik | | | 353 |
| 569 | Matt Moore | | | 317 |
| 570 | Conor Gillaspie | | | 330 |
| SF-1 | Madison Bumgarner | | | 221 |
| SF-2 | Buster Posey | | | 221 |
| SF-3 | Brandon Belt | | | 221 |
| SF-4 | Hunter Pence | | | 221 |
| SF-5 | Denard Span | | | 221 |
| SF-6 | Angel Pagan | | | 221 |
| SF-7 | Eduardo Nunez | | | 221 |
| SF-8 | Brandon Crawford | | | 221 |
| SF-9 | Joe Panik | | | 221 |
| SF-10 | Johnny Cueto | | | 221 |
| SF-11 | Matt Moore | | | 221 |
| SF-12 | Jeff Samardzija | | | 221 |
| SF-13 | Albert Suarez | RC | | 221 |
| SF-14 | Hunter Strickland | | | 221 |
| SF-15 | Sergio Romo | | | 221 |
| # | Player | RC | Variant | Print Run |
| --- | --- | --- | --- | --- |
| 51 | Corey Kluber | | | 229 |
| 83 | Francisco Lindor | | | 473 |
| 160 | Carlos Santana | | | 269 |
| 171 | Corey Kluber | | | 274 |
| 174 | Cleveland Indians | | | 317 |
| 181 | Francisco Lindor | | | 255 |
| 181 | Carlos Carrasco | | | 255 |
| 195 | Carlos Carrasco | | | 318 |
| 197 | Carlos Santana | | | 410 |
| 202 | Rajai Davis | | | 316 |
| 260 | Frank Robinson | | | 324 |
| 266 | Danny Salazar | | | 225 |
| 289 | Francisco Lindor | | | 293 |
| 325 | Andrew Miller | | | 282 |
| 350 | Cleveland Indians | | | 262 |
| 372 | Tyler Naquin | RC | | 729 |
| 406 | Jason Kipnis | | | 261 |
| 425 | Lonnie Chisenhall | | | 262 |
| 466 | Jose Ramirez | | | 221 |
| 484 | Brandon Guyer | | | 300 |
| 507 | Cleveland Indians | | | 415 |
| 507-B | Cleveland Indians | | Black Relic | 99 |
| 507-C | Cleveland Indians | | Blue Auto/Relic | 49 |
| 507-D | Cleveland Indians | | Purple Auto/Relic | 25 |
| 507-E | Cleveland Indians | | Red Auto/Relic | 10 |
| 507-F | Cleveland Indians | | Gold Auto/Relic | 1 |
| 549 | Roberto Perez | | | 324 |
| 549 | Jason Kipnis | | | 324 |
| 549 | Francisco Lindor | | | 324 |
| 552 | Lonnie Chisenhall | | | 243 |
| 553 | Corey Kluber | | | 267 |
| 563 | Cleveland Indians | | | 370 |
| 581 | Francisco Lindor | | | 356 |
| 582 | Corey Kluber | | | 273 |
| 584 | Andrew Miller | | | 277 |
| 584 | Cody Allen | | | 277 |
| 585 | Carlos Santana | | | 339 |
| 586 | Andrew Miller | | | 381 |
| 586 | Cody Allen | | | 381 |
| 593 | Trevor Bauer | | | 296 |
| 594 | Mike Napoli | | | 272 |
| 595 | Jason Kipnis | | | 269 |
| 596 | Cleveland Indians | | | 274 |
| 603 | Carlos Santana | | | 385 |
| 604 | Ryan Merritt | RC | | 478 |
| 605 | Andrew Miller | | | 428 |
| 605-B | Andrew Miller | | Black Relic | 99 |
| 605-C | Andrew Miller | | Blue Relic | 49 |
| 605-D | Andrew Miller | | Purple Relic | 25 |
| 605-E | Andrew Miller | | Red Relic | 10 |
| 605-F | Andrew Miller | | Gold Relic | 1 |
| 606 | Cleveland Indians | | | 574 |
| 624 | Danny Salazar | | | 330 |
| 625 | Cleveland Indians | | | 758 |
| 626 | Francisco Lindor | | | 529 |
| 627 | Corey Kluber | | | 692 |
| 627-B | Corey Kluber | | Auto | 199 |
| 627-C | Corey Kluber | | Black Auto/Relic | 99 |
| 627-D | Corey Kluber | | Blue Auto/Relic | 49 |
| 627-E | Corey Kluber | | Purple Auto/Relic | 25 |
| 627-F | Corey Kluber | | Red Auto/Relic | 10 |
| 627-G | Corey Kluber | | Gold Auto/Relic | 1 |
| 629 | Andrew Miller | | | 489 |
| 630 | Roberto Perez | | | 493 |
| 636 | Josh Tomlin | | | 462 |
| 637 | Coco Crisp | | | 518 |
| 638 | Andrew Miller | | | 552 |
| 639 | Cleveland Indians | | | 553 |
| 639-B | Cleveland Indians | | Black Relic | 99 |
| 639-C | Cleveland Indians | | Blue Relic | 49 |
| 639-D | Cleveland Indians | | Purple Relic | 25 |
| 639-E | Cleveland Indians | | Red Relic | 10 |
| 639-F | Cleveland Indians | | Gold Relic | 1 |
| 640 | Carlos Santana | | | 439 |
| 641 | Corey Kluber | | | 473 |
| 642 | Jason Kipnis | | | 515 |
| 643 | Andrew Miller | | | 508 |
| 644 | Cleveland Indians | | | 665 |
| 644-B | Francisco Lindor | | Black Auto | 99 |
| 644-B | Corey Kluber | | Black Auto | 99 |
| 644-C | Francisco Lindor | | Blue Auto | 49 |
| 644-C | Corey Kluber | | Blue Auto | 49 |
| 644-D | Francisco Lindor | | Purple Auto | 25 |
| 644-D | Corey Kluber | | Purple Auto | 25 |
| 644-E | Francisco Lindor | | Red Auto | 10 |
| 644-E | Corey Kluber | | Red Auto | 10 |
| 644-F | Francisco Lindor | | Gold Auto | 1 |
| 644-F | Corey Kluber | | Gold Auto | 1 |
| 653 | Jason Kipnis | | | 1522 |
| 659 | Rajai Davis | | | 1799 |
| CLE-1 | Francisco Lindor | | | 271 |
| CLE-2 | Jason Kipnis | | | 271 |
| CLE-3 | Carlos Santana | | | 271 |
| CLE-4 | Mike Napoli | | | 271 |
| CLE-5 | Rajai Davis | | | 271 |
| CLE-6 | Tyler Naquin | RC | | 271 |
| CLE-7 | Lonnie Chisenhall | | | 271 |
| CLE-8 | Jose Ramirez | | | 271 |
| CLE-9 | Roberto Perez | | | 271 |
| CLE-10 | Corey Kluber | | | 271 |
| CLE-11 | Carlos Carrasco | | | 271 |
| CLE-12 | Danny Salazar | | | 271 |
| CLE-13 | Trevor Bauer | | | 271 |
| CLE-14 | Cody Allen | | | 271 |
| CLE-15 | Andrew Miller | | | 271 |
| MN-A | Mike Napoli Black Auto | | | 99 |
| MN-B | Mike Napoli Blue Auto | | | 49 |
| MN-C | Mike Napoli Purple Auto | | | 25 |
| MN-D | Mike Napoli Red Auto | | | 10 |
| MN-E | Mike Napoli Gold Auto | | | 1 |
| OS-25 | Tyler Naquin | RC | | 665 |
| TF-A | Terry Francona Auto | | | 99 |
| TF-B | Terry Francona Blue Auto | | | 49 |
| TF-C | Terry Francona Purple Auto | | | 25 |
| TF-D | Terry Francona Red Auto | | | 10 |
| TF-E | Terry Francona Gold Auto | | | 1 |
| # | Player | RC | Variant | Print Run |
| --- | --- | --- | --- | --- |
| 16 | Dae-Ho Lee | RC | | 363 |
| 25 | Hisashi Iwakuma | | | 424 |
| 63 | Felix Hernandez | | | 429 |
| 67 | Chris Iannetta | | | 215 |
| 97 | Leonys Martin | | | 314 |
| 120 | Seattle Mariners | | | 322 |
| 178 | Adam Lind | | | 230 |
| 263 | Adam Lind | | | 267 |
| 268 | Leonys Martin | | | 257 |
| 408 | Pat Venditte | | | 412 |
| 453 | Taijuan Walker | | | 241 |
| 474 | Alex Rodriguez | | | 442 |
| 487 | Robinson Cano | | | 282 |
| # | Player | RC | Variant | Print Run |
| --- | --- | --- | --- | --- |
| 55 | Giancarlo Stanton | | | 259 |
| 89 | Ichiro Suzuki | | | 551 |
| 127 | Jose Fernandez | | | 273 |
| 154 | Ichiro Suzuki | | | 2798 |
| 200 | Jose Fernandez | | | 403 |
| 212 | Giancarlo Stanton | | | 254 |
| 218 | Giancarlo Stanton | | | 335 |
| 241 | Giancarlo Stanton | | | 812 |
| 261 | Jose Fernandez | | | 244 |
| 298 | Derek Dietrich | | | 258 |
| 324 | Giancarlo Stanton | | | 378 |
| 327 | Ichiro | | | 11550 |
| 327-B | Ichiro | | Black Relic | 99 |
| 327-C | Ichiro | | Blue Relic | 49 |
| 327-D | Ichiro | | Purple Relic | 25 |
| 327-E | Ichiro | | Red Relic | 10 |
| 327-F | Ichiro | | Gold Relic | 1 |
| 340 | Ichiro | | | 668 |
| 378 | Ichiro | | | 579 |
| 404 | Ichiro | | | 532 |
| 430 | Ichiro | | | 515 |
| 448 | Ichiro | | | 561 |
| 532 | Martin Prado | | | 281 |
| 208 | Marlins/Braves | | | 703 |
| # | Player | RC | Variant | Print Run |
| --- | --- | --- | --- | --- |
| 31 | Curtis Granderson | | | 294 |
| 37 | Neil Walker | | | 289 |
| 41 | Yoenis Cespedes | | | 325 |
| 46 | Bartolo Colon | | | 298 |
| 57 | Bartolo Colon | | | 8826 |
| 69 | Noah Syndergaard | | | 3670 |
| 88 | David Wright | | | 1014 |
| 103 | Curtis Granderson | | | 626 |
| 156 | Noah Syndergaard | | | 810 |
| 206 | Wilmer Flores | | | 740 |
| 234 | Yoenis Cespedes | | | 481 |
| 258 | Jacob DeGrom | | | 775 |
| 265 | Jeurys Familia | | | 460 |
| 309 | Jay Bruce | | | 505 |
| 315 | Bartolo Colon | | | 741 |
| 316 | Jay Bruce | | | 489 |
| 354 | Wilmer Flores | | | 771 |
| 360 | Bartolo Colon | | | 1120 |
| 365 | Noah Syndergaard | | | 771 |
| 365 | Tom Seaver | | | 771 |
| 396 | Bartolo Colon | | | 492 |
| 405 | Yoenis Cespedes | | | 841 |
| 414 | Jeurys Familia | | | 503 |
| 450 | T.J. Rivera | | | 613 |
| 467 | Curtis Granderson | | | 565 |
| 488 | Asdrubal Cabrera | | | 491 |
| 490 | Jose Reyes | | | 815 |
| 490 | Asdrubal Cabrera | | | 815 |
| 515 | Jeurys Familia | | | 461 |
| 527 | New York Mets | | | 771 |
| 544 | Noah Syndergaard | | | 497 |
| 545 | Curtis Granderson | | | 417 |
| NYM-1 | Noah Syndergaard | | | 392 |
| NYM-2 | Yoenis Cespedes | | | 392 |
| NYM-3 | Jay Bruce | | | 392 |
| NYM-4 | Curtis Granderson | | | 392 |
| NYM-5 | Jose Reyes | | | 392 |
| NYM-6 | Asdrubal Cabrera | | | 392 |
| NYM-7 | T.J. Rivera | | | 392 |
| NYM-8 | James Loney | | | 392 |
| NYM-9 | Neil Walker | | | 392 |
| NYM-10 | Jacob deGrom | | | 392 |
| NYM-11 | Bartolo Colon | | | 392 |
| NYM-12 | Robert Gsellman | | | 392 |
| NYM-13 | Seth Lugo | | | 392 |
| NYM-14 | Addison Reed | | | 392 |
| NYM-15 | Jeurys Famila | | | 392 |
| OS-2 | Curtis Granderson | | | 488 |
| OS-35 | Yoenis Cespedes | | | 375 |
| # | Player | RC | Variant | Print Run |
| --- | --- | --- | --- | --- |
| 3 | Bryce Harper | | | 782 |
| 20 | Bryce Harper | | | 1286 |
| 28 | Bryce Harper | | | 489 |
| 28 | Stephen Strasburg | | | 489 |
| 36 | Bryce Harper | | | 400 |
| 36 | Chris Heisey | | | 400 |
| 59 | Bryce Harper | | | 1366 |
| 68 | Max Scherzer | | | 3746 |
| 122 | Trea Turner | RC | | 1276 |
| 125 | Stephen Strasburg | | | 496 |
| 139 | Stephen Strasburg | | | 472 |
| 148 | Jayson Werth | | | 326 |
| 155 | Jayson Werth | | | 478 |
| 188 | Lucas Giolito | RC | | 1891 |
| 194 | Danny Espinosa | | | 482 |
| 198 | Ben Revere | | | 339 |
| 233 | Bryce Harper | | | 708 |
| 249 | Stephen Strasburg | | | 555 |
| 277 | Stephen Drew | | | 292 |
| 294 | Washington Nationals | | | 702 |
| 326 | Jayson Werth | | | 327 |
| 333 | Daniel Murphy | | | 540 |
| 338 | Max Scherzer | | | 365 |
| 373 | Ben Revere | | | 357 |
| 434 | Wilson Ramos | | | 278 |
| 437 | Trea Turner | RC | | 754 |
| 455 | Daniel Murphy | | | 410 |
| 501 | Washington Nationals | | | 544 |
| 501-B | Washington Nationals | | Black Relic | 99 |
| 501-C | Washington Nationals | | Blue Relic | 49 |
| 501-D | Washington Nationals | | Purple Relic | 25 |
| 501-E | Washington Nationals | | Red Relic | 10 |
| 501-F | Washington Nationals | | Gold Relic | 1 |
| 558 | Jose Lobaton | | | 333 |
| 559 | Daniel Murphy | | | 340 |
| 562 | Anthony Redon | | | 346 |
| 562 | Jayson Werth | | | 346 |
| 575 | Daniel Murphy | | | 367 |
| 578 | Chris Heisey | | | 432 |
| NAT-1 | Bryce Harper | | | 288 |
| NAT-2 | Trea Turner | RC | | 288 |
| NAT-3 | Jayson Werth | | | 288 |
| NAT-4 | Ben Revere | | | 288 |
| NAT-5 | Anthony Rendon | | | 288 |
| NAT-6 | Danny Espinosa | | | 288 |
| NAT-7 | Daniel Murphy | | | 288 |
| NAT-8 | Ryan Zimmerman | | | 288 |
| NAT-9 | Wilson Ramos | | | 288 |
| NAT-10 | Max Scherzer | | | 288 |
| NAT-11 | Tanner Roark | | | 288 |
| NAT-12 | Stephen Strasburg | | | 288 |
| NAT-13 | Gio Gonzalez | | | 288 |
| NAT-14 | Joe Ross | | | 288 |
| NAT-15 | Mark Melancon | | | 288 |
| OS-23 | Trea Turner | RC | | 665 |
| OS-30 | Max Scherzer | | | 499 |
| OS-34 | Anthony Rendon | | | 283 |
| OS-40 | Adam Eaton | | | 233 |
| # | Player | RC | Variant | Print Run |
| --- | --- | --- | --- | --- |
| 13 | Chris Davis | | | 266 |
| 23 | Mark Trumbo | | | 285 |
| 145 | Chris Davis | | | 328 |
| 192 | Baltimore Orioles | | | 526 |
| 215 | Manny Machado | | | 407 |
| 242 | Mark Trumbo | | | 263 |
| 278 | Mark Trumbo | | | 256 |
| 283 | Nolan Reimold | | | 295 |
| 329 | Manny Machado | | | 712 |
| 346 | Zach Britton | | | 338 |
| 358 | Baltimore Orioles | | | 308 |
| 375 | Baltimore Orioles | | | 298 |
| 402 | Mark Trumbo | | | 270 |
| 410 | Manny Machado | | | 468 |
| 456 | Mark Trumbo | | | 275 |
| 464 | Michael Bourn | | | 272 |
| 464 | Manny Machado | | | 272 |
| 481 | Trey Mancini | | | 457 |
| 494 | Mark Trumbo | | | 299 |
| 499 | Trey Mancini | | | 432 |
| 519 | Hyun-Soo Kim | RC | | 428 |
| 534 | Baltimore Orioles | | | 369 |
| 535 | Matt Wieters | | | 350 |
| BAL-1 | Manny Machado | | | 160 |
| BAL-2 | Jonathan Schoop | | | 160 |
| BAL-3 | Mark Trumbo | | | 160 |
| BAL-4 | Chris Davis | | | 160 |
| BAL-5 | Adam Jones | | | 160 |
| BAL-6 | Matt Weiters | | | 160 |
| BAL-7 | JJ Hardy | | | 160 |
| BAL-8 | Hyun-Soo Kim | RC | | 160 |
| BAL-9 | Pedro Alvarez | | | 160 |
| BAL-10 | Trey Mancini | | | 160 |
| BAL-11 | Chris Tilman | | | 160 |
| BAL-12 | Dylan Bundy | | | 160 |
| BAL-13 | Kevin Gausman | | | 160 |
| BAL-14 | Brad Brach | | | 160 |
| BAL-15 | Zach Britton | | | 160 |
| OS-3 | Zach Britton | | | 452 |
| # | Player | RC | Variant | Print Run |
| --- | --- | --- | --- | --- |
| 24 | Melvin Upton Jr | | | 226 |
| 87 | Melvin Upton Jr | | | 268 |
| 112 | Christian Bethancourt | | | 330 |
| 124 | Melvin Upton Jr | | | 349 |
| 180 | Drew Pomeranz | | | 232 |
| 205 | Melvin Upton Jr | | | 292 |
| 248 | Tony Gwynn | | | 693 |
| 297 | Adam Rosales | | | 262 |
| 377 | Ryan Schmipf | RC | | 378 |
| 454 | Ryan Schimpf | RC | | 310 |
| 512 | Hunter Renfroe | | | 959 |
| 518 | Hunter Renfroe | | | 1544 |
| OS-20 | Ryan Schimpf | RC | | 665 |
| # | Player | RC | Variant | Print Run |
| --- | --- | --- | --- | --- |
| 165 | Mickey Moniak | | | 2763 |
| 18 | Vincent Velasquez | | | 557 |
| 43 | Ryan Howard | | | 280 |
| 74 | Philadelphia Phillies | | | 398 |
| 147 | Max Kepler | RC | | 471 |
| 211 | Zach Eflin | RC | | 511 |
| 273 | Zach Eflin | RC | | 404 |
| 349 | Jake Thompson | | | 451 |
| 462 | Jimmy Paredes | | | 281 |
| 468 | Jeremy Hellickson | | | 204 |
| OS-19 | Tommy Joseph | RC | | 665 |
| # | Player | RC | Variant | Print Run |
| --- | --- | --- | --- | --- |
| 1 | Francisco Liriano | | | 266 |
| 39 | Andrew McCutchen | | | 524 |
| 54 | Jung Ho Kang | | | 439 |
| 110 | Jeff Locke | | | 344 |
| 137 | Jameson Taillon | RC | | 1084 |
| 153 | Jameson Taillon | RC | | 852 |
| 185 | Chad Kuhl | RC | | 750 |
| 224 | Tyler Glasnow | | | 995 |
| 236 | Josh Bell | | | 925 |
| 264 | Josh Harrison | | | 319 |
| 292 | Gerrit Cole | | | 418 |
| 320 | Sean Rodriguez | | | 299 |
| 340 | Roberto Clemente | | | 668 |
| 496 | Jacob Stallings | | | 374 |
| 514 | John Jaso | | | 348 |
| # | Player | RC | Variant | Print Run |
| --- | --- | --- | --- | --- |
| 12 | Nomar Mazara | RC | | 1427 |
| 47 | Nomar Mazara | RC | | 468 |
| 75 | Drew Stubbs | | | 301 |
| 98 | Nomar Mazara | RC | | 996 |
| 131 | Rougned Odor | | | 270 |
| 149 | Cole Hamels | | | 319 |
| 187 | Texas Rangers | | | 286 |
| 285 | Adrian Beltre | | | 280 |
| 296 | Mitch Moreland | | | 296 |
| 308 | Carlos Beltran | | | 284 |
| 308 | Johnathan Lucroy | | | 284 |
| 342 | Prince Fielder | | | 369 |
| 391 | Yu Darvish | | | 753 |
| 392 | Carlos Gomez | | | 234 |
| 412 | Rougned Odor | | | 308 |
| 463 | Johnathan Lucroy | | | 280 |
| 478 | Ian Desmond | | | 280 |
| 498 | Texas Rangers | | | 345 |
| 498-B | Texas Rangers | | Black Relic | 99 |
| 498-C | Texas Rangers | | Blue Relic | 49 |
| 498-D | Texas Rangers | | Purple Relic | 25 |
| 498-E | Texas Rangers | | Red Relic | 10 |
| 498-F | Texas Rangers | | Gold Relic | 1 |
| 525 | Texas Rangers | | | 335 |
| OS-24 | Nomar Mazara | RC | | 665 |
| TEX-1 | Adrian Beltre | | | 254 |
| TEX-2 | Roughne Odor | | | 254 |
| TEX-3 | Ian Desmond | | | 254 |
| TEX-4 | Nomar Mazara | RC | | 254 |
| TEX-5 | Carlos Gomez | | | 254 |
| TEX-6 | Mitch Moreland | | | 254 |
| TEX-7 | Jonathan Lucroy | | | 254 |
| TEX-8 | Carlos Beltran | | | 254 |
| TEX-9 | Elvis Andrus | | | 254 |
| TEX-10 | Jurickson Profar | | | 254 |
| TEX-11 | Cole Hamels | | | 254 |
| TEX-12 | Yu Darvish | | | 254 |
| TEX-13 | Colby Lewis | | | 254 |
| TEX-14 | A.J. Griffin | | | 254 |
| TEX-15 | Sam Dyson | | | 254 |
| # | Player | RC | Variant | Print Run |
| --- | --- | --- | --- | --- |
| 73 | Matt Andriese | | | 284 |
| 128 | Evan Longoria | | | 277 |
| # | Player | RC | Variant | Print Run |
| --- | --- | --- | --- | --- |
| 5 | David Ortiz | | | 471 |
| 44 | David Ortiz | | | 346 |
| 61 | David Ortiz | | | 851 |
| 61 | Carl Yastrezemski | | | 851 |
| 70 | Boston Red Sox | | | 363 |
| 72 | David Ortiz | | | 919 |
| 86 | Jackie Bradley Jr. | | | 492 |
| 94 | Jackie Bradley Jr. | | | 438 |
| 113 | Mookie Betts | | | 784 |
| 116 | Mookie Betts | | | 1075 |
| 161 | David Ortiz | | | 1060 |
| 176 | Xander Bogaerts | | | 355 |
| 199 | David Ortiz | | | 756 |
| 216 | Xander Bogaerts | | | 444 |
| 228 | Mookie Betts | | | 397 |
| 229 | Jackie Bradley Jr | | | 349 |
| 230 | David Ortiz | | | 474 |
| 245 | David Ortiz | | | 4506 |
| 269 | Hanley Ramirez | | | 317 |
| 299 | Dustin Pedroia | | | 405 |
| 299 | Xander Bogaerts | | | 405 |
| 312 | Andrew Benintendi | | | 1224 |
| 318 | Steven Wright | | | 322 |
| 333 | Mookie Betts | | | 540 |
| 355 | Mookie Betts | | | 1646 |
| 355 | Ted Williams | | | 1646 |
| 355-B | Mookie Betts | | Black Relic | 99 |
| 355-C | Mookie Betts | | Blue Relic | 49 |
| 355-D | Mookie Betts | | Purple Relic | 25 |
| 355-E | Mookie Betts | | Red Relic | 10 |
| 355-F | Mookie Betts | | Gold Relic | 1 |
| 379 | David Ortiz | | | 884 |
| 379 | Carl Yastezemski | | | 884 |
| 379 | Ted Williams | | | 884 |
| 385 | Andrew Benintendi | | | 846 |
| 389 | David Ortiz | | | 2394 |
| 389-B | David Ortiz | | Black Auto | 99 |
| 389-C | David Ortiz | | Blue Auto | 49 |
| 389-D | David Ortiz | | Purple Auto | 25 |
| 389-E | David Ortiz | | Red Auto | 10 |
| 389-F | David Ortiz | | Gold Auto | 1 |
| 404 | Wade Boggs | | | 532 |
| 418 | Yoan Moncada | | | 2333 |
| 438 | Rick Porcello | | | 381 |
| 445 | David Ortiz | | | 584 |
| 458 | Hanley Ramirez | | | 434 |
| 476 | Rick Porcello | | | 355 |
| 482 | David Ortiz | | | 759 |
| 483 | Mookie Betts | | | 562 |
| 483 | Nomar Garciaparra | | | 562 |
| 500 | Boston Red Sox | | | 513 |
| 503 | Boston Red Sox | | | 398 |
| 517 | Boston Red Sox | | | 721 |
| 517-B | Boston Red Sox | | Black Relic | 99 |
| 517-C | Boston Red Sox | | Blue Relic | 49 |
| 517-D | Boston Red Sox | | Purple Relic | 25 |
| 517-E | Boston Red Sox | | Red Relic | 10 |
| 517-F | Boston Red Sox | | Yellow Relic | 1 |
| 524 | David Ortiz | | | 542 |
| 530 | David Ortiz | | | 2690 |
| 548 | Andrew Benintendi | | | 552 |
| 564 | David Ortiz | | | 1564 |
| 564-B | David Ortiz | | Green Auto | 199 |
| 564-C | David Ortiz | | Black Auto | 99 |
| 564-D | David Ortiz | | Blue Auto | 49 |
| 564-E | David Ortiz | | Purple Auto | 25 |
| 564-F | David Ortiz | | Red Auto | 10 |
| 564-G | David Ortiz | | Gold Auto | 1 |
| BOS-1 | David Ortiz | | | 612 |
| BOS-2 | Mookie Betts | | | 612 |
| BOS-3 | Dustin Pedroia | | | 612 |
| BOS-4 | Xander Bogaerts | | | 612 |
| BOS-5 | Andrew Benintendi | | | 612 |
| BOS-6 | Jackie Bradley | | | 612 |
| BOS-7 | Hanley Ramirez | | | 612 |
| BOS-8 | Sandy Leon | | | 612 |
| BOS-9 | Travis Shaw | | | 612 |
| BOS-10 | Yoan Moncada | | | 612 |
| BOS-11 | David Price | | | 612 |
| BOS-12 | Steven Wright | | | 612 |
| BOS-13 | Rick Porcello | | | 612 |
| BOS-14 | Drew Pomeranz | | | 612 |
| BOS-15 | Craig Kimbrel | | | 612 |
| OS-1 | David Ortiz | | | 1509 |
| OS-29 | Rick Porcello | | | 398 |
| OS-33 | Rick Porcello | | | 265 |
| OS-36 | Chris Sale | | | 286 |
| # | Player | RC | Variant | Print Run |
| --- | --- | --- | --- | --- |
| 27 | Cincinnati Reds | | | 278 |
| 132 | Joey Votto | | | 354 |
| 210 | Billy Hamilton | | | 296 |
| 259 | Billy Hamilton | | | 207 |
| 311 | Scott Schebler | RC | | 363 |
| 331 | Billy Hamilton | | | 444 |
| 417 | Eugenio Suarez | | | 223 |
| # | Player | RC | Variant | Print Run |
| --- | --- | --- | --- | --- |
| 4 | Trevor Story | RC | | 981 |
| 6 | Trevor Story | RC | | 759 |
| 9 | Trevor Story | RC | | 1298 |
| 17 | Nolan Arenado | | | 268 |
| 42 | Trevor Story | RC | | 800 |
| 53 | Colorado Rockies | | | 231 |
| 183 | Mark Reynolds | | | 264 |
| 226 | Trevor Story | RC | | 1041 |
| 237 | Tyler Anderson | RC | | 365 |
| 279 | Trevor Story | RC | | 620 |
| 291 | David Dahl | | | 520 |
| 344 | David Dahl | | | 484 |
| 348 | Charlie Blackmon | | | 273 |
| 376 | Ryan Raburn | | | 256 |
| 428 | Chad Bettis | | | 275 |
| 435 | Cristhian Adames | | | 213 |
| 465 | Daniel Descalso | | | 260 |
| 470 | Jon Gray | RC | | 322 |
| 166 | Rockies/Marlins | | | 323 |
| # | Player | RC | Variant | Print Run |
| --- | --- | --- | --- | --- |
| 2 | Kansas City Royals | | | 356 |
| 50 | Lorenzo Cain | | | 280 |
| 64 | Lorenzo Cain | | | 352 |
| 78 | Kendrys Morales | | | 227 |
| 105 | Brett Eibner | RC | | 904 |
| 151 | Whit Merrifield | RC | | 757 |
| 213 | Eric Hosmer | | | 372 |
| 217 | Salvador Perez | | | 376 |
| 225 | Salvador Perez | | | 341 |
| 247 | Eric Hosmer | | | 993 |
| 247-B | Eric Hosmer | | Black Relic | 99 |
| 272 | Kansas City Royals | | | 1002 |
| 303 | Danny Duffy | | | 479 |
| 343 | Lorenzo Cain | | | 303 |
| 403 | Rally Mantis | | | 1029 |
| 433 | Kansas City Royals | | | 314 |
| OS-39 | Jorge Soler | | | 264 |
| # | Player | RC | Variant | Print Run |
| --- | --- | --- | --- | --- |
| 82 | Justin Verlander | | | 794 |
| 95 | Francisco Rodriguez | | | 386 |
| 130 | Michael Fulmer | RC | | 636 |
| 146 | Michael Fulmer | RC | | 658 |
| 158 | Victor Martinez | | | 336 |
| 167 | Miguel Cabrera | | | 430 |
| 168 | Justin Upton | | | 301 |
| 189 | Miguel Cabrera | | | 427 |
| 256 | Jarrod Saltalmacchia | | | 242 |
| 274 | Miguel Cabrera | | | 448 |
| 295 | Justin Verlander | | | 355 |
| 313 | J.D. Martinez | | | 319 |
| 357 | Michael Fulmer | RC | | 609 |
| 378 | Al Kaline | | | 579 |
| 411 | JaCoby Jones | | | 714 |
| 472 | Miguel Cabrera | | | 462 |
| 510 | Miguel Cabrera | | | 394 |
| 540 | Miguel Cabrera | | | 271 |
| OS-17 | Michael Fulmer | RC | | 587 |
| OS-17B | Michael Fulmer | RC | Black Auto | 99 |
| OS-17C | Michael Fulmer | RC | Blue Auto | 49 |
| OS-17D | Michael Fulmer | RC | Purple Auto | 25 |
| OS-17E | Michael Fulmer | RC | Red Auto | 10 |
| OS-17F | Michael Fulmer | RC | Gold Auto | 1 |
| # | Player | RC | Variant | Print Run |
| --- | --- | --- | --- | --- |
| 108 | Miguel Sano | RC | | 721 |
| 133 | Brian Dozier | | | 293 |
| 182 | Harmon Killebrew | | | 413 |
| 203 | Max Kepler | RC | | 631 |
| 248 | Rod Carew | | | 693 |
| 304 | Max Kepler | RC | | 620 |
| 330 | Miguel Sano | RC | | 588 |
| 427 | Brian Dozier | | | 306 |
| 441 | Joe Mauer | | | 281 |
| 449 | Brian Dozier | | | 483 |
| 449 | Harmon Killebrew | | | 483 |
| 491 | Brian Dozier | | | 324 |
| 493 | Byron Buxton | | | 323 |
| # | Player | RC | Variant | Print Run |
| --- | --- | --- | --- | --- |
| 22 | Chris Sale | | | 244 |
| 33 | Chicago White Sox | | | 321 |
| 62 | Todd Frazier | | | 367 |
| 85 | Chris Sale | | | 513 |
| 115 | Matt Albers | | | 743 |
| 142 | Tim Anderson | RC | | 701 |
| 150 | Avisail Garcia | | | 289 |
| 150 | Adam Eaton | | | 289 |
| 161 | Ted Williams | | | 1060 |
| 244 | Chris Sale | | | 318 |
| 284 | Adam Eaton | | | 260 |
| 286 | Tyler Saladino | | | 306 |
| 369 | Adam Eaton | | | 411 |
| 395 | Todd Frazier | | | 240 |
| 446 | Chris Sale | | | 361 |
| 457 | Carlos Sanchez | | | 259 |
| 477 | Jose Abreu | | | 245 |
| 522 | Carlos Rodon | | | 216 |
| OS-37 | Yoan Moncada | | | 411 |
| OS-41 | Lucas Giolito | RC | | 341 |
| # | Player | RC | Variant | Print Run |
| --- | --- | --- | --- | --- |
| 25 | Masahiro Tanaka | | | 424 |
| 32 | Jacoby Ellsbury | | | 326 |
| 34 | Brett Gardner | | | 278 |
| 76 | Carlos Beltran | | | 415 |
| 107 | New York Yankees | | | 360 |
| 173 | Starlin Castro | | | 299 |
| 193 | Didi Gregorius | | | 355 |
| 207 | Mark Teixeira | | | 339 |
| 250 | Carlos Beltran | | | 337 |
| 262 | Aroldis Chapman | | | 377 |
| 317 | Mark Teixeira | | | 302 |
| 341 | Gary Sanchez | RC | | 673 |
| 347 | Alex Rodriguez | | | 1394 |
| 351 | Tyler Austin | | | 5250 |
| 351 | Aaron Judge | | | 5250 |
| 352 | Tyler Austin | | | 1633 |
| 353 | Aaron Judge | | | 2537 |
| 356 | Aaron Judge | | | 1169 |
| 368 | Gary Sanchez | RC | | 740 |
| 380 | Brett Gardner | | | 310 |
| 386 | Gary Sanchez | RC | | 1054 |
| 388 | Gary Sanchez | RC | | 1395 |
| 388-B | Gary Sanchez | RC | Black Relic | 99 |
| 388-C | Gary Sanchez | RC | Blue Relic | 49 |
| 388-D | Gary Sanchez | RC | Purple Relic | 25 |
| 388-E | Gary Sanchez | RC | Red Relic | 10 |
| 388-F | Gary Sanchez | RC | Gold Relic | 1 |
| 400 | Gary Sanchez | RC | | 2334 |
| 422 | Gary Sanchez | RC | | 422 |
| 436 | Tyler Austin | | | 592 |
| 443 | Gary Sanchez | RC | | 590 |
| 451 | Jacoby Ellsbury | | | 303 |
| 451 | Didi Gregorius | | | 303 |
| 473 | Gary Sanchez | RC | | 895 |
| 486 | Gary Sanchez | RC | | 3282 |
| 509 | Gary Sanchez | RC | | 1893 |
| 509-B | Gary Sanchez | RC | Black Relic | 99 |
| 509-C | Gary Sanchez | RC | Blue Relic | 49 |
| 509-D | Gary Sanchez | RC | Purple Relic | 25 |
| 509-E | Gary Sanchez | RC | Red Relic | 10 |
| 509-F | Gary Sanchez | RC | Gold Relic | 1 |
| 516 | Mark Teixeira | | | 363 |
| 531 | Mark Teixeira | | | 426 |
| OS-18 | Gary Sanchez | RC | | 665 |
| OS-42 | Aroldis Chapman | | | 300 |
| | | | | | |
| --- | --- | --- | --- | --- | --- |
| 238 | Yoan Moncada | | | 1452 | All Star Week |
| AS1 | Ken Griffey Jr. | | | 1730 | All Star Week |
| AS1 | Tony Gwynn | | | 1730 | All Star Week |
| 48 | Manny Machado | | | 540 | American League |
| 121 | Jackie Bradley Jr. | | | 456 | American League |
| 201 | Jose Altuve | | | 334 | American League |
| 421 | Gary Sanchez | | | 825 | American League |
| OS-7 | Jose Altuve | | | 266 | American League |
| OS-8 | Jose Altuve | | | 283 | American League |
| OS-8 | Rick Porcello | | | 283 | American League |
| OS-8 | Michael Fulmer | | | 283 | American League |
| OS-8 | Mark Trumbo | | | 283 | American League |
| 281 | Ken Griffey Jr | | | 1930 | Hall of Fame |
| 282 | Mike Piazza | | | 1309 | Hall of Fame |
| 111 | American Troops | | | 699 | MLB |
| 162 | Father's Day | | | 431 | MLB |
| 270 | Turns Back the Clock | | | 401 | MLB |
| 302 | Trade Deadline | | | 297 | MLB |
| 444 | Major League Baseball | | | 551 | MLB |
| OS-10 | Infield Silver Sluggers | | | 552 | MLB |
| OS-11 | Outfield Silver Sluggers | | | 347 | MLB |
| OS-12 | Pitcher, DH, Catcher Silver Sluggers | | | 450 | MLB |
| OS-13 | Infield Defensive Player of the Year | | | 441 | MLB |
| OS-14 | Outfield Defensive Player of the Year | | | 289 | MLB |
| OS-15 | Pitchers, Catchers Defensive Player of the Year | | | 286 | MLB |
| 48 | Bryce Harper | | | 540 | National League |
| 121 | Daniel Murphy | | | 456 | National League |
| 201 | Wil Myers | | | 334 | National League |
| 421 | Kris Bryant | | | 825 | National League |
| OS-7 | Curtis Granderson | | | 266 | National League |
| OS-9 | Daniel Murphy | | | 459 | National League |
| OS-9 | Kyle Hendricks | | | 459 | National League |
| OS-9 | Corey Seager | | | 459 | National League |
| OS-9 | Jose Fernandez | | | 459 | National League |