Titan Yellow Submarine figurines have been popular among collectors for quite some time. To commemorate the 50th anniversary of the groundbreaking film, a new wave of collectibles has been announced.
Yellow Submarine is a classic animated film produced by Al Brodax and, although not featuring the voices of The Beatles, includes several beloved Beatles songs.
The film was released in America on November 13, 1968 and the soundtrack, half comprised of George Martin's film score and featuring only four new Beatles songs, was released in January 1969.
Since the film's release, there has been no shortage of related merchandise covering everything from trading cards to figurines to Lego sets to pinball machines.
Titan is not new to Beatles memorabilia and this latest wave of collectibles adds to an already large collection. Release dates vary but figures are available for pre-order if they haven't already been released.
Below is a rundown of the latest releases. Click any of the links to purchase or pre-order the figures today. You can also browse older collectibles HERE.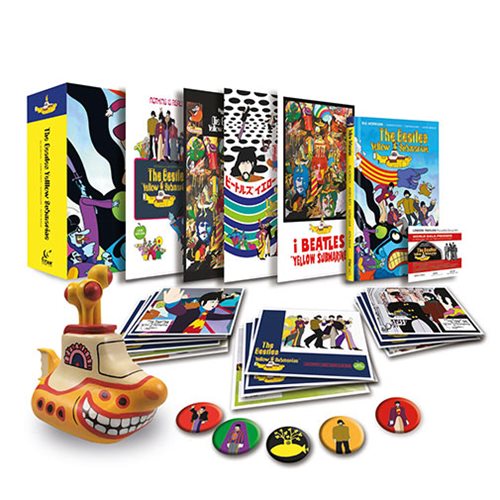 This box set of Yellow Submarine gear is limited to 1,968 copies and includes a novel written by Bill Morrison (Mad Magazine), a 6 1/2-inch vinyl submarine figure, 16 lobby cards, four movie posters, five badges, an art card autographed by Bill Morrison and a replica ticket to the Yellow Submarine film premier. (January, 2019)
Four new vinyl figurines have been added to the Titan Yellow Submarine line but unlike previous blind box releases, these figures stand 6 1/2 inches tall. Sold separately, John, Paul, George, and Ringo are featured in their standard Yellow Submarine outfits. (March, 2019)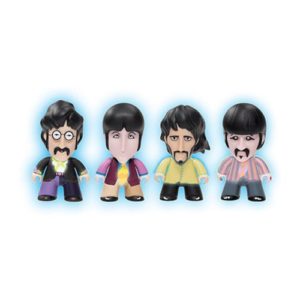 Glow in the dark versions of the latest wave of figurines are being sold in a four-pack configuration. (March, 2019)
A 4 1/2 inch vinyl figure of the dreaded Blue Meanie.
This graphic novel is written by famed artist/writer Bill Morrison