Two American League teams were added through expansion in 1969–the Kansas City Royals and the Milwaukee Brewers–who actually started as the Seattle Pilots before a relocation the following year to Wisconsin.
In their 48 seasons of existence, the Royals have made the playoffs 9 times, including 4 appearances in the World Series and wins in 1985 and 2015. Overall, they've played in 16 postseason series and went 9-7 in those series.
The Royals have had two main eras of success as a team. After the typical slow start for an expansion team, beginning in 1975 they had a period of prolonged success. In the 15 seasons spanning 1975 to 1989, the Royals had a cumulative record of 1,286-1,084 (.543 W-L%, equivalent to an average of nearly 88 wins per 162 games). Then since 2013, the Royals have gone 351-297 (.542), also averaging nearly 88 wins over the last 4 seasons.
But, as an overall franchise, the team remains 229 games under .500 since inception. That means the Royals would have to win 91 games (20 games over .500 at 91-71) for 11 straight years just to get within sniffing distance of a .500 overall record. Or, if they could sustain their current 88-win pace, it would still take 17 more years to reach .500 as a franchise. That's bad.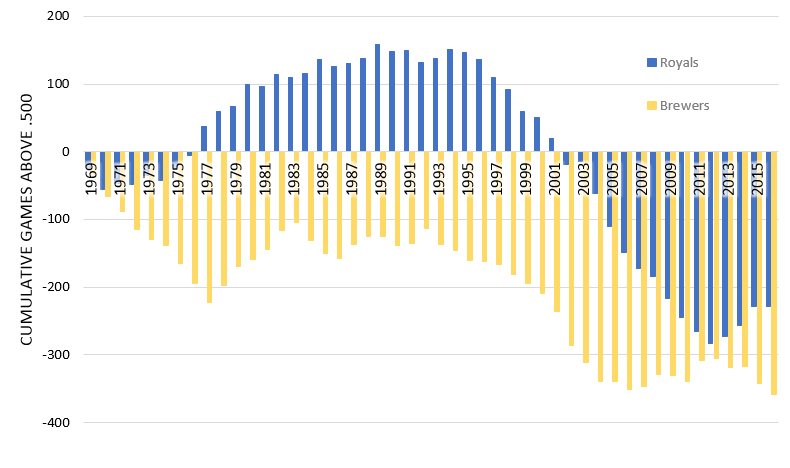 The Brewers, however, are far worse. In their 48 seasons, the Brewers have made the playoffs just 4 times, reached the World Series once, and have never won a championship. They won the 1982 ALCS and 2011 NLDS (remember they switched leagues in the 1990s) but have lost the other 4 postseason series in which they've participated.
Worse still, the Brewers have only 7 seasons with 90+ wins and have only 7 other seasons with a winning record. By contrast, they have 15 seasons with 90+ losses, including the dreadful 2002, in which they went a historically awful 56-106.
The Brewers have had only one period of success longer than 2 seasons and that was in the 6 seasons 1978 to 1983, when they went 518-400 (.564) overall. That includes the strike-shortened 1981 season, where they played on a pace to win 92 games in a full 162-game season.
The Royals' franchise history looks somewhat ugly, with a crossover in 2002 from a winning team into a losing team. While they've been good the last few years, they have a long way to claw back to .500. The Brewers, however, are even worse. They passed 100 games under .500 in 1972, then 200 games under in 1977 and again in 2000, then 300 games under in 2003, and are starting to approach 400 games under.
That's–even worse.
*Featured photo from 1970 Topps Baseball
---