The 1980 Topps set is regarded by many as a classic.  It was the final set issued by Topps under their monopoly with the MLB Players Association–by the time 1981 rolled around, Fleer and Donruss were in the baseball card business as well.
Thanks in large part to a simple yet elegant design and a great mix of action and close-up photos, there are many beautiful cards in this set. My favorites, though, are the Astros cards, because the team was doing a lot of experimentation with their uniforms at the time.
Without a doubt, the perfect card from this set is #306, Denny Walling: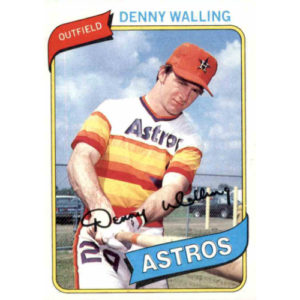 The rainbow colors of the uniform are great–more colors on a card are almost always a good thing. Then there's the stylistic unity with the stripe border and flags on the card matching the stripes and colors of the uniform itself. The orange hat with star looks like the sun in the sky–and this feature ages particularly well since the Astros moved primarily to blue hats in the years that followed, making the orange cap here all the more striking.
There's even more to like about the uniform, particularly the player number on the pants. Although this can best be considered as a failed design modification, I love seeing such things documented on cards. Amazingly, only one other card from the 1980 Topps set, #722 Jose Cruz, shows the full uniform number on the player's pants.
But I haven't yet touched on the truly fascinating part of this card, the background. Scroll back up and take another look at the card, then come back down here to check off all the following things visible in the background:
– Chain-link fence
– Not one, but two outrageous 1970s  automobiles
– Child wearing yellow coat (because, you know, it's cold in Florida)
– The moon (yes, I do believe that's the moon visible up there among the clouds)
Seriously, this is a slice of 1979 spring training life, all on a single, beautiful card. If it's not the perfect card, baby, then I don't know what is.
---