1965 Topps is a much-loved design, owing to its simplicity, readability, and sharpness. Bert Campaneris' rookie card is no exception, making wonderful use of a black border to provide a strong framing and background for Campy's name and position. That Topps found a way to include the mascot version of the team logo, in this case a tiny bat-wielding elephant, is fantastic. Plus, on this particular card they did a lovely job cropping the photo off-center so it could be balanced by the All-Star Rookie trophy. Throw in the old-fashioned KC logo on the cap as well as the house and enormous tree in the distance, and we have a lovely card front.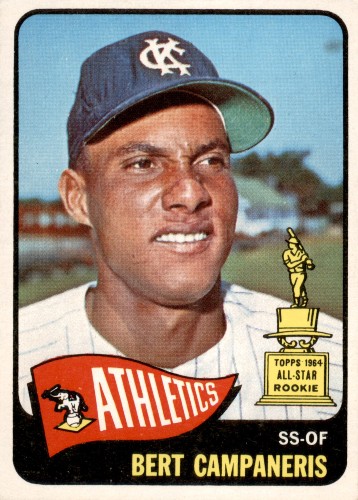 But what makes this card quite special to me is the back.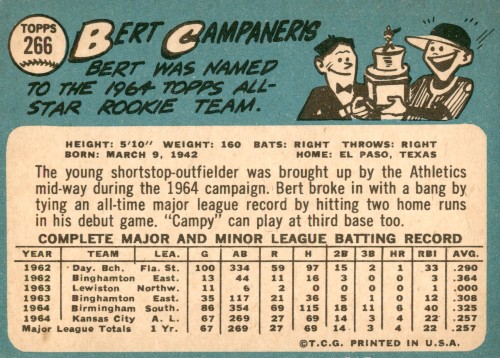 I like the design of card backs on 1965 Topps, particularly the solid color with uncolored area for all the stats, as well as the cartoon initial letters in the player name. But what I really appreciate is how much information Topps packed into 3 short sentences. We get that he can play shortstop, outfield, and third base. Campaneris, of course, went on to play all 9 positions in a single game during the 1965 season, including even pitching both right-handed and left-handed. In the end, he ended up playing shortstop overwhelming in his career, and he did it quite well, putting up 71 fielding runs in his 2,097 games at short–good job by the Athletics recognizing that a great shortstop is far more valuable than a guy who can play all over the field.
The card back also tells us that Campaneris' nickname was "Campy"–unsurprising nickname, but still nice that they worked it in.
AND they also managed to mention his feat of hitting 2 homers in his first MLB game. Campaneris was the second guy to ever do that, but it's happened 3 times since, including Trevor Story just last season:
Although Neiman ended up with the most career homers from this group (125, to 80 for Arencibia and 79 for Campaneris, pending the rest of Story's career), it is Campy who had the highest career WAR, with 53.0.