Lorenzo Cain is best known for his speed and defense. Aside from an outburst of offensive production in 2015, which propelled Cain into the Most Valuable Player conversation, the Royals' center fielder has mostly provided unspectacular output with the bat.
When that output has been upped, it has usually come in the form of high batting averages and spikes in otherwise moderate power numbers. It certainly hasn't come in the form of outstanding on-base percentages. Cain has never topped 37 walks in a season. His career 6.2% walk percentage entering the season ranked in the bottom 20% of hitters since his debut (minimum 2000 PA since 2010).
So it was certainly a surprise to see Lorenzo Cain sharing the American League lead in bases on balls entering the April 17th round of games. Cain's eleven free passes were tied with the Twins' Miguel Sanó until Sanó walked again on April 18th, while Cain had the day off.
The eleven walks Cain has racked up this month are already a career high for any given month, having never previously managed double digit walks in a month. With the Royals scheduled to play twelve further games in April, it's not outrageous to suggest Cain could double his previous high in a month.
So what's going on? Surprisingly, PITCHf/x data has not registered a noticeable uptick for Cain in pitches seen outside the zone this season. The pitch-tracking system has clocked 53% of the pitches Cain has seen as being outside the zone, up just half a percentage point from the previous year and within two percentage points of his career average.
Rather, it seems that Cain has been better at laying off bad pitches. The same data sees Cain as having swung at 25% of pitches outside the zone this year, down from 29.9% last season and down from a career figure of 30.6% entering the season. Cain's rate of swinging at pitches outside the zone ranked in the 63rd percentile from 2010-2016 (min 2000 PA) – this year it's down to the 25th percentile.
And when Cain is swinging, he's not missing as much as he used to. The following tables from Brooks Baseball show Cain's swings and misses from 2010-2016 on the left and those from 2017 on the right.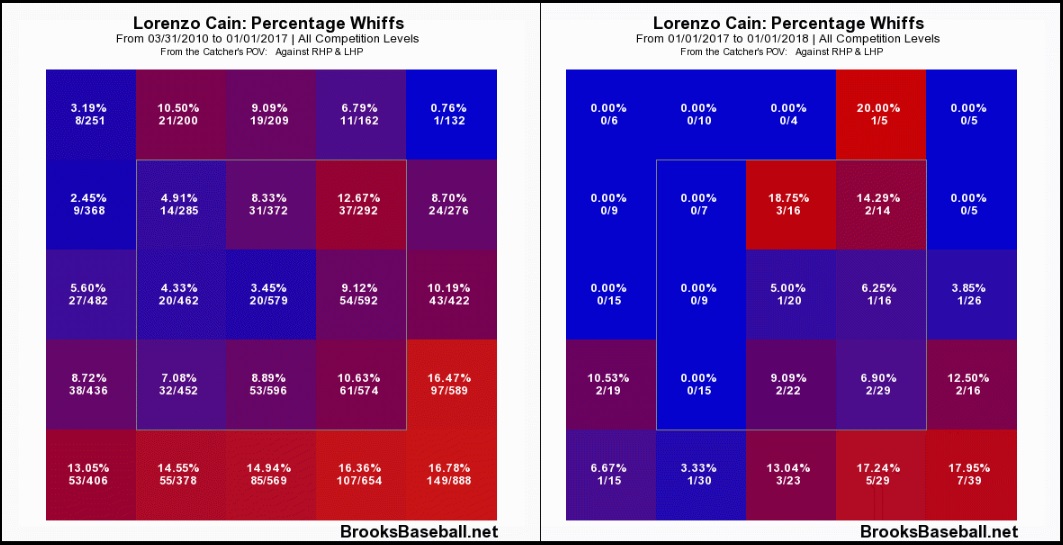 Cain is still swinging at pitches low and away, but has managed to refrain from whiffing on inside pitches and those at the top of the strike zone so far in 2017. Baseball Savant allows us to see the pitches outside the strike zone that Cain has whiffed on this season.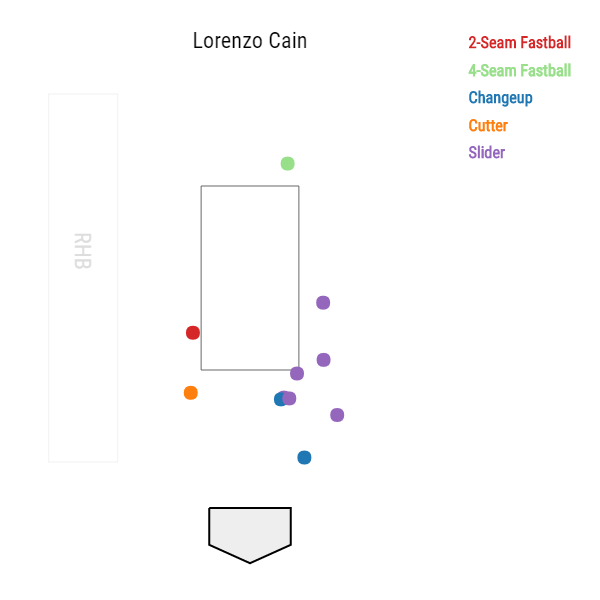 Clearly Cain is susceptible to the odd slider down and away, but he's only whiffed on three would-be balls that were high or inside.
The Royals are off to a 6-6 start, but haven't necessarily been taking full advantage of Cain's new found on-base skills. Kansas City has lost all three games this year where Cain has received multiple free passes. In fact, they have lost the last four such games, having won the previous sixteen games where Cain walked twice.
Cain has certainly needed the OBP boost. His isolated power is sitting at an unsightly .050, just a point above slap-hitting teammate Alcides Escobar. Cain's judiciousness at the plate, in addition to an unsustainably high .467 batting average on balls in play, is almost entirely supporting his .890 OPS through the first two weeks of the season.
It's still very early, perhaps too early to assume that Cain will maintain this proclivity for walking throughout the year. But it's certainly something to keep an eye on. The Royals will need solid production from Cain if their season is to have legs, no matter how it comes.
---