In 1977, Kenner released the first of a seemingly endless line of Star Wars action figures with an initial wave of 12 characters. Since then, there has truly never been an absence of Star Wars action figures on store shelves and the value of the original series continues to rise.
Each wave of new releases added on to the previous wave so an easy way to determine the age of a figure is to look at the reverse for the "Collect all…" number. The initial card backs said "Collect all 12" while the second wave said "Collect all 20". For this reason, figures are often referred to by their card back number. A "12-back" would be the first wave of releases.
As new movies were released in the original trilogy, the branding on the card fronts would change but the item numbering would remain the same so the first Luke Skywalker figure is numbered 38180 regardless of the branding on the front — all the more reason to focus on the card backs.
This checklist is organized by release waves. You can jump to a specific wave by selecting its card back number from the key below. Clicking a link within this checklist will direct you to an affiliate retailer or to relevant eBay listings.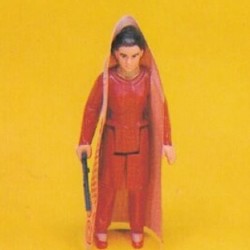 Kenner Star Wars Action Figure Checklist
| | |
| --- | --- |
| 38180 | Luke Skywalker |
| 38190 | Princess Leia |
| 38200 | Artoo-Detoo (R2-D2) |
| 38210 | Chewbacca |
| 38220 | See-Threepio (C-3PO) |
| 38230 | Darth Vader |
| 38240 | Stormtrooper |
| 38250 | Ben (Obi-Wan) Kenobi |
| 38260 | Han Solo |
| 38270 | Jawa |
| 38280 | Sand People |
| 38290 | Death Squad Commander |
| | |
| --- | --- |
| 38180 | Luke Skywalker |
| 38190 | Princess Leia |
| 38200 | Artoo-Detoo (R2-D2) |
| 38210 | Chewbacca |
| 38220 | See-Threepio (C-3PO) |
| 38230 | Darth Vader |
| 38240 | Stormtrooper |
| 38250 | Ben (Obi-Wan) Kenobi |
| 38260 | Han Solo |
| 38270 | Jawa |
| 38280 | Sand People |
| 38290 | Death Squad Commander |
| 39020 | Greedo |
| 39030 | Hammerhead |
| 39040 | Snaggletooth |
| 39050 | Walrus Man |
| 39060 | Luke Skywalker: X-wing Pilot |
| 39070 | R5-D4 |
| 39080 | Death Star Droid |
| 39090 | Power Droid |
| | |
| --- | --- |
| 38180 | Luke Skywalker |
| 38190 | Princess Leia |
| 38200 | Artoo-Detoo (R2-D2) |
| 38210 | Chewbacca |
| 38220 | See-Threepio (C-3PO) |
| 38230 | Darth Vader |
| 38240 | Stormtrooper |
| 38250 | Ben (Obi-Wan) Kenobi |
| 38260 | Han Solo |
| 38270 | Jawa |
| 38280 | Sand People |
| 38290 | Death Squad Commander |
| 39020 | Greedo |
| 39030 | Hammerhead |
| 39040 | Snaggletooth |
| 39050 | Walrus Man |
| 39060 | Luke Skywalker: X-wing Pilot |
| 39070 | R5-D4 |
| 39080 | Death Star Droid |
| 39090 | Power Droid |
| 39250 | Boba Fett |
Empire Strikes Back 31-Back
| | |
| --- | --- |
| 38180 | Luke Skywalker |
| 38190 | Princess Leia |
| 38200 | Artoo-Detoo (R2-D2) |
| 38210 | Chewbacca |
| 38220 | See-Threepio (C-3PO) |
| 38230 | Darth Vader |
| 38240 | Stormtrooper |
| 38250 | Ben (Obi-Wan) Kenobi |
| 38260 | Han Solo |
| 38270 | Jawa |
| 38280 | Sand People |
| 38290 | Death Squad Commander |
| 39020 | Greedo |
| 39030 | Hammerhead |
| 39040 | Snaggletooth |
| 39050 | Walrus Man |
| 39060 | Luke Skywalker: X-wing Pilot |
| 39070 | R5-D4 |
| 39080 | Death Star Droid |
| 39090 | Power Droid |
| 39250 | Boba Fett |
| 39720 | Leia Organa (Bespin Gown) |
| 39730 | FX-7 |
| 39740 | Imperial Stormtrooper (Hoth Battle Gear) |
| 39750 | Rebel Soldier (Hoth Battle Gear) |
| 39760 | Bossk (Bounty Hunter) |
| 39770 | IG-88 |
| 39780 | Luke Skywalker (Bespin Fatigues) |
| 39790 | Han Solo (Hoth Outfit) |
| 39800 | Lando Calrissian |
| 39810 | Bespin Security Guard |
Empire Strikes Back 32-Back
| | |
| --- | --- |
| 38180 | Luke Skywalker |
| 38190 | Princess Leia |
| 38200 | Artoo-Detoo (R2-D2) |
| 38210 | Chewbacca |
| 38220 | See-Threepio (C-3PO) |
| 38230 | Darth Vader |
| 38240 | Stormtrooper |
| 38250 | Ben (Obi-Wan) Kenobi |
| 38260 | Han Solo |
| 38270 | Jawa |
| 38280 | Sand People |
| 38290 | Death Squad Commander |
| 39020 | Greedo |
| 39030 | Hammerhead |
| 39040 | Snaggletooth |
| 39050 | Walrus Man |
| 39060 | Luke Skywalker: X-wing Pilot |
| 39070 | R5-D4 |
| 39080 | Death Star Droid |
| 39090 | Power Droid |
| 39250 | Boba Fett |
| 39720 | Leia Organa (Bespin Gown) |
| 39730 | FX-7 |
| 39740 | Imperial Stormtrooper (Hoth Battle Gear) |
| 39750 | Rebel Soldier (Hoth Battle Gear) |
| 39760 | Bossk (Bounty Hunter) |
| 39770 | IG-88 |
| 39780 | Luke Skywalker (Bespin Fatigues) |
| 39790 | Han Solo (Hoth Outfit) |
| 39800 | Lando Calrissian |
| 39810 | Bespin Security Guard |
| 38310 | Yoda |
Empire Strikes Back 41-Back
| | |
| --- | --- |
| 38180 | Luke Skywalker |
| 38190 | Princess Leia |
| 38200 | Artoo-Detoo (R2-D2) |
| 38210 | Chewbacca |
| 38220 | See-Threepio (C-3PO) |
| 38230 | Darth Vader |
| 38240 | Stormtrooper |
| 38250 | Ben (Obi-Wan) Kenobi |
| 38260 | Han Solo |
| 38270 | Jawa |
| 38280 | Sand People |
| 38290 | Death Squad Commander |
| 39020 | Greedo |
| 39030 | Hammerhead |
| 39040 | Snaggletooth |
| 39050 | Walrus Man |
| 39060 | Luke Skywalker: X-wing Pilot |
| 39070 | R5-D4 |
| 39080 | Death Star Droid |
| 39090 | Power Droid |
| 39250 | Boba Fett |
| 39720 | Leia Organa (Bespin Gown) |
| 39730 | FX-7 |
| 39740 | Imperial Stormtrooper (Hoth Battle Gear) |
| 39750 | Rebel Soldier (Hoth Battle Gear) |
| 39760 | Bossk (Bounty Hunter) |
| 39770 | IG-88 |
| 39780 | Luke Skywalker (Bespin Fatigues) |
| 39790 | Han Solo (Hoth Outfit) |
| 39800 | Lando Calrissian |
| 39810 | Bespin Security Guard |
| 38310 | Yoda |
| 39319 | Ugnaught |
| 39329 | Dengar |
| 39339 | Han Solo (Bespin Outfit) |
| 39349 | Lobot |
| 39359 | Leia (Hoth Outfit) |
| 39369 | Rebel Commander |
| 39379 | AT-AT Driver |
| 39389 | Imperial Commander |
| 39399 | 2-1B |
Empire Strikes Back 45-Back
| | |
| --- | --- |
| 38180 | Luke Skywalker |
| 38190 | Princess Leia |
| 38200 | Artoo-Detoo (R2-D2) |
| 38210 | Chewbacca |
| 38220 | See-Threepio (C-3PO) |
| 38230 | Darth Vader |
| 38240 | Stormtrooper |
| 38250 | Ben (Obi-Wan) Kenobi |
| 38260 | Han Solo |
| 38270 | Jawa |
| 38280 | Sand People |
| 38290 | Death Squad Commander |
| 39020 | Greedo |
| 39030 | Hammerhead |
| 39040 | Snaggletooth |
| 39050 | Walrus Man |
| 39060 | Luke Skywalker: X-wing Pilot |
| 39070 | R5-D4 |
| 39080 | Death Star Droid |
| 39090 | Power Droid |
| 39250 | Boba Fett |
| 39720 | Leia Organa (Bespin Gown) |
| 39730 | FX-7 |
| 39740 | Imperial Stormtrooper (Hoth Battle Gear) |
| 39750 | Rebel Soldier (Hoth Battle Gear) |
| 39760 | Bossk (Bounty Hunter) |
| 39770 | IG-88 |
| 39780 | Luke Skywalker (Bespin Fatigues) |
| 39790 | Han Solo (Hoth Outfit) |
| 39800 | Lando Calrissian |
| 39810 | Bespin Security Guard |
| 38310 | Yoda |
| 39319 | Ugnaught |
| 39329 | Dengar |
| 39339 | Han Solo (Bespin Outfit) |
| 39349 | Lobot |
| 39359 | Leia (Hoth Outfit) |
| 39369 | Rebel Commander |
| 39379 | AT-AT Driver |
| 39389 | Imperial Commander |
| 39399 | 2-1B |
| 69420 / 69590 | Artoo-Detoo (R2-D2) (with Sensorscope) |
| 69430 / 69600 | C-3PO (Removable Limbs) |
| 69610 | Luke Skywalker (Hoth Battle Gear) |
| 69620 | AT-AT Commander |
| 69630 | (Twin-Pod) Cloud Car Pilot |
| 69640 | Bespin Security Guard |
Empire Strikes Back 47-Back
| | |
| --- | --- |
| 38180 | Luke Skywalker |
| 38190 | Princess Leia |
| 38200 | Artoo-Detoo (R2-D2) |
| 38210 | Chewbacca |
| 38220 | See-Threepio (C-3PO) |
| 38230 | Darth Vader |
| 38240 | Stormtrooper |
| 38250 | Ben (Obi-Wan) Kenobi |
| 38260 | Han Solo |
| 38270 | Jawa |
| 38280 | Sand People |
| 38290 | Death Squad Commander |
| 39020 | Greedo |
| 39030 | Hammerhead |
| 39040 | Snaggletooth |
| 39050 | Walrus Man |
| 39060 | Luke Skywalker: X-wing Pilot |
| 39070 | R5-D4 |
| 39080 | Death Star Droid |
| 39090 | Power Droid |
| 39250 | Boba Fett |
| 39720 | Leia Organa (Bespin Gown) |
| 39730 | FX-7 |
| 39740 | Imperial Stormtrooper (Hoth Battle Gear) |
| 39750 | Rebel Soldier (Hoth Battle Gear) |
| 39760 | Bossk (Bounty Hunter) |
| 39770 | IG-88 |
| 39780 | Luke Skywalker (Bespin Fatigues) |
| 39790 | Han Solo (Hoth Outfit) |
| 39800 | Lando Calrissian |
| 39810 | Bespin Security Guard |
| 38310 | Yoda |
| 39319 | Ugnaught |
| 39329 | Dengar |
| 39339 | Han Solo (Bespin Outfit) |
| 39349 | Lobot |
| 39359 | Leia (Hoth Outfit) |
| 39369 | Rebel Commander |
| 39379 | AT-AT Driver |
| 39389 | Imperial Commander |
| 39399 | 2-1B |
| 69420 / 69590 | Artoo-Detoo (R2-D2) (with Sensorscope) |
| 69430 / 69600 | C-3PO (Removable Limbs) |
| 69610 | Luke Skywalker (Hoth Battle Gear) |
| 69620 | AT-AT Commander |
| 69630 | (Twin-Pod) Cloud Car Pilot |
| 69640 | Bespin Security Guard |
| 70020 | Zuckuss |
| 70030 | Imperial Tie Fighter Pilot |
Empire Strikes Back 48-Back
| | |
| --- | --- |
| 38180 | Luke Skywalker |
| 38190 | Princess Leia |
| 38200 | Artoo-Detoo (R2-D2) |
| 38210 | Chewbacca |
| 38220 | See-Threepio (C-3PO) |
| 38230 | Darth Vader |
| 38240 | Stormtrooper |
| 38250 | Ben (Obi-Wan) Kenobi |
| 38260 | Han Solo |
| 38270 | Jawa |
| 38280 | Sand People |
| 38290 | Death Squad Commander |
| 39020 | Greedo |
| 39030 | Hammerhead |
| 39040 | Snaggletooth |
| 39050 | Walrus Man |
| 39060 | Luke Skywalker: X-wing Pilot |
| 39070 | R5-D4 |
| 39080 | Death Star Droid |
| 39090 | Power Droid |
| 39250 | Boba Fett |
| 39720 | Leia Organa (Bespin Gown) |
| 39730 | FX-7 |
| 39740 | Imperial Stormtrooper (Hoth Battle Gear) |
| 39750 | Rebel Soldier (Hoth Battle Gear) |
| 39760 | Bossk (Bounty Hunter) |
| 39770 | IG-88 |
| 39780 | Luke Skywalker (Bespin Fatigues) |
| 39790 | Han Solo (Hoth Outfit) |
| 39800 | Lando Calrissian |
| 39810 | Bespin Security Guard |
| 38310 | Yoda |
| 39319 | Ugnaught |
| 39329 | Dengar |
| 39339 | Han Solo (Bespin Outfit) |
| 39349 | Lobot |
| 39359 | Leia (Hoth Outfit) |
| 39369 | Rebel Commander |
| 39379 | AT-AT Driver |
| 39389 | Imperial Commander |
| 39399 | 2-1B |
| 69420 / 69590 | Artoo-Detoo (R2-D2) (with Sensorscope) |
| 69430 / 69600 | C-3PO (Removable Limbs) |
| 69610 | Luke Skywalker (Hoth Battle Gear) |
| 69620 | AT-AT Commander |
| 69630 | (Twin-Pod) Cloud Car Pilot |
| 69640 | Bespin Security Guard |
| 70020 | Zuckuss |
| 70030 | Imperial Tie Fighter Pilot |
| 70010 | 4-LOM |
Return of the Jedi 65-Back
| | |
| --- | --- |
| 38180 | Luke Skywalker |
| 38190 | Princess Leia |
| 38200 | Artoo-Detoo (R2-D2) |
| 38210 | Chewbacca |
| 38220 | See-Threepio (C-3PO) |
| 38230 | Darth Vader |
| 38240 | Stormtrooper |
| 38250 | Ben (Obi-Wan) Kenobi |
| 38260 | Han Solo |
| 38270 | Jawa |
| 38280 | Sand People |
| 38290 | Death Squad Commander |
| 39020 | Greedo |
| 39030 | Hammerhead |
| 39040 | Snaggletooth |
| 39050 | Walrus Man |
| 39060 | Luke Skywalker: X-wing Pilot |
| 39070 | R5-D4 |
| 39080 | Death Star Droid |
| 39090 | Power Droid |
| 39250 | Boba Fett |
| 39720 | Leia Organa (Bespin Gown) |
| 39730 | FX-7 |
| 39740 | Imperial Stormtrooper (Hoth Battle Gear) |
| 39750 | Rebel Soldier (Hoth Battle Gear) |
| 39760 | Bossk (Bounty Hunter) |
| 39770 | IG-88 |
| 39780 | Luke Skywalker (Bespin Fatigues) |
| 39790 | Han Solo (Hoth Outfit) |
| 39800 | Lando Calrissian |
| 39810 | Bespin Security Guard |
| 38310 | Yoda |
| 39319 | Ugnaught |
| 39329 | Dengar |
| 39339 | Han Solo (Bespin Outfit) |
| 39349 | Lobot |
| 39359 | Leia (Hoth Outfit) |
| 39369 | Rebel Commander |
| 39379 | AT-AT Driver |
| 39389 | Imperial Commander |
| 39399 | 2-1B |
| 69420 / 69590 | Artoo-Detoo (R2-D2) (with Sensorscope) |
| 69430 / 69600 | C-3PO (Removable Limbs) |
| 69610 | Luke Skywalker (Hoth Battle Gear) |
| 69620 | AT-AT Commander |
| 69630 | (Twin-Pod) Cloud Car Pilot |
| 69640 | Bespin Security Guard |
| 70020 | Zuckuss |
| 70030 | Imperial Tie Fighter Pilot |
| 70010 | 4-LOM |
| 70310 | Admiral Ackbar |
| 70650 | Luke Skywalker (Jedi Knight Outfit) |
| 70660 | Princess Leia Organa (Boushh Disguise) |
| 70670 | Gamorrean Guard |
| 70680 | Emperor's Royal Guard |
| 70690 | Chief Chirpa |
| 70710 | Logray (Ewok Medicine Man) |
| 70730 | Klaatu |
| 70740 | Rebel Commando |
| 70760 | Weequay |
| 70770 | Squid Head |
| 70780 | General Madine |
| 70790 | Bib Fortuna |
| 70800 | Ree-Yees |
| 70820 / 71590 | Biker Scout |
| 70830 | Lando Calrissian (Skiff Guard Disguise) |
| 70840 | Nien Nunb |
Return of the Jedi 77-Back
| | |
| --- | --- |
| 38180 | Luke Skywalker |
| 38190 | Princess Leia |
| 38200 | Artoo-Detoo (R2-D2) |
| 38210 | Chewbacca |
| 38220 | See-Threepio (C-3PO) |
| 38230 | Darth Vader |
| 38240 | Stormtrooper |
| 38250 | Ben (Obi-Wan) Kenobi |
| 38260 | Han Solo |
| 38270 | Jawa |
| 38280 | Sand People |
| 38290 | Death Squad Commander |
| 39020 | Greedo |
| 39030 | Hammerhead |
| 39040 | Snaggletooth |
| 39050 | Walrus Man |
| 39060 | Luke Skywalker: X-wing Pilot |
| 39070 | R5-D4 |
| 39080 | Death Star Droid |
| 39090 | Power Droid |
| 39250 | Boba Fett |
| 39720 | Leia Organa (Bespin Gown) |
| 39730 | FX-7 |
| 39740 | Imperial Stormtrooper (Hoth Battle Gear) |
| 39750 | Rebel Soldier (Hoth Battle Gear) |
| 39760 | Bossk (Bounty Hunter) |
| 39770 | IG-88 |
| 39780 | Luke Skywalker (Bespin Fatigues) |
| 39790 | Han Solo (Hoth Outfit) |
| 39800 | Lando Calrissian |
| 39810 | Bespin Security Guard |
| 38310 | Yoda |
| 39319 | Ugnaught |
| 39329 | Dengar |
| 39339 | Han Solo (Bespin Outfit) |
| 39349 | Lobot |
| 39359 | Leia (Hoth Outfit) |
| 39369 | Rebel Commander |
| 39379 | AT-AT Driver |
| 39389 | Imperial Commander |
| 39399 | 2-1B |
| 69420 / 69590 | Artoo-Detoo (R2-D2) (with Sensorscope) |
| 69430 / 69600 | C-3PO (Removable Limbs) |
| 69610 | Luke Skywalker (Hoth Battle Gear) |
| 69620 | AT-AT Commander |
| 69630 | (Twin-Pod) Cloud Car Pilot |
| 69640 | Bespin Security Guard |
| 70020 | Zuckuss |
| 70030 | Imperial Tie Fighter Pilot |
| 70010 | 4-LOM |
| 70310 | Admiral Ackbar |
| 70650 | Luke Skywalker (Jedi Knight Outfit) |
| 70660 | Princess Leia Organa (Boushh Disguise) |
| 70670 | Gamorrean Guard |
| 70680 | Emperor's Royal Guard |
| 70690 | Chief Chirpa |
| 70710 | Logray (Ewok Medicine Man) |
| 70730 | Klaatu |
| 70740 | Rebel Commando |
| 70760 | Weequay |
| 70770 | Squid Head |
| 70780 | General Madine |
| 70790 | Bib Fortuna |
| 70800 | Ree-Yees |
| 70820 / 71590 | Biker Scout |
| 70830 | Lando Calrissian (Skiff Guard Disguise) |
| 70840 | Nien Nunb |
| 71190 | Nikto |
| 71210 | 8D8 |
| 71220 | Princess Leia Organa (in Combat Poncho) |
| 71230 | Wicket W. Warrick |
| 71240 | The Emperor |
| 71280 | B-Wing Pilot |
| 71290 | Klaatu (in Skiff Guard Outfit) |
| 71300 | Han Solo (in Trench Coat) |
| 71310 | Teebo |
| 71320 | Prune Face |
| 71330 | AT-ST Driver |
| 71350 | Rancor Keeper |
Return of the Jedi 79-Back
| | |
| --- | --- |
| 38180 | Luke Skywalker |
| 38190 | Princess Leia |
| 38200 | Artoo-Detoo (R2-D2) |
| 38210 | Chewbacca |
| 38220 | See-Threepio (C-3PO) |
| 38230 | Darth Vader |
| 38240 | Stormtrooper |
| 38250 | Ben (Obi-Wan) Kenobi |
| 38260 | Han Solo |
| 38270 | Jawa |
| 38280 | Sand People |
| 38290 | Death Squad Commander |
| 39020 | Greedo |
| 39030 | Hammerhead |
| 39040 | Snaggletooth |
| 39050 | Walrus Man |
| 39060 | Luke Skywalker: X-wing Pilot |
| 39070 | R5-D4 |
| 39080 | Death Star Droid |
| 39090 | Power Droid |
| 39250 | Boba Fett |
| 39720 | Leia Organa (Bespin Gown) |
| 39730 | FX-7 |
| 39740 | Imperial Stormtrooper (Hoth Battle Gear) |
| 39750 | Rebel Soldier (Hoth Battle Gear) |
| 39760 | Bossk (Bounty Hunter) |
| 39770 | IG-88 |
| 39780 | Luke Skywalker (Bespin Fatigues) |
| 39790 | Han Solo (Hoth Outfit) |
| 39800 | Lando Calrissian |
| 39810 | Bespin Security Guard |
| 38310 | Yoda |
| 39319 | Ugnaught |
| 39329 | Dengar |
| 39339 | Han Solo (Bespin Outfit) |
| 39349 | Lobot |
| 39359 | Leia (Hoth Outfit) |
| 39369 | Rebel Commander |
| 39379 | AT-AT Driver |
| 39389 | Imperial Commander |
| 39399 | 2-1B |
| 69420 / 69590 | Artoo-Detoo (R2-D2) (with Sensorscope) |
| 69430 / 69600 | C-3PO (Removable Limbs) |
| 69610 | Luke Skywalker (Hoth Battle Gear) |
| 69620 | AT-AT Commander |
| 69630 | (Twin-Pod) Cloud Car Pilot |
| 69640 | Bespin Security Guard |
| 70020 | Zuckuss |
| 70030 | Imperial Tie Fighter Pilot |
| 70010 | 4-LOM |
| 70310 | Admiral Ackbar |
| 70650 | Luke Skywalker (Jedi Knight Outfit) |
| 70660 | Princess Leia Organa (Boushh Disguise) |
| 70670 | Gamorrean Guard |
| 70680 | Emperor's Royal Guard |
| 70690 | Chief Chirpa |
| 70710 | Logray (Ewok Medicine Man) |
| 70730 | Klaatu |
| 70740 | Rebel Commando |
| 70760 | Weequay |
| 70770 | Squid Head |
| 70780 | General Madine |
| 70790 | Bib Fortuna |
| 70800 | Ree-Yees |
| 70820 / 71590 | Biker Scout |
| 70830 | Lando Calrissian (Skiff Guard Disguise) |
| 70840 | Nien Nunb |
| 71190 | Nikto |
| 71210 | 8D8 |
| 71220 | Princess Leia Organa (in Combat Poncho) |
| 71230 | Wicket W. Warrick |
| 71240 | The Emperor |
| 71280 | B-Wing Pilot |
| 71290 | Klaatu (in Skiff Guard Outfit) |
| 71300 | Han Solo (in Trench Coat) |
| 71310 | Teebo |
| 71320 | Prune Face |
| 71330 | AT-ST Driver |
| 71350 | Rancor Keeper |
| 93670 | Lumat |
| 93680 | Paploo |
Power of the FOrce 92-Back
| | |
| --- | --- |
| 38180 | Luke Skywalker |
| 38190 | Princess Leia |
| 38200 | Artoo-Detoo (R2-D2) |
| 38210 | Chewbacca |
| 38220 | See-Threepio (C-3PO) |
| 38230 | Darth Vader |
| 38240 | Stormtrooper |
| 38250 | Ben (Obi-Wan) Kenobi |
| 38260 | Han Solo |
| 38270 | Jawa |
| 38280 | Sand People |
| 38290 | Death Squad Commander |
| 39020 | Greedo |
| 39030 | Hammerhead |
| 39040 | Snaggletooth |
| 39050 | Walrus Man |
| 39060 | Luke Skywalker: X-wing Pilot |
| 39070 | R5-D4 |
| 39080 | Death Star Droid |
| 39090 | Power Droid |
| 39250 | Boba Fett |
| 39720 | Leia Organa (Bespin Gown) |
| 39730 | FX-7 |
| 39740 | Imperial Stormtrooper (Hoth Battle Gear) |
| 39750 | Rebel Soldier (Hoth Battle Gear) |
| 39760 | Bossk (Bounty Hunter) |
| 39770 | IG-88 |
| 39780 | Luke Skywalker (Bespin Fatigues) |
| 39790 | Han Solo (Hoth Outfit) |
| 39800 | Lando Calrissian |
| 39810 | Bespin Security Guard |
| 38310 | Yoda |
| 39319 | Ugnaught |
| 39329 | Dengar |
| 39339 | Han Solo (Bespin Outfit) |
| 39349 | Lobot |
| 39359 | Leia (Hoth Outfit) |
| 39369 | Rebel Commander |
| 39379 | AT-AT Driver |
| 39389 | Imperial Commander |
| 39399 | 2-1B |
| 69420 / 69590 | Artoo-Detoo (R2-D2) (with Sensorscope) |
| 69430 / 69600 | C-3PO (Removable Limbs) |
| 69610 | Luke Skywalker (Hoth Battle Gear) |
| 69620 | AT-AT Commander |
| 69630 | (Twin-Pod) Cloud Car Pilot |
| 69640 | Bespin Security Guard |
| 70020 | Zuckuss |
| 70030 | Imperial Tie Fighter Pilot |
| 70010 | 4-LOM |
| 70310 | Admiral Ackbar |
| 70650 | Luke Skywalker (Jedi Knight Outfit) |
| 70660 | Princess Leia Organa (Boushh Disguise) |
| 70670 | Gamorrean Guard |
| 70680 | Emperor's Royal Guard |
| 70690 | Chief Chirpa |
| 70710 | Logray (Ewok Medicine Man) |
| 70730 | Klaatu |
| 70740 | Rebel Commando |
| 70760 | Weequay |
| 70770 | Squid Head |
| 70780 | General Madine |
| 70790 | Bib Fortuna |
| 70800 | Ree-Yees |
| 70820 / 71590 | Biker Scout |
| 70830 | Lando Calrissian (Skiff Guard Disguise) |
| 70840 | Nien Nunb |
| 71190 | Nikto |
| 71210 | 8D8 |
| 71220 | Princess Leia Organa (in Combat Poncho) |
| 71230 | Wicket W. Warrick |
| 71240 | The Emperor |
| 71280 | B-Wing Pilot |
| 71290 | Klaatu (in Skiff Guard Outfit) |
| 71300 | Han Solo (in Trench Coat) |
| 71310 | Teebo |
| 71320 | Prune Face |
| 71330 | AT-ST Driver |
| 71350 | Rancor Keeper |
| 93670 | Lumat |
| 93680 | Paploo |
| 93710 | Luke Skywalker (in Battle Poncho) |
| 93720 | Artoo-Detoo (R2-D2) with pop-up Lightsaber |
| 93730 | Romba |
| 93740 | Amanaman |
| 93750 | Barada |
| 93760 | Imperial Gunner |
| 93770 | Han Solo (in Carbonite Chamber) |
| 93780 | Luke Skywalker (Imperial Stormtrooper Outfit) |
| 93790 | Anakin Skywalker |
| 93800 | EV-9D9 |
| 93810 | Warok |
| 93820 | Lando Calrissian (General Pilot) |
| 93830 | A-Wing Pilot |
| 93850 | Imperial Dignitary |
| 93840 | Yak Face |