Major League Baseball celebrated the 4th of July in the United Kingdom by hosting their Battlegrounds event in London's Hyde Park. If Battlegrounds sounds like some sort of multiplayer video game shoot-em-up, that's because it is. Here, however, Battlegrounds referred to a sort of home run derby (rhymes with "Arby" in the Queen's English), featuring former major leaguers and a handful of minor league players, with some cricketers and softball players also in the mix.
Two teams, led by Carlos Peña and Cliff Floyd, hit home runs against the clock, launching baseballs into the crowd from a stage. The rival outfits were dubbed the Los Angeles Dodgers and Boston Red Sox despite little tying the participants to these teams, Shawn Green excepted.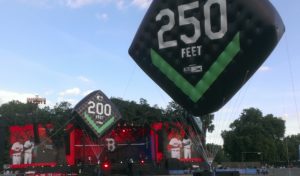 Efforts had been made to give the derby a twist. Home runs counted for double in the final thirty seconds of a round. Large floating targets garnered three points when hit, with jets of steam bursting from below when struck – less exciting than the "exploding targets" MLB had promised on its website.
Nevertheless, the event proved a more than pleasant way to spend a balmy summer's evening. A decent-sized chunk of the British public seemed to agree; per the event's Master of Ceremonies Colin Murray an estimated 20,000 people were in attendance.
Peña kicked off the event proper with a series of impressive shots into the crowd. One early dinger was narrowly avoided by a father carrying his son on his shoulders, resulting in the small child taking a light tumble to the floor. The crying boy was soothed in short time after being presented with the ball that had narrowly missed him seconds earlier. Any fears that the British public would be unable to grasp the nuances of baseball would seem to have been allayed by this innate understanding of the unwritten rules of home run balls and sobbing children.
Next up was English cricketer Alex Hales, who struck a groove late in his round, hitting the most home runs of any of the non-baseball players. His compatriot and fellow cricketer Jos Buttler scored less well, apparently resulting in him losing a bet to Hales, the stipulation of which required him to wear his Red Sox jersey on the train home. Late night travelers on the London to Manchester train should look out for a man in a high socks and matching polyester shirt and pants.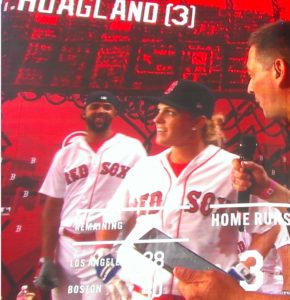 Former Dodgers minor leaguer Federico Celli quickly emerged as the star of the show by scoring the most points of anybody in the first round. The native of Rimini was referred to throughout as the "Italian Stallion", presumably because he's Italian and that rhymes, and not because he's a big fan of Rocky (or The Party at Kitty and Stud's). Celli's team captain, Floyd, hit both the furthest home run of the first round at 363 feet (brought to you by Statcast?) and had the most target shots. Floyd, jovial throughout, claimed this to be an intentional strategy.
Even in this environment the competitors were, well, competitive. Softballers Taylor Hogland and Karla Claudio seemed disappointed by their performances. Buttler was certainly not happy about losing his bet to Hales. Just as entertainingly, the sportsmen and women couldn't help themselves from delivering their share of cliches in the post-round interviews with Murray. "I was just happy to help out the team". "We wanted to have some fun out there". We didn't quite get a "we got to play them one day at a time". MLB Network announcer Andrew Reynolds was also providing enthusiastic commentary to proceedings. Reynolds' attempt at a Britishism, wondering if one tiring athlete would "run out of petrol", was endearing.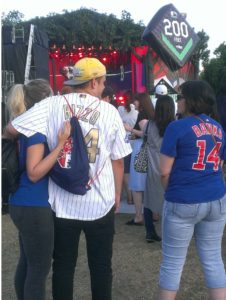 All involved, especially Floyd, seemed to be having a good time, and that extended to the crowd. The attendees came sporting their colors – the jerseys of almost all thirty MLB teams were spied by this observer, as well as those of some minor league teams, British clubs and, of course, the Sonoma Stompers. A Yankee fan received a lusty booing after outing himself as such on the big screen. Scrums for home run balls didn't quite rival the bundle that materialized after Barry Bonds hit his 756th home run, but were certainly full-hearted. Clean catches were rare, but those who brought mitts did well for themselves. As Mike Krukow would say, "you bring your glove, you get a ball".
Peña, Floyd, Celli and German ballplayer and ex-Phillies minor leaguer Julsan Kamara were the semi-finalists, with Celli and Peña progressing to the finals. Peña again impressed, hitting seven homers in a row at one point, but it was Celli who triumphed in the end, earning the adoration of the masses.
The Dodgers were crowned the victors, although the LA vs Boston angle never did seem to land with the crowd. Brand awareness seemed to be the goal, although with many in attendance already fans of the sport, it's unclear how much of an impact the event will have. Still, while it may not have been a pure version of baseball ("I remember when Stan Musial hit a floating target in the outfield in the 1946 World Series" quipped a friend of the author), it was as close as MLB has provided in live form in the United Kingdom. That's a start.
---