It was an exciting Memorial Day in baseball this year with major comebacks, walk-off home runs, and bench clearing brawls. Andrew McCutchen saved the Pirates from losing a game they led into the ninth inning and the Houston Astros made a comeback that fans will never forget all while sporting camouflage hats and special Memorial Day jerseys.
The Topps baseball card company commemorated some of the excitement of the day with three new cards in their popular Topps Now card line. A full checklist of Topps Now MLB cards can be found under the tab at the top of this page but let's run down the three cards available until Wednesday morning.
Andrew McCutchen Clutch Walk-Off Home Run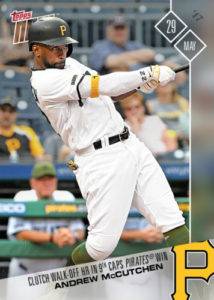 The Pittsburgh Pirates went in to Monday's game with a record of 23-28 and had held a lead against the red hot Arizona Diamondbacks going into the final frame of the game. Tony Watson took over on the mound and was quick to get two outs on the board. Daniel Descalso, who came in as a pinch hitter and singled to centerfield, was followed by a pinch hitting Chris Iannetta home run which tied the game.
With one swing of the bat, and the game now tied, Pittsburgh's win probability dropped 36% but their fortunes were quick to rebound as McCutchen led off the inning with a walk-off home run on the third pitch he saw. Historically, McCutchen has great numbers in high leverage situations with 55 of his 183 career home runs coming during a tie score. His batting line in high leverage situations is .308/.397/.502, higher than his overall average in all three categories.
This is Topps Now card #197 and the second card to feature McCutchen in this series. His first card, #W-53, sold 325 copies.
11 Run Inning Powers Comeback Win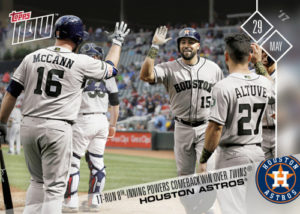 The Houston Astros have seemed all but unbeatable in the early months of the 2017 season. Entering Memorial Day's game with a 35-16 record, it looked like the Minnesota Twins – enjoying a winning record rebound from last season – had their number after scoring seven runs in the fifth inning but it was not to last for long.
At the top of the 8th, down 8-2 to the Twins, Josh Reddick opened the inning with a five pitch walk. Jose Altuve followed that by being hit by a pitch which was followed by an RBI single from Carlos Correa. It wasn't until the fifth batter that the Twins were able to grab an out but that out was immediately followed by a two run double by Marwin Gonzalez and the first of two Minnesota pitching changes.
All in all, the Astros were able to capitalize on two walks, a balk, a hit by pitch, six singles, a double, and a three run homer for a grand total of 11 runs in one frame.
The Astros tacked on three more runs in the ninth inning, just for some insurance, and won the game 16-8. This is Topps Now card #196 and is the second to be attributed to the team in general, the first being card #131 which sold 210 copies.
MLB Honors Veterans Over Memorial Day Weekend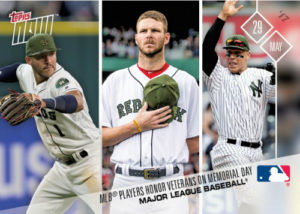 As has been the tradition for many years now, Major League Baseball paid tribute to military veterans through all of Memorial Day weekend by wearing commemorative camouflage jerseys and hats. While the hats sometimes make it difficult to pick your favorite team out of a highlight reel, the message is a good one and sale of these hats and jerseys went to charities involved with veterans and their families.
As is usually the case, the promotion was met with a fair share of social media outrage, including from some players who must have left their angry tweets directed at used car dealerships and mattress discounters in their draft folder.
generations of soldiers died protecting our country and its freedoms- don't forget to buy an official baseball hat to say thank you

— Brandon McCarthy (@BMcCarthy32) May 29, 2017
For others, any promotion that raises money and awareness for the problems that face our living veterans and the families of those who have given their lives is a positive.
This is card #198 in the Topps Now series and is among many MLB tribute cards. It is two sided with three players on each side.
Topps Now cards can be purchased for 24 hours via the Topps website.
---