2022 Topps Series Two baseball cards picks up where Series One ended by adding 330 base cards to the 2022 flagship design.
There are two hobby configurations: a standard hobby box which includes one autograph or relic card and a jumbo box which includes one autograph and two relic cards. Both hobby and jumbo configurations include exclusive parallels.
This checklist is organized by team. Scroll through the entire list or jump to a preferred team by selecting them from the list below the checklist key. Clicking a link within the checklist will direct you to an affiliate retailer or to relevant eBay listings.
Release date – 6/8/22
Cards per hobby pack – 14
Packs per hobby box – 24
Hobby boxes per case – 12
Cards per jumbo pack – 46
Packs per jumbo box – 10
Jumbo boxes per case – 6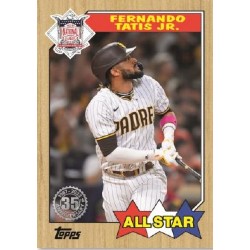 2022 Topps Series 2 Baseball Checklist
Base Set – 330 Cards
Gold Foil
Rainbow Foil
Gold – #/2022
Green Foil – #/499
Orange Foil – #/299
Red Foil – #/199
Vintage Stock – #/99
Independence Day – #/76
Black – #/71
Mother's Day – #/50
Father's Day – #/50
Memorial Day – #/25
Clear – #/10
Platinum – 1/1
Generation Now (GN) – 30 Cards
Blue
Black – #/299
Gold – #/75
Red – #/10
Platinum – 1/1
Autograph – #/10 or fewer
Sweet Shades (SS) – 20 Cards
Blue
Black – #/299
Gold – #/75
Red – #/10
Platinum – 1/1
Autograph – #/10 or fewer
Diamond Greats Die Cut (DGDC) – 25 Cards
Blue
Black – #/299
Gold – #/75
Red – #/10
Platinum – 1/1
Autograph – #/10 or fewer
Significant Statistics (SS) – 25 Cards
Blue
Black – #/299
Gold – #/75
Red – #/10
Platinum – 1/1
No-Hit Club (NHC) – 25 Cards
Blue
Black – #/299
Gold – #/75
Red – #/10
Platinum – 1/1
Autograph – #/10 or fewer
1987 Topps All Star (87AS) – 50 Cards
Blue
Black – #/299
Gold – #/75
Red – #/10
Platinum – 1/1
Wood – 1/1
Oversized 1987 Boxloaders (OTAS) – 25 Cards
Gold – #/50
Red – #/10
Platinum – 1/1
Stars of the MLB (SMLB) – 30 Cards
Stars of the MLB Chrome (SMLBC) – 30 Cards
All Star Alumni (ASA) – 25 Cards
Gold – #/75
Red – #/10
Platinum – 1/1
Autograph – #/10 or fewer
Silver Slugger Patches (SSA) – 25 Cards
Black – #/299
Gold – #/75
Red – #/10
Platinum – 1/1
Autograph – #/10 or fewer
Baseball Stars Auto (BSA) – 54 Cards
Black – #/199
Gold – #/50
Red – #/25
Platinum – 1/1
Baseball Stars Dual Auto (BSDA) – 28 Cards
Base – #/5 or fewer
1987 Topps Baseball Auto (87BA) – 79 Cards
Black – #/199 or fewer
Gold – #/50 or fewer
Red – #/25 or fewer
Platinum – 1/1
1987 Topps All Star Auto (87ASA) – 63 Cards
Black – #/50 or fewer
Gold – #/25 or fewer
Red – #/10 or fewer
Platinum – 1/1
Cut Signatures (CS) – 37 Cards
Base – 1/1
Major League Material (MLM) – 38 Cards
Black – #/199
Gold – #/50 or fewer
Red – #/25 or fewer
Platinum – 1/1
1987 Topps Relics (87BR) – 38 Cards
Black – #/199
Gold – #/50
Red – #/25
Platinum – 1/1
In the Name Relic (ITNR) – 50 Cards
Base – 1/1
Topps Reverence Auto Patch (TRAP) – 57 Cards
Base – #/10
Red – #/5
Platinum – 1/1
Major League Materials Auto (MLMA) – 41 Cards
Base – #/50 or fewer
Red – #/25 or fewer
Platinum – 1/1
Commemorative Batting Helmet (BH) – 50 Cards
| | | | |
| --- | --- | --- | --- |
| 332 | Jhonathan Diaz | RC | |
| 388 | Jo Adell | | |
| 416 | Shohei Ohtani | | |
| 428 | Patrick Sandoval | | |
| 444 | Justin Upton | | |
| 447 | David Fletcher | | |
| 495 | Austin Warren | RC | |
| 521 | Cooper Criswell | RC | |
| 540 | Packy Naughton | RC | |
| 541 | Elvis Peguero | RC | |
| 554 | Oliver Ortega | RC | |
| 584 | Noah Syndergaard | | |
| 594 | Janson Junk | RC | |
| 609 | Max Stassi | | |
| 614 | Jack Mayfield | | |
| 620 | Anthony Rendon | | |
| 660 | Shohei Ohtani | | |
| 388 | Jo Adell | | Clear |
| 584 | Noah Syndergaard | | Clear |
| 620 | Anthony Rendon | | Clear |
| 660 | Shohei Ohtani | | Clear |
| GN-31 | Brandon Marsh | RC | |
| GN-32 | Reid Detmers | RC | |
| SS-7 | Mike Trout | | |
| SS-10 | Shohei Ohtani | | |
| SS-2 | Shohei Ohtani | | |
| SS-3 | Shohei Ohtani | | |
| NHC-16 | Nolan Ryan | | |
| 87AS-2 | Shohei Ohtani | | |
| 87TB-26 | Noah Syndergaard | | |
| 87TB-36 | Mike Trout | | |
| 87TB-50 | Shohei Ohtani | | |
| OTAS-4 | Mike Trout | | Boxtopper |
| OTAS-9 | Shohei Ohtani | | Boxtopper |
| OTAS-25 | Shohei Ohtani | | Boxtopper |
| SMLB-33 | Shohei Ohtani | | |
| SMLBC-33 | Shohei Ohtani | | |
| HRC-3 | Mike Trout | | |
| HRC-4 | Shohei Ohtani | | |
| T87C2-30 | Rod Carew | | |
| T87C2-47 | Mike Trout | | |
| T87C2-50 | Shohei Ohtani | | |
| T87C2-70 | Jo Adell | | |
| GN-31 | Brandon Marsh | | Auto |
| GN-32 | Reid Detmers | | Auto |
| SS-7 | Mike Trout | | Auto |
| SS-10 | Shohei Ohtani | | Auto |
| NHC-16 | Nolan Ryan | | Auto |
| BSA-ARE | Anthony Rendon | | Auto |
| BSA-JW | Jared Walsh | | Auto |
| BSA-MT | Mike Trout | | Auto |
| BSA-OO | Oliver Ortega | RC | Auto |
| BSA-SO | Shohei Ohtani | | Auto |
| BSDA-JT | Mike Trout | | Auto |
| BSDA-OG | Shohei Ohtani | | Auto |
| BSDA-OT | Shohei Ohtani | | Auto |
| BSDA-TH | Mike Trout | | Auto |
| 87BA-BM | Brandon Marsh | RC | Auto |
| 87BA-MT | Mike Trout | | Auto |
| 87BA-RD | Reid Detmers | RC | Auto |
| 87BA-SO | Shohei Ohtani | | Auto |
| 87BA-JW | Jared Walsh | | Auto |
| 87BA-RC | Rod Carew | | Auto |
| 87ASA-MT | Mike Trout | | Auto |
| 87ASA-RJ | Reggie Jackson | | Auto |
| 87ASA-SHO | Shohei Ohtani | | Auto |
| 87OASA-SO | Shohei Ohtani | | Auto |
| 87OASA-MT | Mike Trout | | Auto |
| 87BC-47 | Mike Trout | | Chrome Auto |
| 87BC-50 | Shohei Ohtani | | Chrome Auto |
| 87BC-70 | Jo Adell | | Chrome Auto |
| SS-2 | Shohei Ohtani | | Auto |
| SS-3 | Shohei Ohtani | | Auto |
| BH-ARE | Anthony Rendon | | Relic |
| BH-MT | Mike Trout | | Relic |
| BH-SO | Shohei Ohtani | | Relic |
| SSA-MT | Mike Trout | | Relic |
| SSA-SO | Shohei Ohtani | | Relic |
| MLM-MT | Mike Trout | | Relic |
| 87BR-MT | Mike Trout | | Relic |
| 87BR-RJ | Reggie Jackson | | Relic |
| 87ASR-MT | Mike Trout | | Relic |
| BH-ARE | Anthony Rendon | | Auto/Relic |
| BH-MT | Mike Trout | | Auto/Relic |
| BH-SO | Shohei Ohtani | | Auto/Relic |
| SSA-MT | Mike Trout | | Auto/Relic |
| SSA-SO | Shohei Ohtani | | Auto/Relic |
| TRAP-MT | Mike Trout | | Auto/Relic |
| TRAP-RC | Rod Carew | | Auto/Relic |
| MLMA-ARE | Anthony Rendon | | Auto/Relic |
| MLMA-BM | Brandon Marsh | RC | Auto/Relic |
| MLMA-MT | Mike Trout | | Auto/Relic |
| MLMA-NS | Noah Syndergaard | | Auto/Relic |
| MLMA-RD | Reid Detmers | RC | Auto/Relic |
| MLMA-SO | Shohei Ohtani | | Auto/Relic |
| | | | |
| --- | --- | --- | --- |
| 350 | Justin Verlander | | |
| 368 | Jason Castro | | |
| 400 | Yordan Alvarez | | |
| 405 | Carlos Correa | | |
| 446 | Luis Garcia | | |
| 538 | Yuli Gurriel | | |
| 599 | Jose Siri | RC | |
| 607 | Jose Urquidy | | |
| 637 | Lance McCullers Jr. | | |
| 350 | Justin Verlander | | Clear |
| 400 | Yordan Alvarez | | Clear |
| 405 | Carlos Correa | | Clear |
| 599 | Jose Siri | RC | Clear |
| SS-19 | Jose Altuve | | |
| DGDC-26 | Nolan Ryan | | |
| NHC-4 | Justin Verlander | | |
| NHC-17 | Nolan Ryan | | |
| 87AS-20 | Jose Altuve | | |
| 87AS-28 | Alex Bregman | | |
| 87TB-6 | Jose Altuve | | |
| 87TB-16 | Justin Verlander | | |
| OTAS-5 | Jose Altuve | | Boxtopper |
| OTAS-10 | Alex Bregman | | Boxtopper |
| SMLB-44 | Jose Altuve | | |
| SMLB-45 | Yordan Alvarez | | |
| SMLBC-44 | Jose Altuve | | |
| SMLBC-45 | Yordan Alvarez | | |
| HRC-11 | Alex Bregman | | |
| T87C2-12 | Jose Altuve | | |
| T87C2-55 | Jake Meyers | RC | |
| T87C2-83 | Kyle Tucker | | |
| T87C2-86 | Jose Siri | RC | |
| T87C2-99 | Yordan Alvarez | | |
| SS-19 | Jose Altuve | | Auto |
| DGDC-1 | Nolan Ryan | | Auto |
| NHC-17 | Nolan Ryan | | Auto |
| BSA-KT | Kyle Tucker | | Auto |
| BSA-MBR | Michael Brantley | | Auto |
| BSDA-BA | Craig Biggio | | Auto |
| BSDA-BA | Jose Altuve | | Auto |
| BSDA-BB | Jeff Bagwell | | Auto |
| BSDA-BB | Craig Biggio | | Auto |
| 87BA-JM | Jake Meyers | RC | Auto |
| 87BA-KT | Kyle Tucker | | Auto |
| 87BA-AB | Alex Bregman | | Auto |
| 87BA-JA | Jose Altuve | | Auto |
| 87ASA-JA | Jose Altuve | | Auto |
| 87ASA-JBA | Jeff Bagwell | | Auto |
| 87OASA-AB | Alex Bregman | | Auto |
| 87BC-12 | Jose Altuve | | Chrome Auto |
| 87BC-83 | Kyle Tucker | | Chrome Auto |
| 87BC-86 | Jose Siri | | Chrome Auto |
| 87BC-99 | Yordan Alvarez | | Chrome Auto |
| BH-AB | Alex Bregman | | Relic |
| BH-JA | Jose Altuve | | Relic |
| BH-YA | Yordan Alvarez | | Relic |
| SSA-JA | Jose Altuve | | Relic |
| MLM-AB | Alex Bregman | | Relic |
| MLM-KT | Kyle Tucker | | Relic |
| MLM-MBR | Michael Brantley | | Relic |
| 87BR-AB | Alex Bregman | | Relic |
| 87BR-JA | Jose Altuve | | Relic |
| 87BR-KT | Kyle Tucker | | Relic |
| 87ASR-AB | Alex Bregman | | Relic |
| 87ASR-CBI | Craig Biggio | | Relic |
| 87ASR-JA | Jose Altuve | | Relic |
| 87ASR-JB | Jeff Bagwell | | Relic |
| ITNR-AB | Alex Bregman | | Relic |
| ITNR-JA | Jose Altuve | | Relic |
| ITNR-KT | Kyle Tucker | | Relic |
| ITNR-YA | Yordan Alvarez | | Relic |
| BH-AB | Alex Bregman | | Auto/Relic |
| BH-JA | Jose Altuve | | Auto/Relic |
| BH-YA | Yordan Alvarez | | Auto/Relic |
| SSA-JA | Jose Altuve | | Auto/Relic |
| TRAP-AB | Alex Bregman | | Auto/Relic |
| TRAP-JAL | Jose Altuve | | Auto/Relic |
| TRAP-KT | Kyle Tucker | | Auto/Relic |
| TRAP-YA | Yordan Alvarez | | Auto/Relic |
| MLMA-JA | Jose Altuve | | Auto/Relic |
| MLMA-KT | Kyle Tucker | | Auto/Relic |
| | | | |
| --- | --- | --- | --- |
| 343 | Jed Lowrie | | |
| 349 | Stephen Piscotty | | |
| 456 | Chris Bassitt | | |
| 457 | Josh Harrison | | |
| 458 | Sean Murphy | | |
| 512 | Frankie Montas | | |
| 520 | Elvis Andrus | | |
| 651 | James Kaprielian | | |
| 456 | Chris Bassitt | | Clear |
| 458 | Sean Murphy | | Clear |
| NHC-12 | Catfish Hunter | | |
| NHC-22 | Sean Manaea | | |
| 87AS-7 | Rickey Henderson | | |
| 87AS-8 | Mark McGwire | | |
| 87TB-11 | Reggie Jackson | | |
| 87TB-47 | Matt Chapman | | |
| SMLB-50 | Matt Olson | | |
| SMLBC-50 | Matt Olson | | |
| T87C2-32 | Matt Chapman | | |
| T87C2-76 | Jose Canseco | | |
| T87C2-85 | Reggie Jackson | | |
| NHC-22 | Sean Manaea | | Auto |
| BSA-DE | Dennis Eckersley | | Auto |
| BSA-SM | Sean Murphy | | Auto |
| BSDA-BH | Rickey Henderson | | Auto |
| BSDA-HM | Mark McGwire | | Auto |
| BSDA-HM | Rickey Henderson | | Auto |
| 87BA-MC | Mark Canha | | Auto |
| 87BA-BZ | Barry Zito | | Auto |
| 87ASA-JCA | Jose Canseco | | Auto |
| 87ASA-MC | Matt Chapman | | Auto |
| 87ASA-MM | Mark McGwire | | Auto |
| 87ASA-MOL | Matt Olson | | Auto |
| 87ASA-RF | Rollie Fingers | | Auto |
| 87ASA-RH | Rickey Henderson | | Auto |
| 87BC-32 | Matt Chapman | | Chrome Auto |
| 87BC-76 | Jose Canseco | | Chrome Auto |
| 87BC-85 | Reggie Jackson | | Chrome Auto |
| BH-MO | Matt Olson | | Relic |
| ASA-MM | Mark McGwire | | Relic |
| ASA-RH | Rickey Henderson | | Relic |
| 87BR-MO | Matt Olson | | Relic |
| 87ASR-MM | Mark McGwire | | Relic |
| 87ASR-RH | Rickey Henderson | | Relic |
| ITNR-MC | Matt Chapman | | Relic |
| ITNR-MO | Matt Olson | | Relic |
| CS-JH | Jim "Catfish" Hunter | | Relic |
| CS-LG | Lefty Grove | | Relic |
| BH-MO | Matt Olson | | Auto/Relic |
| ASA-MM | Mark McGwire | | Auto/Relic |
| ASA-RH | Rickey Henderson | | Auto/Relic |
| TRAP-DEC | Dennis Eckersley | | Auto/Relic |
| TRAP-MMC | Mark McGwire | | Auto/Relic |
| TRAP-MO | Matt Olson | | Auto/Relic |
| TRAP-MO | Matt Olson | | Auto/Relic |
| | | | |
| --- | --- | --- | --- |
| 355 | Teoscar Hernandez | | |
| 361 | George Springer | | |
| 369 | Kevin Gausman | | |
| 381 | Vladimir Guerrero Jr. | | |
| 391 | Jordan Romano | | |
| 422 | Otto Lopez | RC | |
| 432 | Alejandro Kirk | | |
| 478 | Corey Dickerson | | |
| 591 | Cavan Biggio | | |
| 636 | Kevin Smith | RC | |
| 355 | Teoscar Hernandez | | Clear |
| 361 | George Springer | | Clear |
| 422 | Otto Lopez | RC | Clear |
| 636 | Kevin Smith | RC | Clear |
| GN-54 | Alek Manoah | | |
| SS-4 | Bo Bichette | | |
| SS-5 | Vladimir Guerrero Jr. | | |
| SS-4 | Vladimir Guerrero Jr. | | |
| 87AS-11 | Vladimir Guerrero Jr. | | |
| 87AS-41 | Bo Bichette | | |
| 87TB-5 | Vladimir Guerrero Jr. | | |
| 87TB-13 | George Springer | | |
| OTAS-16 | Bo Bichette | | Boxtopper |
| OTAS-21 | Vladimir Guerrero Jr. | | Boxtopper |
| SMLB-58 | George Springer | | |
| SMLBC-58 | George Springer | | |
| HRC-12 | Bo Bichette | | |
| HRC-18 | Vladimir Guerrero Jr. | | |
| T87C2-17 | Teoscar Hernandez | | |
| T87C2-19 | Hyun-Jin Ryu | | |
| T87C2-60 | George Springer | | |
| T87C2-65 | Otto Lopez | RC | |
| T87C2-96 | Jose Berrios | | |
| SS-4 | Bo Bichette | | Auto |
| SS-5 | Vladimir Guerrero Jr. | | Auto |
| BSA-KS | Kevin Smith | RC | Auto |
| BSDA-OG | Vladimir Guerrero Jr. | | Auto |
| BSDA-SG | Vladimir Guerrero Jr. | | Auto |
| 87BA-JBE | Jose Berrios | | Auto |
| 87BA-AM | Alek Manoah | | Auto |
| 87BA-HR | Hyun-Jin Ryu | | Auto |
| 87ASA-VGJ | Vladimir Guerrero Jr. | | Auto |
| 87OASA-VG | Vladimir Guerrero Jr. | | Auto |
| 87BC-17 | Teoscar Hernandez | | Chrome Auto |
| 87BC-19 | Hyun-Jin Ryu | | Chrome Auto |
| 87BC-60 | George Springer | | Chrome Auto |
| SS-4 | Vladimir Guerrero Jr. | | Auto |
| BH-BB | Bo Bichette | | Relic |
| BH-VG | Vladimir Guerrero Jr. | | Relic |
| SSA-VGJ | Vladimir Guerrero Jr. | | Relic |
| MLM-BB | Bo Bichette | | Relic |
| MLM-VG | Vladimir Guerrero Jr. | | Relic |
| 87BR-BBI | Bo Bichette | | Relic |
| 87BR-THE | Teoscar Hernandez | | Relic |
| 87ASR-VG | Vladimir Guerrero Jr. | | Relic |
| ITNR-TH | Teoscar Hernandez | | Relic |
| ITNR-VG | Vladimir Guerrero Jr. | | Relic |
| BH-BB | Bo Bichette | | Auto/Relic |
| BH-VG | Vladimir Guerrero Jr. | | Auto/Relic |
| SSA-VGJ | Vladimir Guerrero Jr. | | Auto/Relic |
| TRAP-HR | Hyun-Jin Ryu | | Auto/Relic |
| TRAP-VG | Vladimir Guerrero Jr. | | Auto/Relic |
| MLMA-GS | George Springer | | Auto/Relic |
| MLMA-TH | Teoscar Hernandez | | Auto/Relic |
| | | | |
| --- | --- | --- | --- |
| 342 | Dansby Swanson | | |
| 401 | Ozzie Albies | | |
| 507 | Dansby Swanson | | |
| 509 | Spencer Strider | RC | |
| 527 | Mike Soroka | | |
| 528 | Joc Pederson | | |
| 610 | Guillermo Heredia | | |
| 615 | Ian Anderson | | |
| 624 | Tucker Davidson | | |
| 629 | William Contreras | | |
| 401 | Ozzie Albies | | Clear |
| 507 | Dansby Swanson | | Clear |
| 509 | Spencer Strider | RC | Clear |
| 615 | Ian Anderson | | Clear |
| GN-33 | Ronald Acuña Jr. | | |
| GN-34 | Ian Anderson | | |
| GN-35 | Austin Riley | | |
| SS-1 | Ronald Acuña Jr. | | |
| DGDC-27 | Chipper Jones | | |
| SS-6 | Jorge Soler | | |
| SS-9 | Freddie Freeman | | |
| SS-24 | Adam Duvall | | |
| NHC-13 | Warren Spahn | | |
| 87AS-12 | Ronald Acuña Jr. | | |
| 87AS-16 | Greg Maddux | | |
| 87AS-35 | Freddie Freeman | | |
| 87AS-49 | Hank Aaron | | |
| 87TB-7 | Ronald Acuña Jr. | | |
| 87TB-9 | Hank Aaron | | |
| 87TB-29 | Austin Riley | | |
| OTAS-13 | Ronald Acuña Jr. | | Boxtopper |
| OTAS-23 | Freddie Freeman | | Boxtopper |
| SMLB-35 | Ozzie Albies | | |
| SMLBC-35 | Ozzie Albies | | |
| HRC-9 | Ronald Acuña Jr. | | |
| HRC-17 | Matt Olson | | |
| T87C2-3 | Ozzie Albies | | |
| T87C2-27 | Dale Murphy | | |
| T87C2-52 | Austin Riley | | |
| T87C2-69 | Ronald Acuña Jr. | | |
| GN-35 | Austin Riley | | Auto |
| DGDC-2 | Chipper Jones | | Auto |
| BSA-AJ | Andruw Jones | | Auto |
| BSA-DM | Dale Murphy | | Auto |
| BSA-JS | John Smoltz | | Auto |
| BSDA-JF | Chipper Jones | | Auto |
| BSDA-JF | Freddie Freeman | | Auto |
| BSDA-MG | Greg Maddux | | Auto |
| BSDA-MG | Tom Glavine | | Auto |
| 87BA-SS | Spencer Strider | RC | Auto |
| 87BA-JSM | John Smoltz | | Auto |
| 87ASA-AJO | Andruw Jones | | Auto |
| 87ASA-DMU | Dale Murphy | | Auto |
| 87OASA-FF | Freddie Freeman | | Auto |
| 87BC-27 | Dale Murphy | | Chrome Auto |
| SS-6 | Jorge Soler | | Auto |
| SS-9 | Freddie Freeman | | Auto |
| BH-FFR | Freddie Freeman | | Relic |
| BH-RA | Ronald Acuña Jr. | | Relic |
| SSA-FF | Freddie Freeman | | Relic |
| SSA-RA | Ronald Acuña Jr. | | Relic |
| ASA-HA | Hank Aaron | | Relic |
| ASA-HAA | Hank Aaron | | Relic |
| MLM-JSM | John Smoltz | | Relic |
| MLM-OA | Ozzie Albies | | Relic |
| MLM-RA | Ronald Acuña Jr. | | Relic |
| 87BR-DM | Dale Murphy | | Relic |
| 87BR-JS | John Smoltz | | Relic |
| 87ASR-CJ | Chipper Jones | | Relic |
| 87ASR-FF | Freddie Freeman | | Relic |
| 87ASR-RA | Ronald Acuña Jr. | | Relic |
| ITNR-DS | Dansby Swanson | | Relic |
| ITNR-FF | Freddie Freeman | | Relic |
| ITNR-OA | Ozzie Albies | | Relic |
| ITNR-RA | Ronald Acuña Jr. | | Relic |
| CS-EM | Eddie Mathews | | Relic |
| CS-HA | Hank Aaron | | Relic |
| CS-WS | Warren Spahn | | Relic |
| BH-FFR | Freddie Freeman | | Auto/Relic |
| SSA-FF | Freddie Freeman | | Auto/Relic |
| TRAP-CJ | Chipper Jones | | Auto/Relic |
| TRAP-FF | Freddie Freeman | | Auto/Relic |
| TRAP-JSM | John Smoltz | | Auto/Relic |
| TRAP-OA | Ozzie Albies | | Auto/Relic |
| | | | |
| --- | --- | --- | --- |
| 336 | Brandon Woodruff | | |
| 378 | Willy Adames | | |
| 442 | Lorenzo Cain | | |
| 449 | Kolten Wong | | |
| 486 | Adrian Houser | | |
| 487 | Josh Hader | | |
| 522 | Daniel Vogelbach | | |
| 597 | Milwaukee Brewers™ | | |
| 336 | Brandon Woodruff | | Clear |
| 442 | Lorenzo Cain | | Clear |
| GN-44 | Freddy Peralta | | |
| GN-45 | Corbin Burnes | | |
| GN-56 | Willy Adames | | |
| SS-12 | Andrew McCutchen | | |
| SS-20 | Christian Yelich | | |
| DGDC-37 | Robin Yount | | |
| SS-22 | Josh Hader | | |
| 87AS-26 | Christian Yelich | | |
| 87TB-38 | Willy Adames | | |
| 87TB-40 | Freddy Peralta | | |
| OTAS-7 | Christian Yelich | | Boxtopper |
| SMLB-59 | Corbin Burnes | | |
| SMLBC-59 | Corbin Burnes | | |
| HRC-8 | Christian Yelich | | |
| T87C2-33 | Corbin Burnes | | |
| T87C2-39 | Aaron Ashby | RC | |
| T87C2-48 | Freddy Peralta | | |
| GN-44 | Freddy Peralta | | Auto |
| GN-45 | Corbin Burnes | | Auto |
| SS-20 | Christian Yelich | | Auto |
| DGDC-14 | Robin Yount | | Auto |
| BSA-AA | Aaron Ashby | RC | Auto |
| BSA-FP | Freddy Peralta | | Auto |
| BSA-JC | Jake Cousins | RC | Auto |
| BSA-JR | Jakson Reetz | RC | Auto |
| 87BA-AA | Aaron Ashby | RC | Auto |
| 87ASA-CYE | Christian Yelich | | Auto |
| 87ASA-PM | Paul Molitor | | Auto |
| 87OASA-CY | Christian Yelich | | Auto |
| 87BC-33 | Corbin Burnes | | Chrome Auto |
| 87BC-39 | Aaron Ashby | | Chrome Auto |
| 87BC-48 | Freddy Peralta | | Chrome Auto |
| BH-CY | Christian Yelich | | Relic |
| MLM-CBU | Corbin Burnes | | Relic |
| MLM-CY | Christian Yelich | | Relic |
| 87BR-RY | Robin Yount | | Relic |
| 87ASR-RY | Robin Yount | | Relic |
| ITNR-CBU | Corbin Burnes | | Relic |
| ITNR-CY | Christian Yelich | | Relic |
| ITNR-FP | Freddy Peralta | | Relic |
| ITNR-LC | Lorenzo Cain | | Relic |
| ITNR-WA | Willy Adames | | Relic |
| BH-CY | Christian Yelich | | Auto/Relic |
| TRAP-CY | Christian Yelich | | Auto/Relic |
| MLMA-CB | Corbin Burnes | | Auto/Relic |
| MLMA-FP | Freddy Peralta | | Auto/Relic |
| | | | |
| --- | --- | --- | --- |
| CS-RF | Rick Ferrell | | Relic |
| CS-SP | Satchel Paige | | Relic |
| | | | |
| --- | --- | --- | --- |
| 334 | J.A. Happ | | |
| 397 | Tyler O'Neill | | |
| 419 | Tommy Edman | | |
| 441 | Paul DeJong | | |
| 473 | Yadier Molina | | |
| 484 | Matt Carpenter | | |
| 506 | Juan Yepez | RC | |
| 535 | Paul Goldschmidt | | |
| 565 | Edmundo Sosa | | |
| 578 | Dylan Carlson | | |
| 588 | Jack Flaherty | | |
| 397 | Tyler O'Neill | | Clear |
| 506 | Juan Yepez | RC | Clear |
| 535 | Paul Goldschmidt | | Clear |
| 588 | Jack Flaherty | | Clear |
| GN-51 | Jack Flaherty | | |
| GN-59 | Tyler O'Neill | | |
| DGDC-49 | Stan Musial | | |
| DGDC-50 | Bob Gibson | | |
| SS-19 | Alex Reyes | | |
| NHC-20 | Bob Gibson | | |
| 87AS-15 | Yadier Molina | | |
| 87AS-21 | Nolan Arenado | | |
| 87AS-22 | Ozzie Smith | | |
| 87AS-27 | Paul Goldschmidt | | |
| 87TB-31 | Paul Goldschmidt | | |
| 87TB-45 | Jack Flaherty | | |
| OTAS-17 | Nolan Arenado | | Boxtopper |
| OTAS-22 | Yadier Molina | | Boxtopper |
| SMLB-54 | Paul Goldschmidt | | |
| SMLB-55 | Jack Flaherty | | |
| SMLBC-54 | Paul Goldschmidt | | |
| SMLBC-55 | Jack Flaherty | | |
| HRC-19 | Nolan Arenado | | |
| T87C2-29 | Dylan Carlson | | |
| T87C2-35 | Adam Wainwright | | |
| T87C2-67 | Tyler O'Neill | | |
| T87C2-92 | Stan Musial | | |
| GN-51 | Jack Flaherty | | Auto |
| GN-59 | Tyler O'Neill | | Auto |
| NHC-20 | Bob Gibson | | Auto |
| BSDA-BH | Lou Brock | | Auto |
| BSDA-GA | Nolan Arenado | | Auto |
| BSDA-GA | Paul Goldschmidt | | Auto |
| BSDA-GM | Bob Gibson | | Auto |
| BSDA-GM | Yadier Molina | | Auto |
| BSDA-PM | Yadier Molina | | Auto |
| BSDA-RA | Nolan Arenado | | Auto |
| 87BA-JY | Juan Yepez | RC | Auto |
| 87BA-LN | Lars Nootbaar | RC | Auto |
| 87BA-JF | Jack Flaherty | | Auto |
| 87ASA-NA | Nolan Arenado | | Auto |
| 87ASA-OS | Ozzie Smith | | Auto |
| 87ASA-SR | Scott Rolen | | Auto |
| 87ASA-YMO | Yadier Molina | | Auto |
| 87OASA-YM | Yadier Molina | | Auto |
| 87BC-29 | Dylan Carlson | | Chrome Auto |
| 87BC-92 | Stan Musial | | Chrome Auto |
| BH-NA | Nolan Arenado | | Relic |
| BH-PG | Paul Goldschmidt | | Relic |
| BH-YM | Yadier Molina | | Relic |
| ASA-SM | Stan Musial | | Relic |
| 87BR-MMC | Mark McGwire | | Relic |
| 87BR-OS | Ozzie Smith | | Relic |
| 87ASR-OS | Ozzie Smith | | Relic |
| 87ASR-PG | Paul Goldschmidt | | Relic |
| 87ASR-YM | Yadier Molina | | Relic |
| CS-BG | Bob Gibson | | Relic |
| CS-DDE | Dizzy Dean | | Relic |
| CS-JM | Johnny Mize | | Relic |
| CS-LB | Lou Brock | | Relic |
| CS-RH | Rogers Hornsby | | Relic |
| CS-SM | Stan Musial | | Relic |
| BH-NA | Nolan Arenado | | Auto/Relic |
| BH-PG | Paul Goldschmidt | | Auto/Relic |
| BH-YM | Yadier Molina | | Auto/Relic |
| TRAP-DE | Dennis Eckersley | | Auto/Relic |
| TRAP-YM | Yadier Molina | | Auto/Relic |
| MLMA-PG | Paul Goldschmidt | | Auto/Relic |
| MLMA-YM | Yadier Molina | | Auto/Relic |
| | | | |
| --- | --- | --- | --- |
| 358 | Rafael Ortega | | |
| 395 | Greg Deichmann | RC | |
| 459 | Zach Davies | | |
| 466 | Nick Madrigal | | |
| 468 | Frank Schwindel | | |
| 474 | Alec Mills | | |
| 476 | Adbert Alzolay | | |
| 490 | Nico Hoerner | | |
| 526 | Alfonso Rivas | RC | |
| 574 | Trayce Thompson | | |
| 585 | Chicago Cubs® | | |
| 627 | David Bote | | |
| 395 | Greg Deichmann | RC | Clear |
| 466 | Nick Madrigal | | Clear |
| 490 | Nico Hoerner | | Clear |
| 526 | Alfonso Rivas | RC | Clear |
| 87AS-17 | Ryne Sandberg | | |
| 87TB-37 | Marcus Stroman | | |
| T87C2-6 | Marcus Stroman | | |
| T87C2-8 | Willson Contreras | | |
| T87C2-15 | Ernie Banks | | |
| T87C2-24 | Andre Dawson | | |
| BSA-AR | Alfonso Rivas | RC | Auto |
| BSA-KHE | Kyle Hendricks | | Auto |
| BSA-SSO | Sammy Sosa | | Auto |
| 87BA-PW | Patrick Wisdom | | Auto |
| 87BA-AD | Andre Dawson | | Auto |
| 87ASA-AD | Andre Dawson | | Auto |
| 87ASA-KW | Kerry Wood | | Auto |
| 87ASA-RS | Ryne Sandberg | | Auto |
| 87BC-8 | Willson Contreras | | Chrome Auto |
| 87BC-24 | Andre Dawson | | Chrome Auto |
| BH-JH | Jason Heyward | | Relic |
| BH-NH | Nico Hoerner | | Relic |
| BH-WC | Willson Contreras | | Relic |
| SSA-RS | Ryne Sandberg | | Relic |
| ASA-EB | Ernie Banks | | Relic |
| ASA-RS | Ryne Sandberg | | Relic |
| ITNR-JH | Jason Heyward | | Relic |
| ITNR-WC | Willson Contreras | | Relic |
| CS-BH | Billy Herman | | Relic |
| CS-EB | Ernie Banks | | Relic |
| CS-RSA | Ron Santo | | Relic |
| BH-JH | Jason Heyward | | Auto/Relic |
| BH-NH | Nico Hoerner | | Auto/Relic |
| BH-WC | Willson Contreras | | Auto/Relic |
| ASA-RS | Ryne Sandberg | | Auto/Relic |
| SSA-RS | Ryne Sandberg | | Auto/Relic |
| TRAP-KW | Kerry Wood | | Auto/Relic |
| MLMA-MST | Marcus Stroman | | Auto/Relic |
| | | | |
| --- | --- | --- | --- |
| 338 | Luis Frias | RC | |
| 345 | Seth Beer | RC | |
| 370 | Jake McCarthy | RC | |
| 371 | Nick Ahmed | | |
| 374 | Taylor Widener | | |
| 394 | Daulton Varsho | | |
| 410 | David Peralta | | |
| 455 | Henry Ramos | RC | |
| 534 | Josh VanMeter | | |
| 562 | Zac Gallen | | |
| 592 | Mark Melancon | | |
| 345 | Seth Beer | RC | Clear |
| 370 | Jake McCarthy | RC | Clear |
| 394 | Daulton Varsho | | Clear |
| 562 | Zac Gallen | | Clear |
| NHC-2 | Randy Johnson | | |
| NHC-7 | Tyler Gilbert | RC | |
| SMLB-34 | Ketel Marte | | |
| SMLBC-34 | Ketel Marte | | |
| T87C2-2 | Ketel Marte | | |
| T87C2-22 | Seth Beer | RC | |
| T87C2-53 | Jake McCarthy | RC | |
| NHC-2 | Randy Johnson | | Auto |
| NHC-7 | Tyler Gilbert | | Auto |
| BSA-LF | Luis Frias | RC | Auto |
| 87BC-22 | Seth Beer | | Chrome Auto |
| 87BC-53 | Jake McCarthy | | Chrome Auto |
| BH-KM | Ketel Marte | | Relic |
| | | | |
| --- | --- | --- | --- |
| 389 | Gavin Lux | | |
| 396 | Kenley Jansen | | |
| 420 | Austin Barnes | | |
| 438 | Walker Buehler | | |
| 443 | Cody Bellinger | | |
| 469 | Los Angeles Dodgers® | | |
| 505 | Mookie Betts | | |
| 550 | Trea Turner | | |
| 572 | Max Muncy | | |
| 608 | A.J. Pollock | | |
| 658 | Justin Bruihl | RC | |
| 396 | Kenley Jansen | | Clear |
| 438 | Walker Buehler | | Clear |
| 443 | Cody Bellinger | | Clear |
| 550 | Trea Turner | | Clear |
| 572 | Max Muncy | | Clear |
| GN-42 | Julio Urias | | |
| GN-43 | Walker Buehler | | |
| SS-6 | Mookie Betts | | |
| DGDC-30 | Jackie Robinson | | |
| DGDC-36 | Albert Pujols | | |
| SS-16 | Trea Turner | | |
| SS-17 | Trea Turner | | |
| NHC-1 | Clayton Kershaw | | |
| 87AS-30 | Clayton Kershaw | | |
| 87AS-33 | Walker Buehler | | |
| 87AS-38 | Mookie Betts | | |
| 87AS-40 | Trea Turner | | |
| 87AS-43 | Max Scherzer | | |
| 87AS-50 | Jackie Robinson | | |
| 87TB-17 | Julio Urias | | |
| 87TB-19 | Walker Buehler | | |
| OTAS-1 | Mookie Betts | | Boxtopper |
| OTAS-6 | Clayton Kershaw | | Boxtopper |
| OTAS-18 | Trea Turner | | Boxtopper |
| SMLB-32 | Walker Buehler | | |
| SMLB-47 | Trea Turner | | |
| SMLB-48 | Cody Bellinger | | |
| SMLB-60 | Max Muncy | | |
| SMLBC-32 | Walker Buehler | | |
| SMLBC-47 | Trea Turner | | |
| SMLBC-48 | Cody Bellinger | | |
| SMLBC-60 | Max Muncy | | |
| HRC-7 | Cody Bellinger | | |
| HRC-14 | Mookie Betts | | |
| HRC-24 | Freddie Freeman | | |
| HRC-25 | Max Muncy | | |
| T87C2-13 | Julio Urias | | |
| T87C2-41 | Trea Turner | | |
| T87C2-58 | Walker Buehler | | |
| T87C2-63 | Max Muncy | | |
| GN-43 | Walker Buehler | | Auto |
| BSDA-PC | Albert Pujols | | Auto |
| 87BA-AJ | Andre Jackson | RC | Auto |
| 87ASA-WBU | Walker Buehler | | Auto |
| 87BC-63 | Max Muncy | | Chrome Auto |
| BH-CB | Cody Bellinger | | Relic |
| BH-MB | Mookie Betts | | Relic |
| SSA-MB | Mookie Betts | | Relic |
| MLM-MB | Mookie Betts | | Relic |
| 87BR-MB | Mookie Betts | | Relic |
| 87BR-WS | Will Smith | | Relic |
| 87ASR-JU | Julio Urias | | Relic |
| 87ASR-MB | Mookie Betts | | Relic |
| ITNR-CB | Cody Bellinger | | Relic |
| ITNR-MB | Mookie Betts | | Relic |
| ITNR-MMU | Max Muncy | | Relic |
| ITNR-WS | Will Smith | | Relic |
| CS-BGR | Burleigh Grimes | | Relic |
| CS-DD | Don Drysdale | | Relic |
| CS-DS | Duke Snider | | Relic |
| BH-CB | Cody Bellinger | | Auto/Relic |
| TRAP-WBU | Walker Buehler | | Auto/Relic |
| TRAP-CBE | Cody Bellinger | | Auto/Relic |
| | | | |
| --- | --- | --- | --- |
| BSA-TR | Tim Raines | | Auto |
| SSA-VG | Vladimir Guerrero | | Relic |
| ASA-AD | Andre Dawson | | Relic |
| 87BR-VG | Vladimir Guerrero | | Relic |
| ASA-AD | Andre Dawson | | Auto/Relic |
| SSA-VG | Vladimir Guerrero | | Auto/Relic |
| | | | |
| --- | --- | --- | --- |
| 359 | Alex Cobb | | |
| 362 | Alex Dickerson | | |
| 408 | Wilmer Flores | | |
| 413 | Kervin Castro | RC | |
| 426 | Donovan Solano | | |
| 434 | Joey Bart | | |
| 464 | San Francisco Giants® | | |
| 494 | Alex Wood | | |
| 617 | Evan Longoria | | |
| 632 | Brandon Belt | | |
| 659 | LaMonte Wade Jr. | | |
| 434 | Joey Bart | | Clear |
| 617 | Evan Longoria | | Clear |
| 632 | Brandon Belt | | Clear |
| GN-49 | Logan Webb | | |
| DGDC-45 | Buster Posey | | |
| DGDC-46 | Willie McCovey | | |
| NHC-18 | Juan Marichal | | |
| 87AS-6 | Buster Posey | | |
| 87AS-31 | Will Clark | | |
| 87AS-48 | Willie Mays | | |
| 87TB-30 | Mike Yastrzemski | | |
| 87TB-34 | Brandon Crawford | | |
| T87C2-44 | Logan Webb | | |
| T87C2-78 | Brandon Crawford | | |
| GN-49 | Logan Webb | | Auto |
| DGDC-22 | Buster Posey | | Auto |
| NHC-18 | Juan Marichal | | Auto |
| BSA-LWJ | LaMonte WADE Jr. | | Auto |
| BSDA-PM | Buster Posey | | Auto |
| 87BA-BC | Brandon Crawford | | Auto |
| 87BA-SL | Sammy Long | RC | Auto |
| 87BA-MY | Mike Yastrzemski | | Auto |
| 87ASA-BCR | Brandon Crawford | | Auto |
| 87ASA-BP | Buster Posey | | Auto |
| 87ASA-JMA | Juan Marichal | | Auto |
| 87BC-44 | Logan Webb | | Chrome Auto |
| 87BC-78 | Brandon Crawford | | Chrome Auto |
| BH-BC | Brandon Crawford | | Relic |
| SSA-BP | Buster Posey | | Relic |
| ASA-WC | Will Clark | | Relic |
| ASA-WM | Willie Mays | | Relic |
| ASA-WMA | Willie Mays | | Relic |
| MLM-BP | Buster Posey | | Relic |
| MLM-MY | Mike Yastrzemski | | Relic |
| 87BR-BC | Brandon Crawford | | Relic |
| 87BR-MY | Mike Yastrzemski | | Relic |
| 87ASR-BP | Buster Posey | | Relic |
| ITNR-BP | Buster Posey | | Relic |
| ITNR-MY | Mike Yastrzemski | | Relic |
| CS-GHK | George "High Pockets" Kelly | | Relic |
| CS-MI | Monte Irvin | | Relic |
| CS-WM | Willie McCovey | | Relic |
| BH-BC | Brandon Crawford | | Auto/Relic |
| ASA-WC | Will Clark | | Auto/Relic |
| SSA-BP | Buster Posey | | Auto/Relic |
| MLMA-BC | Brandon Crawford | | Auto/Relic |
| MLMA-BP | Buster Posey | | Auto/Relic |
| | | | |
| --- | --- | --- | --- |
| 347 | Cal Quantrill | | |
| 353 | Sandy Leon | | |
| 377 | Zach Plesac | | |
| 407 | Bradley Zimmer | | |
| 470 | Triston McKenzie | | |
| 504 | Andres Gimenez | | |
| 604 | Logan Allen | | |
| 618 | Roberto Perez | | |
| 643 | Cleveland Guardians™ | | |
| 654 | Myles Straw | | |
| 656 | Franmil Reyes | | |
| 470 | Triston McKenzie | | Clear |
| 656 | Franmil Reyes | | Clear |
| GN-40 | Shane Bieber | | |
| GN-58 | Triston McKenzie | | |
| SS-20 | Emmanuel Clase | | |
| 87AS-42 | Shane Bieber | | |
| SMLB-42 | Shane Bieber | | |
| SMLBC-42 | Shane Bieber | | |
| HRC-28 | Jose Ramirez | | |
| GN-40 | Shane Bieber | | Auto |
| GN-58 | Triston McKenzie | | Auto |
| BSA-JRA | Jose Ramirez | | Auto |
| BSA-SBI | Shane Bieber | | Auto |
| 87BA-FR | Franmil Reyes | | Auto |
| 87ASA-SB | Shane Bieber | | Auto |
| 87BA-EMO | Eli Morgan | RC | Auto |
| 87BA-ECL | Ernie Clement | RC | Auto |
| | | | |
| --- | --- | --- | --- |
| 364 | Taylor Trammell | | |
| 477 | Abraham Toro | | |
| 481 | Robbie Ray | | |
| 489 | Seattle Mariners™ | | |
| 531 | Yusei Kikuchi | | |
| 545 | Jake Fraley | | |
| 561 | Matt Brash | RC | |
| 567 | Dylan Moore | | |
| 587 | Justus Sheffield | | |
| 602 | Evan White | | |
| 628 | J.P. Crawford | | |
| 481 | Robbie Ray | | Clear |
| 531 | Yusei Kikuchi | | Clear |
| 628 | J.P. Crawford | | Clear |
| GN-50 | Kyle Lewis | | |
| DGDC-47 | Randy Johnson | | |
| DGDC-48 | Ichiro | | |
| NHC-10 | Felix Hernandez | | |
| NHC-14 | Randy Johnson | | |
| 87AS-5 | Ken Griffey Jr. | | |
| 87TB-4 | Kyle Lewis | | |
| 87TB-39 | Mitch Haniger | | |
| SMLB-53 | Mitch Haniger | | |
| SMLBC-53 | Mitch Haniger | | |
| HRC-30 | Mitch Haniger | | |
| T87C2-7 | Ken Griffey Jr. | | |
| T87C2-51 | Matt Brash | RC | |
| T87C2-57 | Jarred Kelenic | | |
| T87C2-66 | Mitch Haniger | | |
| T87C2-93 | Kyle Lewis | | |
| T87C2-94 | Felix Hernandez | | |
| GN-50 | Kyle Lewis | | Auto |
| DGDC-24 | Randy Johnson | | Auto |
| DGDC-25 | Ichiro | | Auto |
| NHC-10 | Felix Hernandez | | Auto |
| NHC-14 | Randy Johnson | | Auto |
| BSDA-GR | Ken Griffey Jr. | | Auto |
| BSDA-IH | Felix Hernandez | | Auto |
| BSDA-IH | Ichiro | | Auto |
| BSDA-RJ | Randy Johnson | | Auto |
| 87BA-I | Ichiro | | Auto |
| 87BA-JRO | Julio Rodriguez | RC | Auto |
| 87BA-LG | Logan Gilbert | | Auto |
| 87ASA-EM | Edgar Martinez | | Auto |
| 87ASA-KG | Ken Griffey Jr. | | Auto |
| 87BC-66 | Mitch Haniger | | Chrome Auto |
| BH-JK | Jarred Kelenic | | Relic |
| SSA-I | Ichiro | | Relic |
| SSA-KG | Ken Griffey Jr. | | Relic |
| ASA-KG | Ken Griffey Jr. | | Relic |
| ASA-KGJ | Ken Griffey Jr. | | Relic |
| 87BR-AR | Alex Rodriguez | | Relic |
| 87BR-JK | Jarred Kelenic | | Relic |
| 87ASR-KGJ | Ken Griffey Jr. | | Relic |
| BH-JK | Jarred Kelenic | | Auto/Relic |
| ASA-KG | Ken Griffey Jr. | | Auto/Relic |
| ASA-KGJ | Ken Griffey Jr. | | Auto/Relic |
| SSA-I | Ichiro | | Auto/Relic |
| SSA-KG | Ken Griffey Jr. | | Auto/Relic |
| TRAP-JK | Jarred Kelenic | | Auto/Relic |
| | | | |
| --- | --- | --- | --- |
| 333 | Nick Fortes | RC | |
| 425 | Brian Miller | RC | |
| 471 | Sean Guenther | RC | |
| 544 | Miguel Rojas | | |
| 560 | Jesus Aguilar | | |
| 566 | Edward Cabrera | RC | |
| 606 | Sandy Alcantara | | |
| 611 | Payton Henry | RC | |
| 613 | Lewin Diaz | | |
| 621 | Sixto Sanchez | | |
| 638 | Lewis Brinson | | |
| 644 | Pablo Lopez | | |
| 566 | Edward Cabrera | RC | Clear |
| 606 | Sandy Alcantara | | Clear |
| 621 | Sixto Sanchez | | Clear |
| 87TB-42 | Bryan De La Cruz | RC | |
| T87C2-4 | Nick Fortes | RC | |
| T87C2-25 | Sandy Alcantara | | |
| BSA-DW | Dontrelle Willis | | Auto |
| 87BA-BDC | Bryan De La Cruz | RC | Auto |
| 87BA-GS | Gary Sheffield | | Auto |
| 87BA-EC | Edward Cabrera | RC | Auto |
| 87ASA-DWI | Dontrelle Willis | | Auto |
| 87BC-4 | Nick Fortes | | Chrome Auto |
| 87BC-25 | Sandy Alcantara | | Chrome Auto |
| BH-JC | Jazz Chisholm Jr. | | Relic |
| 87BR-I | Ichiro | | Relic |
| | | | |
| --- | --- | --- | --- |
| 341 | New York Mets® | | |
| 344 | Brandon Nimmo | | |
| 357 | Jeff McNeil | | |
| 375 | J.D. Davis | | |
| 436 | Pete Alonso | | |
| 450 | Francisco Lindor | | |
| 513 | Dominic Smith | | |
| 532 | Jonathan Villar | | |
| 570 | Mark Canha | | |
| 633 | Carlos Carrasco | | |
| 450 | Francisco Lindor | | Clear |
| SS-9 | Francisco Lindor | | |
| SS-11 | Pete Alonso | | |
| DGDC-39 | Tom Seaver | | |
| SS-18 | Jacob deGrom | | |
| SS-23 | Jacob deGrom | | |
| 87AS-29 | Pete Alonso | | |
| 87AS-34 | Darryl Strawberry | | |
| 87AS-36 | Jacob deGrom | | |
| 87AS-44 | Javier Baez | | |
| 87TB-3 | Max Scherzer | | |
| 87TB-41 | Mike Piazza | | |
| OTAS-3 | Jacob deGrom | | Boxtopper |
| OTAS-11 | Pete Alonso | | Boxtopper |
| SMLB-31 | Francisco Lindor | | |
| SMLBC-31 | Francisco Lindor | | |
| HRC-10 | Pete Alonso | | |
| T87C2-38 | Mike Piazza | | |
| T87C2-56 | Pete Alonso | | |
| SS-11 | Pete Alonso | | Auto |
| BSA-MC | Michael Conforto | | Auto |
| BSDA-DA | Jacob deGrom | | Auto |
| BSDA-DA | Pete Alonso | | Auto |
| BSDA-PA | Pete Alonso | | Auto |
| BSDA-PA | Mike Piazza | | Auto |
| 87BA-TME | Tylor Megill | RC | Auto |
| 87ASA-DS | Darryl Strawberry | | Auto |
| 87ASA-DWR | David Wright | | Auto |
| 87ASA-PA | Pete Alonso | | Auto |
| 87OASA-PA | Pete Alonso | | Auto |
| 87BC-6 | Marcus Stroman | | Chrome Auto |
| 87BC-38 | Mike Piazza | | Chrome Auto |
| 87BC-56 | Pete Alonso | | Chrome Auto |
| SS-18 | Jacob deGrom | | Auto |
| SS-23 | Jacob deGrom | | Auto |
| BH-FL | Francisco Lindor | | Relic |
| BH-PA | Pete Alonso | | Relic |
| SSA-MP | Mike Piazza | | Relic |
| 87BR-TG | Tom Glavine | | Relic |
| 87ASR-MP | Mike Piazza | | Relic |
| 87ASR-PA | Pete Alonso | | Relic |
| ITNR-JBA | Javier Baez | | Relic |
| ITNR-PA | Pete Alonso | | Relic |
| BH-PA | Pete Alonso | | Auto/Relic |
| SSA-MP | Mike Piazza | | Auto/Relic |
| TRAP-DWR | David Wright | | Auto/Relic |
| TRAP-MP | Mike Piazza | | Auto/Relic |
| TRAP-MS | Marcus Stroman | | Auto/Relic |
| TRAP-PA | Pete Alonso | | Auto/Relic |
| MLMA-PA | Pete Alonso | | Auto/Relic |
| | | | |
| --- | --- | --- | --- |
| 360 | Joan Adon | RC | |
| 404 | Andrew Young | | |
| 439 | Josh Bell | | |
| 472 | Luis Garcia | | |
| 492 | Stephen Strasburg | | |
| 525 | Patrick Corbin | | |
| 555 | Lane Thomas | | |
| 568 | Keibert Ruiz | | |
| 580 | Carter Kieboom | | |
| 583 | Gerardo Parra | | |
| 360 | Joan Adon | RC | Clear |
| 439 | Josh Bell | | Clear |
| 492 | Stephen Strasburg | | Clear |
| 568 | Keibert Ruiz | | Clear |
| SS-3 | Juan Soto | | |
| SS-12 | Juan Soto | | |
| SS-25 | Juan Soto | | |
| NHC-3 | Max Scherzer | | |
| 87AS-13 | Juan Soto | | |
| 87TB-10 | Juan Soto | | |
| OTAS-24 | Juan Soto | | Boxtopper |
| HRC-2 | Juan Soto | | |
| T87C2-1 | Juan Soto | | |
| T87C2-62 | Josh Bell | | |
| SS-3 | Juan Soto | | Auto |
| BSA-JA | Joan Adon | RC | Auto |
| BSA-JBE | Josh Bell | | Auto |
| BSA-LT | Lane Thomas | | Auto |
| BSDA-SG | Juan Soto | | Auto |
| BSDA-ST | Juan Soto | | Auto |
| 87BA-JS | Juan Soto | | Auto |
| 87BA-RAD | Riley Adams | RC | Auto |
| 87BA-JS | Juan Soto | | Auto |
| 87ASA-JS | Juan Soto | | Auto |
| 87OASA-JS | Juan Soto | | Auto |
| 87BC-1 | Juan Soto | | Chrome Auto |
| 87BC-62 | Josh Bell | | Chrome Auto |
| SS-12 | Juan Soto | | Auto |
| SS-25 | Juan Soto | | Auto |
| BH-JBE | Josh Bell | | Relic |
| BH-JS | Juan Soto | | Relic |
| SSA-JS | Juan Soto | | Relic |
| MLM-JS | Juan Soto | | Relic |
| 87ASR-JS | Juan Soto | | Relic |
| ITNR-SS | Stephen Strasburg | | Relic |
| BH-JBE | Josh Bell | | Auto/Relic |
| BH-JS | Juan Soto | | Auto/Relic |
| SSA-JS | Juan Soto | | Auto/Relic |
| TRAP-JS | Juan Soto | | Auto/Relic |
| TRAP-SS | Stephen Strasburg | | Auto/Relic |
| MLMA-JS | Juan Soto | | Auto/Relic |
| MLMA-SS | Stephen Strasburg | | Auto/Relic |
| | | | |
| --- | --- | --- | --- |
| 340 | Dean Kremer | | |
| 366 | DJ Stewart | | |
| 415 | Austin Hays | | |
| 465 | Baltimore Orioles® | | |
| 491 | Anthony Santander | | |
| 502 | Mike Baumann | RC | |
| 517 | Marcos Diplan | RC | |
| 552 | Jorge Lopez | | |
| 575 | Pat Valaika | | |
| 579 | Ryan Mountcastle | | |
| 579 | Ryan Mountcastle | | Clear |
| GN-57 | Cedric Mullins | | |
| DGDC-28 | Brooks Robinson | | |
| NHC-8 | John Means | | |
| NHC-19 | Jim Palmer | | |
| 87AS-9 | Cal Ripken Jr. | | |
| 87TB-22 | Cedric Mullins | | |
| SMLB-36 | Cedric Mullins | | |
| SMLBC-36 | Cedric Mullins | | |
| T87C2-11 | Brooks Robinson | | |
| T87C2-59 | Cedric Mullins | | |
| T87C2-91 | Ryan Mountcastle | | |
| GN-57 | Cedric Mullins | | Auto |
| DGDC-3 | Brooks Robinson | | Auto |
| NHC-8 | John Means | | Auto |
| NHC-19 | Jim Palmer | | Auto |
| BSA-CM | Cedric Mullins | | Auto |
| BSA-EMU | Eddie Murray | | Auto |
| BSA-MBA | Mike Baumann | RC | Auto |
| BSDA-GR | Cal Ripken Jr. | | Auto |
| BSDA-RA | Brooks Robinson | | Auto |
| 87BA-CMU | Cedric Mullins | | Auto |
| 87ASA-BR | Brooks Robinson | | Auto |
| 87ASA-CM | Cedric Mullins | | Auto |
| 87ASA-CR | Cal Ripken Jr. | | Auto |
| 87ASA-JP | Jim Palmer | | Auto |
| 87BC-11 | Brooks Robinson | | Chrome Auto |
| 87BC-59 | Cedric Mullins | | Chrome Auto |
| BH-RM | Ryan Mountcastle | | Relic |
| BH-TM | Trey Mancini | | Relic |
| SSA-CR | Cal Ripken Jr. | | Relic |
| ASA-BR | Brooks Robinson | | Relic |
| ASA-CR | Cal Ripken Jr. | | Relic |
| ASA-CRJ | Cal Ripken Jr. | | Relic |
| MLM-CM | Cedric Mullins | | Relic |
| MLM-TM | Trey Mancini | | Relic |
| 87BR-EM | Eddie Murray | | Relic |
| 87ASR-CR | Cal Ripken Jr. | | Relic |
| ITNR-CM | Cedric Mullins | | Relic |
| ITNR-RM | Ryan Mountcastle | | Relic |
| BH-RM | Ryan Mountcastle | | Auto/Relic |
| BH-TM | Trey Mancini | | Auto/Relic |
| ASA-BR | Brooks Robinson | | Auto/Relic |
| ASA-CR | Cal Ripken Jr. | | Auto/Relic |
| ASA-CRJ | Cal Ripken Jr. | | Auto/Relic |
| SSA-CR | Cal Ripken Jr. | | Auto/Relic |
| MLMA-CM | Cedric Mullins | | Auto/Relic |
| | | | |
| --- | --- | --- | --- |
| 385 | Victor Caratini | | |
| 414 | Blake Snell | | |
| 440 | Trent Grisham | | |
| 503 | Wil Myers | | |
| 511 | Jake Cronenworth | | |
| 593 | Chris Paddack | | |
| 600 | Manny Machado | | |
| 648 | Fernando Tatis Jr. | | |
| 414 | Blake Snell | | Clear |
| 511 | Jake Cronenworth | | Clear |
| 600 | Manny Machado | | Clear |
| SS-2 | Fernando Tatis Jr. | | |
| DGDC-44 | Tony Gwynn | | |
| SS-1 | Fernando Tatis Jr. | | |
| SS-10 | Fernando Tatis Jr. | | |
| NHC-23 | Joe Musgrove | | |
| 87AS-1 | Fernando Tatis Jr. | | |
| 87TB-21 | Fernando Tatis Jr. | | |
| 87TB-25 | Yu Darvish | | |
| OTAS-14 | Fernando Tatis Jr. | | Boxtopper |
| SMLB-52 | Manny Machado | | |
| SMLBC-52 | Manny Machado | | |
| HRC-1 | Fernando Tatis Jr. | | |
| HRC-20 | Manny Machado | | |
| T87C2-46 | Jake Cronenworth | | |
| T87C2-77 | Yu Darvish | | |
| T87C2-100 | Fernando Tatis Jr. | | |
| SS-2 | Fernando Tatis Jr. | | Auto |
| NHC-23 | Joe Musgrove | | Auto |
| BSA-BSN | Blake Snell | | Auto |
| BSA-MM | Manny Machado | | Auto |
| BSDA-OT | Fernando Tatis Jr. | | Auto |
| BSDA-ST | Fernando Tatis Jr. | | Auto |
| BSDA-TM | Manny Machado | | Auto |
| BSDA-TM | Fernando Tatis Jr. | | Auto |
| 87BA-MTH | Mason Thompson | RC | Auto |
| 87BA-MMA | Manny Machado | | Auto |
| 87BA-FTJ | Fernando Tatis Jr. | | Auto |
| 87ASA-FT | Fernando Tatis Jr. | | Auto |
| 87OASA-MM | Manny Machado | | Auto |
| 87OASA-FT | Fernando Tatis Jr. | | Auto |
| 87BC-100 | Fernando Tatis Jr. | | Chrome Auto |
| SS-1 | Fernando Tatis Jr. | | Auto |
| SS-10 | Fernando Tatis Jr. | | Auto |
| BH-FT | Fernando Tatis Jr. | | Relic |
| BH-MM | Manny Machado | | Relic |
| SSA-FT | Fernando Tatis Jr. | | Relic |
| SSA-TG | Tony Gwynn | | Relic |
| ASA-TG | Tony Gwynn | | Relic |
| MLM-BS | Blake Snell | | Relic |
| MLM-FT | Fernando Tatis Jr. | | Relic |
| 87ASR-FTJ | Fernando Tatis Jr. | | Relic |
| 87ASR-TG | Tony Gwynn | | Relic |
| ITNR-MM | Manny Machado | | Relic |
| CS-TG | Tony Gwynn | | Relic |
| BH-FT | Fernando Tatis Jr. | | Auto/Relic |
| BH-MM | Manny Machado | | Auto/Relic |
| SSA-FT | Fernando Tatis Jr. | | Auto/Relic |
| TRAP-FTJ | Fernando Tatis Jr. | | Auto/Relic |
| TRAP-GM | Greg Maddux | | Auto/Relic |
| TRAP-MMA | Manny Machado | | Auto/Relic |
| TRAP-FTJ | Fernando Tatis Jr. | | Auto/Relic |
| MLMA-FT | Fernando Tatis Jr. | | Auto/Relic |
| MLMA-MM | Manny Machado | | Auto/Relic |
| | | | |
| --- | --- | --- | --- |
| 337 | Aaron Nola | | |
| 354 | Ronald Torreyes | | |
| 384 | Brad Miller | | |
| 386 | Ranger Suarez | | |
| 452 | Alec Bohm | | |
| 501 | Philadelphia Phillies® | | |
| 518 | Odubel Herrera | | |
| 523 | Rhys Hoskins | | |
| 577 | Roman Quinn | | |
| 642 | Hans Crouse | RC | |
| 655 | Andrew McCutchen | | |
| 337 | Aaron Nola | | Clear |
| 452 | Alec Bohm | | Clear |
| 523 | Rhys Hoskins | | Clear |
| 642 | Hans Crouse | RC | Clear |
| 655 | Andrew McCutchen | | Clear |
| SS-14 | Bryce Harper | | |
| SS-11 | Bryce Harper | | |
| 87AS-3 | Bryce Harper | | |
| 87TB-2 | Bryce Harper | | |
| 87TB-24 | Rhys Hoskins | | |
| OTAS-20 | Bryce Harper | | Boxtopper |
| SMLB-51 | J.T. Realmuto | | |
| SMLBC-51 | J.T. Realmuto | | |
| HRC-5 | Bryce Harper | | |
| T87C2-10 | Rhys Hoskins | | |
| T87C2-20 | Matt Vierling | RC | |
| T87C2-23 | Aaron Nola | | |
| T87C2-72 | J.T. Realmuto | | |
| T87C2-97 | Hans Crouse | RC | |
| SS-12 | Andrew McCutchen | | Auto |
| SS-14 | Bryce Harper | | Auto |
| BSDA-SC | Steve Carlton | | Auto |
| BSDA-SC | Mike Schmidt | | Auto |
| BSDA-TH | Bryce Harper | | Auto |
| 87BA-HC | Hans Crouse | RC | Auto |
| 87BA-MV | Matt Vierling | RC | Auto |
| 87BA-JKR | John Kruk | | Auto |
| 87BA-RHO | Rhys Hoskins | | Auto |
| 87ASA-BH | Bryce Harper | | Auto |
| 87ASA-SC | Steve Carlton | | Auto |
| 87OASA-BH | Bryce Harper | | Auto |
| 87BC-10 | Rhys Hoskins | | Chrome Auto |
| 87BC-72 | J.T. Realmuto | | Chrome Auto |
| 87BC-97 | Hans Crouse | | Chrome Auto |
| SS-11 | Bryce Harper | | Auto |
| BH-BH | Bryce Harper | | Relic |
| BH-RH | Rhys Hoskins | | Relic |
| SSA-BH | Bryce Harper | | Relic |
| SSA-MS | Mike Schmidt | | Relic |
| MLM-AM | Andrew McCutchen | | Relic |
| 87BR-AM | Andrew McCutchen | | Relic |
| 87BR-AN | Aaron Nola | | Relic |
| 87BR-MS | Mike Schmidt | | Relic |
| 87ASR-BH | Bryce Harper | | Relic |
| ITNR-AM | Andrew McCutchen | | Relic |
| ITNR-AN | Aaron Nola | | Relic |
| ITNR-RH | Rhys Hoskins | | Relic |
| ITNR-ZW | Zack Wheeler | | Relic |
| BH-BH | Bryce Harper | | Auto/Relic |
| BH-RH | Rhys Hoskins | | Auto/Relic |
| SSA-BH | Bryce Harper | | Auto/Relic |
| SSA-MS | Mike Schmidt | | Auto/Relic |
| TRAP-BH | Bryce Harper | | Auto/Relic |
| TRAP-RHO | Rhys Hoskins | | Auto/Relic |
| TRAP-AN | Aaron Nola | | Auto/Relic |
| MLMA-JR | J.T. Realmuto | | Auto/Relic |
| | | | |
| --- | --- | --- | --- |
| 339 | Connor Overton | RC | |
| 365 | Michael Chavis | | |
| 463 | Bryse Wilson | | |
| 530 | Bryan Reynolds | | |
| 537 | Oneil Cruz | RC | |
| 543 | Roansy Contreras | RC | |
| 556 | JT Brubaker | | |
| 601 | Chad Kuhl | | |
| 603 | Cole Tucker | | |
| 635 | Kevin Newman | | |
| 646 | Pittsburgh Pirates® | | |
| 530 | Bryan Reynolds | | Clear |
| 537 | Oneil Cruz | RC | Clear |
| 543 | Roansy Contreras | RC | Clear |
| GN-48 | Oneil Cruz | RC | |
| GN-60 | Bryan Reynolds | | |
| SS-18 | Ke'Bryan Hayes | | |
| DGDC-42 | Honus Wagner | | |
| DGDC-43 | Willie Stargell | | |
| 87AS-46 | Andrew McCutchen | | |
| 87TB-14 | Bryan Reynolds | | |
| 87TB-48 | Oneil Cruz | RC | |
| T87C2-68 | Roansy Contreras | RC | |
| T87C2-80 | Bryan Reynolds | | |
| T87C2-98 | Oneil Cruz | RC | |
| GN-48 | Oneil Cruz | | Auto |
| GN-60 | Bryan Reynolds | | Auto |
| SS-18 | Ke'Bryan Hayes | | Auto |
| BSA-KH | Ke'Bryan Hayes | | Auto |
| BSA-OC | Oneil Cruz | RC | Auto |
| BSA-RC | Roansy Contreras | RC | Auto |
| 87BA-OC | Oneil Cruz | RC | Auto |
| 87BA-RCA | Rodolfo Castro | RC | Auto |
| 87BA-HP | Hoy Jun Park | RC | Auto |
| 87BC-68 | Roansy Contreras | | Chrome Auto |
| 87BC-80 | Bryan Reynolds | | Chrome Auto |
| 87BC-98 | Oneil Cruz | | Chrome Auto |
| BH-KH | Ke'Bryan Hayes | | Relic |
| ASA-RC | Roberto Clemente | | Relic |
| MLM-BR | Bryan Reynolds | | Relic |
| CS-RK | Ralph Kiner | | Relic |
| BH-KH | Ke'Bryan Hayes | | Auto/Relic |
| MLMA-BR | Bryan Reynolds | | Auto/Relic |
| | | | |
| --- | --- | --- | --- |
| 363 | Yonny Hernandez | RC | |
| 376 | Jordan Lyles | | |
| 383 | Andy Ibanez | | |
| 411 | Dane Dunning | | |
| 429 | Marcus Semien | | |
| 437 | Glenn Otto | RC | |
| 547 | A.J. Alexy | RC | |
| 551 | Nathaniel Lowe | | |
| 558 | Texas Rangers® | | |
| 564 | Jose Trevino | | |
| 581 | Willie Calhoun | | |
| 605 | Kole Calhoun | | |
| 634 | Taylor Hearn | | |
| 649 | Yohel Pozo | RC | |
| 652 | Adolis Garcia | | |
| 429 | Marcus Semien | | Clear |
| 547 | A.J. Alexy | RC | Clear |
| 652 | Adolis Garcia | | Clear |
| NHC-15 | Nolan Ryan | | |
| 87TB-8 | Marcus Semien | | |
| 87TB-20 | Corey Seager | | |
| SMLB-57 | Adolis Garcia | | |
| SMLBC-57 | Adolis Garcia | | |
| HRC-26 | Adolis Garcia | | |
| T87C2-71 | Nolan Ryan | | |
| T87C2-79 | Adolis Garcia | | |
| NHC-15 | Nolan Ryan | | Auto |
| BSA-MS | Marcus Semien | | Auto |
| BSDA-RJ | Nolan Ryan | | Auto |
| 87BA-AGA | Adolis Garcia | | Auto |
| 87BC-71 | Nolan Ryan | | Chrome Auto |
| BH-AG | Adolis Garcia | | Relic |
| 87BR-ABE | Adrian Beltre | | Relic |
| BH-AG | Adolis Garcia | | Auto/Relic |
| MLMA-MS | Marcus Semien | | Auto/Relic |
| | | | |
| --- | --- | --- | --- |
| 346 | Francisco Mejia | | |
| 367 | Wander Franco | RC | |
| 421 | Shane Baz | RC | |
| 454 | Kevin Kiermaier | | |
| 479 | Josh Lowe | RC | |
| 482 | Drew Rasmussen | | |
| 496 | Yandy Diaz | | |
| 499 | Brandon Lowe | | |
| 539 | Luis Patiño | | |
| 569 | Brett Phillips | | |
| 612 | Manuel Margot | | |
| 421 | Shane Baz | RC | Clear |
| 454 | Kevin Kiermaier | | Clear |
| 479 | Josh Lowe | RC | Clear |
| 499 | Brandon Lowe | | Clear |
| GN-52 | Vidal Brujan | RC | |
| GN-53 | Shane Baz | RC | |
| GN-55 | Randy Arozarena | | |
| SS-8 | Wander Franco | RC | |
| 87TB-1 | Wander Franco | RC | |
| 87TB-27 | Josh Lowe | RC | |
| 87TB-33 | Shane Baz | RC | |
| SMLB-56 | Randy Arozarena | | |
| SMLBC-56 | Randy Arozarena | | |
| HRC-27 | Wander Franco | | |
| T87C2-9 | Brandon Lowe | | |
| T87C2-16 | Wander Franco | RC | |
| T87C2-43 | Shane Baz | RC | |
| T87C2-74 | Josh Lowe | RC | |
| GN-52 | Vidal Brujan | | Auto |
| GN-53 | Shane Baz | | Auto |
| GN-55 | Randy Arozarena | | Auto |
| SS-8 | Wander Franco | | Auto |
| BSA-WF | Wander Franco | RC | Auto |
| 87BA-SB | Shane Baz | RC | Auto |
| 87BA-WF | Wander Franco | RC | Auto |
| 87BA-TGL | Tyler Glasnow | | Auto |
| 87BC-16 | Wander Franco | | Chrome Auto |
| 87BC-43 | Shane Baz | | Chrome Auto |
| 87BC-74 | Josh Lowe | | Chrome Auto |
| BH-AM | Austin Meadows | | Relic |
| BH-WF | Wander Franco | RC | Relic |
| MLM-SB | Shane Baz | RC | Relic |
| 87BR-WF | Wander Franco | RC | Relic |
| ITNR-RAR | Randy Arozarena | | Relic |
| BH-AM | Austin Meadows | | Auto/Relic |
| BH-WF | Wander Franco | | Auto/Relic |
| TRAP-BLO | Brandon Lowe | | Auto/Relic |
| MLMA-SB | Shane Baz | RC | Auto/Relic |
| MLMA-WF | Wander Franco | RC | Auto/Relic |
| | | | |
| --- | --- | --- | --- |
| 331 | Rafael Devers | | |
| 356 | Alex Verdugo | | |
| 393 | Kevin Plawecki | | |
| 398 | Jackie Bradley Jr. | | |
| 409 | Chris Sale | | |
| 418 | Jack Lopez | RC | |
| 514 | Garrett Richards | | |
| 519 | Boston Red Sox® | | |
| 524 | Connor Seabold | RC | |
| 548 | Tanner Houck | | |
| 582 | Christian Arroyo | | |
| 630 | Rafael Devers | | |
| 645 | Kutter Crawford | RC | |
| 657 | Nathan Eovaldi | | |
| 331 | Rafael Devers | | Clear |
| 356 | Alex Verdugo | | Clear |
| 409 | Chris Sale | | Clear |
| 524 | Connor Seabold | RC | Clear |
| 645 | Kutter Crawford | RC | Clear |
| GN-36 | Jarren Duran | RC | |
| GN-37 | Bobby Dalbec | | |
| SS-16 | Xander Bogaerts | | |
| DGDC-29 | Wade Boggs | | |
| 87AS-14 | Wade Boggs | | |
| 87AS-45 | Rafael Devers | | |
| 87TB-44 | David Ortiz | | |
| 87TB-49 | Pedro Martinez | | |
| OTAS-12 | Xander Bogaerts | | Boxtopper |
| OTAS-19 | Rafael Devers | | Boxtopper |
| SMLB-37 | Xander Bogaerts | | |
| SMLB-38 | J.D. Martinez | | |
| SMLBC-37 | Xander Bogaerts | | |
| SMLBC-38 | J.D. Martinez | | |
| HRC-22 | Rafael Devers | | |
| T87C2-45 | Ted Williams | | |
| T87C2-54 | David Ortiz | | |
| T87C2-61 | Pedro Martinez | | |
| T87C2-73 | Carl Yastrzemski | | |
| T87C2-75 | J.D. Martinez | | |
| T87C2-88 | Connor Seabold | RC | |
| T87C2-90 | Wade Boggs | | |
| GN-36 | Jarren Duran | | Auto |
| GN-37 | Bobby Dalbec | | Auto |
| SS-16 | Xander Bogaerts | | Auto |
| DGDC-4 | Wade Boggs | | Auto |
| BSA-CF | Carlton Fisk | | Auto |
| BSDA-OM | David Ortiz | | Auto |
| BSDA-OM | Pedro Martinez | | Auto |
| 87BA-JDU | Jarren Duran | RC | Auto |
| 87BA-XB | Xander Bogaerts | | Auto |
| 87BA-JDM | J.D. Martinez | | Auto |
| 87ASA-CF | Carlton Fisk | | Auto |
| 87ASA-DP | Dustin Pedroia | | Auto |
| 87ASA-JR | Jim Rice | | Auto |
| 87ASA-RC | Roger Clemens | | Auto |
| 87OASA-XB | Xander Bogaerts | | Auto |
| 87BC-54 | David Ortiz | | Chrome Auto |
| 87BC-61 | Pedro Martinez | | Chrome Auto |
| 87BC-73 | Carl Yastrzemski | | Chrome Auto |
| 87BC-88 | Connor Seabold | | Chrome Auto |
| 87BC-90 | Wade Boggs | | Chrome Auto |
| BH-RD | Rafael Devers | | Relic |
| BH-XB | Xander Bogaerts | | Relic |
| SSA-WB | Wade Boggs | | Relic |
| ASA-CY | Carl Yastrzemski | | Relic |
| ASA-PM | Pedro Martinez | | Relic |
| ASA-TW | Ted Williams | | Relic |
| MLM-DO | David Ortiz | | Relic |
| MLM-DP | Dustin Pedroia | | Relic |
| 87BR-CY | Carl Yastrzemski | | Relic |
| 87BR-PM | Pedro Martinez | | Relic |
| 87BR-XB | Xander Bogaerts | | Relic |
| 87ASR-DO | David Ortiz | | Relic |
| 87ASR-RD | Rafael Devers | | Relic |
| 87ASR-WB | Wade Boggs | | Relic |
| 87ASR-XB | Xander Bogaerts | | Relic |
| ITNR-DO | David Ortiz | | Relic |
| ITNR-RD | Rafael Devers | | Relic |
| ITNR-XB | Xander Bogaerts | | Relic |
| CS-CY | Cy Young | | Relic |
| BH-RD | Rafael Devers | | Auto/Relic |
| BH-XB | Xander Bogaerts | | Auto/Relic |
| ASA-CY | Carl Yastrzemski | | Auto/Relic |
| ASA-PM | Pedro Martinez | | Auto/Relic |
| SSA-WB | Wade Boggs | | Auto/Relic |
| TRAP-DP | Dustin Pedroia | | Auto/Relic |
| TRAP-XB | Xander Bogaerts | | Auto/Relic |
| MLMA-JD | Jarren Duran | RC | Auto/Relic |
| | | | |
| --- | --- | --- | --- |
| 392 | Luis Castillo | | |
| 448 | Nick Castellanos | | |
| 485 | Jose Barrero | | |
| 536 | Mark Kolozsvary | RC | |
| 546 | TJ Friedl | RC | |
| 549 | Shogo Akiyama | | |
| 553 | Jeff Hoffman | | |
| 557 | Kyle Farmer | | |
| 563 | Jonathan India | | |
| 619 | Reiver Sanmartin | RC | |
| 631 | Vladimir Gutierrez | | |
| 392 | Luis Castillo | | Clear |
| 448 | Nick Castellanos | | Clear |
| 563 | Jonathan India | | Clear |
| GN-39 | Jonathan India | | |
| DGDC-31 | Joe Morgan | | |
| DGDC-32 | Frank Robinson | | |
| SS-14 | Joey Votto | | |
| NHC-21 | Tom Seaver | | |
| 87AS-18 | Joey Votto | | |
| 87AS-25 | Barry Larkin | | |
| 87TB-23 | Jonathan India | | |
| OTAS-15 | Joey Votto | | Boxtopper |
| SMLB-41 | Joey Votto | | |
| SMLBC-41 | Joey Votto | | |
| HRC-16 | Joey Votto | | |
| T87C2-26 | Nick Castellanos | | |
| T87C2-87 | Sonny Gray | | |
| T87C2-95 | Johnny Bench | | |
| GN-39 | Jonathan India | | Auto |
| BSA-ED | Eric Davis | | Auto |
| BSA-JB | Johnny Bench | | Auto |
| BSA-JI | Jonathan India | | Auto |
| BSA-LC | Luis Castillo | | Auto |
| BSA-NC | Nick Castellanos | | Auto |
| BSA-SG | Sonny Gray | | Auto |
| BSA-TA | Trey Amburgey | RC | Auto |
| BSDA-LV | Joey Votto | | Auto |
| BSDA-LV | Barry Larkin | | Auto |
| 87BA-AL | Alejo Lopez | RC | Auto |
| 87BA-BL | Barry Larkin | | Auto |
| 87BA-TF | TJ Friedl | RC | Auto |
| 87ASA-BLA | Barry Larkin | | Auto |
| 87ASA-ED | Eric Davis | | Auto |
| 87ASA-JB | Johnny Bench | | Auto |
| 87ASA-JVO | Joey Votto | | Auto |
| 87OASA-JV | Joey Votto | | Auto |
| 87BC-26 | Nick Castellanos | | Chrome Auto |
| 87BC-87 | Sonny Gray | | Chrome Auto |
| 87BC-95 | Johnny Bench | | Chrome Auto |
| SS-14 | Joey Votto | | Auto |
| BH-JW | Jesse Winker | | Relic |
| SSA-BL | Barry Larkin | | Relic |
| ASA-JB | Johnny Bench | | Relic |
| MLM-JV | Joey Votto | | Relic |
| MLM-LC | Luis Castillo | | Relic |
| 87BR-JV | Joey Votto | | Relic |
| 87BR-KG | Ken Griffey Jr. | | Relic |
| 87ASR-BL | Barry Larkin | | Relic |
| 87ASR-JV | Joey Votto | | Relic |
| 87ASR-KG | Ken Griffey Jr. | | Relic |
| ITNR-JV | Joey Votto | | Relic |
| ITNR-LCA | Luis Castillo | | Relic |
| ITNR-MMO | Mike Moustakas | | Relic |
| BH-JW | Jesse Winker | | Auto/Relic |
| ASA-JB | Johnny Bench | | Auto/Relic |
| SSA-BL | Barry Larkin | | Auto/Relic |
| TRAP-JB | Johnny Bench | | Auto/Relic |
| TRAP-JV | Joey Votto | | Auto/Relic |
| TRAP-JW | Jesse Winker | | Auto/Relic |
| TRAP-SG | Sonny Gray | | Auto/Relic |
| TRAP-BL | Barry Larkin | | Auto/Relic |
| MLMA-JI | Jonathan India | | Auto/Relic |
| MLMA-JV | Joey Votto | | Auto/Relic |
| MLMA-JW | Jesse Winker | | Auto/Relic |
| | | | |
| --- | --- | --- | --- |
| 335 | Yonathan Daza | | |
| 352 | Charlie Blackmon | | |
| 373 | Ryan Feltner | RC | |
| 461 | Austin Gomber | | |
| 462 | Chris Owings | | |
| 467 | Elias Diaz | | |
| 480 | Colton Welker | RC | |
| 498 | German Marquez | | |
| 508 | Antonio Senzatela | | |
| 586 | Ryan Vilade | RC | |
| 352 | Charlie Blackmon | | Clear |
| 480 | Colton Welker | RC | Clear |
| 586 | Ryan Vilade | RC | Clear |
| 87TB-12 | Ryan Vilade | RC | |
| T87C2-82 | Ryan Vilade | RC | |
| 87BA-RV | Ryan Vilade | RC | Auto |
| 87BA-LW | Larry Walker | | Auto |
| 87BC-82 | Ryan Vilade | | Chrome Auto |
| BH-CBL | Charlie Blackmon | | Relic |
| BH-RMC | Ryan McMahon | | Relic |
| MLMA-TS | Trevor Story | | Auto/Relic |
| | | | |
| --- | --- | --- | --- |
| 379 | Ryan O'Hearn | | |
| 403 | Danny Duffy | | |
| 412 | Brad Keller | | |
| 430 | Jon Heasley | RC | |
| 475 | Andrew Benintendi | | |
| 483 | Michael Taylor | | |
| 510 | Carlos Santana | | |
| 559 | Angel Zerpa | RC | |
| 589 | Adalberto Mondesi | | |
| 626 | Kris Bubic | | |
| 647 | Kansas City Royals® | | |
| 430 | Jon Heasley | RC | Clear |
| 475 | Andrew Benintendi | | Clear |
| DGDC-35 | George Brett | | |
| SS-13 | Salvador Perez | | |
| 87AS-10 | Bo Jackson | | |
| 87AS-32 | Salvador Perez | | |
| 87AS-39 | George Brett | | |
| 87TB-18 | Andrew Benintendi | | |
| SMLB-46 | Salvador Perez | | |
| SMLBC-46 | Salvador Perez | | |
| HRC-15 | Salvador Perez | | |
| T87C2-21 | Whit Merrifield | | |
| T87C2-28 | Jon Heasley | RC | |
| 87BA-BW | Bobby Witt Jr. | RC | Auto |
| 87BA-ER | Emmanuel Rivera | RC | Auto |
| 87ASA-BJ | Bo Jackson | | Auto |
| 87ASA-SP | Salvador Perez | | Auto |
| 87BC-21 | Whit Merrifield | | Chrome Auto |
| 87BC-28 | Jon Heasley | | Chrome Auto |
| SS-13 | Salvador Perez | | Auto |
| BH-SP | Salvador Perez | | Relic |
| MLM-ABE | Andrew Benintendi | | Relic |
| MLM-WM | Whit Merrifield | | Relic |
| 87BR-SP | Salvador Perez | | Relic |
| ITNR-ABE | Andrew Benintendi | | Relic |
| ITNR-SP | Salvador Perez | | Relic |
| ITNR-WM | Whit Merrifield | | Relic |
| BH-SP | Salvador Perez | | Auto/Relic |
| MLMA-AB | Andrew Benintendi | | Auto/Relic |
| MLMA-SP | Salvador Perez | | Auto/Relic |
| | | | |
| --- | --- | --- | --- |
| 402 | Akil Baddoo | | |
| 406 | Tucker Barnhart | | |
| 423 | Tarik Skubal | | |
| 427 | Jose Urena | | |
| 431 | Casey Mize | | |
| 488 | Eric Haase | | |
| 493 | Jonathan Schoop | | |
| 542 | Jeimer Candelario | | |
| 571 | Javier Baez | | |
| 573 | Niko Goodrum | | |
| 623 | Jacob Robson | RC | |
| 640 | Detroit Tigers® | | |
| 653 | Wily Peralta | | |
| 402 | Akil Baddoo | | Clear |
| 423 | Tarik Skubal | | Clear |
| 431 | Casey Mize | | Clear |
| 571 | Javier Baez | | Clear |
| GN-41 | Akil Baddoo | | |
| DGDC-33 | Miguel Cabrera | | |
| DGDC-34 | Ty Cobb | | |
| NHC-24 | Spencer Turnbull | | |
| NHC-25 | Justin Verlander | | |
| 87AS-19 | Miguel Cabrera | | |
| 87TB-46 | Javier Baez | | |
| SMLB-43 | Miguel Cabrera | | |
| SMLBC-43 | Miguel Cabrera | | |
| HRC-29 | Javier Baez | | |
| T87C2-5 | Casey Mize | | |
| T87C2-37 | Akil Baddoo | | |
| GN-41 | Akil Baddoo | | Auto |
| DGDC-9 | Miguel Cabrera | | Auto |
| BSDA-PC | Miguel Cabrera | | Auto |
| 87BA-CM | Casey Mize | | Auto |
| 87BA-ZSH | Zack Short | RC | Auto |
| 87BA-ABA | Akil Baddoo | | Auto |
| 87ASA-CFI | Cecil Fielder | | Auto |
| 87ASA-MGA | Miguel Cabrera | | Auto |
| 87BC-5 | Casey Mize | | Chrome Auto |
| BH-MC | Miguel Cabrera | | Relic |
| SSA-MC | Miguel Cabrera | | Relic |
| 87ASR-MC | Miguel Cabrera | | Relic |
| CS-AK | Al Kaline | | Relic |
| CS-CG | Charlie Gehringer | | Relic |
| CS-GK | George Kell | | Relic |
| CS-HG | Hank Greenberg | | Relic |
| CS-TC | Ty Cobb | | Relic |
| BH-MC | Miguel Cabrera | | Auto/Relic |
| SSA-MC | Miguel Cabrera | | Auto/Relic |
| TRAP-MC | Miguel Cabrera | | Auto/Relic |
| MLMA-MC | Miguel Cabrera | | Auto/Relic |
| | | | |
| --- | --- | --- | --- |
| 387 | Jovani Moran | RC | |
| 390 | Joe Ryan | RC | |
| 417 | Jorge Polanco | | |
| 435 | Minnesota Twins® | | |
| 451 | Randy Dobnak | | |
| 453 | Luis Arraez | | |
| 529 | Mitch Garver | | |
| 576 | Byron Buxton | | |
| 590 | Bailey Ober | | |
| 596 | Trevor Larnach | | |
| 598 | Nick Gordon | | |
| 622 | Kenta Maeda | | |
| 641 | Charlie Barnes | RC | |
| 387 | Jovani Moran | RC | Clear |
| 390 | Joe Ryan | RC | Clear |
| 417 | Jorge Polanco | | Clear |
| 576 | Byron Buxton | | Clear |
| 596 | Trevor Larnach | | Clear |
| GN-46 | Trevor Larnach | | |
| SS-17 | Byron Buxton | | |
| DGDC-38 | Kirby Puckett | | |
| SS-5 | Miguel Sano | | |
| 87TB-15 | Joe Ryan | RC | |
| T87C2-18 | Joe Ryan | RC | |
| T87C2-31 | Alex Kirilloff | | |
| T87C2-36 | Jorge Polanco | | |
| T87C2-40 | Kirby Puckett | | |
| GN-46 | Trevor Larnach | | Auto |
| SS-17 | Byron Buxton | | Auto |
| BSA-BB | Byron Buxton | | Auto |
| BSA-CT | Curtis Terry | RC | Auto |
| 87BA-BB | Byron Buxton | | Auto |
| 87BA-JD | Josh Donaldson | | Auto |
| 87ASA-TH | Torii Hunter | | Auto |
| 87BC-18 | Joe Ryan | | Chrome Auto |
| 87BC-36 | Jorge Polanco | | Chrome Auto |
| BH-BBU | Byron Buxton | | Relic |
| SSA-KP | Kirby Puckett | | Relic |
| ASA-KP | Kirby Puckett | | Relic |
| MLM-JP | Jorge Polanco | | Relic |
| MLM-JR | Joe Ryan | RC | Relic |
| 87BR-KP | Kirby Puckett | | Relic |
| 87ASR-KP | Kirby Puckett | | Relic |
| ITNR-BB | Byron Buxton | | Relic |
| ITNR-JD | Josh Donaldson | | Relic |
| ITNR-MK | Max Kepler | | Relic |
| CS-HK | Harmon Killebrew | | Relic |
| BH-BBU | Byron Buxton | | Auto/Relic |
| TRAP-BB | Byron Buxton | | Auto/Relic |
| TRAP-JD | Josh Donaldson | | Auto/Relic |
| MLMA-BB | Byron Buxton | | Auto/Relic |
| MLMA-JDO | Josh Donaldson | | Auto/Relic |
| | | | |
| --- | --- | --- | --- |
| 348 | Leury Garcia | | |
| 351 | Zack Collins | | |
| 372 | Yoan Moncada | | |
| 424 | Dallas Keuchel | | |
| 433 | Dylan Cease | | |
| 460 | Lance Lynn | | |
| 500 | Eloy Jimenez | | |
| 515 | Kendall Graveman | | |
| 595 | Romy Gonzalez | RC | |
| 616 | Michael Kopech | | |
| 372 | Yoan Moncada | | Clear |
| 500 | Eloy Jimenez | | Clear |
| 595 | Romy Gonzalez | RC | Clear |
| GN-38 | Yoan Moncada | | |
| NHC-5 | Carlos Rodon | | |
| NHC-9 | Lucas Giolito | | |
| NHC-11 | Mark Buehrle | | |
| 87AS-24 | Frank Thomas | | |
| 87TB-28 | Jose Abreu | | |
| 87TB-32 | Eloy Jimenez | | |
| SMLB-39 | Jose Abreu | | |
| SMLB-40 | Eloy Jimenez | | |
| SMLBC-39 | Jose Abreu | | |
| SMLBC-40 | Eloy Jimenez | | |
| HRC-13 | Luis Robert | | |
| T87C2-14 | Eloy Jimenez | | |
| T87C2-81 | Lucas Giolito | | |
| T87C2-89 | Carlos Rodon | | |
| GN-38 | Yoan Moncada | | Auto |
| NHC-5 | Carlos Rodon | | Auto |
| NHC-9 | Lucas Giolito | | Auto |
| NHC-11 | Mark Buehrle | | Auto |
| BSA-FT | Frank Thomas | | Auto |
| BSA-TAN | Tim Anderson | | Auto |
| BSA-YM | Yoan Moncada | | Auto |
| 87BA-EJ | Eloy Jimenez | | Auto |
| 87BA-TA | Tim Anderson | | Auto |
| 87BA-AVA | Andrew Vaughn | | Auto |
| 87BA-FT | Frank Thomas | | Auto |
| 87ASA-FTH | Frank Thomas | | Auto |
| 87ASA-PK | Paul Konerko | | Auto |
| 87BC-81 | Lucas Giolito | | Chrome Auto |
| 87BC-89 | Carlos Rodon | | Chrome Auto |
| BH-JAB | Jose Abreu | | Relic |
| BH-LR | Luis Robert | | Relic |
| MLM-MK | Michael Kopech | | Relic |
| 87ASR-FT | Frank Thomas | | Relic |
| ITNR-TA | Tim Anderson | | Relic |
| ITNR-YM | Yoan Moncada | | Relic |
| CS-HWI | Hoyt Wilhelm | | Relic |
| CS-LA | Luke Appling | | Relic |
| CS-NF | Nellie Fox | | Relic |
| BH-JAB | Jose Abreu | | Auto/Relic |
| BH-LR | Luis Robert | | Auto/Relic |
| TRAP-AV | Andrew Vaughn | | Auto/Relic |
| TRAP-EJ | Eloy Jimenez | | Auto/Relic |
| TRAP-FT | Frank Thomas | | Auto/Relic |
| TRAP-JA | Jose Abreu | | Auto/Relic |
| TRAP-MB | Mark Buehrle | | Auto/Relic |
| TRAP-EJ | Eloy Jimenez | | Auto/Relic |
| MLMA-LG | Lucas Giolito | | Auto/Relic |
| | | | |
| --- | --- | --- | --- |
| 380 | DJ LeMahieu | | |
| 382 | Jordan Montgomery | | |
| 399 | Giancarlo Stanton | | |
| 445 | Luke Voit | | |
| 497 | Aaron Hicks | | |
| 516 | Stephen Ridings | RC | |
| 533 | Luis Severino | | |
| 625 | Gary Sanchez | | |
| 639 | Gleyber Torres | | |
| 650 | Giancarlo Stanton | | |
| 380 | DJ LeMahieu | | Clear |
| 639 | Gleyber Torres | | Clear |
| 650 | Giancarlo Stanton | | Clear |
| GN-47 | Luis Gil | RC | |
| SS-13 | Aaron Judge | | |
| SS-15 | Giancarlo Stanton | | |
| DGDC-40 | Yogi Berra | | |
| DGDC-41 | Mariano Rivera | | |
| SS-7 | Giancarlo Stanton | | |
| SS-8 | Aaron Judge | | |
| SS-15 | Aaron Judge | | |
| SS-21 | Aroldis Chapman | | |
| NHC-6 | Corey Kluber | | |
| 87AS-4 | Aaron Judge | | |
| 87AS-23 | Don Mattingly | | |
| 87AS-37 | Gerrit Cole | | |
| 87AS-47 | Derek Jeter | | |
| 87TB-35 | Derek Jeter | | |
| 87TB-43 | Giancarlo Stanton | | |
| OTAS-2 | Aaron Judge | | Boxtopper |
| OTAS-8 | Gerrit Cole | | Boxtopper |
| STM-4 | Mickey Mantle | | |
| STM-5 | Mickey Mantle | | |
| STM-6 | Mickey Mantle | | |
| SMLB-49 | Giancarlo Stanton | | |
| SMLBC-49 | Giancarlo Stanton | | |
| HRC-6 | Aaron Judge | | |
| HRC-21 | Joey Gallo | | |
| HRC-23 | Giancarlo Stanton | | |
| T87C2-34 | Giancarlo Stanton | | |
| T87C2-42 | Babe Ruth | | |
| T87C2-49 | Mariano Rivera | | |
| T87C2-64 | Derek Jeter | | |
| T87C2-84 | Aaron Judge | | |
| GN-47 | Luis Gil | | Auto |
| SS-13 | Aaron Judge | | Auto |
| DGDC-18 | Mariano Rivera | | Auto |
| NHC-6 | Corey Kluber | | Auto |
| BSA-ARI | Anthony Rizzo | | Auto |
| BSDA-JJ | Aaron Judge | | Auto |
| BSDA-JJ | Reggie Jackson | | Auto |
| BSDA-JT | Derek Jeter | | Auto |
| BSDA-MR | Anthony Rizzo | | Auto |
| BSDA-MR | Don Mattingly | | Auto |
| 87BA-LG | Luis Gil | RC | Auto |
| 87BA-TAA | Trey Amburgey | RC | Auto |
| 87BA-DJ | Derek Jeter | | Auto |
| 87BA-DL | DJ LeMahieu | | Auto |
| 87BA-GT | Gleyber Torres | | Auto |
| 87ASA-AJ | Aaron Judge | | Auto |
| 87ASA-BW | Bernie Williams | | Auto |
| 87ASA-DM | Don Mattingly | | Auto |
| 87ASA-DW | Dave Winfield | | Auto |
| 87ASA-HM | Hideki Matsui | | Auto |
| 87ASA-PO | Paul O'Neill | | Auto |
| 87OASA-AJ | Aaron Judge | | Auto |
| 87BC-49 | Mariano Rivera | | Chrome Auto |
| 87BC-64 | Derek Jeter | | Chrome Auto |
| SS-8 | Aaron Judge | | Auto |
| SS-15 | Aaron Judge | | Auto |
| BH-AJ | Aaron Judge | | Relic |
| BH-GS | Giancarlo Stanton | | Relic |
| SSA-AJ | Aaron Judge | | Relic |
| SSA-DJ | Derek Jeter | | Relic |
| ASA-DJ | Derek Jeter | | Relic |
| ASA-RM | Roger Maris | | Relic |
| MLM-AJ | Aaron Judge | | Relic |
| MLM-AR | Anthony Rizzo | | Relic |
| MLM-CS | CC Sabathia | | Relic |
| MLM-DJ | Derek Jeter | | Relic |
| MLM-GC | Gerrit Cole | | Relic |
| MLM-GS | Giancarlo Stanton | | Relic |
| MLM-LG | Luis Gil | RC | Relic |
| 87BR-AC | Aroldis Chapman | | Relic |
| 87BR-ARI | Anthony Rizzo | | Relic |
| 87BR-GS | Giancarlo Stanton | | Relic |
| 87ASR-AJ | Aaron Judge | | Relic |
| 87ASR-DJ | Derek Jeter | | Relic |
| 87ASR-GC | Gerrit Cole | | Relic |
| 87ASR-MR | Mariano Rivera | | Relic |
| CS-BD | Bill Dickey | | Relic |
| CS-JD | Joe DiMaggio | | Relic |
| CS-WH | Waite Hoyt | | Relic |
| BH-AJ | Aaron Judge | | Auto/Relic |
| ASA-DJ | Derek Jeter | | Auto/Relic |
| SSA-AJ | Aaron Judge | | Auto/Relic |
| SSA-DJ | Derek Jeter | | Auto/Relic |
| TRAP-AJ | Aaron Judge | | Auto/Relic |
| TRAP-DJ | Derek Jeter | | Auto/Relic |
| TRAP-LG | Luis Gil | RC | Auto/Relic |
| TRAP-GT | Gleyber Torres | | Auto/Relic |
| MLMA-AR | Anthony Rizzo | | Auto/Relic |
| MLMA-JG | Joey Gallo | | Auto/Relic |