2021 Topps F1 Dynasty trading cards were delayed until deep into 2022 but offer a top notch high end product for racing collectors.
Each box contains one encased autographed relic card from the sport's biggest names.
This checklist is organized by subset. Scroll through the entire list or jump to a preferred subset by selecting it from the key below. Clicking a link within the checklist will direct you to an affiliate retailer or to relevant eBay listings.
Release date – 5/11/22
Cards per pack – 1
Packs per hobby box – 1
Hobby boxes per case – 5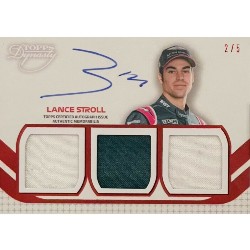 2021 Topps F1 Dynasty Checklist
Autographed Patch Cards
| # | Driver | Team |
| --- | --- | --- |
| DAP-AG | Antonio Giovinazzi | Alfa Romeo Racing ORLEN |
| DAP-AGI | Antonio Giovinazzi | Alfa Romeo Racing ORLEN |
| DAP-AGII | Antonio Giovinazzi | Alfa Romeo Racing ORLEN |
| DAP-AS | Andreas Seidl | McLaren F1® Team |
| DAP-ASI | Andreas Seidl | McLaren F1® Team |
| DAP-ASII | Andreas Seidl | McLaren F1® Team |
| DAP-CH | Christian Horner | Red Bull Racing Honda |
| DAP-CHI | Christian Horner | Red Bull Racing Honda |
| DAP-CHII | Christian Horner | Red Bull Racing Honda |
| DAP-CL | Charles Leclerc | Scuderia Ferrari |
| DAP-CLIII | Charles Leclerc | Scuderia Ferrari |
| DAP-CS | Carlos Sainz | Scuderia Ferrari |
| DAP-CSI | Carlos Sainz | Scuderia Ferrari |
| DAP-CSII | Carlos Sainz | Scuderia Ferrari |
| DAP-DB | Davide Brivio | Alpine F1® Team |
| DAP-DBI | Davide Brivio | Alpine F1® Team |
| DAP-DBII | Davide Brivio | Alpine F1® Team |
| DAP-DR | Daniel Ricciardo | McLaren F1® Team |
| DAP-DRI | Daniel Ricciardo | McLaren F1® Team |
| DAP-DRIII | Daniel Ricciardo | McLaren F1® Team |
| DAP-EOII | Esteban Ocon | Alpine F1® Team |
| DAP-EOIII | Esteban Ocon | Alpine F1® Team |
| DAP-FAI | Fernando Alonso | Alpine F1® Team |
| DAP-FAII | Fernando Alonso | Alpine F1® Team |
| DAP-FAIII | Fernando Alonso | Alpine F1® Team |
| DAP-FT | Franz Tost | Scuderia AlphaTauri |
| DAP-FTI | Franz Tost | Scuderia AlphaTauri |
| DAP-FTII | Franz Tost | Scuderia AlphaTauri |
| DAP-FV | Frédéric Vasseur | Alfa Romeo Racing ORLEN |
| DAP-FVI | Frédéric Vasseur | Alfa Romeo Racing ORLEN |
| DAP-FVII | Frédéric Vasseur | Alfa Romeo Racing ORLEN |
| DAP-GR | George Russell | Williams Racing |
| DAP-GRI | George Russell | Williams Racing |
| DAP-GRII | George Russell | Williams Racing |
| DAP-KR | Kimi Räikkönen | Alfa Romeo Racing ORLEN |
| DAP-KRI | Kimi Räikkönen | Alfa Romeo Racing ORLEN |
| DAP-KRII | Kimi Räikkönen | Alfa Romeo Racing ORLEN |
| DAP-LHI | Lewis Hamilton | Mercedes-AMG Petronas Formula One Team |
| DAP-LHIII | Lewis Hamilton | Mercedes-AMG Petronas Formula One Team |
| DAP-LN | Lando Norris | McLaren F1® Team |
| DAP-LNI | Lando Norris | McLaren F1® Team |
| DAP-LNIII | Lando Norris | McLaren F1® Team |
| DAP-LS | Lance Stroll | Aston Martin Cognizant Formula One™ Team |
| DAP-LSI | Lance Stroll | Aston Martin Cognizant Formula One™ Team |
| DAP-LSII | Lance Stroll | Aston Martin Cognizant Formula One™ Team |
| DAP-LSIII | Lance Stroll | Aston Martin Cognizant Formula One™ Team |
| DAP-MB | Mattia Binotto | Scuderia Ferrari |
| DAP-MBI | Mattia Binotto | Scuderia Ferrari |
| DAP-MBII | Mattia Binotto | Scuderia Ferrari |
| DAP-MV | Max Verstappen | Red Bull Racing Honda |
| DAP-MVI | Max Verstappen | Red Bull Racing Honda |
| DAP-MVII | Max Verstappen | Red Bull Racing Honda |
| DAP-MVIII | Max Verstappen | Red Bull Racing Honda |
| DAP-NLII | Nicholas Latifi | Williams Racing |
| DAP-NLIII | Nicholas Latifi | Williams Racing |
| DAP-OS | Otmar Szafnauer | Aston Martin Cognizant Formula One™ Team |
| DAP-OSI | Otmar Szafnauer | Aston Martin Cognizant Formula One™ Team |
| DAP-OSII | Otmar Szafnauer | Aston Martin Cognizant Formula One™ Team |
| DAP-PGII | Pierre Gasly | Scuderia AlphaTauri |
| DAP-PGIII | Pierre Gasly | Scuderia AlphaTauri |
| DAP-SP | Sergio Perez | Red Bull Racing Honda |
| DAP-SPI | Sergio Perez | Red Bull Racing Honda |
| DAP-SPII | Sergio Perez | Red Bull Racing Honda |
| DAP-SVI | Sebastian Vettel | Aston Martin Cognizant Formula One™ Team |
| DAP-SVII | Sebastian Vettel | Aston Martin Cognizant Formula One™ Team |
| DAP-SVIII | Sebastian Vettel | Aston Martin Cognizant Formula One™ Team |
| DAP-TW | Toto Wolff | Mercedes-AMG Petronas Formula One Team |
| DAP-TWI | Toto Wolff | Mercedes-AMG Petronas Formula One Team |
| DAP-TWII | Toto Wolff | Mercedes-AMG Petronas Formula One Team |
| DAP-VB | Valtteri Bottas | Mercedes-AMG Petronas Formula One Team |
| DAP-VBIII | Valtteri Bottas | Mercedes-AMG Petronas Formula One Team |
| DAP-YT | Yuki Tsunoda | Scuderia AlphaTauri |
| DAP-YTII | Yuki Tsunoda | Scuderia AlphaTauri |
| DAP-YTIII | Yuki Tsunoda | Scuderia AlphaTauri |
Autographed Flag Cards
| # | Driver | Team | RC |
| --- | --- | --- | --- |
| AFP-AG | Antonio Giovinazzi | Alfa Romeo Racing ORLEN | |
| AFP-CL | Charles Leclerc | Scuderia Ferrari | |
| AFP-CS | Carlos Sainz | Scuderia Ferrari | |
| AFP-DR | Daniel Ricciardo | McLaren F1® Team | |
| AFP-EO | Esteban Ocon | Alpine F1® Team | |
| AFP-FA | Fernando Alonso | Alpine F1® Team | |
| AFP-GR | George Russell | Williams Racing | |
| AFP-KR | Kimi Räikkönen | Alfa Romeo Racing ORLEN | |
| AFP-LH | Lewis Hamilton | Mercedes-AMG Petronas Formula One Team | |
| AFP-LN | Lando Norris | McLaren F1® Team | |
| AFP-LS | Lance Stroll | Aston Martin Cognizant Formula One™ Team | |
| AFP-MV | Max Verstappen | Red Bull Racing Honda | |
| AFP-NL | Nicholas Latifi | Williams Racing | |
| AFP-PG | Pierre Gasly | Scuderia AlphaTauri | |
| AFP-SP | Sergio Perez | Red Bull Racing Honda | |
| AFP-SV | Sebastian Vettel | Aston Martin Cognizant Formula One™ Team | |
| AFP-VB | Valtteri Bottas | Mercedes-AMG Petronas Formula One Team | |
| AFP-YT | Yuki Tsunoda | Scuderia AlphaTauri | Rookie |
Autographed Flag Jumbo Patch
| # | Driver | Team | RC |
| --- | --- | --- | --- |
| AFJP-AG | Antonio Giovinazzi | Alfa Romeo Racing ORLEN | |
| AFJP-CL | Charles Leclerc | Scuderia Ferrari | |
| AFJP-CS | Carlos Sainz | Scuderia Ferrari | |
| AFJP-DR | Daniel Ricciardo | McLaren F1® Team | |
| AFJP-EO | Esteban Ocon | Alpine F1® Team | |
| AFJP-FA | Fernando Alonso | Alpine F1® Team | |
| AFJP-GR | George Russell | Williams Racing | |
| AFJP-KR | Kimi Räikkönen | Alfa Romeo Racing ORLEN | |
| AFJP-LH | Lewis Hamilton | Mercedes-AMG Petronas Formula One Team | |
| AFJP-LN | Lando Norris | McLaren F1® Team | |
| AFJP-LS | Lance Stroll | Aston Martin Cognizant Formula One™ Team | |
| AFJP-MV | Max Verstappen | Red Bull Racing Honda | |
| AFJP-NL | Nicholas Latifi | Williams Racing | |
| AFJP-PG | Pierre Gasly | Scuderia AlphaTauri | |
| AFJP-SP | Sergio Perez | Red Bull Racing Honda | |
| AFJP-SV | Sebastian Vettel | Aston Martin Cognizant Formula One™ Team | |
| AFJP-VB | Valtteri Bottas | Mercedes-AMG Petronas Formula One Team | |
| AFJP-YT | Yuki Tsunoda | Scuderia AlphaTauri | Rookie |
F1 Constructor Team Dual Relic Auto
| # | Driver | Team | RC |
| --- | --- | --- | --- |
| CDAR-AO | Esteban Ocon | Alpine F1® Team | |
| CDAR-AO | Fernando Alonso | Alpine F1® Team | |
| CDAR-CL | Charles Leclerc | Scuderia Ferrari | |
| CDAR-CL | Carlos Sainz | Scuderia Ferrari | |
| CDAR-DR | Daniel Ricciardo | McLaren F1® Team | |
| CDAR-DR | Lando Norris | McLaren F1® Team | |
| CDAR-GR | Nicholas Latifi | Williams Racing | |
| CDAR-GR | George Russell | Williams Racing | |
| CDAR-LH | Valtteri Bottas | Mercedes-AMG Petronas Formula One Team | |
| CDAR-LH | Lewis Hamilton | Mercedes-AMG Petronas Formula One Team | |
| CDAR-MV | Sergio Perez | Red Bull Racing Honda | |
| CDAR-MV | Max Verstappen | Red Bull Racing Honda | |
| CDAR-PG | Yuki Tsunoda | Scuderia AlphaTauri | Rookie |
| CDAR-PG | Pierre Gasly | Scuderia AlphaTauri | |
| CDAR-RG | Antonio Giovinazzi | Alfa Romeo Racing ORLEN | |
| CDAR-RG | Kimi Räikkönen | Alfa Romeo Racing ORLEN | |
| CDAR-SV | Lance Stroll | Aston Martin Cognizant Formula One™ Team | |
| CDAR-SV | Sebastian Vettel | Aston Martin Cognizant Formula One™ Team | |
F1 Single Driver Dual Relic Auto
| # | Driver | Team | RC |
| --- | --- | --- | --- |
| SDD-AG | Antonio Giovinazzi | Alfa Romeo Racing ORLEN | |
| SDD-CL | Charles Leclerc | Scuderia Ferrari | |
| SDD-CS | Carlos Sainz | Scuderia Ferrari | |
| SDD-DR | Daniel Ricciardo | McLaren F1® Team | |
| SDD-EO | Esteban Ocon | Alpine F1® Team | |
| SDD-FA | Fernando Alonso | Alpine F1® Team | |
| SDD-GR | George Russell | Williams Racing | |
| SDD-KR | Kimi Räikkönen | Alfa Romeo Racing ORLEN | |
| SDD-LH | Lewis Hamilton | Mercedes-AMG Petronas Formula One Team | |
| SDD-LN | Lando Norris | McLaren F1® Team | |
| SDD-LS | Lance Stroll | Aston Martin Cognizant Formula One™ Team | |
| SDD-MV | Max Verstappen | Red Bull Racing Honda | |
| SDD-NL | Nicholas Latifi | Williams Racing | |
| SDD-PG | Pierre Gasly | Scuderia AlphaTauri | |
| SDD-SP | Sergio Perez | Red Bull Racing Honda | |
| SDD-SV | Sebastian Vettel | Aston Martin Cognizant Formula One™ Team | |
| SDD-VB | Valtteri Bottas | Mercedes-AMG Petronas Formula One Team | |
| SDD-YT | Yuki Tsunoda | Scuderia AlphaTauri | Rookie |
F1 Single Driver Triple Relic Auto
| # | Driver | Team | RC |
| --- | --- | --- | --- |
| SDT-AG | Antonio Giovinazzi | Alfa Romeo Racing ORLEN | |
| SDT-AGI | Antonio Giovinazzi | Alfa Romeo Racing ORLEN | |
| SDT-AS | Andreas Seidl | McLaren F1® Team | |
| SDT-ASI | Andreas Seidl | McLaren F1® Team | |
| SDT-CH | Christian Horner | Red Bull Racing Honda | |
| SDT-CHI | Christian Horner | Red Bull Racing Honda | |
| SDT-CL | Charles Leclerc | Scuderia Ferrari | |
| SDT-CLI | Charles Leclerc | Scuderia Ferrari | |
| SDT-CS | Carlos Sainz | Scuderia Ferrari | |
| SDT-CSI | Carlos Sainz | Scuderia Ferrari | |
| SDT-DB | Davide Brivio | Alpine F1® Team | |
| SDT-DBI | Davide Brivio | Alpine F1® Team | |
| SDT-DR | Daniel Ricciardo | McLaren F1® Team | |
| SDT-DRI | Daniel Ricciardo | McLaren F1® Team | |
| SDT-EO | Esteban Ocon | Alpine F1® Team | |
| SDT-EOI | Esteban Ocon | Alpine F1® Team | |
| SDT-FA | Fernando Alonso | Alpine F1® Team | |
| SDT-FAI | Fernando Alonso | Alpine F1® Team | |
| SDT-FT | Franz Tost | Scuderia AlphaTauri | |
| SDT-FTI | Franz Tost | Scuderia AlphaTauri | |
| SDT-FV | Frédéric Vasseur | Alfa Romeo Racing ORLEN | |
| SDT-FVI | Frédéric Vasseur | Alfa Romeo Racing ORLEN | |
| SDT-GR | George Russell | Williams Racing | |
| SDT-KR | Kimi Räikkönen | Alfa Romeo Racing ORLEN | |
| SDT-KRI | Kimi Räikkönen | Alfa Romeo Racing ORLEN | |
| SDT-LH | Lewis Hamilton | Mercedes-AMG Petronas Formula One Team | |
| SDT-LHI | Lewis Hamilton | Mercedes-AMG Petronas Formula One Team | |
| SDT-LN | Lando Norris | McLaren F1® Team | |
| SDT-LNI | Lando Norris | McLaren F1® Team | |
| SDT-LS | Lance Stroll | Aston Martin Cognizant Formula One™ Team | |
| SDT-LSI | Lance Stroll | Aston Martin Cognizant Formula One™ Team | |
| SDT-MB | Mattia Binotto | Scuderia Ferrari | |
| SDT-MBI | Mattia Binotto | Scuderia Ferrari | |
| SDT-MV | Max Verstappen | Red Bull Racing Honda | |
| SDT-MVI | Max Verstappen | Red Bull Racing Honda | |
| SDT-MVII | Max Verstappen | Red Bull Racing Honda | |
| SDT-NL | Nicholas Latifi | Williams Racing | |
| SDT-NLI | Nicholas Latifi | Williams Racing | |
| SDT-OS | Otmar Szafnauer | Aston Martin Cognizant Formula One™ Team | |
| SDT-OSI | Otmar Szafnauer | Aston Martin Cognizant Formula One™ Team | |
| SDT-PG | Pierre Gasly | Scuderia AlphaTauri | |
| SDT-PGI | Pierre Gasly | Scuderia AlphaTauri | |
| SDT-SP | Sergio Perez | Red Bull Racing Honda | |
| SDT-SPI | Sergio Perez | Red Bull Racing Honda | |
| SDT-SPII | Sergio Perez | Red Bull Racing Honda | |
| SDT-SV | Sebastian Vettel | Aston Martin Cognizant Formula One™ Team | |
| SDT-SVI | Sebastian Vettel | Aston Martin Cognizant Formula One™ Team | |
| SDT-SVII | Sebastian Vettel | Aston Martin Cognizant Formula One™ Team | |
| SDT-TW | Toto Wolff | Mercedes-AMG Petronas Formula One Team | |
| SDT-TWI | Toto Wolff | Mercedes-AMG Petronas Formula One Team | |
| SDT-VB | Valtteri Bottas | Mercedes-AMG Petronas Formula One Team | |
| SDT-VBI | Valtteri Bottas | Mercedes-AMG Petronas Formula One Team | |
| SDT-YT | Yuki Tsunoda | Scuderia AlphaTauri | Rookie |