2020 Topps Tier One Baseball cards are a beautiful set for collector's only interested in autograph and relic cards.
Hobby boxes contain three cards, two of which are guaranteed to be autographs. Each case includes a rare Tier One autograph card.
This checklist is organized by team. Scroll through the entire list or jump to a preferred team by selecting them from the list below. Clicking a link within this checklist will direct you to an affiliate retailer or to relevant eBay listings.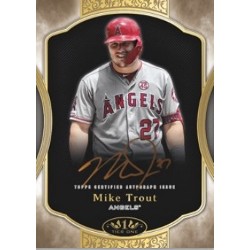 2020 Topps Tier One Checklist
Autographed Prodigious Patches (APP) – 38 Cards
Base – #/10 or less
Platinum – 1/1
Autographed Tier One Relics (T1ATR) – 49 Cards
Base – #/99 or less
Dual Patch – #/25
Triple Patch – 1/1
Break Out Autographs (BOA) – 88 Cards
Base – #/299 or less
Bronze Ink – #/25
Silver Ink – #/10
Gold Ink – 1/1
Clear One Autographs (C1A) – 72 Cards
Base – #/10 or less
Clear One Dual Autographs (C1DA) – 18 Cards
Base – #/10 or less
Cut Signature Relics (CSR) – 23 Cards
Base – 1/1
Cut Signatures (CSR) – 24 Subjects
Base – 1/1
Dual Autographs (T1DA) – 15 Cards
Base – #/25 or less
Dual Autograph Tier One Book Relics (DATR) – 17 Cards
Base – #/10
Dual Patch – 1/1
Next Level Autographs (NLA) – 21 Cards
Base – #/50
Bronze Ink – #/25
Silver Ink – #/10
Gold Ink – 1/1
Prime Performers Autographs (PPA) – 78 Cards
Base – #/299 or less
Bronze Ink – #/25
Silver Ink – #/10
Gold Ink – 1/1
Prodigious Patches (PP) – 45 Cards
Base – #/10
Platinum – 1/1
Signature Tools Autograph Relics (STAR) – 38 Cards
Base – 1/1
Tier One All-Star Patches (T1AP) – 20 Cards
Base – 1/1
Tier One All-Star Autographed Patches (T1AP) – 5 Cards
Base – 1/1
Tier One Autographed Bat Knobs (T1ABK) – 25 Cards
Base – 1/1
Tier One Autographed Limited Lumber (T1ALL) – 41 Cards
Base – 1/1
Tier One Autographs (T1A) – 38 Cards, 1 per case
Base – #/199 or less
Bronze Ink – #/25
Silver Ink – #/10
Gold Ink – 1/1
Tier One Bat Knobs (T1BK) – 69 Cards
Base – 1/1
Tier One Legend Relics (T1LR) – 20 Cards
Base – #/199 or less
Dual Patch – #/25
Triple Patch – 1/1
Tier One Limited Lumber (T1LL) – 94 Cards
Base – 1/1
Tier One Relics (T1R) – 91 Cards
Base – #/399 or less
Dual Patch – #/25
Triple Patch – 1/1
Tier One Talent Autographs (T1TA) – 79 Cards
Base – #/299 or less
Bronze Ink – #/25
Silver Ink – #/10
Gold Ink – 1/1
Tier One Uniform Button Relics (T1BR) – 34 Cards
Base – #/5
Tier One Uniform Button Autograph Relics (T1BR) – 24 Cards
Base – 1/1
Triple Autographs (T1TA) – 11 Cards
Base – #/10 or less
| | | | |
| --- | --- | --- | --- |
| APP-MT | Mike Trout | | Auto Relic |
| BOA-MT | Matt Thaiss | RC | Auto |
| BOA-TW | Taylor Ward | | Auto |
| C1A-MT | Mike Trout | | Auto |
| C1A-SO | Shohei Ohtani | | Auto |
| C1DA-OT | Shohei Ohtani | | Auto |
| C1DA-OT | Mike Trout | | Auto |
| DATR-PO | Shohei Ohtani | | Auto Relic |
| DATR-PO | Albert Pujols | | Auto Relic |
| DATR-PT | Albert Pujols | | Auto Relic |
| DATR-PT | Mike Trout | | Auto Relic |
| NLA-MT | Mike Trout | | Auto |
| NLA-SO | Shohei Ohtani | | Auto |
| PP-MTR | Mike Trout | | Relic |
| PP-RC | Rod Carew | | Relic |
| PPA-SO | Shohei Ohtani | | Auto |
| STAR-MT | Mike Trout | | Auto Relic |
| STAR-RCA | Rod Carew | | Auto Relic |
| STAR-SO | Shohei Ohtani | | Auto Relic |
| T1A-MT | Mike Trout | | Auto |
| T1A-SO | Shohei Ohtani | | Auto |
| T1ABK-MT | Mike Trout | | Auto Relic |
| T1ABK-MTR | Mike Trout | | Auto Relic |
| T1ABK-SO | Shohei Ohtani | | Auto Relic |
| T1ALL-MT | Mike Trout | | Auto Relic |
| T1ALL-MTR | Mike Trout | | Auto Relic |
| T1ALL-SO | Shohei Ohtani | | Auto Relic |
| T1AP-MT | Mike Trout | | Auto Relic |
| T1AP-MT | Mike Trout | | Auto Relic |
| T1ATR-SO | Shohei Ohtani | | Auto Relic |
| T1BK-MT | Mike Trout | | Relic |
| T1BK-MTR | Mike Trout | | Relic |
| T1BK-RC | Rod Carew | | Relic |
| T1BR-MT | Mike Trout | | Relic |
| T1BR-SO | Shohei Ohtani | | Auto |
| T1BR-SO | Shohei Ohtani | | Relic |
| T1DA-TO | Shohei Ohtani | | Auto |
| T1DA-TO | Mike Trout | | Auto |
| T1LL-AP | Albert Pujols | | Relic |
| T1LL-APU | Albert Pujols | | Relic |
| T1LL-MT | Mike Trout | | Relic |
| T1LL-MTH | Matt Thaiss | RC | Relic |
| T1LL-MTR | Mike Trout | | Relic |
| T1LL-RC | Rod Carew | | Relic |
| T1LL-SO | Shohei Ohtani | | Relic |
| T1R-AP | Albert Pujols | | Relic |
| T1R-MT | Mike Trout | | Relic |
| T1R-SO | Shohei Ohtani | | Relic |
| T1TA-MT | Mike Trout | | Auto |
| T1TA-PTO | Mike Trout | | Triple Auto |
| T1TA-PTO | Shohei Ohtani | | Triple Auto |
| T1TA-PTO | Albert Pujols | | Triple Auto |
| | | | |
| --- | --- | --- | --- |
| APP-GS | George Springer | | Auto Relic |
| APP-JA | Jose Altuve | | Auto Relic |
| APP-YA | Yordan Alvarez | RC | Auto Relic |
| BOA-RA | Rogelio Armenteros | RC | Auto |
| BOA-YA | Yordan Alvarez | RC | Auto |
| BOA-YAL | Yordan Alvarez | RC | Auto |
| C1A-GS | George Springer | | Auto |
| C1A-JA | Jose Altuve | | Auto |
| C1A-LMJ | Lance McCullers Jr. | | Auto |
| C1A-YA | Yordan Alvarez | RC | Auto |
| C1DA-AAL | Yordan Alvarez | RC | Auto |
| C1DA-AAL | Jose Altuve | | Auto |
| DATR-AA | Yordan Alvarez | RC | Auto Relic |
| DATR-AA | Jose Altuve | | Auto Relic |
| DATR-BA | Jose Altuve | | Auto Relic |
| DATR-BA | Jeff Bagwell | | Auto Relic |
| DATR-SA | George Springer | | Auto Relic |
| DATR-SA | Yordan Alvarez | RC | Auto Relic |
| PP-CC | Carlos Correa | | Relic |
| PP-GS | George Springer | | Relic |
| PP-JA | Jose Altuve | | Relic |
| PP-YA | Yordan Alvarez | RC | Relic |
| PPA-GS | George Springer | | Auto |
| PPA-GSP | George Springer | | Auto |
| PPA-JA | Jose Altuve | | Auto |
| PPA-JAL | Jose Altuve | | Auto |
| PPA-JB | Jeff Bagwell | | Auto |
| PPA-JBA | Jeff Bagwell | | Auto |
| STAR-JA | Jose Altuve | | Auto Relic |
| STAR-YA | Yordan Alvarez | RC | Auto Relic |
| T1A-JA | Jose Altuve | | Auto |
| T1A-YA | Yordan Alvarez | RC | Auto |
| T1ABK-NR | Nolan Ryan | | Auto Relic |
| T1ALL-NR | Nolan Ryan | | Auto Relic |
| T1AP-AB | Alex Bregman | | Auto Relic |
| T1AP-GS | George Springer | | Auto Relic |
| T1ATR-JA | Jose Altuve | | Auto Relic |
| T1ATR-YA | Yordan Alvarez | RC | Auto Relic |
| T1BK-AB | Alex Bregman | | Relic |
| T1BK-CC | Carlos Correa | | Relic |
| T1BK-JA | Jose Altuve | | Relic |
| T1BK-KT | Kyle Tucker | | Relic |
| T1BR-JA | Jose Altuve | | Auto |
| T1BR-JA | Jose Altuve | | Relic |
| T1DA-AB | Yordan Alvarez | RC | Auto |
| T1DA-AB | Jeff Bagwell | RC | Auto |
| T1LL-AB | Alex Bregman | | Relic |
| T1LL-CC | Carlos Correa | | Relic |
| T1LL-JAL | Jose Altuve | | Relic |
| T1LL-JBA | Jeff Bagwell | | Relic |
| T1LL-KT | Kyle Tucker | | Relic |
| T1R-ABR | Alex Bregman | | Relic |
| T1R-CCO | Carlos Correa | | Relic |
| T1R-GS | George Springer | | Relic |
| T1R-JA | Jose Altuve | | Relic |
| T1R-YA | Yordan Alvarez | RC | Relic |
| T1R-YG | Yuli Gurriel | | Relic |
| T1TA-ASA | George Springer | | Triple Auto |
| T1TA-ASA | Yordan Alvarez | RC | Triple Auto |
| T1TA-ASA | Jose Altuve | | Triple Auto |
| T1TA-LM | Lance McCullers Jr. | | Auto |
| T1TA-LMJ | Lance McCullers Jr. | | Auto |
| T1TA-YG | Yuli Gurriel | | Auto |
| | | | |
| --- | --- | --- | --- |
| APP-RL | Ramon Laureano | | Auto Relic |
| BOA-AP | A.J. Puk | RC | Auto |
| BOA-APU | A.J. Puk | RC | Auto |
| BOA-JL | Jesus Luzardo | RC | Auto |
| C1A-DE | Dennis Eckersley | | Auto |
| C1A-JC | Jose Canseco | | Auto |
| C1A-RH | Rickey Henderson | | Auto |
| C1DA-HC | Jose Canseco | | Auto |
| C1DA-HC | Rickey Henderson | | Auto |
| CSR-CM | Connie Mack | | Relic |
| CSR-MC | Mickey Cochrane | | Relic |
| NLA-RH | Rickey Henderson | | Auto |
| PP-JL | Jesus Luzardo | RC | Relic |
| PPA-BT | Blake Treinen | | Auto |
| PPA-BTR | Blake Treinen | | Auto |
| STAR-RH | Rickey Henderson | | Auto Relic |
| T1A-RH | Rickey Henderson | | Auto |
| T1ALL-JC | Jose Canseco | | Auto Relic |
| T1ALL-MM | Mark McGwire | | Auto Relic |
| T1ALL-RH | Rickey Henderson | | Auto Relic |
| T1AP-MC | Matt Chapman | | Auto Relic |
| T1ATR-AP | A.J. Puk | RC | Auto Relic |
| T1ATR-JL | Jesus Luzardo | RC | Auto Relic |
| T1ATR-RL | Ramon Laureano | | Auto Relic |
| T1BK-MO | Matt Olson | | Relic |
| T1BK-RH | Rickey Henderson | | Relic |
| T1BR-RH | Rickey Henderson | | Auto |
| T1BR-RH | Rickey Henderson | | Relic |
| T1DA-EP | A.J. Puk | RC | Auto |
| T1DA-EP | Dennis Eckersley | RC | Auto |
| T1LL-JCA | Jose Canseco | | Relic |
| T1LL-MMC | Mark McGwire | | Relic |
| T1LL-MO | Matt Olson | | Relic |
| T1LL-RH | Rickey Henderson | | Relic |
| T1LR-MM | Mark McGwire | | Relic |
| T1LR-RH | Rickey Henderson | | Relic |
| T1LR-RJ | Reggie Jackson | | Relic |
| T1R-AJP | A.J. Puk | RC | Relic |
| T1R-JL | Jesus Luzardo | RC | Relic |
| T1R-RL | Ramon Laureano | | Relic |
| T1TA-DE | Dennis Eckersley | | Auto |
| T1TA-DEC | Dennis Eckersley | | Auto |
| T1TA-JC | Jose Canseco | | Auto |
| T1TA-RF | Rollie Fingers | | Auto |
| T1TA-RFI | Rollie Fingers | | Auto |
| T1TA-RH | Rickey Henderson | | Auto |
| | | | |
| --- | --- | --- | --- |
| APP-CB | Cavan Biggio | | |
| APP-LGJ | Lourdes Gurriel Jr. | | Auto Relic |
| BOA-BBI | Bo Bichette | RC | Auto |
| BOA-BOB | Bo Bichette | RC | Auto |
| BOA-CB | Cavan Biggio | | Auto |
| BOA-CBI | Cavan Biggio | | Auto |
| C1A-BB | Bo Bichette | RC | Auto |
| C1A-CB | Cavan Biggio | | Auto |
| C1A-VGJ | Vladimir Guerrero Jr. | | Auto |
| NLA-BB | Bo Bichette | RC | Auto |
| NLA-VGJ | Vladimir Guerrero Jr. | | Auto |
| PP-BB | Bo Bichette | RC | Relic |
| PP-CB | Cavan Biggio | | Relic |
| PPA-LGJ | Lourdes Gurriel Jr. | | Auto |
| PPA-LGU | Lourdes Gurriel Jr. | | Auto |
| T1A-BB | Bo Bichette | RC | Auto |
| T1A-VGJ | Vladimir Guerrero Jr. | | Auto |
| T1ATR-LGJ | Lourdes Gurriel Jr. | | Auto Relic |
| T1BK-JS | Justin Smoak | | Relic |
| T1BK-LGJ | Lourdes Gurriel Jr. | | Relic |
| T1BK-RT | Rowdy Tellez | | Relic |
| T1BR-BB | Bo Bichette | RC | Auto |
| T1BR-BB | Bo Bichette | RC | Relic |
| T1BR-VGJ | Vladimir Guerrero Jr. | | Relic |
| T1LL-LGJ | Lourdes Gurriel Jr. | | Relic |
| T1LL-RT | Rowdy Tellez | | Relic |
| T1R-BBI | Bo Bichette | RC | Relic |
| T1R-CB | Cavan Biggio | | Relic |
| T1R-LGJ | Lourdes Gurriel Jr. | | Relic |
| T1R-VGJ | Vladimir Guerrero Jr. | | Relic |
| T1TA-GBB | Bo Bichette | RC | Triple Auto |
| T1TA-GBB | Cavan Biggio | | Triple Auto |
| T1TA-GBB | Vladimir Guerrero Jr. | | Triple Auto |
| | | | |
| --- | --- | --- | --- |
| APP-CJ | Chipper Jones | | |
| APP-JS | John Smoltz | | Auto Relic |
| BOA-AR | Austin Riley | | Auto |
| BOA-ARI | Austin Riley | | Auto |
| C1A-CJ | Chipper Jones | | Auto |
| C1A-HA | Hank Aaron | | Auto |
| C1A-JSM | John Smoltz | | Auto |
| C1A-RAJ | Ronald Acuña Jr. | | Auto |
| C1DA-AA | Hank Aaron | | Auto |
| C1DA-AA | Ronald Acuña Jr. | | Auto |
| CSR-EM | Eddie Mathews | | Relic |
| CSR-WS | Warren Spahn | | Relic |
| NLA-CJ | Chipper Jones | | Auto |
| PP-ARI | Austin Riley | | Relic |
| PP-CJ | Chipper Jones | | Relic |
| PP-DS | Deion Sanders | | Relic |
| PP-OA | Ozzie Albies | | Relic |
| PP-RAJ | Ronald Acuña Jr. | | Relic |
| PPA-DAM | Dale Murphy | | Auto |
| PPA-DMU | Dale Murphy | | Auto |
| PPA-HA | Hank Aaron | | Auto |
| STAR-CJ | Chipper Jones | | Auto Relic |
| STAR-HA | Hank Aaron | | Auto Relic |
| STAR-RAJ | Ronald Acuña Jr. | | Auto Relic |
| T1A-CJ | Chipper Jones | | Auto |
| T1A-HA | Hank Aaron | | Auto |
| T1A-RAJ | Ronald Acuña Jr. | | Auto |
| T1ALL-CJ | Chipper Jones | | Auto Relic |
| T1ALL-HA | Hank Aaron | | Auto Relic |
| T1AP-RAJ | Ronald Acuña Jr. | | Auto Relic |
| T1ATR-ARI | Austin Riley | | Auto Relic |
| T1ATR-CJ | Chipper Jones | | Auto Relic |
| T1ATR-FM | Fred McGriff | | Auto Relic |
| T1BK-FM | Fred McGriff | | Relic |
| T1BK-RAJ | Ronald Acuña Jr. | | Relic |
| T1BR-RAJ | Ronald Acuña Jr. | | Auto |
| T1BR-RAJ | Ronald Acuña Jr. | | Relic |
| T1DA-AR | Austin Riley | | Auto |
| T1DA-AR | Ronald Acuña Jr. | | Auto |
| T1DA-GS | Tom Glavine | | Auto |
| T1DA-GS | John Smoltz | | Auto |
| T1LL-FM | Fred McGriff | | Relic |
| T1LL-HA | Hank Aaron | | Relic |
| T1LL-OA | Ozzie Albies | | Relic |
| T1LL-RAJ | Ronald Acuña Jr. | | Relic |
| T1LR-CJ | Chipper Jones | | Relic |
| T1LR-DS | Deion Sanders | | Relic |
| T1LR-HA | Hank Aaron | | Relic |
| T1R-AR | Austin Riley | | Relic |
| T1R-EI | Ender Inciarte | | Relic |
| T1R-OA | Ozzie Albies | | Relic |
| T1R-RAJ | Ronald Acuña Jr. | | Relic |
| T1TA-CJ | Chipper Jones | | Auto |
| T1TA-FM | Fred McGriff | | Auto |
| T1TA-JAM | Chipper Jones | | Triple Auto |
| T1TA-JAM | Dale Murphy | | Triple Auto |
| T1TA-JAM | Ronald Acuña Jr. | | Triple Auto |
| T1TA-RAJ | Ronald Acuña Jr. | | Auto |
| T1TA-ROJ | Ronald Acuña Jr. | | Auto |
| | | | |
| --- | --- | --- | --- |
| APP-CY | Christian Yelich | | |
| APP-KH | Keston Hiura | | Auto Relic |
| BOA-KH | Keston Hiura | | Auto |
| BOA-KHI | Keston Hiura | | Auto |
| BOA-TG | Trent Grisham | RC | Auto |
| BOA-TGR | Trent Grisham | RC | Auto |
| C1A-KH | Keston Hiura | | Auto |
| C1DA-YH | Christian Yelich | | Auto |
| C1DA-YH | Keston Hiura | | Auto |
| DATR-YH | Christian Yelich | | Auto Relic |
| DATR-YH | Keston Hiura | | Auto Relic |
| PP-CY | Christian Yelich | | Relic |
| PP-KH | Keston Hiura | | Relic |
| STAR-CYE | Christian Yelich | | Auto Relic |
| T1A-CYE | Christian Yelich | | Auto |
| T1AP-CY | Christian Yelich | | Auto Relic |
| T1AP-CY | Christian Yelich | | Auto Relic |
| T1ATR-CYE | Christian Yelich | | Auto Relic |
| T1BK-LC | Lorenzo Cain | | Relic |
| T1BK-RB | Ryan Braun | | Relic |
| T1BR-CY | Christian Yelich | | Auto |
| T1BR-CY | Christian Yelich | | Relic |
| T1LL-LC | Lorenzo Cain | | Relic |
| T1LL-RB | Ryan Braun | | Relic |
| T1LL-YG | Yasmani Grandal | | Relic |
| T1R-BW | Brandon Woodruff | | Relic |
| T1R-CY | Christian Yelich | | Relic |
| T1R-JH | Josh Hader | | Relic |
| T1R-KH | Keston Hiura | | Relic |
| T1R-LC | Lorenzo Cain | | Relic |
| T1TA-BW | Brandon Woodruff | | Auto |
| T1TA-BWO | Brandon Woodruff | | Auto |
| T1TA-JH | Josh Hader | | Auto |
| T1TA-JHA | Josh Hader | | Auto |
| | | | |
| --- | --- | --- | --- |
| APP-PD | Paul DeJong | | Auto Relic |
| C1A-MM | Mark McGwire | | Auto |
| C1A-OS | Ozzie Smith | | Auto |
| C1A-PD | Paul DeJong | | Auto |
| C1DA-MS | Ozzie Smith | | Auto |
| C1DA-MS | Mark McGwire | | Auto |
| CSR-DD | Dizzy Dean | | Relic |
| CSR-ES | Enos Slaughter | | Relic |
| CSR-JM | Johnny Mize | | Relic |
| CSR-JM | Johnny Mize | | Relic |
| CSR-RH | Rogers Hornsby | | Relic |
| CSR-RS | Red Schoendienst | | Relic |
| CSR-SM | Stan Musial | | Relic |
| PP-JF | Jack Flaherty | | Relic |
| PP-PG | Paul Goldschmidt | | Relic |
| PPA-MAC | Matt Carpenter | | Auto |
| PPA-MCA | Matt Carpenter | | Auto |
| PPA-MMG | Mark McGwire | | Auto |
| PPA-MMI | Miles Mikolas | | Auto |
| PPA-PD | Paul DeJong | | Auto |
| PPA-PDE | Paul DeJong | | Auto |
| STAR-MM | Mark McGwire | | Auto Relic |
| STAR-OS | Ozzie Smith | | Auto Relic |
| T1A-MM | Mark McGwire | | Auto |
| T1A-OS | Ozzie Smith | | Auto |
| T1ALL-OS | Ozzie Smith | | Auto Relic |
| T1ATR-OS | Ozzie Smith | | Auto Relic |
| T1BR-MMC | Mark McGwire | | Auto |
| T1BR-MMC | Mark McGwire | | Relic |
| T1LL-BG | Bob Gibson | | Relic |
| T1LL-OS | Ozzie Smith | | Relic |
| T1R-JF | Jack Flaherty | | Relic |
| T1R-MAC | Matt Carpenter | | Relic |
| T1R-MM | Miles Mikolas | | Relic |
| T1R-PG | Paul Goldschmidt | | Relic |
| T1TA-MSG | Paul Goldschmidt | | Triple Auto |
| T1TA-MSG | Mark McGwire | | Triple Auto |
| T1TA-MSG | Ozzie Smith | | Triple Auto |
| T1TA-OS | Ozzie Smith | | Auto |
| T1TA-OSM | Ozzie Smith | | Auto |
| | | | |
| --- | --- | --- | --- |
| BOA-AA | Adbert Alzolay | RC | Auto |
| BOA-AAL | Adbert Alzolay | RC | Auto |
| BOA-NH | Nico Hoerner | RC | Auto |
| BOA-RG | Robel Garcia | RC | Auto |
| BOA-RGA | Robel Garcia | RC | Auto |
| C1A-KB | Kris Bryant | | Auto |
| C1A-RG | Robel Garcia | RC | Auto |
| C1A-SS | Sammy Sosa | | Auto |
| C1A-WC | Willson Contreras | | Auto |
| CSR-RS | Ron Santo | | Relic |
| NLA-SS | Sammy Sosa | | Auto |
| PP-AR | Anthony Rizzo | | Relic |
| PP-WC | Willson Contreras | | Relic |
| PPA-ANR | Anthony Rizzo | | Auto |
| PPA-ARI | Anthony Rizzo | | Auto |
| PPA-KB | Kris Bryant | | Auto |
| PPA-SS | Sammy Sosa | | Auto |
| STAR-SS | Sammy Sosa | | Auto Relic |
| STAR-WC | Willson Contreras | | Auto Relic |
| T1A-SS | Sammy Sosa | | Auto |
| T1A-WC | Willson Contreras | | Auto |
| T1ABK-SS | Sammy Sosa | | Auto Relic |
| T1ALL-RS | Ryne Sandberg | | Auto Relic |
| T1ALL-SS | Sammy Sosa | | Auto Relic |
| T1ALL-WCO | Willson Contreras | | Auto Relic |
| T1AP-JB | Javier Baez | | Auto Relic |
| T1AP-KB | Kris Bryant | | Auto Relic |
| T1ATR-AA | Adbert Alzolay | RC | Auto Relic |
| T1ATR-KB | Kris Bryant | | Auto Relic |
| T1ATR-SS | Sammy Sosa | | Auto Relic |
| T1BK-JB | Javier Baez | | Relic |
| T1BK-JHE | Jason Heyward | | Relic |
| T1BK-KB | Kris Bryant | | Relic |
| T1BK-KBR | Kris Bryant | | Relic |
| T1BK-SS | Sammy Sosa | | Relic |
| T1BK-WCO | Willson Contreras | | Relic |
| T1BR-AR | Anthony Rizzo | | Auto |
| T1BR-AR | Anthony Rizzo | | Relic |
| T1BR-KB | Kris Bryant | | Auto |
| T1BR-KB | Kris Bryant | | Relic |
| T1LL-JB | Javier Baez | | Relic |
| T1LL-KB | Kris Bryant | | Relic |
| T1LL-KBR | Kris Bryant | | Relic |
| T1LL-KS | Kyle Schwarber | | Relic |
| T1LL-RS | Ryne Sandberg | | Relic |
| T1LL-SS | Sammy Sosa | | Relic |
| T1R-AAL | Adbert Alzolay | RC | Relic |
| T1R-ARI | Anthony Rizzo | | Relic |
| T1R-JHE | Jason Heyward | | Relic |
| T1R-WC | Willson Contreras | | Relic |
| T1TA-AD | Andre Dawson | | Auto |
| T1TA-ADA | Andre Dawson | | Auto |
| T1TA-FMC | Fred McGriff | | Auto |
| T1TA-KW | Kerry Wood | | Auto |
| T1TA-KWO | Kerry Wood | | Auto |
| T1TA-RS | Ryne Sandberg | | Auto |
| T1TA-WCO | Willson Contreras | | Auto |
| T1TA-WIC | Willson Contreras | | Auto |
| | | | |
| --- | --- | --- | --- |
| BOA-AY | Alex Young | RC | Auto |
| BOA-AYO | Alex Young | RC | Auto |
| BOA-DL | Domingo Leyba | RC | Auto |
| BOA-DLE | Domingo Leyba | RC | Auto |
| BOA-MEK | Merrill Kelly | | Auto |
| C1A-RJ | Randy Johnson | | Auto |
| T1ABK-PG | Paul Goldschmidt | | Auto Relic |
| T1BR-RJ | Randy Johnson | | Auto |
| T1BR-RJ | Randy Johnson | | Relic |
| | | | |
| --- | --- | --- | --- |
| APP-CK | Clayton Kershaw | | |
| BOA-DM | Dustin May | RC | Auto |
| BOA-DMA | Dustin May | RC | Auto |
| BOA-GAL | Gavin Lux | RC | Auto |
| BOA-GL | Gavin Lux | RC | Auto |
| BOA-MAB | Matt Beaty | | Auto |
| BOA-MBE | Matt Beaty | | Auto |
| BOA-WS | Will Smith | | Auto |
| BOA-WSM | Will Smith | | Auto |
| C1A-CK | Clayton Kershaw | | Auto |
| C1A-GL | Gavin Lux | RC | Auto |
| C1A-MAX | Max Muncy | | Auto |
| C1A-SK | Sandy Koufax | | Auto |
| C1DA-KK | Sandy Koufax | | Auto |
| C1DA-KK | Clayton Kershaw | | Auto |
| CSR-GH | Gil Hodges | | Relic |
| CSR-JR | Jackie Robinson | | Relic |
| CSR-PWR | Pee Wee Reese | | Relic |
| CSR-RCA | Roy Campanella | | Relic |
| NLA-SK | Sandy Koufax | | Auto |
| PP-GL | Gavin Lux | RC | Relic |
| PPA-CK | Clayton Kershaw | | Auto |
| PPA-MM | Max Muncy | | Auto |
| PPA-MMU | Max Muncy | | Auto |
| PPA-SK | Sandy Koufax | | Auto |
| STAR-CK | Clayton Kershaw | | Auto Relic |
| STAR-SK | Sandy Koufax | | Auto Relic |
| T1A-CK | Clayton Kershaw | | Auto |
| T1A-SK | Sandy Koufax | | Auto |
| T1AP-CB | Cody Bellinger | | Auto Relic |
| T1AP-CK | Clayton Kershaw | | Auto Relic |
| T1AP-CK | Clayton Kershaw | | Auto Relic |
| T1AP-WB | Walker Buehler | | Auto Relic |
| T1ATR-DM | Dustin May | RC | Auto Relic |
| T1ATR-GL | Gavin Lux | RC | Auto Relic |
| T1BR-CB | Cody Bellinger | | Relic |
| T1BR-CK | Clayton Kershaw | | Auto |
| T1BR-CK | Clayton Kershaw | | Relic |
| T1DA-BM | Max Muncy | | Auto |
| T1DA-BM | Matt Beaty | | Auto |
| T1LL-CS | Corey Seager | | Relic |
| T1R-CK | Clayton Kershaw | | Relic |
| T1R-DM | Dustin May | RC | Relic |
| T1R-GL | Gavin Lux | RC | Relic |
| T1R-MBE | Matt Beaty | | Relic |
| | | | |
| --- | --- | --- | --- |
| C1A-VG | Vladimir Guerrero | | Auto |
| CSR-GC | Gary Carter | | Relic |
| PPA-AG | Andres Galarraga | | Auto |
| PPA-VG | Vladimir Guerrero | | Auto |
| PPA-VLG | Vladimir Guerrero | | Auto |
| T1ALL-TR | Tim Raines | | Auto Relic |
| T1BR-VG | Vladimir Guerrero | | Relic |
| T1DA-MJ | Randy Johnson | | Auto |
| T1DA-MJ | Pedro Martinez | | Auto |
| T1DA-RG | Vladimir Guerrero | | Auto |
| T1DA-RG | Tim Raines | | Auto |
| T1LL-VGS | Vladimir Guerrero | | Relic |
| T1TA-RGD | Vladimir Guerrero | | Triple Auto |
| T1TA-RGD | Tim Raines | | Triple Auto |
| T1TA-RGD | Andre Dawson | | Triple Auto |
| T1TA-TR | Tim Raines | | Auto |
| | | | |
| --- | --- | --- | --- |
| APP-BP | Buster Posey | | |
| BOA-MD | Mauricio Dubon | RC | Auto |
| BOA-MY | Mike Yastrzemski | | Auto |
| BOA-SA | Shaun Anderson | | Auto |
| CSR-CH | Carl Hubbell | | Relic |
| CSR-HW | Hoyt Wilhelm | | Relic |
| PP-BP | Buster Posey | | Relic |
| T1ALL-BP | Buster Posey | | Auto Relic |
| T1ALL-WC | Will Clark | | Auto Relic |
| T1ATR-BP | Buster Posey | | Auto Relic |
| T1BK-BB | Brandon Belt | | Relic |
| T1BK-EL | Evan Longoria | | Relic |
| T1BK-WC | Will Clark | | Relic |
| T1BK-WM | Willie Mays | | Relic |
| T1BR-WM | Willie Mays | | Relic |
| T1DA-PC | Will Clark | | Auto |
| T1DA-PC | Buster Posey | | Auto |
| T1LL-BP | Buster Posey | | Relic |
| T1LL-EL | Evan Longoria | | Relic |
| T1LL-WC | Will Clark | | Relic |
| T1R-BP | Buster Posey | | Relic |
| T1R-MY | Mike Yastrzemski | | Relic |
| T1TA-BP | Buster Posey | | Auto |
| T1TA-WC | Will Clark | | Auto |
| T1TA-WCL | Will Clark | | Auto |
| | | | |
| --- | --- | --- | --- |
| APP-JB | Jake Bauers | | Auto Relic |
| BOA-AC | Aaron Civale | RC | Auto |
| BOA-ACI | Aaron Civale | RC | Auto |
| BOA-BB | Bobby Bradley | RC | Auto |
| BOA-BBR | Bobby Bradley | RC | Auto |
| BOA-JB | Jake Bauers | | Auto |
| BOA-LA | Logan Allen | RC | Auto |
| BOA-LAL | Logan Allen | RC | Auto |
| BOA-YC | Yu Chang | RC | Auto |
| BOA-ZP | Zach Plesac | | Auto |
| C1A-BBR | Bobby Bradley | RC | Auto |
| C1A-FL | Francisco Lindor | | Auto |
| C1A-LA | Logan Allen | RC | Auto |
| C1DA-AB | Logan Allen | RC | Auto |
| C1DA-AB | Bobby Bradley | RC | Auto |
| CSR-BF | Bob Feller | | Relic |
| CSR-EA | Earl Averill | | Relic |
| CSR-EW | Early Wynn | | Relic |
| CSR-LB | Lou Boudreau | | Relic |
| CSR-TS | Tris Speaker | | Relic |
| CSR-TS | Tris Speaker | | Relic |
| DATR-BC | Carlos Carrasco | | Auto Relic |
| DATR-BC | Shane Bieber | | Auto Relic |
| PPA-CC | Carlos Carrasco | | Auto |
| PPA-CCA | Carlos Carrasco | | Auto |
| PPA-FL | Francisco Lindor | | Auto |
| PPA-FLI | Francisco Lindor | | Auto |
| PPA-SB | Shane Bieber | | Auto |
| PPA-SBI | Shane Bieber | | Auto |
| T1A-FL | Francisco Lindor | | Auto |
| T1ABK-RA | Roberto Alomar | | Auto Relic |
| T1ALL-RA | Roberto Alomar | | Auto Relic |
| T1AP-FL | Francisco Lindor | | Auto Relic |
| T1ATR-RA | Roberto Alomar | | Auto Relic |
| T1BK-FL | Francisco Lindor | | Relic |
| T1BK-FLI | Francisco Lindor | | Relic |
| T1BK-JR | Jose Ramirez | | Relic |
| T1BK-JT | Jim Thome | | Relic |
| T1BK-RA | Roberto Alomar | | Relic |
| T1BR-FL | Francisco Lindor | | Auto |
| T1BR-FL | Francisco Lindor | | Relic |
| T1LL-FL | Francisco Lindor | | Relic |
| T1LL-FLI | Francisco Lindor | | Relic |
| T1LL-FR | Franmil Reyes | | Relic |
| T1LL-JR | Jose Ramirez | | Relic |
| T1LL-RA | Roberto Alomar | | Relic |
| T1R-BB | Bobby Bradley | RC | Relic |
| T1R-CC | Carlos Carrasco | | Relic |
| T1R-SB | Shane Bieber | | Relic |
| T1R-YC | Yu Chang | RC | Relic |
| T1TA-CK | Corey Kluber | | Auto |
| T1TA-CKL | Corey Kluber | | Auto |
| T1TA-JT | Jim Thome | | Auto |
| T1TA-JTH | Jim Thome | | Auto |
| | | | |
| --- | --- | --- | --- |
| APP-EM | Edgar Martinez | | |
| APP-KGJ | Ken Griffey Jr. | | Auto Relic |
| APP-TM | Tino Martinez | | Auto Relic |
| BOA-KL | Kyle Lewis | RC | Auto |
| BOA-KYL | Kyle Lewis | RC | Auto |
| BOA-SL | Shed Long | | Auto |
| C1A-I | Ichiro | | Auto |
| C1A-KGJ | Ken Griffey Jr. | | Auto |
| C1DA-GI | Ichiro | | Auto |
| C1DA-GI | Ken Griffey Jr. | | Auto |
| DATR-MM | Edgar Martinez | | Auto Relic |
| DATR-MM | Tino Martinez | | Auto Relic |
| NLA-KGJ | Ken Griffey Jr. | | Auto |
| PPA-KGJ | Ken Griffey Jr. | | Auto |
| PPA-MH | Mitch Haniger | | Auto |
| STAR-I | Ichiro | | Auto Relic |
| STAR-KGJ | Ken Griffey Jr. | | Auto Relic |
| STAR-RJ | Randy Johnson | | Auto Relic |
| T1A-I | Ichiro | | Auto |
| T1A-KGJ | Ken Griffey Jr. | | Auto |
| T1A-RJ | Randy Johnson | | Auto |
| T1ABK-KGJ | Ken Griffey Jr. | | Auto Relic |
| T1ALL-EM | Edgar Martinez | | Auto Relic |
| T1ALL-KEJ | Ken Griffey Jr. | | Auto Relic |
| T1ALL-KGJ | Ken Griffey Jr. | | Auto Relic |
| T1ATR-AR | Alex Rodriguez | | Auto Relic |
| T1ATR-EM | Edgar Martinez | | Auto Relic |
| T1ATR-MH | Mitch Haniger | | Auto Relic |
| T1ATR-TM | Tino Martinez | | Auto Relic |
| T1BR-I | Ichiro | | Auto |
| T1BR-I | Ichiro | | Relic |
| T1BR-KGJ | Ken Griffey Jr. | | Auto |
| T1BR-KGJ | Ken Griffey Jr. | | Relic |
| T1DA-IG | Ken Griffey Jr. | | Auto |
| T1DA-IG | Ichiro | | Auto |
| T1LR-AR | Alex Rodriguez | | Relic |
| T1LR-I | Ichiro | | Relic |
| T1R-ANO | Austin Nola | RC | Relic |
| T1R-MH | Mitch Haniger | | Relic |
| T1TA-I | Ichiro | | Auto |
| T1TA-MIG | Edgar Martinez | | Triple Auto |
| T1TA-MIG | Ken Griffey Jr. | | Triple Auto |
| T1TA-MIG | Ichiro | | Triple Auto |
| | | | |
| --- | --- | --- | --- |
| APP-JY | Jordan Yamamoto | RC | Auto Relic |
| BOA-ID | Isan Diaz | RC | Auto |
| BOA-JY | Jordan Yamamoto | RC | Auto |
| BOA-JYA | Jordan Yamamoto | RC | Auto |
| C1A-JY | Jordan Yamamoto | RC | Auto |
| DATR-DY | Isan Diaz | RC | Auto Relic |
| DATR-DY | Jordan Yamamoto | RC | Auto Relic |
| T1ATR-ID | Isan Diaz | RC | Auto Relic |
| T1ATR-JY | Jordan Yamamoto | RC | Auto Relic |
| T1BK-HR | Harold Ramirez | | Relic |
| T1LL-BA | Brian Anderson | | Relic |
| T1LL-BAN | Brian Anderson | | Relic |
| T1LL-HR | Harold Ramirez | | Relic |
| T1R-ID | Isan Diaz | RC | Relic |
| T1R-JY | Jordan Yamamoto | RC | Relic |
| | | | |
| --- | --- | --- | --- |
| APP-JMC | Jeff McNeil | | Auto Relic |
| APP-RA | Roberto Alomar | | Auto Relic |
| APP-TG | Tom Glavine | | Auto Relic |
| BOA-PA | Pete Alonso | | Auto |
| BOA-PAL | Pete Alonso | | Auto |
| C1A-PA | Pete Alonso | | Auto |
| DATR-MG | Tom Glavine | | Auto Relic |
| DATR-MG | Jeff McNeil | | Auto Relic |
| NLA-PA | Pete Alonso | | Auto |
| PPA-JL | Jed Lowrie | | Auto |
| PPA-ZW | Zack Wheeler | | Auto |
| STAR-PA | Pete Alonso | | Auto Relic |
| T1A-PA | Pete Alonso | | Auto |
| T1ALL-PA | Pete Alonso | | Auto Relic |
| T1AP-JD | Jacob deGrom | | Auto Relic |
| T1AP-PA | Pete Alonso | | Auto Relic |
| T1ATR-JM | Jeff McNeil | | Auto Relic |
| T1BK-MC | Michael Conforto | | Relic |
| T1LL-MC | Michael Conforto | | Relic |
| T1R-JM | Jeff McNeil | | Relic |
| | | | |
| --- | --- | --- | --- |
| APP-CKI | Carter Kieboom | | |
| APP-IR | Ivan Rodriguez | | Auto Relic |
| APP-VR | Victor Robles | | Auto Relic |
| BOA-CK | Carter Kieboom | | Auto |
| BOA-CKI | Carter Kieboom | | Auto |
| C1A-JS | Juan Soto | | Auto |
| NLA-JS | Juan Soto | | Auto |
| PP-MS | Max Scherzer | | Relic |
| PPA-JS | Juan Soto | | Auto |
| PPA-JSO | Juan Soto | | Auto |
| PPA-PC | Patrick Corbin | | Auto |
| PPA-PCO | Patrick Corbin | | Auto |
| STAR-JS | Juan Soto | | Auto Relic |
| T1A-JS | Juan Soto | | Auto |
| T1ABK-BH | Bryce Harper | | Auto Relic |
| T1ABK-JS | Juan Soto | | Auto Relic |
| T1ALL-JS | Juan Soto | | Auto Relic |
| T1BK-TT | Trea Turner | | Relic |
| T1BR-JS | Juan Soto | | Auto |
| T1BR-JS | Juan Soto | | Relic |
| T1DA-KS | Carter Kieboom | | Auto |
| T1DA-KS | Juan Soto | | Auto |
| T1LL-TT | Trea Turner | | Relic |
| T1LL-VR | Victor Robles | | Relic |
| T1R-CKI | Carter Kieboom | | Relic |
| T1R-MS | Max Scherzer | | Relic |
| T1TA-KSR | Victor Robles | | Triple Auto |
| T1TA-KSR | Carter Kieboom | | Triple Auto |
| T1TA-KSR | Juan Soto | | Triple Auto |
| T1TA-VR | Victor Robles | | Auto |
| T1TA-VRO | Victor Robles | | Auto |
| | | | |
| --- | --- | --- | --- |
| BOA-DSJ | Dwight Smith Jr. | | Auto |
| BOA-JM | John Means | | Auto |
| C1A-CRJ | Cal Ripken Jr. | | Auto |
| C1A-MMU | Mike Mussina | | Auto |
| C1DA-RM | Cal Ripken Jr. | | Auto |
| C1DA-RM | Mike Mussina | | Auto |
| NLA-CRJ | Cal Ripken Jr. | | Auto |
| PP-JM | John Means | | Relic |
| PPA-CRJ | Cal Ripken Jr. | | Auto |
| STAR-CRJ | Cal Ripken Jr. | | Auto Relic |
| STAR-MMU | Mike Mussina | | Auto Relic |
| T1A-CRJ | Cal Ripken Jr. | | Auto |
| T1A-MMU | Mike Mussina | | Auto |
| T1ALL-CRJ | Cal Ripken Jr. | | Auto Relic |
| T1ATR-CRJ | Cal Ripken Jr. | | Auto Relic |
| T1BK-CRJ | Cal Ripken Jr. | | Relic |
| T1BK-EM | Eddie Murray | | Relic |
| T1BK-TMA | Trey Mancini | | Relic |
| T1BR-CRJ | Cal Ripken Jr. | | Auto |
| T1BR-CRJ | Cal Ripken Jr. | | Relic |
| T1LL-CRJ | Cal Ripken Jr. | | Relic |
| T1LL-EM | Eddie Murray | | Relic |
| T1R-JME | John Means | | Relic |
| T1TA-MM | Mike Mussina | | Auto |
| T1TA-MMU | Mike Mussina | | Auto |
| | | | |
| --- | --- | --- | --- |
| APP-CP | Chris Paddack | | |
| APP-FTJ | Fernando Tatis Jr. | | |
| BOA-AMU | Andres Muñoz | RC | Auto |
| BOA-CP | Chris Paddack | | Auto |
| BOA-FTJ | Fernando Tatis Jr. | | Auto |
| C1A-FT | Fernando Tatis Jr. | | Auto |
| CSR-TG | Tony Gwynn | | Relic |
| CSR-TG | Tony Gwynn | | Relic |
| NLA-FTJ | Fernando Tatis Jr. | | Auto |
| PP-CP | Chris Paddack | | Relic |
| PP-FTJ | Fernando Tatis Jr. | | Relic |
| STAR-FTJ | Fernando Tatis Jr. | | Auto Relic |
| T1A-FTJ | Fernando Tatis Jr. | | Auto |
| T1ATR-AM | Andres Muñoz | RC | Auto Relic |
| T1ATR-MB | Michel Baez | RC | Auto Relic |
| T1BK-EH | Eric Hosmer | | Relic |
| T1BK-FTJ | Fernando Tatis Jr. | | Relic |
| T1BR-FTJ | Fernando Tatis Jr. | | Auto |
| T1BR-FTJ | Fernando Tatis Jr. | | Relic |
| T1BR-MM | Manny Machado | | Relic |
| T1LL-FTJ | Fernando Tatis Jr. | | Relic |
| T1LL-LU | Luis Urias | | Relic |
| T1LL-MM | Manny Machado | | Relic |
| T1LR-TG | Tony Gwynn | | Relic |
| T1R-AM | Adrian Morejon | RC | Relic |
| T1R-AMU | Andres Muñoz | RC | Relic |
| T1R-CP | Chris Paddack | | Relic |
| T1R-FTJ | Fernando Tatis Jr. | | Relic |
| T1R-MBA | Michel Baez | RC | Relic |
| | | | |
| --- | --- | --- | --- |
| APP-BH | Bryce Harper | | |
| APP-RH | Rhys Hoskins | | Auto Relic |
| C1A-BH | Bryce Harper | | Auto |
| C1A-RHO | Rhys Hoskins | | Auto |
| C1A-SC | Steve Carlton | | Auto |
| C1DA-HH | Bryce Harper | | Auto |
| C1DA-HH | Rhys Hoskins | | Auto |
| DATR-HH | Bryce Harper | | Auto Relic |
| DATR-HH | Rhys Hoskins | | Auto Relic |
| NLA-BH | Bryce Harper | | Auto |
| NLA-RHO | Rhys Hoskins | | Auto |
| PP-BH | Bryce Harper | | Relic |
| PP-RH | Rhys Hoskins | | Relic |
| PPA-CD | Corey Dickerson | | Auto |
| PPA-CDI | Corey Dickerson | | Auto |
| STAR-BH | Bryce Harper | | Auto Relic |
| STAR-RHO | Rhys Hoskins | | Auto Relic |
| STAR-SC | Steve Carlton | | Auto Relic |
| T1A-BH | Bryce Harper | | Auto |
| T1A-RHO | Rhys Hoskins | | Auto |
| T1A-SC | Steve Carlton | | Auto |
| T1ALL-BH | Bryce Harper | | Auto Relic |
| T1ALL-RHO | Rhys Hoskins | | Auto Relic |
| T1BK-JTR | J.T. Realmuto | | Relic |
| T1BR-BH | Bryce Harper | | Relic |
| T1DA-HH | Bryce Harper | | Auto |
| T1DA-HH | Rhys Hoskins | | Auto |
| T1LL-BH | Bryce Harper | | Relic |
| T1LL-JTR | J.T. Realmuto | | Relic |
| T1LL-RHO | Rhys Hoskins | | Relic |
| T1R-AN | Aaron Nola | | Relic |
| T1R-BH | Bryce Harper | | Relic |
| T1R-RH | Rhys Hoskins | | Relic |
| T1TA-AN | Aaron Nola | | Auto |
| T1TA-ANO | Aaron Nola | | Auto |
| T1TA-BH | Bryce Harper | | Auto |
| T1TA-RHO | Rhys Hoskins | | Auto |
| T1TA-RHY | Rhys Hoskins | | Auto |
| | | | |
| --- | --- | --- | --- |
| BOA-BRE | Bryan Reynolds | | Auto |
| BOA-BRY | Bryan Reynolds | | Auto |
| BOA-KN | Kevin Newman | | Auto |
| BOA-MK | Mitch Keller | | Auto |
| BOA-MKE | Mitch Keller | | Auto |
| CSR-RC | Roberto Clemente | | Relic |
| CSR-RC | Roberto Clemente | | Relic |
| CSR-RK | Ralph Kiner | | Relic |
| CSR-RK | Ralph Kiner | | Relic |
| CSR-WST | Willie Stargell | | Relic |
| T1AP-JBE | Josh Bell | | Auto Relic |
| T1BK-SM | Starling Marte | | Relic |
| T1R-KN | Kevin Newman | | Relic |
| | | | |
| --- | --- | --- | --- |
| APP-IRO | Ivan Rodriguez | | Auto Relic |
| C1A-NR | Nolan Ryan | | Auto |
| PP-SSC | Shin-Soo Choo | | Relic |
| STAR-NR | Nolan Ryan | | Auto Relic |
| T1A-NR | Nolan Ryan | | Auto |
| T1ABK-IR | Ivan Rodriguez | | Auto Relic |
| T1ALL-IR | Ivan Rodriguez | | Auto Relic |
| T1ATR-IR | Ivan Rodriguez | | Auto Relic |
| T1ATR-SSC | Shin-Soo Choo | | Auto Relic |
| T1LL-IR | Ivan Rodriguez | | Relic |
| T1LL-NR | Nolan Ryan | | Relic |
| T1LR-NR | Nolan Ryan | | Relic |
| T1R-SSC | Shin-Soo Choo | | Relic |
| T1TA-IR | Ivan Rodriguez | | Auto |
| T1TA-SSC | Shin-Soo Choo | | Auto |
| | | | |
| --- | --- | --- | --- |
| BOA-BM | Brendan McKay | RC | Auto |
| BOA-BMC | Brendan McKay | RC | Auto |
| BOA-MBR | Michael Brosseau | RC | Auto |
| C1A-AM | Austin Meadows | | Auto |
| C1A-BM | Brendan McKay | RC | Auto |
| C1DA-MM | Austin Meadows | | Auto |
| C1DA-MM | Brendan McKay | RC | Auto |
| PP-BM | Brendan McKay | RC | Relic |
| T1ABK-BLO | Brandon Lowe | | Auto Relic |
| T1ATR-BM | Brendan McKay | RC | Auto Relic |
| T1BK-AM | Austin Meadows | | Relic |
| T1BK-KK | Kevin Kiermaier | | Relic |
| T1BK-MB | Mike Brousseau | | Relic |
| T1DA-SM | Brendan McKay | RC | Auto |
| T1DA-SM | Blake Snell | | Auto |
| T1LL-AM | Austin Meadows | | Relic |
| T1LL-KK | Kevin Kiermaier | | Relic |
| T1R-AME | Austin Meadows | | Relic |
| T1R-BM | Brendan McKay | RC | Relic |
| T1R-NL | Nate Lowe | | Relic |
| T1TA-AM | Austin Meadows | | Auto |
| T1TA-BS | Blake Snell | | Auto |
| T1TA-BSN | Blake Snell | | Auto |
| T1TA-MSM | Blake Snell | | Triple Auto |
| T1TA-MSM | Brendan McKay | RC | Triple Auto |
| T1TA-MSM | Austin Meadows | | Triple Auto |
| | | | |
| --- | --- | --- | --- |
| APP-MC | Michael Chavis | | Auto Relic |
| BOA-MC | Michael Chavis | | Auto |
| C1A-CY | Carl Yastrzemski | | Auto |
| C1A-DO | David Ortiz | | Auto |
| C1A-JR | Jim Rice | | Auto |
| C1A-MCH | Michael Chavis | | Auto |
| C1A-XB | Xander Bogaerts | | Auto |
| C1DA-RB | Jim Rice | | Auto |
| C1DA-RB | Xander Bogaerts | | Auto |
| C1DA-YO | Carl Yastrzemski | | Auto |
| C1DA-YO | David Ortiz | | Auto |
| CSR-LG | Lefty Grove | | Relic |
| CSR-TW | Ted Williams | | Relic |
| CSR-TW | Ted Williams | | Relic |
| DATR-OM | David Ortiz | | Auto Relic |
| DATR-OM | J.D. Martinez | | Auto Relic |
| DATR-SR | Jim Rice | | Auto Relic |
| DATR-SR | Chris Sale | | Auto Relic |
| NLA-CY | Carl Yastrzemski | | Auto |
| NLA-XB | Xander Bogaerts | | Auto |
| PP-DO | David Ortiz | | Relic |
| PP-JDM | J.D. Martinez | | Relic |
| PP-MB | Mookie Betts | | Relic |
| PP-RD | Rafael Devers | | Relic |
| PP-XB | Xander Bogaerts | | Relic |
| PPA-CHS | Chris Sale | | Auto |
| PPA-CSA | Chris Sale | | Auto |
| PPA-JR | Jim Rice | | Auto |
| PPA-XB | Xander Bogaerts | | Auto |
| PPA-XBO | Xander Bogaerts | | Auto |
| STAR-DO | David Ortiz | | Auto Relic |
| STAR-XB | Xander Bogaerts | | Auto Relic |
| T1A-XB | Xander Bogaerts | | Auto |
| T1ABK-DO | David Ortiz | | Auto Relic |
| T1ABK-WB | Wade Boggs | | Auto Relic |
| T1ABK-XB | Xander Bogaerts | | Auto Relic |
| T1ALL-JR | Jim Rice | | Auto Relic |
| T1ALL-WB | Wade Boggs | | Auto Relic |
| T1ALL-XB | Xander Bogaerts | | Auto Relic |
| T1AP-JDM | J.D. Martinez | | Auto Relic |
| T1AP-XB | Xander Bogaerts | | Auto Relic |
| T1AP-XB | Xander Bogaerts | | Auto Relic |
| T1ATR-CY | Carl Yastrzemski | | Auto Relic |
| T1ATR-DO | David Ortiz | | Auto Relic |
| T1ATR-JDM | J.D. Martinez | | Auto Relic |
| T1ATR-XB | Xander Bogaerts | | Auto Relic |
| T1BK-CY | Carl Yastrzemski | | Relic |
| T1BK-JBJ | Jackie Bradley Jr. | | Relic |
| T1BK-MV | Mo Vaughn | | Relic |
| T1BK-XB | Xander Bogaerts | | Relic |
| T1BR-CYA | Carl Yastrzemski | | Auto |
| T1BR-CYA | Carl Yastrzemski | | Relic |
| T1BR-MB | Mookie Betts | | Relic |
| T1BR-PM | Pedro Martinez | | Auto |
| T1BR-PM | Pedro Martinez | | Relic |
| T1BR-RC | Roger Clemens | | Auto |
| T1BR-RC | Roger Clemens | | Relic |
| T1LL-CY | Carl Yastrzemski | | Relic |
| T1LL-JBJ | Jackie Bradley Jr. | | Relic |
| T1LL-MV | Mo Vaughn | | Relic |
| T1LL-WB | Wade Boggs | | Relic |
| T1LL-XB | Xander Bogaerts | | Relic |
| T1LR-CY | Carl Yastrzemski | | Relic |
| T1LR-DO | David Ortiz | | Relic |
| T1LR-TW | Ted Williams | | Relic |
| T1R-AB | Andrew Benintendi | | Relic |
| T1R-CS | Chris Sale | | Relic |
| T1R-JDM | J.D. Martinez | | Relic |
| T1R-MB | Mookie Betts | | Relic |
| T1R-MC | Michael Chavis | | Relic |
| T1R-RD | Rafael Devers | | Relic |
| T1R-XB | Xander Bogaerts | | Relic |
| T1TA-CY | Carl Yastrzemski | | Auto |
| T1TA-JDM | J.D. Martinez | | Auto |
| T1TA-JM | J.D. Martinez | | Auto |
| T1TA-RD | Rafael Devers | | Auto |
| T1TA-RDE | Rafael Devers | | Auto |
| | | | |
| --- | --- | --- | --- |
| APP-NS | Nick Senzel | | Auto Relic |
| BOA-AAQ | Aristides Aquino | RC | Auto |
| BOA-ARA | Aristides Aquino | RC | Auto |
| BOA-NS | Nick Senzel | | Auto |
| C1A-JB | Johnny Bench | | Auto |
| CSR-ER | Edd Roush | | Relic |
| DATR-AL | Aristides Aquino | RC | Auto Relic |
| DATR-AL | Barry Larkin | | Auto Relic |
| NLA-JB | Johnny Bench | | Auto |
| PP-AA | Aristides Aquino | RC | Relic |
| PP-BL | Barry Larkin | | Relic |
| PP-NS | Nick Senzel | | Relic |
| STAR-JB | Johnny Bench | | Auto Relic |
| T1A-JB | Johnny Bench | | Auto |
| T1ABK-JB | Johnny Bench | | Auto Relic |
| T1ABK-TP | Tony Pérez | | Auto Relic |
| T1ALL-BL | Barry Larkin | | Auto Relic |
| T1ALL-JB | Johnny Bench | | Auto Relic |
| T1ALL-TP | Tony Pérez | | Auto Relic |
| T1ATR-AAQ | Aristides Aquino | RC | Auto Relic |
| T1ATR-JB | Johnny Bench | | Auto Relic |
| T1ATR-NS | Nick Senzel | | Auto Relic |
| T1BK-BL | Barry Larkin | | Relic |
| T1BK-JBE | Johnny Bench | | Relic |
| T1BK-JV | Josh VanMeter | | Relic |
| T1BK-JVO | Joey Votto | | Relic |
| T1LL-BL | Barry Larkin | | Relic |
| T1LL-JBE | Johnny Bench | | Relic |
| T1LL-JM | Joe Morgan | | Relic |
| T1LL-JV | Josh VanMeter | | Relic |
| T1LL-JVO | Joey Votto | | Relic |
| T1LL-TP | Tony Pérez | | Relic |
| T1LR-BL | Barry Larkin | | Relic |
| T1R-AA | Aristides Aquino | RC | Relic |
| T1R-JV | Joey Votto | | Relic |
| T1R-NS | Nick Senzel | | Relic |
| T1TA-BL | Barry Larkin | | Auto |
| T1TA-BLA | Barry Larkin | | Auto |
| T1TA-JB | Johnny Bench | | Auto |
| T1TA-LVB | Barry Larkin | | Triple Auto |
| T1TA-LVB | Joey Votto | | Triple Auto |
| T1TA-LVB | Johnny Bench | | Triple Auto |
| | | | |
| --- | --- | --- | --- |
| APP-BR | Brendan Rodgers | | |
| APP-TH | Todd Helton | | Auto Relic |
| BOA-BR | Brendan Rodgers | | Auto |
| C1A-NA | Nolan Arenado | | Auto |
| PP-TH | Todd Helton | | Relic |
| PPA-NA | Nolan Arenado | | Auto |
| PPA-NAR | Nolan Arenado | | Auto |
| PPA-TH | Todd Helton | | Auto |
| PPA-THE | Todd Helton | | Auto |
| T1ABK-BR | Brendan Rodgers | | Auto Relic |
| T1ABK-TH | Todd Helton | | Auto Relic |
| T1ALL-BR | Brendan Rodgers | | Auto Relic |
| T1ATR-BR | Brendan Rodgers | | Auto Relic |
| T1BK-BR | Brendan Rodgers | | Relic |
| T1BK-CB | Charlie Blackmon | | Relic |
| T1BK-CBL | Charlie Blackmon | | Relic |
| T1BK-NA | Nolan Arenado | | Relic |
| T1BK-TS | Trevor Story | | Relic |
| T1LL-BR | Brendan Rodgers | | Relic |
| T1LL-CB | Charlie Blackmon | | Relic |
| T1LL-CBL | Charlie Blackmon | | Relic |
| T1LL-NA | Nolan Arenado | | Relic |
| T1LL-TH | Todd Helton | | Relic |
| T1LL-TS | Trevor Story | | Relic |
| T1R-BR | Brendan Rodgers | | Relic |
| T1R-TS | Trevor Story | | Relic |
| | | | |
| --- | --- | --- | --- |
| APP-HD | Hunter Dozier | | Auto Relic |
| APP-WM | Whit Merrifield | | Auto Relic |
| C1A-WM | Whit Merrifield | | Auto |
| DATR-SM | Jorge Soler | | Auto Relic |
| DATR-SM | Whit Merrifield | | Auto Relic |
| PPA-JOS | Jorge Soler | | Auto |
| T1ATR-HD | Hunter Dozier | | Auto Relic |
| T1ATR-JS | Jorge Soler | | Auto Relic |
| T1BK-AMO | Adalberto Mondesi | | Relic |
| T1BK-GB | George Brett | | Relic |
| T1BK-SP | Salvador Perez | | Relic |
| T1BR-GB | George Brett | | Relic |
| T1LL-AMO | Adalberto Mondesi | | Relic |
| T1LL-GB | George Brett | | Relic |
| T1LL-HD | Hunter Dozier | | Relic |
| T1R-HD | Hunter Dozier | | Relic |
| T1R-JS | Jorge Soler | | Relic |
| T1TA-HD | Hunter Dozier | | Auto |
| T1TA-WM | Whit Merrifield | | Auto |
| T1TA-WME | Whit Merrifield | | Auto |
| | | | |
| --- | --- | --- | --- |
| BOA-TD | Travis Demeritte | RC | Auto |
| C1A-AK | Al Kaline | | Auto |
| C1A-MC | Miguel Cabrera | | Auto |
| C1DA-CK | Al Kaline | | Auto |
| C1DA-CK | Miguel Cabrera | | Auto |
| CSR-CG | Charlie Gehringer | | Relic |
| CSR-HG | Hank Greenberg | | Relic |
| PP-MC | Miguel Cabrera | | Relic |
| PPA-AK | Al Kaline | | Auto |
| PPA-AKA | Al Kaline | | Auto |
| T1ATR-JR | Jake Rogers | RC | Auto Relic |
| T1BK-JC | Jeimer Candelario | | Relic |
| T1LL-JC | Jeimer Candelario | | Relic |
| T1R-JR | Jake Rogers | RC | Relic |
| T1R-MCA | Miguel Cabrera | | Relic |
| T1TA-CF | Cecil Fielder | | Auto |
| T1TA-CFI | Cecil Fielder | | Auto |
| | | | |
| --- | --- | --- | --- |
| APP-WA | Willians Astudillo | | Auto Relic |
| BOA-LAR | Luis Arraez | | Auto |
| BOA-WA | Willians Astudillo | | Auto |
| BOA-WAS | Willians Astudillo | | Auto |
| C1A-BBL | Bert Blyleven | | Auto |
| C1A-RCA | Rod Carew | | Auto |
| CSR-KP | Kirby Puckett | | Relic |
| PPA-BB | Bert Blyleven | | Auto |
| PPA-BBL | Bert Blyleven | | Auto |
| PPA-RC | Rod Carew | | Auto |
| PPA-RCA | Rod Carew | | Auto |
| T1ABK-RC | Rod Carew | | Auto Relic |
| T1ALL-RC | Rod Carew | | Auto Relic |
| T1ATR-BB | Bert Blyleven | | Auto Relic |
| T1BK-MG | Mitch Garver | | Relic |
| T1LL-BB | Byron Buxton | | Relic |
| T1LL-JMA | Joe Mauer | | Relic |
| T1LL-MG | Mitch Garver | | Relic |
| | | | |
| --- | --- | --- | --- |
| BOA-DC | Dylan Cease | RC | Auto |
| BOA-DCE | Dylan Cease | RC | Auto |
| BOA-EJ | Eloy Jimenez | | Auto |
| BOA-LR | Luis Robert | RC | Auto |
| BOA-ZC | Zack Collins | RC | Auto |
| BOA-ZCO | Zack Collins | RC | Auto |
| C1A-DC | Dylan Cease | RC | Auto |
| C1A-FTH | Frank Thomas | | Auto |
| DATR-FJ | Eloy Jimenez | | Auto Relic |
| DATR-FJ | Carlton Fisk | | Auto Relic |
| PP-EJ | Eloy Jimenez | | Relic |
| PP-FTH | Frank Thomas | | Relic |
| STAR-FT | Frank Thomas | | Auto Relic |
| T1A-FT | Frank Thomas | | Auto |
| T1ABK-FT | Frank Thomas | | Auto Relic |
| T1ABK-TA | Tim Anderson | | Auto Relic |
| T1ALL-FT | Frank Thomas | | Auto Relic |
| T1ALL-TA | Tim Anderson | | Auto Relic |
| T1ATR-FT | Frank Thomas | | Auto Relic |
| T1BK-FT | Frank Thomas | | Relic |
| T1BK-TA | Tim Anderson | | Relic |
| T1BK-YM | Yoan Moncada | | Relic |
| T1DA-JC | Dylan Cease | RC | Auto |
| T1DA-JC | Eloy Jimenez | | Auto |
| T1LL-FT | Frank Thomas | | Relic |
| T1LL-JA | Jose Abreu | | Relic |
| T1LL-TA | Tim Anderson | | Relic |
| T1LR-FT | Frank Thomas | | Relic |
| T1R-EJ | Eloy Jimenez | | Relic |
| T1TA-FT | Frank Thomas | | Auto |
| T1TA-FTH | Frank Thomas | | Auto |
| T1TA-TA | Tim Anderson | | Auto |
| T1TA-TAN | Tim Anderson | | Auto |
| T1TA-TRA | Tim Raines | | Auto |
| | | | |
| --- | --- | --- | --- |
| APP-MTE | Mark Teixeira | | Auto Relic |
| BOA-MIT | Mike Tauchman | | Auto |
| BOA-MTA | Mike Tauchman | | Auto |
| C1A-AJ | Aaron Judge | | Auto |
| C1A-AR | Alex Rodriguez | | Auto |
| C1A-CCS | CC Sabathia | | Auto |
| C1A-DCO | David Cone | | Auto |
| C1A-DM | Don Mattingly | | Auto |
| C1A-HM | Hideki Matsui | | Auto |
| C1A-JP | Jorge Posada | | Auto |
| C1A-LV | Luke Voit | | Auto |
| C1A-MR | Mariano Rivera | | Auto |
| C1A-RJA | Reggie Jackson | | Auto |
| C1A-TM | Tino Martinez | | Auto |
| C1DA-JM | Aaron Judge | | Auto |
| C1DA-JM | Don Mattingly | | Auto |
| C1DA-MJ | Hideki Matsui | | Auto |
| C1DA-MJ | Reggie Jackson | | Auto |
| C1DA-SC | CC Sabathia | | Auto |
| C1DA-SC | David Cone | | Auto |
| CSR-BD | Bill Dickey | | Relic |
| CSR-BR | Babe Ruth | | Relic |
| CSR-CS | Casey Stengel | | Relic |
| CSR-CS | Casey Stengel | | Relic |
| CSR-PR | Phil Rizzuto | | Relic |
| CSR-TM | Thurman Munson | | Relic |
| CSR-WH | Waite Hoyt | | Relic |
| DATR-SC | David Cone | | Auto Relic |
| DATR-SC | CC Sabathia | | Auto Relic |
| NLA-AJ | Aaron Judge | | Auto |
| NLA-DM | Don Mattingly | | Auto |
| NLA-MR | Mariano Rivera | | Auto |
| PP-CCS | CC Sabathia | | Relic |
| PP-GT | Gleyber Torres | | Relic |
| PP-MTA | Masahiro Tanaka | | Relic |
| PPA-AH | Aaron Hicks | | Auto |
| PPA-AR | Alex Rodriguez | | Auto |
| PPA-BW | Bernie Williams | | Auto |
| PPA-BWI | Bernie Williams | | Auto |
| PPA-CCS | CC Sabathia | | Auto |
| PPA-CS | CC Sabathia | | Auto |
| PPA-DC | David Cone | | Auto |
| PPA-DCO | David Cone | | Auto |
| PPA-DM | Don Mattingly | | Auto |
| PPA-DMA | Don Mattingly | | Auto |
| PPA-HM | Hideki Matsui | | Auto |
| PPA-MR | Mariano Rivera | | Auto |
| PPA-MT | Mark Teixeira | | Auto |
| PPA-MTE | Mark Teixeira | | Auto |
| STAR-AJ | Aaron Judge | | Auto Relic |
| STAR-AR | Alex Rodriguez | | Auto Relic |
| STAR-DM | Don Mattingly | | Auto Relic |
| STAR-MR | Mariano Rivera | | Auto Relic |
| STAR-RJA | Reggie Jackson | | Auto Relic |
| STAR-TM | Tino Martinez | | Auto Relic |
| T1A-AJ | Aaron Judge | | Auto |
| T1A-DJ | Derek Jeter | | Auto |
| T1A-DM | Don Mattingly | | Auto |
| T1A-MR | Mariano Rivera | | Auto |
| T1A-RJA | Reggie Jackson | | Auto |
| T1ABK-BW | Bernie Williams | | Auto Relic |
| T1ABK-LV | Luke Voit | | Auto Relic |
| T1ABK-TM | Tino Martinez | | Auto Relic |
| T1ALL-BW | Bernie Williams | | Auto Relic |
| T1ALL-GT | Gleyber Torres | | Auto Relic |
| T1ALL-LV | Luke Voit | | Auto Relic |
| T1ALL-MTE | Mark Teixeira | | Auto Relic |
| T1ALL-RJ | Reggie Jackson | | Auto Relic |
| T1AP-AC | Aroldis Chapman | | Auto Relic |
| T1AP-GT | Gleyber Torres | | Auto Relic |
| T1AP-GT | Gleyber Torres | | Auto Relic |
| T1AP-MTA | Masahiro Tanaka | | Auto Relic |
| T1ATR-AJ | Aaron Judge | | Auto Relic |
| T1ATR-CCS | CC Sabathia | | Auto Relic |
| T1ATR-GU | Gio Urshela | | Auto Relic |
| T1ATR-HM | Hideki Matsui | | Auto Relic |
| T1BK-LV | Luke Voit | | Relic |
| T1BK-MA | Miguel Andujar | | Relic |
| T1BK-RJ | Reggie Jackson | | Relic |
| T1BK-TM | Thurman Munson | | Relic |
| T1BR-AJ | Aaron Judge | | Auto |
| T1BR-AJ | Aaron Judge | | Relic |
| T1BR-DM | Don Mattingly | | Auto |
| T1BR-DM | Don Mattingly | | Relic |
| T1BR-GS | Giancarlo Stanton | | Relic |
| T1BR-GT | Gleyber Torres | | Auto |
| T1BR-GT | Gleyber Torres | | Relic |
| T1BR-MR | Mariano Rivera | | Auto |
| T1BR-MR | Mariano Rivera | | Relic |
| T1DA-WM | Bernie Williams | | Auto |
| T1DA-WM | Tino Martinez | | Auto |
| T1LL-BW | Bernie Williams | | Relic |
| T1LL-CF | Clint Frazier | | Relic |
| T1LL-DM | Don Mattingly | | Relic |
| T1LL-LV | Luke Voit | | Relic |
| T1LL-MA | Miguel Andujar | | Relic |
| T1LL-RJ | Reggie Jackson | | Relic |
| T1LR-BR | Babe Ruth | | Relic |
| T1LR-DM | Don Mattingly | | Relic |
| T1LR-HM | Hideki Matsui | | Relic |
| T1LR-MR | Mariano Rivera | | Relic |
| T1LR-TM | Thurman Munson | | Relic |
| T1R-AH | Aaron Hicks | | Relic |
| T1R-AJ | Aaron Judge | | Relic |
| T1R-CCS | CC Sabathia | | Relic |
| T1R-DJL | DJ LeMahieu | | Relic |
| T1R-GSA | Gary Sanchez | | Relic |
| T1R-GT | Gleyber Torres | | Relic |
| T1R-GU | Gio Urshela | | Relic |
| T1R-LS | Luis Severino | | Relic |
| T1R-LV | Luke Voit | | Relic |
| T1R-MTA | Masahiro Tanaka | | Relic |
| T1TA-AJ | Aaron Judge | | Auto |
| T1TA-GT | Gleyber Torres | | Auto |
| T1TA-GTO | Gleyber Torres | | Auto |
| T1TA-JP | Jorge Posada | | Auto |
| T1TA-JPO | Jorge Posada | | Auto |
| T1TA-JTR | Aaron Judge | | Triple Auto |
| T1TA-JTR | Mariano Rivera | | Triple Auto |
| T1TA-JTR | Gleyber Torres | | Triple Auto |
| T1TA-LV | Luke Voit | | Auto |
| T1TA-LVO | Luke Voit | | Auto |
| T1TA-RJ | Reggie Jackson | | Auto |
| T1TA-TM | Tino Martinez | | Auto |
| T1TA-TMA | Tino Martinez | | Auto |