2020 Topps Gypsy Queen baseball cards return with an all new "classic" retro design and a checklist filled with the game's best players.
The base set includes a 300 card base and 20 short printed base cards alongside several variants and insert sets.
For the first time in a Gypsy Queen product, the 2020 release includes autographed line-up cards as a game-used relic/auto pairing. There is also a blue parallel which is new to this year's collection.
Each hobby box contains two autographed cards as well as a chrome box topper.
This checklist is organized by teams. Scroll through the entire list or jump to a preferred team by selecting them from the list below. Clicking a link within the checklist will direct you to an affiliate retailer or to relevant eBay listings.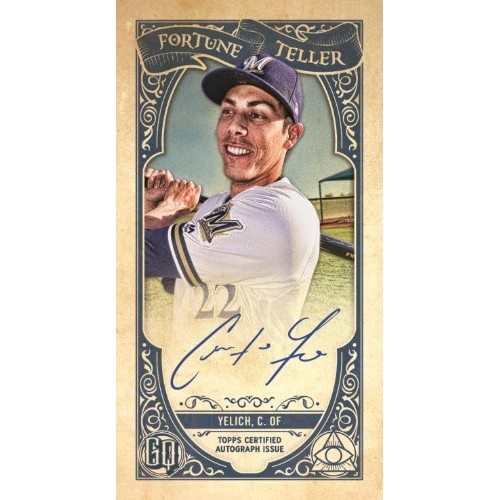 2020 Topps Gypsy Queen Checklist
Base – 320 Cards
Short Prints – Cards #301-#320 (1:24 packs)
Armed Forces Day
Green – Value Pack
Indigo – #/250
Blue – #/150
Black & White – #/10 (Hobby)
Red – #/5
Black – 1/1
Jackie Robinson Day Variant
Black – 1/1
Autographs – #/42
Black Autographs – 1/1
Missing Nameplate
Blue – #/150
Black – 1/1
Player's Weekend Image Variation – 30 Cards (Hobby)
Black – 1/1
Bases Around the League Autograph Relics (BAL) – 6 Cards
Base – #/20
Black – 1/1
Fortune Teller Minis (FTM) – 20 Cards
Base – 1:6 packs
Indigo – #/250
Green – #/99
Black – 1/1
Fortune Teller Mini Autographs (FTMA) – 13 Cards
Black – 1/1
Gypsy Queen Autographs (GQA) – 65 Cards
Indigo – #/150
Blue – #/99
Black & White – #/50 (Hobby)
Black – 1/1
Autographed Line-Up Card Relics (ALC) – 19 Cards
Base – 1/1
Autograph Garments (AG) – 20 Cards
Base – #/50
Black – 1/1
Autograph Patch Book Relics (GQAP) – 11 Cards
Base – #/20
Black – 1/1
Mini Rookie Autographs (MRA) – 13 Cards
Black and White – #/50
Black – 1/1
Power Performers Portrait Art Patch Originals (GQPP) – 38 Cards
Base – 1/1
Pull-Up Sock Autograph Relics (PUSAR) – 3 Cards
Base – #/10
Black – 1/1
Tarot of the Diamond (TOD) – 22 Cards
Base – 1:8 packs
Indigo – #/250
Green – #/99 (Retail)
Black – 1/1
GQ Chrome Box Toppers – 100 Cards (Hobby)
Indigo Refractor – #/150
Blue – #/99
Gold Refractor – #/50
Red Refractor – #/5
SuperFractor – 1/1
GQ Chrome Box Topper Autographs – 13 Cards (Hobby)
Base – #/25
SuperFractor – 1/1
| | | | |
| --- | --- | --- | --- |
| 82 | Matt Thaiss | RC | |
| 109 | Andrelton Simmons | | |
| 114 | David Fletcher | | |
| 127 | Jose Rodriguez | RC | |
| 204 | Albert Pujols | | |
| 215 | Anthony Rendon | | |
| 261 | Shohei Ohtani | | |
| 261 | Shohei Ohtani | | Chrome Topper |
| 274 | Andrew Heaney | | |
| 290 | Tommy La Stella | | |
| 300 | Mike Trout | | |
| 300 | Mike Trout | | Player's Weekend |
| 300 | Mike Trout | | Chrome Topper |
| AG-MT | Mike Trout | | Auto Relic |
| AG-SO | Shohei Ohtani | | Auto Relic |
| ALC-AP | Albert Pujols | | Auto Relic |
| ALC-MT | Mike Trout | | Auto Relic |
| ALC-SO | Shohei Ohtani | | Auto Relic |
| FTM-1 | Shohei Ohtani | | Mini |
| FTM-2 | Mike Trout | | Mini |
| GQA-MT | Mike Trout | | Auto |
| GQA-SO | Shohei Ohtani | | Auto |
| GQA-TW | Taylor Ward | RC | Auto |
| GQAP-SO | Shohei Ohtani | | Auto Relic |
| GQPP-AP | Albert Pujols | | Relic |
| GQPP-MT | Mike Trout | | Relic |
| GQPP-SO | Shohei Ohtani | | Relic |
| TOD-8 | Mike Trout | | |
| | | | |
| --- | --- | --- | --- |
| 7 | Zack Greinke | | |
| 7 | Zack Greinke | | Chrome Topper |
| 16 | Michael Brantley | | |
| 16 | Michael Brantley | | Chrome Topper |
| 57 | Jose Altuve | | |
| 57 | Jose Altuve | | Chrome Topper |
| 137 | Yordan Alvarez | RC | |
| 137 | Yordan Alvarez | RC | Chrome Topper |
| 137 | Yordan Alvarez | RC | Chrome Topper Auto |
| 157 | Yuli Gurriel | | |
| 157 | Yuli Gurriel | | Chrome Topper |
| 159 | Carlos Correa | | |
| 200 | Alex Bregman | | |
| 200 | Alex Bregman | | Jackie Robinson Day |
| 200 | Alex Bregman | | Armed Forces Day |
| 200 | Alex Bregman | | Chrome Topper |
| 250 | Justin Verlander | | |
| 250 | Justin Verlander | | Chrome Topper |
| 276 | George Springer | | |
| 276 | George Springer | | Player's Weekend |
| 276 | George Springer | | Chrome Topper |
| AG-YA | Yordan Alvarez | RC | Auto Relic |
| ALC-JA | Jose Altuve | | Auto Relic |
| FTM-5 | Yordan Alvarez | RC | Mini |
| FTMA-YA | Yordan Alvarez | RC | Auto Mini |
| GQA-LMJ | Lance McCullers Jr. | | Auto |
| GQA-YA | Yordan Alvarez | RC | Auto |
| GQAP-YA | Yordan Alvarez | RC | Auto Relic |
| GQPP-ABR | Alex Bregman | | Relic |
| GQPP-GSP | George Springer | | Relic |
| GQPP-YA | Yordan Alvarez | RC | Relic |
| MRA-YA | Yordan Alvarez | RC | Auto Mini |
| TOD-5 | Yordan Alvarez | RC | |
| TOD-13 | George Springer | | |
| TOD-15 | Justin Verlander | | |
| TOD-16 | Alex Bregman | | |
| | | | |
| --- | --- | --- | --- |
| 3 | Ramon Laureano | | |
| 4 | Matt Olson | | |
| 91 | Seth Brown | RC | |
| 91 | Seth Brown | RC | Chrome Topper |
| 101 | Sean Murphy | RC | |
| 113 | A.J. Puk | RC | |
| 113 | A.J. Puk | RC | Chrome Topper |
| 188 | Matt Chapman | | |
| 188 | Matt Chapman | | Armed Forces Day |
| 188 | Matt Chapman | | Chrome Topper |
| 210 | Khris Davis | | |
| 210 | Khris Davis | | Chrome Topper |
| 212 | Marcus Semien | | |
| 212 | Marcus Semien | | Player's Weekend |
| 212 | Marcus Semien | | Chrome Topper |
| 217 | Sheldon Neuse | RC | |
| 287 | Jesus Luzardo | RC | |
| 304 | Reggie Jackson | | |
| 316 | Rickey Henderson | | |
| GQA-AP | A.J. Puk | RC | Auto |
| GQA-JL | Jesus Luzardo | RC | Auto |
| GQA-RH | Rickey Henderson | | Auto |
| GQAP-RH | Rickey Henderson | | Auto Relic |
| GQPP-KD | Khris Davis | | Relic |
| GQPP-MM | Mark McGwire | | Relic |
| GQPP-RJ | Reggie Jackson | | Relic |
| MRA-AP | A.J. Puk | RC | Auto Mini |
| MRA-JL | Jesus Luzardo | RC | Auto Mini |
| | | | |
| --- | --- | --- | --- |
| 17 | Bo Bichette | RC | |
| 17 | Bo Bichette | RC | Chrome Topper |
| 40 | Danny Jansen | | |
| 48 | Vladimir Guerrero Jr. | | |
| 48 | Vladimir Guerrero Jr. | | Player's Weekend |
| 48 | Vladimir Guerrero Jr. | | Chrome Topper |
| 48 | Vladimir Guerrero Jr. | | Chrome Topper Auto |
| 74 | T.J. Zeuch | RC | |
| 120 | Lourdes Gurriel Jr. | | |
| 162 | Anthony Kay | RC | |
| 175 | Hyun-Jin Ryu | | |
| 223 | Cavan Biggio | | |
| 253 | Rowdy Tellez | | |
| 279 | Randal Grichuk | | |
| AG-VGJ | Vladimir Guerrero Jr. | | Auto Relic |
| ALC-VGJ | Vladimir Guerrero Jr. | | Auto Relic |
| FTM-9 | Bo Bichette | RC | Mini |
| FTM-11 | Vladimir Guerrero Jr. | | Mini |
| FTMA-BB | Bo Bichette | RC | Auto Mini |
| FTMA-VGJ | Vladimir Guerrero Jr. | | Auto Mini |
| GQA-BBI | Bo Bichette | RC | Auto |
| GQA-LGJ | Lourdes Gurriel Jr. | | Auto |
| GQA-VGJ | Vladimir Guerrero Jr. | | Auto |
| MRA-BBI | Bo Bichette | RC | Auto Mini |
| PUSAR-VGJ | Vladimir Guerrero Jr. | | Auto Relic |
| TOD-3 | Bo Bichette | RC | |
| | | | |
| --- | --- | --- | --- |
| 69 | Max Fried | | |
| 78 | A.J. Minter | | |
| 102 | Mike Soroka | | |
| 118 | Ender Inciarte | | |
| 124 | Mark Melancon | | |
| 187 | Ronald Acuña Jr. | | |
| 187 | Ronald Acuña Jr. | | Player's Weekend |
| 187 | Ronald Acuña Jr. | | Chrome Topper |
| 187 | Ronald Acuña Jr. | | Chrome Topper Auto |
| 211 | Austin Riley | | |
| 221 | Dansby Swanson | | |
| 238 | Ozzie Albies | | |
| 238 | Ozzie Albies | | Armed Forces Day |
| 238 | Ozzie Albies | | Chrome Topper |
| 252 | Will Smith | | |
| 280 | Travis d'Arnaud | | |
| 298 | Freddie Freeman | | |
| 298 | Freddie Freeman | | Armed Forces Day |
| 298 | Freddie Freeman | | Chrome Topper |
| 311 | Chipper Jones | | |
| AG-RAJ | Ronald Acuña Jr. | | Auto Relic |
| BAL-RAJ | Ronald Acuña Jr. | | Auto Relic |
| FTM-15 | Ronald Acuña Jr. | | Mini |
| FTMA-RAJ | Ronald Acuña Jr. | | Auto Mini |
| GQA-AR | Austin Riley | | Auto |
| GQA-MF | Mike Foltynewicz | | Auto |
| GQA-RAJ | Ronald Acuña Jr. | | Auto |
| GQPP-CJ | Chipper Jones | | Relic |
| PUSAR-RAJ | Ronald Acuña Jr. | | Auto Relic |
| TOD-1 | Ronald Acuña Jr. | | |
| TOD-14 | Freddie Freeman | | |
| | | | |
| --- | --- | --- | --- |
| 6 | Brandon Woodruff | | |
| 15 | Justin Smoak | | |
| 25 | Christian Yelich | | |
| 25 | Christian Yelich | | Jackie Robinson Day |
| 25 | Christian Yelich | | Player's Weekend |
| 25 | Christian Yelich | | Armed Forces Day |
| 25 | Christian Yelich | | Chrome Topper |
| 25 | Christian Yelich | | Jackie Robinson Day Auto |
| 25 | Christian Yelich | | Chrome Topper Auto |
| 141 | Lorenzo Cain | | |
| 180 | Keston Hiura | | |
| 180 | Keston Hiura | | Chrome Topper |
| 180 | Keston Hiura | | Chrome Topper Auto |
| 241 | Ryan Braun | | |
| 288 | Josh Hader | | |
| AG-CY | Christian Yelich | | Auto Relic |
| AG-KH | Keston Hiura | | Auto Relic |
| ALC-KH | Keston Hiura | | Auto Relic |
| FTM-12 | Keston Hiura | | Mini |
| FTM-13 | Christian Yelich | | Mini |
| FTMA-CY | Christian Yelich | | Auto Mini |
| GQA-CY | Christian Yelich | | Auto |
| GQA-KH | Keston Hiura | | Auto |
| TOD-10 | Christian Yelich | | |
| | | | |
| --- | --- | --- | --- |
| 10 | Rangel Ravelo | RC | |
| 47 | Paul Goldschmidt | | |
| 47 | Paul Goldschmidt | | Chrome Topper |
| 51 | Austin Dean | | |
| 53 | Harrison Bader | | |
| 79 | Jack Flaherty | | |
| 87 | Junior Fernandez | RC | |
| 184 | Miles Mikolas | | |
| 207 | Paul DeJong | | |
| 207 | Paul DeJong | | Player's Weekend |
| 207 | Paul DeJong | | Chrome Topper |
| 273 | Yadier Molina | | |
| 291 | Tommy Edman | | |
| ALC-PD | Paul DeJong | | Auto Relic |
| BAL-PD | Paul DeJong | | Auto Relic |
| FTM-6 | Paul DeJong | | Mini |
| FTMA-PD | Paul DeJong | | Auto Mini |
| GQA-JF | Jack Flaherty | | Auto |
| GQA-MMI | Miles Mikolas | | Auto |
| GQA-PD | Paul DeJong | | Auto |
| GQAP-JF | Jack Flaherty | | Auto Relic |
| GQPP-PG | Paul Goldschmidt | | Relic |
| GQPP-YM | Yadier Molina | | Relic |
| | | | |
| --- | --- | --- | --- |
| 29 | Willson Contreras | | |
| 29 | Willson Contreras | | Jackie Robinson Day |
| 29 | Willson Contreras | | Jackie Robinson Day Auto |
| 34 | Adbert Alzolay | RC | |
| 38 | Kris Bryant | | |
| 38 | Kris Bryant | | Jackie Robinson Day |
| 38 | Kris Bryant | | Player's Weekend |
| 38 | Kris Bryant | | Chrome Topper |
| 38 | Kris Bryant | | Jackie Robinson Day Auto |
| 72 | Kyle Hendricks | | |
| 72 | Kyle Hendricks | | Chrome Topper |
| 86 | Anthony Rizzo | | |
| 86 | Anthony Rizzo | | Armed Forces Day |
| 86 | Anthony Rizzo | | Chrome Topper |
| 170 | Kyle Schwarber | | |
| 172 | Jon Lester | | |
| 201 | Nico Hoerner | RC | |
| 233 | Javier Baez | | |
| 233 | Javier Baez | | Jackie Robinson Day |
| 233 | Javier Baez | | Chrome Topper |
| 284 | Robel Garcia | RC | |
| 312 | Sammy Sosa | | |
| AG-KB | Kris Bryant | | Auto Relic |
| AG-WC | Willson Contreras | | Auto Relic |
| ALC-AR | Anthony Rizzo | | Auto Relic |
| ALC-KB | Kris Bryant | | Auto Relic |
| ALC-WC | Willson Contreras | | Auto Relic |
| GQA-AA | Adbert Alzolay | RC | Auto |
| GQA-NH | Nico Hoerner | RC | Auto |
| GQA-RG | Robel Garcia | RC | Auto |
| GQPP-JB | Javier Baez | | Relic |
| GQPP-SS | Sammy Sosa | | Relic |
| MRA-AA | Adbert Alzolay | RC | Auto Mini |
| MRA-RG | Robel Garcia | RC | Auto Mini |
| TOD-12 | Kris Bryant | | |
| TOD-18 | Javier Baez | | |
| | | | |
| --- | --- | --- | --- |
| 81 | David Peralta | | |
| 119 | Robbie Ray | | |
| 128 | Zac Gallen | RC | |
| 133 | Kole Calhoun | | |
| 139 | Eduardo Escobar | | |
| 139 | Eduardo Escobar | | Chrome Topper |
| 198 | Alex Young | RC | |
| 255 | Luke Weaver | | |
| 256 | Christian Walker | | |
| 286 | Domingo Leyba | RC | |
| 295 | Ketel Marte | | |
| 295 | Ketel Marte | | Player's Weekend |
| 295 | Ketel Marte | | Chrome Topper |
| 296 | Archie Bradley | | |
| AG-JD | Jon Duplantier | | Auto Relic |
| GQA-AY | Alex Young | RC | Auto |
| GQA-DP | David Peralta | | Auto |
| | | | |
| --- | --- | --- | --- |
| 21 | Clayton Kershaw | | |
| 21 | Clayton Kershaw | | Jackie Robinson Day |
| 21 | Clayton Kershaw | | Player's Weekend |
| 21 | Clayton Kershaw | | Chrome Topper |
| 21 | Clayton Kershaw | | Jackie Robinson Day Auto |
| 92 | Justin Turner | | |
| 92 | Justin Turner | | Chrome Topper |
| 135 | Corey Seager | | |
| 150 | Cody Bellinger | | |
| 150 | Cody Bellinger | | Chrome Topper |
| 155 | Dustin May | RC | |
| 158 | Walker Buehler | | |
| 158 | Walker Buehler | | Chrome Topper |
| 174 | Gavin Lux | RC | |
| 174 | Gavin Lux | RC | Chrome Topper |
| 202 | Max Muncy | | |
| 202 | Max Muncy | | Jackie Robinson Day |
| 202 | Max Muncy | | Chrome Topper |
| 202 | Max Muncy | | Jackie Robinson Day Auto |
| 202 | Max Muncy | | Chrome Topper Auto |
| 219 | Will Smith | | |
| 219 | Will Smith | | Chrome Topper |
| 315 | Sandy Koufax | | |
| 320 | Jackie Robinson | | |
| AG-MM | Max Muncy | | Auto Relic |
| GQA-GL | Gavin Lux | RC | Auto |
| GQA-MBE | Matt Beaty | | Auto |
| GQA-MMU | Max Muncy | | Auto |
| GQA-TG | Dustin May | RC | Auto |
| GQA-WS | Will Smith | | Auto |
| GQPP-CB | Cody Bellinger | | Relic |
| TOD-7 | Walker Buehler | | |
| TOD-22 | Cody Bellinger | | |
| | | | |
| --- | --- | --- | --- |
| 49 | Brandon Crawford | | |
| 90 | Brandon Belt | | |
| 108 | Logan Webb | RC | |
| 161 | Kean Wong | RC | |
| 186 | Evan Longoria | | |
| 194 | Jaylin Davis | RC | |
| 243 | Buster Posey | | |
| 258 | Mike Yastrzemski | | |
| 258 | Mike Yastrzemski | | Player's Weekend |
| 268 | Mauricio Dubon | RC | |
| 275 | Jeff Samardzija | | |
| ALC-BP | Buster Posey | | Auto Relic |
| BAL-MY | Mike Yastrzemski | | Auto Relic |
| GQPP-BP | Buster Posey | | Relic |
| | | | |
| --- | --- | --- | --- |
| 31 | Carlos Santana | | |
| 31 | Carlos Santana | | Armed Forces Day |
| 31 | Carlos Santana | | Chrome Topper |
| 70 | Bobby Bradley | RC | |
| 123 | Logan Allen | RC | |
| 123 | Logan Allen | RC | Chrome Topper |
| 164 | Shane Bieber | | |
| 164 | Shane Bieber | | Chrome Topper |
| 171 | Yu Chang | RC | |
| 227 | Oscar Mercado | | |
| 227 | Oscar Mercado | | Player's Weekend |
| 228 | Francisco Lindor | | |
| 228 | Francisco Lindor | | Chrome Topper |
| 229 | Emmanuel Clase | RC | |
| 232 | Aaron Civale | RC | |
| 251 | Jose Ramirez | | |
| 264 | Trevor Bauer | | Jackie Robinson Day |
| 264 | Trevor Bauer | | Jackie Robinson Day Auto |
| 270 | Franmil Reyes | | |
| 270 | Franmil Reyes | | Chrome Topper |
| GQA-AC | Aaron Civale | RC | Auto |
| GQA-BB | Bobby Bradley | RC | Auto |
| GQA-LA | Logan Allen | RC | Auto |
| MRA-AC | Aaron Civale | RC | Auto Mini |
| MRA-BB | Bobby Bradley | RC | Auto Mini |
| MRA-LA | Logan Allen | RC | Auto Mini |
| | | | |
| --- | --- | --- | --- |
| 20 | Yusei Kikuchi | | |
| 63 | Austin Nola | RC | |
| 64 | Mitch Haniger | | |
| 80 | Tim Lopes | RC | |
| 97 | Kyle Seager | | |
| 97 | Kyle Seager | | Player's Weekend |
| 144 | Justin Dunn | RC | |
| 168 | Jake Fraley | RC | |
| 226 | Kyle Lewis | RC | |
| 244 | Shed Long | | |
| 318 | Ken Griffey Jr. | | |
| GQA-SL | Shed Long | | Auto |
| GQPP-KGJ | Ken Griffey Jr. | | Relic |
| | | | |
| --- | --- | --- | --- |
| 9 | Harold Ramirez | | |
| 9 | Harold Ramirez | | Player's Weekend |
| 73 | Jorge Alfaro | | |
| 110 | Brian Anderson | | |
| 138 | Jose Ureña | | |
| 143 | Robert Dugger | RC | |
| 173 | Jordan Yamamoto | RC | |
| 173 | Jordan Yamamoto | RC | Chrome Topper |
| 237 | Sandy Alcantara | | |
| 293 | Isan Diaz | RC | |
| GQA-ID | Isan Diaz | RC | Auto |
| GQA-JY | Jordan Yamamoto | RC | Auto |
| MRA-JY | Jordan Yamamoto | RC | Auto Mini |
| | | | |
| --- | --- | --- | --- |
| 24 | Michael Conforto | | |
| 24 | Michael Conforto | | Chrome Topper |
| 43 | Jacob deGrom | | |
| 43 | Jacob deGrom | | Player's Weekend |
| 43 | Jacob deGrom | | Chrome Topper |
| 54 | Jeff McNeil | | |
| 54 | Jeff McNeil | | Chrome Topper |
| 65 | Pete Alonso | | |
| 65 | Pete Alonso | | Jackie Robinson Day |
| 65 | Pete Alonso | | Chrome Topper |
| 83 | Noah Syndergaard | | |
| 83 | Noah Syndergaard | | Jackie Robinson Day |
| 83 | Noah Syndergaard | | Chrome Topper |
| 88 | Wilson Ramos | | |
| 126 | Amed Rosario | | |
| 209 | J.D. Davis | | |
| 245 | Marcus Stroman | | |
| 248 | Steven Matz | | |
| BAL-PA | Pete Alonso | | Auto Relic |
| GQA-PA | Pete Alonso | | Auto |
| GQPP-PA | Pete Alonso | | Relic |
| PUSAR-PA | Pete Alonso | | Auto Relic |
| TOD-2 | Noah Syndergaard | | |
| TOD-9 | Pete Alonso | | |
| | | | |
| --- | --- | --- | --- |
| 13 | Howie Kendrick | | |
| 18 | Asdrubal Cabrera | | |
| 22 | Victor Robles | | |
| 30 | Carter Kieboom | | |
| 30 | Carter Kieboom | | Chrome Topper |
| 55 | Trea Turner | | |
| 55 | Trea Turner | | Chrome Topper |
| 140 | Eric Thames | | |
| 163 | Patrick Corbin | | |
| 163 | Patrick Corbin | | Chrome Topper |
| 166 | Max Scherzer | | |
| 166 | Max Scherzer | | Chrome Topper |
| 178 | Juan Soto | | |
| 178 | Juan Soto | | Player's Weekend |
| 178 | Juan Soto | | Chrome Topper |
| 259 | Starlin Castro | | |
| 285 | Stephen Strasburg | | |
| 285 | Stephen Strasburg | | Chrome Topper |
| AG-MS | Max Scherzer | | Auto Relic |
| FTM-8 | Max Scherzer | | Mini |
| GQA-CJ | Carter Kieboom | | Auto |
| GQA-MS | Max Scherzer | | Auto |
| | | | |
| --- | --- | --- | --- |
| 11 | Cedric Mullins | | |
| 14 | John Means | | |
| 14 | John Means | | Player's Weekend |
| 33 | Tom Eshelman | RC | |
| 36 | Hanser Alberto | | |
| 121 | Chance Sisco | | |
| 146 | Anthony Santander | | |
| 153 | Austin Hays | | |
| 185 | Jose Iglesias | | |
| 197 | Hunter Harvey | RC | |
| 224 | Trey Mancini | | |
| 224 | Trey Mancini | | Chrome Topper |
| 263 | Dwight Smith Jr. | | |
| 263 | Dwight Smith Jr. | | Jackie Robinson Day |
| 263 | Dwight Smith Jr. | | Jackie Robinson Day Auto |
| 317 | Cal Ripken Jr. | | |
| GQA-DSJ | Dwight Smith Jr. | | Auto |
| GQA-MM | Mike Mussina | | Auto |
| | | | |
| --- | --- | --- | --- |
| 23 | Trent Grisham | RC | |
| 26 | Adrian Morejon | RC | |
| 58 | Ty France | | |
| 66 | Kirby Yates | | |
| 66 | Kirby Yates | | Player's Weekend |
| 66 | Kirby Yates | | Chrome Topper |
| 84 | Eric Hosmer | | |
| 104 | Fernando Tatis Jr. | | |
| 104 | Fernando Tatis Jr. | | Jackie Robinson Day |
| 104 | Fernando Tatis Jr. | | Chrome Topper |
| 129 | Tommy Pham | | |
| 129 | Tommy Pham | | Chrome Topper |
| 230 | Francisco Mejia | | |
| 234 | Michel Baez | RC | |
| 262 | Andres Muñoz | RC | |
| 283 | Zach Davies | | |
| 292 | Manny Machado | | |
| 292 | Manny Machado | | Jackie Robinson Day |
| 292 | Manny Machado | | Chrome Topper |
| 305 | Tony Gwynn | | |
| AG-CP | Chris Paddack | | Auto Relic |
| AG-FTJ | Fernando Tatis Jr. | | Auto Relic |
| ALC-CP | Chris Paddack | | Auto Relic |
| ALC-FTJ | Fernando Tatis Jr. | | Auto Relic |
| FTM-16 | Fernando Tatis Jr. | | Mini |
| GQA-CP | Chris Paddack | | Auto |
| GQA-FTJ | Fernando Tatis Jr. | | Auto |
| GQA-MB | Michel Baez | RC | Auto |
| GQAP-FTJ | Fernando Tatis Jr. | | Auto Relic |
| GQPP-FTJ | Fernando Tatis Jr. | | Relic |
| | | | |
| --- | --- | --- | --- |
| 2 | J.T. Realmuto | | |
| 2 | J.T. Realmuto | | Chrome Topper |
| 45 | Didi Gregorius | | |
| 45 | Didi Gregorius | | Chrome Topper |
| 76 | Bryce Harper | | |
| 76 | Bryce Harper | | Armed Forces Day |
| 76 | Bryce Harper | | Chrome Topper |
| 89 | Jake Arrieta | | |
| 115 | Rhys Hoskins | | |
| 115 | Rhys Hoskins | | Jackie Robinson Day |
| 115 | Rhys Hoskins | | Chrome Topper |
| 115 | Rhys Hoskins | | Jackie Robinson Day Auto |
| 154 | Nick Williams | | |
| 181 | Jean Segura | | |
| 199 | Adam Haseley | | |
| 231 | Aaron Nola | | |
| 240 | Scott Kingery | | |
| 282 | Aaron Nola | | |
| 282 | Aaron Nola | | Jackie Robinson Day |
| 282 | Aaron Nola | | Player's Weekend |
| 282 | Aaron Nola | | Chrome Topper |
| 282 | Aaron Nola | | Jackie Robinson Day Auto |
| 307 | Mike Schmidt | | |
| AG-AN | Aaron Nola | | Auto Relic |
| AG-RH | Rhys Hoskins | | Auto Relic |
| BAL-BH | Bryce Harper | | Auto Relic |
| BAL-RH | Rhys Hoskins | | Auto Relic |
| GQA-CD | Corey Dickerson | | Auto |
| GQPP-RH | Rhys Hoskins | | Relic |
| TOD-17 | Bryce Harper | | |
| TOD-20 | Aaron Nola | | |
| | | | |
| --- | --- | --- | --- |
| 61 | Josh Bell | | |
| 61 | Josh Bell | | Chrome Topper |
| 130 | Kevin Newman | | |
| 131 | Colin Moran | | |
| 167 | Bryan Reynolds | | |
| 167 | Bryan Reynolds | | Player's Weekend |
| 193 | Trevor Williams | | |
| 196 | Mitch Keller | | |
| 218 | Starling Marte | | |
| 218 | Starling Marte | | Chrome Topper |
| 220 | James Marvel | RC | |
| 254 | Chris Archer | | |
| 308 | Roberto Clemente | | |
| 319 | Honus Wagner | | |
| GQA-BR | Bryan Reynolds | | Auto |
| GQA-KN | Kevin Newman | | Auto |
| GQPP-JBE | Josh Bell | | Relic |
| TOD-4 | Starling Marte | | |
| | | | |
| --- | --- | --- | --- |
| 28 | Brock Burke | RC | |
| 59 | Willie Calhoun | | |
| 98 | Nick Solak | RC | |
| 98 | Nick Solak | RC | Player's Weekend |
| 112 | Jonathan Hernandez | RC | |
| 149 | Shin-Soo Choo | | |
| 156 | Rougned Odor | | |
| 160 | Mike Minor | | |
| 247 | Ronald Guzman | | |
| GQA-KA | Kolby Allard | | Auto |
| GQPP-IR | Ivan Rodriguez | | Relic |
| GQPP-JG | Joey Gallo | | Relic |
| | | | |
| --- | --- | --- | --- |
| 41 | Blake Snell | | |
| 52 | Brendan McKay | RC | |
| 52 | Brendan McKay | RC | Chrome Topper |
| 52 | Brendan McKay | | Chrome Topper Auto |
| 68 | Randy Arozarena | RC | |
| 176 | Kevin Kiermaier | | |
| 176 | Kevin Kiermaier | | Player's Weekend |
| 189 | Tyler Glasnow | | |
| 205 | Austin Meadows | | |
| 205 | Austin Meadows | | Chrome Topper |
| 205 | Austin Meadows | | Chrome Topper Auto |
| 216 | Willy Adames | | |
| 271 | Michael Brosseau | RC | |
| FTM-7 | Brendan McKay | RC | Mini |
| FTM-18 | Austin Meadows | | Mini |
| FTMA-AM | Austin Meadows | | Auto Mini |
| FTMA-BM | Brendan McKay | RC | Auto Mini |
| GQA-AM | Austin Meadows | | Auto |
| GQA-BM | Brendan McKay | RC | Auto |
| GQA-CM | Charlie Morton | | Auto |
| MRA-BM | Brendan McKay | RC | Auto Mini |
| | | | |
| --- | --- | --- | --- |
| 1 | Mookie Betts | | |
| 1 | Mookie Betts | | Armed Forces Day |
| 1 | Mookie Betts | | Chrome Topper |
| 19 | Brock Holt | | |
| 67 | David Price | | |
| 85 | Eduardo Rodriguez | | |
| 96 | Xander Bogaerts | | |
| 96 | Xander Bogaerts | | Jackie Robinson Day |
| 96 | Xander Bogaerts | | Player's Weekend |
| 96 | Xander Bogaerts | | Chrome Topper |
| 117 | Andrew Benintendi | | |
| 117 | Andrew Benintendi | | Chrome Topper |
| 136 | Rafael Devers | | |
| 136 | Rafael Devers | | Jackie Robinson Day |
| 136 | Rafael Devers | | Armed Forces Day |
| 136 | Rafael Devers | | Chrome Topper |
| 136 | Rafael Devers | | Jackie Robinson Day Auto |
| 195 | J.D. Martinez | | |
| 195 | J.D. Martinez | | Jackie Robinson Day |
| 195 | J.D. Martinez | | Chrome Topper |
| 195 | J.D. Martinez | | Jackie Robinson Day Auto |
| 206 | Christian Vazquez | | |
| 222 | Michael Chavis | | |
| 222 | Michael Chavis | | Chrome Topper |
| 222 | Michael Chavis | | Chrome Topper Auto |
| 306 | Carl Yastrzemski | | |
| 313 | Pedro Martinez | | |
| 314 | Ted Williams | | |
| AG-MC | Michael Chavis | | Auto Relic |
| ALC-AB | Andrew Benintendi | | Auto Relic |
| ALC-JDM | J.D. Martinez | | Auto Relic |
| ALC-XB | Xander Bogaerts | | Auto Relic |
| FTM-4 | Michael Chavis | | Mini |
| FTMA-MC | Michael Chavis | | Auto Mini |
| GQA-JDM | J.D. Martinez | | Auto |
| GQA-MCH | Michael Chavis | | Auto |
| GQAP-JDM | J.D. Martinez | | Auto Relic |
| GQPP-AB | Andrew Benintendi | | Relic |
| GQPP-DO | David Ortiz | | Relic |
| GQPP-JDM | J.D. Martinez | | Relic |
| GQPP-XB | Xander Bogaerts | | Relic |
| TOD-21 | Rafael Devers | | |
| | | | |
| --- | --- | --- | --- |
| 27 | Joey Votto | | |
| 35 | Aristides Aquino | RC | |
| 35 | Aristides Aquino | RC | Player's Weekend |
| 35 | Aristides Aquino | RC | Chrome Topper |
| 105 | Eugenio Suarez | | |
| 105 | Eugenio Suarez | | Chrome Topper |
| 151 | Michael Lorenzen | | |
| 236 | Derek Dietrich | | |
| 239 | Nick Senzel | | |
| 239 | Nick Senzel | | Chrome Topper |
| 249 | Luis Castillo | | |
| 264 | Trevor Bauer | | |
| 272 | Raisel Iglesias | | |
| 299 | Sonny Gray | | |
| 303 | Deion Sanders | | |
| 309 | Johnny Bench | | |
| FTM-14 | Nick Senzel | | Mini |
| GQA-AAQ | Aristides Aquino | RC | Auto |
| GQA-NS | Nick Senzel | | Auto |
| GQPP-KEG | Ken Griffey Jr. | | Relic |
| | | | |
| --- | --- | --- | --- |
| 5 | Dom Nunez | RC | |
| 8 | Garrett Hampson | | |
| 75 | David Dahl | | |
| 103 | Charlie Blackmon | | |
| 103 | Charlie Blackmon | | Player's Weekend |
| 103 | Charlie Blackmon | | Chrome Topper |
| 111 | Trevor Story | | |
| 111 | Trevor Story | | Chrome Topper |
| 116 | Brendan Rodgers | | |
| 235 | Ryan McMahon | | |
| 265 | Sam Hilliard | RC | |
| 267 | Peter Lambert | | |
| 294 | Nolan Arenado | | |
| 294 | Nolan Arenado | | Armed Forces Day |
| 294 | Nolan Arenado | | Chrome Topper |
| GQAP-GH | Garrett Hampson | | Auto Relic |
| GQAP-NA | Nolan Arenado | | Auto Relic |
| GQPP-NA | Nolan Arenado | | Relic |
| TOD-6 | Trevor Story | | |
| | | | |
| --- | --- | --- | --- |
| 77 | Josh Staumont | RC | |
| 106 | Meibrys Viloria | | |
| 147 | Bubba Starling | RC | |
| 179 | Nicky Lopez | | |
| 192 | Ryan O'Hearn | | |
| 208 | Adalberto Mondesi | | |
| 208 | Adalberto Mondesi | | Chrome Topper |
| 214 | Danny Duffy | | |
| 242 | Hunter Dozier | | |
| 242 | Hunter Dozier | | Player's Weekend |
| 269 | Jorge Soler | | |
| 281 | Whit Merrifield | | |
| 281 | Whit Merrifield | | Chrome Topper |
| GQA-WM | Whit Merrifield | | Auto |
| GQAP-WM | Whit Merrifield | | Auto Relic |
| GQPP-GB | George Brett | | Relic |
| | | | |
| --- | --- | --- | --- |
| 32 | Dawel Lugo | | |
| 37 | Dario Agrazal | RC | |
| 60 | Joe Jimenez | | |
| 99 | Matthew Boyd | | |
| 125 | Tyler Alexander | | |
| 182 | Brandon Dixon | | |
| 191 | Victor Reyes | | |
| 225 | Jake Rogers | RC | |
| 257 | Willi Castro | | |
| 266 | Miguel Cabrera | | |
| 266 | Miguel Cabrera | | Player's Weekend |
| 297 | Travis Demeritte | RC | |
| GQA-MC | Miguel Cabrera | | Auto |
| GQPP-MC | Miguel Cabrera | | Relic |
| | | | |
| --- | --- | --- | --- |
| 12 | Max Kepler | | |
| 12 | Max Kepler | | Chrome Topper |
| 46 | Willians Astudillo | | |
| 46 | Willians Astudillo | | Jackie Robinson Day |
| 46 | Willians Astudillo | | Chrome Topper |
| 46 | Willians Astudillo | | Jackie Robinson Day Auto |
| 71 | Jose Berrios | | |
| 71 | Jose Berrios | | Player's Weekend |
| 71 | Jose Berrios | | Armed Forces Day |
| 71 | Jose Berrios | | Chrome Topper |
| 95 | Jorge Polanco | | |
| 95 | Jorge Polanco | | Chrome Topper |
| 107 | Nelson Cruz | | |
| 107 | Nelson Cruz | | Chrome Topper |
| 145 | Mitch Garver | | |
| 190 | Eddie Rosario | | |
| 190 | Eddie Rosario | | Armed Forces Day |
| 190 | Eddie Rosario | | Chrome Topper |
| 203 | Luis Arraez | | |
| 246 | Brusdar Graterol | RC | |
| 246 | Brusdar Graterol | RC | Chrome Topper |
| 289 | Byron Buxton | | |
| FTM-19 | Willians Astudillo | | Mini |
| FTMA-WA | Willians Astudillo | | Auto Mini |
| GQA-WA | Willians Astudillo | | Auto |
| GQAP-WA | Willians Astudillo | | Auto Relic |
| | | | |
| --- | --- | --- | --- |
| 39 | Yolmer Sanchez | | |
| 44 | Alex Colome | | |
| 62 | Dylan Cease | RC | |
| 62 | Dylan Cease | RC | Player's Weekend |
| 62 | Dylan Cease | RC | Chrome Topper |
| 62 | Dylan Cease | | Chrome Topper Auto |
| 94 | Eloy Jimenez | | |
| 122 | Luis Robert | RC | |
| 132 | Yoan Moncada | | |
| 132 | Yoan Moncada | | Armed Forces Day |
| 134 | Tim Anderson | | |
| 134 | Tim Anderson | | Jackie Robinson Day |
| 134 | Tim Anderson | | Jackie Robinson Day Auto |
| 148 | Nomar Mazara | | |
| 165 | Jose Abreu | | |
| 165 | Jose Abreu | | Chrome Topper |
| 183 | Yasmani Grandal | | |
| 260 | Zack Collins | RC | |
| 277 | Lucas Giolito | | |
| 277 | Lucas Giolito | | Chrome Topper |
| ALC-EJ | Eloy Jimenez | | Auto Relic |
| FTM-3 | Luis Robert | RC | Mini |
| FTM-17 | Dylan Cease | RC | Mini |
| FTMA-DC | Dylan Cease | RC | Auto Mini |
| GQA-DC | Dylan Cease | RC | Auto |
| GQA-LR | Luis Robert | RC | Auto |
| GQA-ZC | Zack Collins | RC | Auto |
| GQPP-FT | Frank Thomas | | Relic |
| GQPP-JT | Jim Thome | | Relic |
| MRA-DC | Dylan Cease | RC | Auto Mini |
| MRA-ZC | Zack Collins | RC | Auto Mini |
| | | | |
| --- | --- | --- | --- |
| 42 | Gio Urshela | | |
| 42 | Gio Urshela | | Chrome Topper |
| 42 | Gio Urshela | | Chrome Topper Auto |
| 50 | Aaron Judge | | |
| 50 | Aaron Judge | | Player's Weekend |
| 50 | Aaron Judge | | Chrome Topper |
| 50 | Aaron Judge | | Chrome Topper Auto |
| 56 | Giancarlo Stanton | | |
| 93 | Gerrit Cole | | |
| 93 | Gerrit Cole | | Chrome Topper |
| 100 | Gleyber Torres | | |
| 100 | Gleyber Torres | | Chrome Topper |
| 100 | Gleyber Torres | | Chrome Topper Auto |
| 142 | Luis Severino | | |
| 152 | Gary Sanchez | | |
| 152 | Gary Sanchez | | Chrome Topper |
| 169 | Adam Ottavino | | |
| 177 | James Paxton | | |
| 177 | James Paxton | | Chrome Topper |
| 213 | Aroldis Chapman | | |
| 213 | Aroldis Chapman | | Chrome Topper |
| 278 | DJ LeMahieu | | |
| 278 | DJ LeMahieu | | Armed Forces Day |
| 278 | DJ LeMahieu | | Chrome Topper |
| 301 | Babe Ruth | | |
| 302 | Mariano Rivera | | |
| AG-CA | Chance Adams | | Auto Relic |
| AG-GT | Gleyber Torres | | Auto Relic |
| AG-GU | Gio Urshela | | Auto Relic |
| ALC-GT | Gleyber Torres | | Auto Relic |
| ALC-GU | Gio Urshela | | Auto Relic |
| FTM-10 | Gleyber Torres | | Mini |
| FTM-20 | Aaron Judge | | Mini |
| FTMA-AJ | Aaron Judge | | Auto Mini |
| FTMA-GT | Gleyber Torres | | Auto Mini |
| GQA-AJ | Aaron Judge | | Auto |
| GQA-CA | Chance Adams | | Auto |
| GQA-GT | Gleyber Torres | | Auto |
| GQA-GU | Gio Urshela | | Auto |
| GQA-TE | Thairo Estrada | | Auto |
| GQAP-AJ | Aaron Judge | | Auto Relic |
| GQPP-AJ | Aaron Judge | | Relic |
| GQPP-AR | Alex Rodriguez | | Relic |
| GQPP-GS | Gary Sanchez | | Relic |
| GQPP-GST | Giancarlo Stanton | | Relic |
| GQPP-TM | Thurman Munson | | Relic |
| TOD-11 | Aroldis Chapman | | |
| TOD-19 | Aaron Judge | | |