If you're a fan of modern politics and 1980s nostalgia, 2020 Topps DisgRace to the White House is the perfect set for you.
This on-demand series of Garbage Pail Kids cards returns after its release in 2016 with the official start of the 2020 campaign: The Iowa Caucus. DisgRace to the White House lampoons the people and noteworthy events surrounding the 2020 presidential election with an iconic Garbage Pail Kids twist.
Each set includes 12 sticker cards. There are six images used for each set and every sticker card has an alternative title. The stickers are available for sale for one week and final print runs are determined by consumer demand. Unlike most Topps on-demand products, DisgRace cards can only be purchased as a complete set and not as individual cards.
Our checklist includes all of the cards released in this set as well as final print runs. Clicking a link within the checklist will direct you to an affiliate retailer or to relevant eBay listings for that card.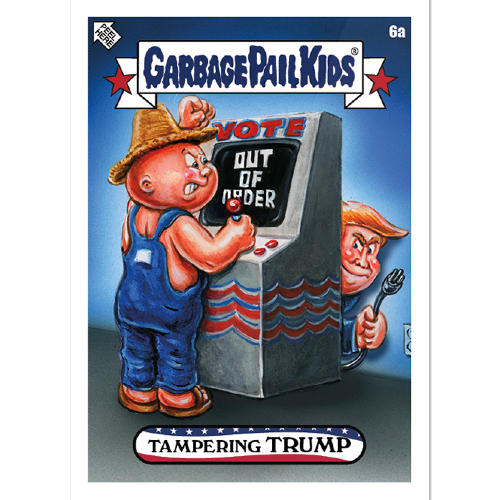 2020 Topps DisgRace to the White House Checklist
Set 1 – Iowa Caucus (#1-#6)
Set 2 – New Hampshire Primary (#7-#11)
Set 3 – Super Tuesday (#12-#17)
Set 4 – March Mayhem (#18-#23)
Set 5 – Presidential Nicknames (#24-#28)
Set 6 – Presidential Dropouts (#29-#34)
Set 7 – The Last Man Standing (#35-#39)
| # | Card Title | Print Run |
| --- | --- | --- |
| 1A | Socialist Sanders | 1870 |
| 1B | Blue-collar Bernie | 1870 |
| 2A | Warring Warren | 1870 |
| 2B | Electable Elizabeth | 1870 |
| 3A | Joe Malarkey | 1870 |
| 3B | Balderdash Biden | 1870 |
| 4A | Puppet Pete | 1870 |
| 4B | Butti Dooty | 1870 |
| 5A | Money Mike | 1870 |
| 5B | Billionaire Bloomberg | 1870 |
| 6A | Tampering Trump | 1870 |
| 6B | Disrupting Don | 1870 |
| 7A | Discolored Donald | 1666 |
| 7B | Tanned Trump | 1666 |
| 8A | Cheat Pete | 1666 |
| 8B | Bested Bernie | 1666 |
| 9A | Conjurin' Clinton | 1666 |
| 9B | Badgered Bernie | 1666 |
| 10A | Pull-apart Pelosi | 1666 |
| 10B | Halvesy Nancy | 1666 |
| 11A | Donny Wiz-Kid | 1666 |
| 11B | Moving Mo | 1666 |
| 12A | Discharging Donald | 1689 |
| 12B | Pardon Me Trump | 1689 |
| 13A | Power Point Pete | 1689 |
| 13B | Wrong Way Pete | 1689 |
| 14A | Take a Hike Mike | 1689 |
| 14B | Low Blow Liz | 1689 |
| 15A | Sunset Joe | 1689 |
| 15B | Biden Farewell | 1689 |
| 16A | Boogie Man Bernie | 1689 |
| 16B | The Bernie Man | 1689 |
| 17A | Baby Bloomer | 1689 |
| 17B | Dislikin' Mike | 1689 |
| 18A | Stop & Go Joe | 1357 |
| 18B | Biden-His-Time | 1357 |
| 19A | Medical Mike | 1357 |
| 19B | Pretending Pence | 1357 |
| 20A | Touchy-Feely Trump | 1357 |
| 20B | True-Love Trump | 1357 |
| 21A | Bernie Boyeee! | 1357 |
| 21B | Fear of a Bernie Planet | 1357 |
| 22A | Killer Jill | 1357 |
| 22B | Joslin Joe | 1357 |
| 23A | Mighty Mike | 1357 |
| 23B | Boom-Boom Bloom | 1357 |
| 24A | Stable-Gene-ius | 1687 |
| 24B | Don Juan | 1687 |
| 25A | Sleepy Joe | 1687 |
| 25B | Slo Mo Joe | 1687 |
| 26A | Crazy Bernie | 1687 |
| 26B | Social Sandy | 1687 |
| 27A | Nervous Nancy | 1687 |
| 27B | Paper Shredding Pelosi | 1687 |
| 28A | Billion Dollar Baby | 1687 |
| 28B | Billion Dollar Bloomy | 1687 |
| 29A | Amy Go Round | 1062 |
| 29B | Air Klobachar | 1062 |
| 30A | Liz & Let Liz | 1062 |
| 30B | Out the Door Warren | 1062 |
| 31A | Bullied Bloomy | 1062 |
| 31B | Uncle Mike | 1062 |
| 32A | Peter Plummet | 1062 |
| 32B | Petrified Pete | 1062 |
| 33A | Stinky Steyer | 1062 |
| 33B | One Tie Tom | 1062 |
| 34A | Big Bang Yang | 1062 |
| 34B | Yang Money | 1062 |
| 35A | Banning Bernie | 1307 |
| 35B | No Seat Sanders | 1307 |
| 36A | Electric Joe | 1307 |
| 36B | All Aglow Joe | 1307 |
| 37A | Victory Lap Bernie | 1307 |
| 37B | Stair Master Sanders | 1307 |
| 38A | No Buying Barack | 1307 |
| 38B | Biden Time Obama | 1307 |
| 39A | Rope-a-Dope Don | 1307 |
| 39B | Give-It-a-Go Joe | 1307 |
| 40a | Fired-up Trump | 1199 |
| 40b | Inferno Don | 1199 |
| 41a | Mail-in Joe | 1199 |
| 41b | Balloting Biden | 1199 |
| 42a | Pitching Pence | 1199 |
| 42b | Marketing Mike | 1199 |
| 43a | Bugged Bloomberg | 1199 |
| 43b | Fly Guy | 1199 |
| 44a | Teary Eyed Don | 1199 |
| 44b | Drippy Junior | 1199 |
| 45a | Unswell Mel | 1199 |
| 45b | Stumpin' Trump | 1199 |
| 46a | Courting Cortez | 1199 |
| 46b | Berning Biden | 1199 |
| 47a | Rippin' Rudy | 1199 |
| 47b | Unruly Rudy | 1199 |