2020 Bowman First Edition baseball is a limited online release. Since most product release dates were uncertain due to COVID-19, Topps hoped to fill the void with its online exclusive Bowman 1st Edition.
Even though the 10-card packs can be purchased through Topps.com, a portion of the packs are allotted to "MVP hobby stores." Using the 2020 Bowman design, each card will feature a First Edition Stamp.
In addition to several parallels, a number of autographed Chrome cards, with a 1st Edition foil stamp, are randomly inserted into packs.
Our checklist includes all of the cards in the series and can be sorted or searched by many different parameters. Clicking a link within the checklist will direct you to an affiliate retailer or to relevant eBay listings for that card.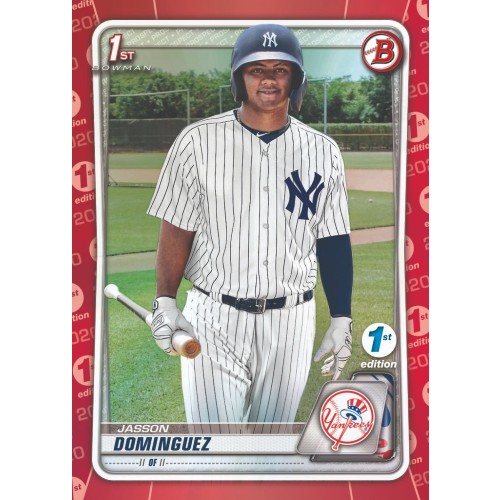 2020 Bowman First Edition Checklist
Base (BFE) – 150 Cards
Sky Blue Border – 1:2 packs
Blue Border – #/150
Yellow Border – #/75
Gold Border – #/50
Orange Border – #/25
Red Border – #/5
Platinum – 1/1
| - | # | Player | Team |
| --- | --- | --- | --- |
| | BFE-2 | Drew Waters | Braves |
| | BFE-3 | Jacob Amaya | Dodgers |
| | BFE-4 | Kody Hoese | Dodgers |
| | BFE-5 | Cristian Pache | Braves |
| | BFE-8 | Jasson Dominguez | Yankees |
| | BFE-9 | Aaron Shortridge | Pirates |
| | BFE-10 | Xavier Edwards | Padres |
| | BFE-11 | Jesus Sanchez | Marlins |
| | BFE-13 | Blake Rutherford | White Sox |
| | BFE-14 | Ulrich Bojarski | Tigers |
| | BFE-15 | Jordyn Adams | Angels |
| | BFE-17 | Niko Hulsizer | Rays |
| | BFE-18 | Triston Casas | Red Sox |
| | BFE-21 | Shea Langeliers | Braves |
| | BFE-22 | Grayson Rodriguez | Orioles |
| | BFE-23 | Ruben Cardenas | Rays |
| | BFE-25 | Bobby Witt Jr. | Royals |
| | BFE-26 | Andrew Vaughn | White Sox |
| | BFE-27 | Kristian Robinson | Diamondbacks |
| | BFE-28 | Ronny Mauricio | Mets |
| | BFE-30 | Jhon Diaz | Rays |
| | BFE-33 | Sam Huff | Rangers |
| | BFE-34 | Zack Brown | Brewers |
| | BFE-35 | Brice Turang | Brewers |
| | BFE-36 | Ryan Mountcastle | Orioles |
| | BFE-38 | Gus Varland | Athletics |
| | BFE-39 | Nick Lodolo | Reds |
| | BFE-40 | Tyler Freeman | Indians |
| | BFE-41 | Rece Hinds | Reds |
| | BFE-42 | Brady Singer | Royals |
| | BFE-44 | Ethan Hankins | Indians |
| | BFE-45 | Daz Cameron | Tigers |
| | BFE-46 | Sherten Apostel | Rangers |
| | BFE-47 | Hunter Greene | Reds |
| | BFE-48 | Josiah Gray | Dodgers |
| | BFE-49 | Brailyn Marquez | Cubs |
| | BFE-50 | Adley Rutschman | Orioles |
| | BFE-51 | Everson Pereira | Yankees |
| | BFE-52 | Bayron Lora | Rangers |
| | BFE-54 | Brady McConnell | Royals |
| | BFE-56 | Cristian Javier | Astros |
| | BFE-57 | Aaron Ashby | Brewers |
| | BFE-59 | Glenallen Hill Jr. | Diamondbacks |
| | BFE-60 | Alvaro Seijas | Cardinals |
| | BFE-61 | Jeremy Pena | Astros |
| | BFE-63 | Franklin Perez | Tigers |
| | BFE-64 | Tanner Houck | Red Sox |
| | BFE-65 | Damon Jones | Phillies |
| | BFE-69 | Canaan Smith | Yankees |
| | BFE-70 | Forrest Whitley | Astros |
| | BFE-72 | Jazz Chisholm | Marlins |
| | BFE-73 | Jonathan India | Reds |
| | BFE-75 | Seth Beer | Diamondbacks |
| | BFE-76 | Joey Cantillo | Padres |
| | BFE-78 | Chris Vallimont | Twins |
| | BFE-79 | Sixto Sanchez | Marlins |
| | BFE-80 | Alex Kirilloff | Twins |
| | BFE-81 | Tristen Lutz | Brewers |
| | BFE-82 | Freudis Nova | Astros |
| | BFE-84 | Daniel Lynch | Royals |
| | BFE-85 | Antonio Cabello | Yankees |
| | BFE-86 | Bobby Dalbec | Red Sox |
| | BFE-87 | Colton Welker | Rockies |
| | BFE-90 | Adam Hall | Orioles |
| | BFE-91 | Jackson Rutledge | Nationals |
| | BFE-92 | Dane Dunning | White Sox |
| | BFE-93 | Royce Lewis | Twins |
| | BFE-95 | Nolan Jones | Indians |
| | BFE-96 | Jerar Encarnacion | Marlins |
| | BFE-97 | Ian Anderson | Braves |
| | BFE-98 | Alek Thomas | Diamondbacks |
| | BFE-99 | Matt Manning | Tigers |
| | BFE-100 | Jo Adell | Angels |
| | BFE-101 | Nick Madrigal | White Sox |
| | BFE-108 | Tarik Skubal | Tigers |
| | BFE-109 | Oscar Gonzalez | Indians |
| | BFE-110 | Aramis Ademan | Cubs |
| | BFE-115 | Jasseel De La Cruz | Braves |
| | BFE-116 | J.J. Bleday | Marlins |
| | BFE-117 | Joe Ryan | Rays |
| | BFE-118 | Keoni Cavaco | Twins |
| | BFE-120 | Isaac Paredes | Tigers |
| | BFE-121 | Grant Lavigne | Rockies |
| | BFE-122 | Riley Greene | Tigers |
| | BFE-123 | Jordan Balazovic | Twins |
| | BFE-128 | Bryan Mata | Red Sox |
| | BFE-131 | Miguel Vargas | Dodgers |
| | BFE-133 | Grant Little | Padres |
| | BFE-134 | Gunnar Henderson | Orioles |
| | BFE-136 | Miguel Amaya | Cubs |
| | BFE-137 | Ryan Rolison | Rockies |
| | BFE-139 | Anthony Volpe | Yankees |
| | BFE-140 | Nick Bennett | Brewers |
| | BFE-141 | Brennen Davis | Cubs |
| | BFE-142 | Casey Mize | Tigers |
| | BFE-143 | Keibert Ruiz | Dodgers |
| | BFE-144 | Jarren Duran | Red Sox |
| | BFE-145 | Robert Puason | Athletics |
| | BFE-147 | Will Wilson | Angels |
| | BFE-150 | Luis Robert | White Sox |
| | BFE-1 | Wander Franco | Rays |
| | BFE-6 | Zack Thompson | Cardinals |
| | BFE-7 | Briam Campusano | Mets |
| | BFE-12 | Ronaldo Hernandez | Rays |
| | BFE-16 | Austin Beck | Athletics |
| | BFE-19 | Julio Rodriguez | Mariners |
| | BFE-20 | Shane Baz | Rays |
| | BFE-24 | Mason Denaburg | Nationals |
| | BFE-29 | Alec Bohm | Phillies |
| | BFE-31 | Estevan Florial | Yankees |
| | BFE-32 | Elehuris Montero | Cardinals |
| | BFE-37 | Wilfred Astudillo | Mets |
| | BFE-43 | Cal Mitchell | Pirates |
| | BFE-53 | Clarke Schmidt | Yankees |
| | BFE-55 | Spencer Howard | Phillies |
| | BFE-58 | Logan Gilbert | Mariners |
| | BFE-62 | CJ Abrams | Padres |
| | BFE-66 | Nolan Gorman | Cardinals |
| | BFE-67 | Ke'Bryan Hayes | Pirates |
| | BFE-68 | Bryson Stott | Phillies |
| | BFE-71 | Drew Mendoza | Nationals |
| | BFE-74 | MacKenzie Gore | Padres |
| | BFE-77 | Evan White | Mariners |
| | BFE-83 | Tim Cate | Nationals |
| | BFE-88 | Logan Davidson | Athletics |
| | BFE-89 | Matthew Liberatore | Rays |
| | BFE-94 | Jarred Kelenic | Mariners |
| | BFE-102 | Owen Miller | Padres |
| | BFE-103 | Marco Luciano | Giants |
| | BFE-104 | Jordan Groshans | Blue Jays |
| | BFE-105 | Nick Allen | Athletics |
| | BFE-106 | Dylan Carlson | Cardinals |
| | BFE-107 | Cole Winn | Rangers |
| | BFE-111 | Oneil Cruz | Pirates |
| | BFE-112 | Joey Bart | Giants |
| | BFE-113 | Josh Jung | Rangers |
| | BFE-114 | Luis Garcia | Nationals |
| | BFE-119 | Hans Crouse | Rangers |
| | BFE-124 | Nate Pearson | Blue Jays |
| | BFE-125 | Deivi Garcia | Yankees |
| | BFE-126 | Luis Garcia | Phillies |
| | BFE-127 | Leody Taveras | Rangers |
| | BFE-129 | Hunter Bishop | Giants |
| | BFE-130 | Taylor Trammell | Padres |
| | BFE-132 | Luis Gil | Yankees |
| | BFE-135 | Eric Pardinho | Blue Jays |
| | BFE-138 | Jorge Mateo | Athletics |
| | BFE-146 | Travis Swaggerty | Pirates |
| | BFE-148 | Heliot Ramos | Giants |
| | BFE-149 | Alek Manoah | Blue Jays |