1993 SkyBox Marvel Universe trading cards (sometimes referred to as Series IV) were the peak of 1990s comic book cards. In some ways they resemble the often panned DC Bloodlines series but the artwork hits the mark with more consistency throughout this set.
The first 135 cards in this series combine in groups of nine to create full page works of art when placed in binder pages. Cards #136-144 feature "Unsolved mysteries of the Marvel Universe" while the remainder of the set contain Famous Battles that highlight two opposing characters. It is the Famous Battles cards that most closely resemble DC Bloodlines.
Beyond the 180 card base set, there was a nine card foil insert set and a Spider-Man hologram card included on the checklist.
This checklist is separated by subset. Scroll through the entire list or select a specific subset by selecting it from the checklist key below. Clicking a link within this checklist will direct you to an affiliate retailer or to relevant eBay listings.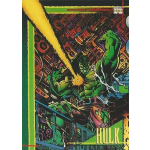 1993 SkyBox Marvel Universe Checklist
| | |
| --- | --- |
| 1 | Hulk |
| 2 | Moon Knight |
| 3 | Siege |
| 4 | Deadzone |
| 5 | Wild Pack |
| 6 | Silver Sable |
| 7 | Doc Samson |
| 8 | Deathlok |
| 9 | Moses Magnum |
| 10 | Warlock |
| 11 | Silver Surfer |
| 12 | Quasar |
| 13 | Starhawk |
| 14 | Galactus |
| 15 | Goddess |
| 16 | Thanos |
| 17 | Morg |
| 18 | Drax |
| 19 | Nova |
| 20 | Firestar |
| 21 | Cardinal |
| 22 | Namorita |
| 23 | Speedball |
| 24 | Turbo |
| 25 | Rage |
| 26 | Night Thrasher |
| 27 | Darkhawk |
| 28 | Deadpool |
| 29 | Cannonball |
| 30 | Slayback |
| 31 | Sabretooth |
| 32 | Shatterstar |
| 33 | Apocalypse |
| 34 | Mr. Sinister |
| 35 | Cable |
| 36 | Stryfe |
| 37 | Guardian |
| 38 | Micromax |
| 39 | Wildheart |
| 40 | Captain Britain |
| 41 | Phoenix |
| 42 | Nightcrawler |
| 43 | Havok |
| 44 | Psylocke |
| 45 | Strong Guy |
| 46 | Dr. Strange |
| 47 | Dormammu |
| 48 | Beta Ray Bill |
| 49 | Loki |
| 50 | Cobweb |
| 51 | Blackheart |
| 52 | Sleepwalker |
| 53 | Thor |
| 54 | Hellstorm |
| 55 | Venom |
| 56 | Demogoblin |
| 57 | Carnage |
| 58 | Hobgoblin |
| 59 | Spider-Man |
| 60 | Cardiac |
| 61 | Rhino |
| 62 | Shock |
| 63 | Daredevil |
| 64 | Scarlet Witch |
| 65 | Spider-Woman |
| 66 | Splice |
| 67 | Iron Man |
| 68 | Wonder Man |
| 69 | War Machine |
| 70 | Namor |
| 71 | Tiger Shark |
| 72 | U.S. Agent |
| 73 | Mr. Fantastic |
| 74 | Invisible Woman |
| 75 | Human Torch |
| 76 | Lyja |
| 77 | Occulus |
| 78 | Molecule Man |
| 79 | Dr. Doom |
| 80 | Thing |
| 81 | Klaw |
| 82 | She-Hulk |
| 83 | Punisher |
| 84 | Falcon |
| 85 | Hardcore |
| 86 | Nomad |
| 87 | Terror, Inc. |
| 88 | Iron Fist |
| 89 | Cage |
| 90 | Scarecrow |
| 91 | Black Knight |
| 92 | Crystal |
| 93 | Sersi |
| 94 | Thunderstrike |
| 95 | Captain America |
| 96 | Hercules |
| 97 | Bloodaxe |
| 98 | Red Skull |
| 99 | Proctor |
| 100 | Deathwatch |
| 101 | Lilith |
| 102 | Heart Attack |
| 103 | Blaze |
| 104 | Basilisk |
| 105 | Ghost Rider |
| 106 | Darkhold Redeemers |
| 107 | Morbius |
| 108 | Nightstalkers |
| 109 | Storm |
| 110 | Archangel |
| 111 | Beast |
| 112 | Rogue |
| 113 | Magneto |
| 114 | Gambit |
| 115 | Cyclops |
| 116 | Wolverine |
| 117 | Bishop |
| 118 | Ovoids |
| 119 | Brood |
| 120 | Titans |
| 121 | Badoon |
| 122 | Asgardians |
| 123 | Skrulls |
| 124 | Shi'ar |
| 125 | Kree |
| 126 | Rigellians |
| 127 | Black Axe |
| 128 | Techno Wizards |
| 129 | Motormouth |
| 130 | Bloodseed |
| 131 | Dark Angel |
| 132 | Wild Thing |
| 133 | Die-Cut |
| 134 | Death's Head II |
| 135 | Death Metal |
| 136 | The Origin of Wolverine |
| 137 | The Origin of Cable |
| 138 | The Face of Darkhawk |
| 139 | The Origin of Ghost Rider |
| 140 | The Fate of the X-Men |
| 141 | The Face of Doctor Doom |
| 142 | The Sixth Member of the Infinity Watch |
| 143 | The Secret of Spider-Man's Parents |
| 144 | The Origin of Nightcrawler |
| 145 | Spider-Man vs Carnage |
| 146 | Cable vs Stryfe vs Stryfe |
| 147 | Ghost Rider vs Lilith vs Lilith |
| 148 | Silver Surfer vs Morg |
| 149 | Wolverine vs Sabretooth |
| 150 | Thor vs Loki |
| 151 | War Machine |
| 152 | Spider-Man vs Venom |
| 153 | Punisher vs Thorn |
| 154 | X-Cutioner's Song |
| 155 | Spider-Man vs Sinister Six |
| 156 | Infinity War |
| 157 | Spirits of Venom |
| 158 | Hulk vs Leader |
| 159 | Ghost Rider vs Blackout |
| 160 | Dr. Strange vs Dormammu |
| 161 | Wolverine vs Cyber |
| 162 | Captain America vs Crossbones vs Crossbones |
| 163 | Punisher vs Jigsaw |
| 164 | Wolverine vs Venom |
| 165 | Spider-Man vs Juggernaut |
| 166 | Darkhawk vs Evilhawk |
| 167 | X-Force vs Brotherhood of Evil Mutants |
| 168 | Daredevil vs Typhoid Mary |
| 169 | Spider-Man vs Kingpin |
| 170 | Thor vs Bloodaxe |
| 171 | Warlock vs Man-Beast |
| 172 | Ghost Rider vs Blaze |
| 173 | Hulk vs Hulk |
| 174 | Fantastic Four vs Secret Defenders |
| 175 | Spider-Man vs Cardiac |
| 176 | Punisher vs Ghost Rider |
| 177 | Wolverine vs Omega Red |
| 178 | Cable vs Deadpool |
| 179 | Hulk vs X-Factor |
| 180 | Checklist |
| | |
| --- | --- |
| I1 | Doom 2099 |
| I2 | Vulture 2099 |
| I3 | Ravage 2099 |
| I4 | Fearmaster |
| I5 | Spider-Man 2099 |
| I6 | Punisher 2099 |
| I7 | Specialist |
| I8 | Deathstryk |
| I9 | Tiger Wylde |
| | |
| --- | --- |
| HOLO | Spider-Man vs. Venom |
| Promo 1 | Deathlok |
| Promo 2 | Silver Sable |