1988 Topps Dinosaurs Attack trading cards blend prehistoric monsters with UFOs and spacemen to create a pulp art set in the style and design of the classic Mars Attacks cards from the 1960s.
There is no real modern twist to the artwork as the style is very much in the vein of Norman Saunders' legendary work with Topps throughout the 60s but the blood and guts is turned up to 11 and nothing is off limits.
Each cardback features an "above the fold" newspaper headline that tells the story portrayed on the front of the card with several different newspaper designs represented throughout the set.
Along with the 55 shocking cards, there are 11 stickers to collect. The stickers, distributed one per pack, are simple, bloodless, pictures of various dinosaurs and may be the only child friendly part of this set.
Packs and boxes are fairly commonplace as the set has developed more of a following in the years since its release than it enjoyed in 1988. Our checklist includes all of the cards and stickers in the set and can be searched or sorted by card number or title. In 2018, Topps used the packaging art as card #24 in their 80th Anniversary Wrapper Art series.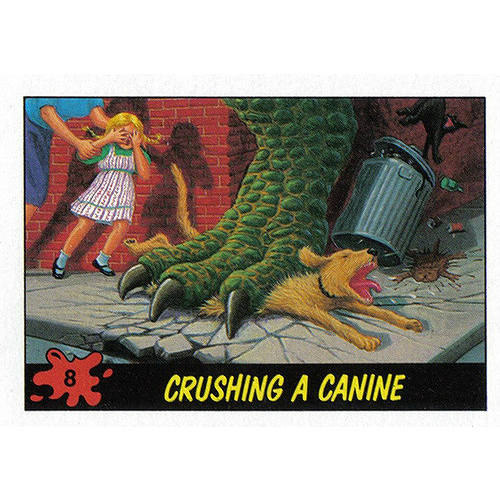 1988 Topps Dinosaurs Attack Checklist
Base Set – 55 Cards
Stickers – 11 Stickers
| # | Card Title |
| --- | --- |
| 1 | Forward |
| 2 | Experiment in Space! |
| 3 | Time Scanner Disaster! |
| 4 | The Past Comes Alive! |
| 5 | Homeroom Horror |
| 6 | Police Precinct Assaulted! |
| 7 | D.C. Holocaust |
| 8 | Crushing a Canine |
| 9 | Nuptial Nightmare |
| 10 | Italy Under Seige! |
| 11 | Trapped in the Basement! |
| 12 | Panic in the Stadium |
| 13 | Rock Concert Carnage |
| 14 | Lunch Break! |
| 15 | The Colonel … Shredded! |
| 16 | Heartland Horror |
| 17 | Blue Water, Savage Death |
| 18 | Tourist Trap |
| 19 | Madness in the Streets |
| 20 | Bashing the BMT |
| 21 | Fast Food Frenzy |
| 22 | The Behemoth Fries |
| 23 | The Perfect Wave |
| 24 | London in Flames |
| 25 | Day of the Duckbill |
| 26 | Coasting to Calamity |
| 27 | Soviets vs. Dimetrodons |
| 28 | Saurian Secrets |
| 29 | Monster in the Museum |
| 30 | A Kid Strikes Back! |
| 31 | Our Forces — Flattened! |
| 32 | Cat Lady's Revenge |
| 33 | Manhatten Island Swamped! |
| 34 | Animal Wars |
| 35 | A Lady in Distress |
| 36 | Comics Con Catastrophe! |
| 37 | Picnic of Peril |
| 38 | We Can't Hold Them Back!! |
| 39 | Trilobite Terror |
| 40 | Wrestling Riot |
| 41 | Entombed!! |
| 42 | Lights! Camera! Carnage! |
| 43 | Business Lunch |
| 44 | Meltdown!! |
| 45 | Anchorman's Peril |
| 46 | Grip of Horror |
| 47 | Supreme Evil |
| 48 | You Can't Let Them Win!! |
| 49 | Ripped Out of Time! |
| 50 | Gruesome Fate |
| 51 | Time Twister |
| 52 | The Ultimate Sacrifice |
| 53 | Prometheus Explodes! |
| 54 | Rebuilding Our World |
| 55 | Dinosaurs Attack! Synopsis Checklist |
| Sticker 1 | Allosaurus |
| Sticker 2 | Ankylosaurus |
| Sticker 3 | Dimetrodon |
| Sticker 4 | Brontosaurus |
| Sticker 5 | Parasaurolophus |
| Sticker 6 | Plesiosaurus |
| Sticker 7 | Pteranodon |
| Sticker 8 | Stegosaurus |
| Sticker 9 | Trachodon |
| Sticker 10 | Triceratops |
| Sticker 11 | Tyrannosaurus |