The checklist for 1982 Topps Baseball was the first of 11 consecutive sets to contain 792 cards.
The most famous card from this set is probably #21 which features "Orioles Future Stars" including a rookie Cal Ripken Jr. A more famous "rookie" card would be released later that year as a part of the 1982 Topps Traded checklist (this is the design used in the Topps Project 2020 set) but this Future Stars card is the only Topps card to be specifically designated as Ripken's rookie card.
396 (half) of the cards in this set have blackless parallels where the blank ink on the border as well as the player signature is missing from the card front.
Our checklist includes all of the cards in this series and can be searched or sorted as needed.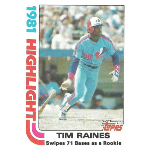 1982 Topps Baseball Checklist
Base Set – 792 Cards
Blackless parallel – 396 Cards
| | | |
| --- | --- | --- |
| 24 | Dave Frost | |
| 55 | Rick Burleson | |
| 58 | John D'Acquisto | |
| 74 | Bob Clark | |
| 94 | Andy Hassler | |
| 134 | Dan Ford | |
| 158 | Brian Downing | |
| 162 | Bobby Grich | |
| 199 | Don Aase | |
| 229 | Geoff Zahn | |
| 251 | Fred Lynn | |
| 252 | Fred Lynn | |
| 257 | Larry Harlow | |
| 276 | Rod Carew | |
| 276 | Ken Forsch | |
| 284 | Bobby Grich | |
| 313 | John Harris | |
| 357 | Butch Hobson | |
| 385 | Ken Forsch | |
| 415 | Don Baylor | |
| 442 | Bruce Kison | |
| 469 | Ed Ott | |
| 500 | Rod Carew | |
| 501 | Rod Carew | |
| 514 | Joe Ferguson | |
| 547 | Rod Carew | |
| 572 | Juan Beniquez | |
| 602 | Freddie Patek | |
| 628 | Bill Travers | |
| 653 | Tom Brunansky | RC |
| 653 | Luis Sanchez | RC |
| 653 | Daryl Sconiers | RC |
| 659 | Fred Martinez | |
| 682 | Jesse Jefferson | |
| 702 | Steve Renko | |
| 744 | Mike Witt | RC |
| 772 | Bert Campaneris | |
| | | |
| --- | --- | --- |
| 5 | Nolan Ryan | |
| 34 | Joe Sambito | |
| 57 | Craig Reynolds | |
| 66 | Art Howe | |
| 66 | Nolan Ryan | |
| 90 | Nolan Ryan | |
| 119 | Joe Pittman | RC |
| 147 | Denny Walling | |
| 167 | Nolan Ryan | |
| 190 | J.R. Richard | |
| 218 | Dave Roberts | |
| 248 | Frank LaCorte | |
| 277 | Terry Puhl | |
| 305 | Don Sutton | |
| 306 | Don Sutton | |
| 325 | Jose Cruz | |
| 377 | Kiko Garcia | |
| 404 | Dickie Thon | |
| 433 | Alan Ashby | |
| 441 | Danny Heep | RC |
| 441 | Billy L. Smith | RC |
| 441 | Bobby Sprowl | RC |
| 453 | Art Howe | |
| 483 | Gary Woods | |
| 509 | Harry Spilman | |
| 539 | Vern Ruhle | |
| 582 | Luis Pujols | |
| 611 | Joe Niekro | |
| 640 | Cesar Cedeno | |
| 672 | Bob Knepper | |
| 683 | Phil Garner | |
| 698 | Tony Scott | |
| 734 | Mike Ivie | |
| 761 | Dave Smith | |
| | | |
| --- | --- | --- |
| 29 | Dwayne Murphy | |
| 60 | Tony Armas | |
| 87 | Matt Keough | |
| 113 | Steve McCatty | |
| 139 | Jeff Jones | |
| 148 | Mickey Klutts | |
| 156 | Rickey Henderson | |
| 156 | Steve McCatty | |
| 162 | Tony Armas | |
| 164 | Rickey Henderson | |
| 165 | Steve McCatty | |
| 167 | Steve McCatty | |
| 187 | Jeff Newman | |
| 217 | Bo McLaughlin | |
| 243 | Bob Owchinko | |
| 293 | Rob Picciolo | |
| 318 | Mike Heath | |
| 370 | Mike Norris | |
| 392 | Rick Bosetti | |
| 422 | Cliff Johnson | |
| 454 | Rick Langford | |
| 476 | Brian Kingman | |
| 531 | Rich Bordi | RC |
| 531 | Mark Budaska | RC |
| 531 | Kelvin Moore | RC |
| 534 | Dave McKay | |
| 578 | Shooty Babitt | RC |
| 610 | Rickey Henderson | |
| 633 | Mitchell Page | |
| 671 | Mike Davis | |
| 673 | Keith Drumright | RC |
| 692 | Wayne Gross | |
| 729 | Jim Spencer | |
| 757 | Tom Underwood | |
| 787 | Fred Stanley | |
| | | |
| --- | --- | --- |
| 19 | Ernie Whitt | |
| 49 | Alvis Woods | |
| 71 | Roy Lee Jackson | |
| 99 | Barry Bonnell | |
| 125 | Danny Ainge | |
| 155 | Otto Velez | |
| 196 | Willie Upshaw | |
| 203 | Jesse Barfield | RC |
| 203 | Brian Milner | RC |
| 203 | Greg Wells | RC |
| 223 | Lloyd Moseby | |
| 254 | Jorge Bell | RC |
| 282 | Ken Macha | |
| 314 | Buck Martinez | |
| 380 | Dave Stieb | |
| 412 | Luis Leal | |
| 437 | Juan Berenguer | |
| 470 | John Mayberry | |
| 499 | Paul Mirabella | |
| 518 | Garth Iorg | |
| 565 | Jackson Todd | |
| 596 | Damaso Garcia | |
| 606 | John Mayberry | |
| 606 | Dave Stieb | |
| 665 | Jim Clancy | |
| 677 | Alfredo Griffin | |
| 707 | Mark Bomback | |
| 739 | Joey McLaughlin | |
| 768 | Jerry Garvin | |
| | | |
| --- | --- | --- |
| 32 | Gene Garber | |
| 61 | Tommy Boggs | |
| 88 | Biff Pocoroba | |
| 115 | Gaylord Perry | |
| 126 | Claudell Washington | |
| 126 | Rick Mahler | |
| 145 | Bob Horner | |
| 185 | Phil Niekro | |
| 214 | Brian Asselstine | |
| 244 | Rufino Linares | RC |
| 271 | Larry Bradford | |
| 296 | Bob Walk | |
| 320 | Chris Chambliss | |
| 321 | Chris Chambliss | |
| 372 | Luis Gomez | |
| 393 | Al Hrabosky | |
| 424 | Bruce Benedict | |
| 451 | Ed Miller | |
| 482 | Glenn Hubbard | |
| 502 | Steve Bedrosian | RC |
| 502 | Brett Butler | RC |
| 502 | Larry Owen | RC |
| 507 | Terry Harper | |
| 536 | Rafael Ramirez | |
| 579 | Rick Mahler | RC |
| 608 | Jerry Royster | |
| 637 | Rick Camp | |
| 668 | Dale Murphy | |
| 697 | John Montefusco | |
| 733 | Larry McWilliams | |
| 758 | Claudell Washington | |
| | | |
| --- | --- | --- |
| 12 | Moose Haas | |
| 46 | Jerry Augustine | |
| 68 | Roy Howell | |
| 93 | Larry Hisle | |
| 122 | Jamie Easterly | |
| 150 | Ted Simmons | |
| 165 | Pete Vuckovich | |
| 168 | Rollie Fingers | |
| 195 | Paul Molitor | |
| 221 | Jim Slaton | |
| 268 | Rickey Keeton | RC |
| 280 | Ben Oglivie | |
| 308 | Charlie Moore | |
| 333 | Frank DiPino | RC |
| 333 | Marshall Edwards | RC |
| 333 | Chuck Porter | RC |
| 350 | Thad Bosley | |
| 378 | Mike Caldwell | |
| 408 | Ed Romero | |
| 435 | Robin Yount | |
| 466 | Randy Lerch | |
| 487 | Bob McClure | |
| 517 | Mark Brouhard | RC |
| 542 | Ned Yost | |
| 585 | Rollie Fingers | |
| 586 | Rollie Fingers | |
| 613 | Jim Gantner | |
| 643 | Pete Vuckovich | |
| 675 | Cecil Cooper | |
| 703 | Cecil Cooper | |
| 703 | Pete Vuckovich | |
| 709 | Don Money | |
| 737 | Reggie Cleveland | |
| 765 | Gorman Thomas | |
| | | |
| --- | --- | --- |
| 27 | Tom Herr | |
| 56 | Mark Littell | |
| 86 | Dane Iorg | |
| 108 | Bob Sykes | |
| 135 | Andy Rincon | |
| 168 | Bruce Sutter | |
| 181 | Silvio Martinez | |
| 186 | Keith Hernandez | |
| 186 | Bob Forsch | |
| 210 | Keith Hernandez | |
| 236 | John Martin | RC |
| 260 | Bruce Sutter | |
| 262 | Doug Bair | |
| 288 | Garry Templeton | |
| 316 | Steve Braun | |
| 347 | Bruce Sutter | |
| 367 | Jim Kaat | |
| 420 | George Hendrick | |
| 447 | Darrell Porter | |
| 448 | Darrell Porter | |
| 474 | Ken Oberkfell | |
| 503 | Julio Gonzalez | |
| 533 | Joaquin Andujar | |
| 561 | Glenn Brummer | RC |
| 561 | Luis DeLeon | RC |
| 561 | Gene Roof | RC |
| 574 | Mike Ramsey | |
| 604 | Orlando Sanchez | RC |
| 631 | Gene Tenace | |
| 658 | Tito Landrum | |
| 689 | Lary Sorensen | |
| 727 | Sixto Lezcano | |
| 749 | Bob Shirley | |
| 775 | Bob Forsch | |
| | | |
| --- | --- | --- |
| 23 | Willie Hernandez | |
| 33 | Jerry Morales | |
| 51 | Jay Howell | RC |
| 51 | Carlos Lezcano | RC |
| 51 | Ty Waller | RC |
| 62 | Mike Tyson | |
| 89 | Steve Henderson | |
| 117 | Rawly Eastwick | |
| 146 | Mike Griffin | |
| 188 | Randy Martz | |
| 215 | Mike Krukow | |
| 245 | Ken Reitz | |
| 273 | Doug Bird | |
| 303 | Bill Caudill | |
| 324 | Steve Dillard | |
| 374 | Tim Blackwell | |
| 403 | Jim Tracy | |
| 436 | Joe Strain | |
| 452 | Lee Smith | RC |
| 456 | Bill Buckner | |
| 456 | Randy Martz | |
| 484 | Ivan DeJesus | |
| 508 | Jody Davis | RC |
| 537 | Doug Capilla | |
| 580 | Bobby Bonds | |
| 607 | Leon Durham | |
| 639 | Ken Kravec | |
| 663 | Hector Cruz | |
| 699 | Dick Tidrow | |
| 732 | Mike Lum | |
| 760 | Bill Buckner | |
| | | |
| --- | --- | --- |
| 6 | Fernando Valenzuela | |
| 14 | Steve Howe | |
| 48 | Bobby Castillo | |
| 82 | Bob Welch | |
| 114 | Ken Landreaux | |
| 166 | Fernando Valenzuela | |
| 179 | Steve Garvey | |
| 180 | Steve Garvey | |
| 213 | Dave Stewart | RC |
| 247 | Pedro Guerrero | |
| 279 | Bill Russell | |
| 311 | Dusty Baker | |
| 311 | Burt Hooton | |
| 315 | Burt Hooton | |
| 338 | Davey Lopes | |
| 345 | Fernando Valenzuela | |
| 348 | Derrel Thomas | |
| 375 | Dusty Baker | |
| 410 | Ron Cey | |
| 411 | Ron Cey | |
| 444 | Terry Forster | |
| 477 | Steve Yeager | |
| 510 | Fernando Valenzuela | |
| 545 | Reggie Smith | |
| 546 | Reggie Smith | |
| 577 | Rick Monday | |
| 609 | Rick Sutcliffe | |
| 642 | Mike Scioscia | |
| 674 | Dave Goltz | |
| 681 | Mike A. Marshall | RC |
| 681 | Ron Roenicke | RC |
| 681 | Steve Sax | RC |
| 710 | Jerry Reuss | |
| 740 | Davey Lopes | |
| 741 | Davey Lopes | |
| 774 | Jay Johnstone | |
| | | |
| --- | --- | --- |
| 3 | Tim Raines | |
| 7 | Scott Sanderson | |
| 38 | Charlie Lea | |
| 70 | Tim Raines | |
| 102 | Dan Briggs | |
| 118 | Terry Francona | RC |
| 118 | Brad Mills | RC |
| 118 | Bryn Smith | RC |
| 131 | Stan Bahnsen | |
| 164 | Tim Raines | |
| 172 | Bill Gullickson | |
| 191 | Tim Wallach | RC |
| 198 | Chris Speier | |
| 227 | Ray Burris | |
| 259 | Rodney Scott | |
| 292 | David Palmer | |
| 323 | Bill Lee | |
| 341 | Andre Dawson | |
| 344 | Gary Carter | |
| 354 | Bobby Ramos | |
| 386 | Jerry White | |
| 414 | Elias Sosa | |
| 445 | Larry Parrish | |
| 479 | Rowland Office | |
| 526 | Warren Cromartie | |
| 526 | Bill Gullickson | |
| 540 | Andre Dawson | |
| 605 | Steve Rogers | |
| 638 | John Milner | |
| 667 | Jeff Reardon | |
| 695 | Warren Cromartie | |
| 730 | Gary Carter | |
| 762 | Mike Phillips | |
| 779 | Grant Jackson | |
| 788 | Woodie Fryman | |
| | | |
| --- | --- | --- |
| 17 | Darrell Evans | |
| 47 | Jeffrey Leonard | |
| 84 | Rennie Stennett | |
| 116 | Jim Wohlford | |
| 144 | Fred Breining | RC |
| 171 | Bob Brenly | RC |
| 171 | Chili Davis | RC |
| 171 | Bob Tufts | RC |
| 182 | Larry Herndon | |
| 209 | Gary Lavelle | |
| 242 | Milt May | |
| 304 | Johnnie LeMaster | |
| 364 | Doyle Alexander | |
| 406 | Al Holland | |
| 430 | Vida Blue | |
| 431 | Vida Blue | |
| 460 | Jack Clark | |
| 498 | Dave Bergman | |
| 529 | Allen Ripley | |
| 568 | Joe Pettini | |
| 576 | Milt May | |
| 576 | Vida Blue | |
| 593 | Billy Smith | |
| 627 | Enos Cabell | |
| 656 | Eddie Whitson | |
| 687 | Greg Minton | |
| 722 | Jerry Martin | |
| 754 | Joe Morgan | |
| 755 | Joe Morgan | |
| 777 | Tom Griffin | |
| | | |
| --- | --- | --- |
| 26 | Jorge Orta | |
| 54 | Ron Hassey | |
| 77 | Miguel Dilone | |
| 141 | Chris Bando | RC |
| 141 | Tom Brennan | RC |
| 141 | Von Hayes | RC |
| 166 | Len Barker | |
| 202 | Rick Manning | |
| 233 | Duane Kuiper | |
| 258 | Bo Diaz | |
| 287 | Alan Bannister | |
| 310 | Mike Hargrove | |
| 356 | Denny Lewallyn | RC |
| 360 | Len Barker | |
| 387 | Tom Veryzer | |
| 417 | Pat Kelly | |
| 446 | Wayne Garland | |
| 473 | Mike Stanton | |
| 512 | Jerry Dybzinski | |
| 532 | Toby Harrah | |
| 559 | Mike Hargrove | |
| 559 | Bert Blyleven | |
| 573 | Rick Waits | |
| 601 | Sid Monge | |
| 630 | Joe Charboneau | |
| 664 | Dan Spillner | |
| 685 | Bert Blyleven | |
| 724 | Dave Rosello | |
| 746 | Andre Thornton | |
| 773 | John Denny | |
| | | |
| --- | --- | --- |
| 22 | Jim Beattie | |
| 52 | Larry Andersen | |
| 72 | Rick Auerbach | |
| 98 | Terry Bulling | |
| 130 | Julio Cruz | |
| 197 | Shane Rawley | |
| 224 | Bruce Bochte | |
| 283 | Brian Allard | |
| 312 | Len Randle | |
| 336 | Tom Paciorek | |
| 336 | Glenn Abbott | |
| 358 | Mike Parrott | |
| 371 | Jerry Don Gleaton | |
| 382 | Joe Simpson | |
| 413 | Dan Meyer | |
| 440 | Jeff Burroughs | |
| 468 | Floyd Bannister | |
| 497 | Jim Anderson | |
| 523 | Gary Gray | |
| 571 | Glenn Abbott | |
| 598 | Bob Galasso | |
| 632 | Bryan Clark | RC |
| 649 | Ken Clay | |
| 678 | Tom Paciorek | |
| 711 | Dave Edler | RC |
| 711 | Dave Henderson | RC |
| 711 | Reggie Walton | RC |
| 719 | Jerry Narron | |
| 742 | Dick Drago | |
| 769 | Richie Zisk | |
| | | |
| --- | --- | --- |
| 15 | Ellis Valentine | |
| 43 | Mike Cubbage | |
| 79 | Bob Bailor | |
| 121 | Ed Lynch | RC |
| 143 | Mookie Wilson | |
| 178 | Dyar Miller | |
| 205 | Neil Allen | |
| 234 | Ron Hodges | |
| 246 | Hubie Brooks | |
| 246 | Mike Scott | |
| 270 | Rusty Staub | |
| 302 | Doug Flynn | |
| 326 | Pete Falcone | |
| 368 | Alex Trevino | |
| 399 | Pat Zachry | |
| 432 | Mike Scott | |
| 465 | Lee Mazzilli | |
| 478 | Ray Searage | RC |
| 494 | Hubie Brooks | |
| 524 | Tom Hausman | |
| 566 | Mike Jorgensen | |
| 592 | Craig Swan | |
| 623 | Ron Gardenhire | RC |
| 623 | Terry Leach | RC |
| 623 | Tim Leary | RC |
| 626 | Randy Jones | |
| 655 | Joel Youngblood | |
| 690 | Dave Kingman | |
| 743 | John Stearns | |
| 782 | Frank Taveras | |
| 783 | Greg Harris | RC |
| | | |
| --- | --- | --- |
| 8 | Rich Dauer | |
| 21 | Bob Bonner | RC |
| 21 | Cal Ripken Jr. | RC |
| 21 | Jeff Schneider | RC |
| 37 | Dan Graham | |
| 80 | Jim Palmer | |
| 81 | Jim Palmer | |
| 107 | Wayne Krenchicki | |
| 136 | Lenn Sakata | |
| 162 | Eddie Murray | |
| 163 | Eddie Murray | |
| 165 | Dennis Martinez | |
| 174 | Dave Ford | |
| 204 | Gary Roenicke | |
| 232 | Terry Crowley | |
| 265 | Al Bumbry | |
| 290 | Ken Singleton | |
| 331 | Benny Ayala | |
| 359 | Jim Dwyer | |
| 390 | Eddie Murray | |
| 419 | Steve Stone | |
| 426 | Eddie Murray | |
| 426 | Sammy Stewart | |
| 457 | Tim Stoddard | |
| 489 | Rick Dempsey | |
| 520 | Mike Flanagan | |
| 552 | Ken Singleton | |
| 555 | Scott McGregor | |
| 564 | Doug DeCinces | |
| 583 | Tippy Martinez | |
| 617 | Scott McGregor | |
| 648 | Jose Morales | |
| 679 | Sammy Stewart | |
| 712 | Dennis Martinez | |
| 747 | John Lowenstein | |
| 776 | Mark Belanger | |
| | | |
| --- | --- | --- |
| 28 | John Urrea | |
| 65 | Terry Kennedy | |
| 95 | Ozzie Smith | |
| 120 | Gary Lucas | |
| 151 | Dave Edwards | |
| 192 | Broderick Perkins | |
| 219 | John Curtis | |
| 249 | Tim Flannery | |
| 278 | John Littlefield | |
| 307 | Randy Bass | |
| 330 | Rick Wise | |
| 366 | Luis Salazar | |
| 366 | Juan Eichelberger | |
| 376 | Chris Welsh | RC |
| 407 | Danny Boone | RC |
| 434 | Joe Lefebvre | |
| 464 | Juan Bonilla | RC |
| 511 | Ruppert Jones | |
| 541 | Barry Evans | |
| 587 | Tim Lollar | |
| 614 | Juan Eichelberger | |
| 641 | Steve Mura | |
| 662 | Luis Salazar | |
| 708 | Gene Richards | |
| 731 | Mike Armstrong | RC |
| 731 | Doug Gwosdz | RC |
| 731 | Fred Kuhaulua | RC |
| 764 | Steve Swisher | |
| | | |
| --- | --- | --- |
| 1 | Steve Carlton | |
| 4 | Pete Rose | |
| 20 | Garry Maddox | |
| 53 | Greg Gross | |
| 100 | Mike Schmidt | |
| 101 | Mike Schmidt | |
| 127 | Lonnie Smith | |
| 152 | Ramon Aviles | |
| 162 | Mike Schmidt | |
| 163 | Mike Schmidt | |
| 183 | Mike Proly | |
| 220 | Manny Trillo | |
| 231 | Mark Davis | RC |
| 231 | Bob Dernier | RC |
| 231 | Ozzie Virgil | RC |
| 250 | Tug McGraw | |
| 285 | Sparky Lyle | |
| 317 | Dick Ruthven | |
| 337 | Pete Rose | |
| 339 | Mike Schmidt | |
| 352 | Dick Davis | |
| 384 | Keith Moreland | |
| 389 | George Vukovich | |
| 416 | Marty Bystrom | |
| 449 | Luis Aguayo | RC |
| 480 | Steve Carlton | |
| 481 | Steve Carlton | |
| 515 | Larry Bowa | |
| 516 | Larry Bowa | |
| 530 | Dickie Noles | |
| 544 | Larry Christenson | |
| 581 | Ron Reed | |
| 615 | Bob Boone | |
| 616 | Bob Boone | |
| 636 | Pete Rose | |
| 636 | Steve Carlton | |
| 647 | Warren Brusstar | |
| 680 | Gary Matthews | |
| 713 | Del Unser | |
| 745 | Bake McBride | |
| 780 | Pete Rose | |
| 781 | Pete Rose | |
| | | |
| --- | --- | --- |
| 11 | Gary Alexander | |
| 40 | Dave Parker | |
| 41 | Dave Parker | |
| 73 | Eddie Solomon | |
| 106 | Enrique Romo | |
| 138 | Tony Pena | |
| 160 | Luis Tiant | |
| 161 | Bill Madlock | |
| 170 | Jim Bibby | |
| 207 | Rod Scurry | |
| 235 | Mike Easler | |
| 263 | Victor Cruz | |
| 267 | Kurt Bevacqua | |
| 291 | Vance Law | RC |
| 291 | Bob Long | RC |
| 291 | Johnny Ray | RC |
| 295 | Jason Thompson | |
| 332 | Don Robinson | |
| 343 | Dave Parker | |
| 365 | Bill Madlock | |
| 383 | Pascual Perez | |
| 395 | Omar Moreno | |
| 425 | John Candelaria | |
| 458 | Willie Montanez | |
| 485 | Kent Tekulve | |
| 513 | Rick Rhoden | |
| 528 | Matt Alexander | |
| 543 | Bill Robinson | |
| 588 | Dale Berra | |
| 618 | Tim Foli | |
| 652 | Steve Nicosia | |
| 696 | Bill Madlock | |
| 696 | Buddy Solomon | |
| 715 | Willie Stargell | |
| 716 | Willie Stargell | |
| 752 | Lee Lacy | |
| | | |
| --- | --- | --- |
| 16 | Steve Comer | |
| 36 | Doc Medich | |
| 36 | Al Oliver | |
| 50 | Buddy Bell | |
| 78 | Doc Medich | |
| 103 | Bob Lacey | |
| 112 | Billy Sample | |
| 149 | Pat Putnam | |
| 177 | John Ellis | |
| 212 | Mario Mendoza | |
| 239 | Jon Matlack | |
| 272 | Bump Wills | |
| 298 | Danny Darwin | |
| 335 | Jim Sundberg | |
| 402 | Bill Stein | |
| 418 | John Butcher | RC |
| 418 | Bobby Johnson | RC |
| 418 | Dave Schmidt | RC |
| 443 | Mark Wagner | |
| 463 | Jim Kern | |
| 496 | Johnny Grubb | |
| 527 | John Henry Johnson | |
| 567 | Bob Babcock | |
| 590 | Al Oliver | |
| 591 | Al Oliver | |
| 624 | Fergie Jenkins | |
| 657 | Tom Poquette | |
| 688 | Leon Roberts | |
| 704 | Mickey Rivers | |
| 705 | Mickey Rivers | |
| 718 | Charlie Hough | |
| 751 | Rick Honeycutt | |
| | | |
| --- | --- | --- |
| 25 | Jerry Remy | |
| 59 | Rich Gedman | RC |
| 91 | Carney Lansford | |
| 124 | Reid Nichols | |
| 157 | Steve Crawford | RC |
| 161 | Carney Lansford | |
| 162 | Dwight Evans | |
| 189 | Glenn Hoffman | |
| 225 | Mike Torrez | |
| 255 | Tony Perez | |
| 256 | Tony Perez | |
| 274 | Bob Ojeda | RC |
| 289 | Bob Stanley | |
| 322 | Garry Hancock | |
| 355 | Dwight Evans | |
| 381 | Bruce Hurst | RC |
| 381 | Dave Schmidt | RC |
| 381 | Julio Valdez | RC |
| 388 | Joe Rudi | |
| 421 | Mark Clear | |
| 455 | Tom Burgmeier | |
| 490 | Dennis Eckersley | |
| 522 | Chuck Rainey | |
| 558 | John Tudor | |
| 589 | Dave Stapleton | |
| 619 | Bill Campbell | |
| 650 | Carl Yastrzemski | |
| 651 | Carl Yastrzemski | |
| 686 | Gary Allenson | |
| 717 | Rick Miller | |
| 750 | Jim Rice | |
| 786 | Carney Lansford | |
| 786 | Mike Torrez | |
| 792 | Frank Tanana | |
| | | |
| --- | --- | --- |
| 30 | Tom Seaver | |
| 31 | Tom Seaver | |
| 63 | Mario Soto | |
| 97 | Paul Moskau | |
| 128 | Frank Pastore | |
| 159 | Larry Biittner | |
| 165 | Tom Seaver | |
| 169 | Charlie Leibrandt | |
| 194 | Mike Vail | |
| 228 | Sam Mejias | |
| 294 | Mike LaCoss | |
| 327 | Joe Nolan | |
| 340 | Dave Concepcion | |
| 342 | George Foster | |
| 346 | Tom Seaver | |
| 351 | Scott Brown | RC |
| 351 | Geoff Combe | RC |
| 351 | Paul Householder | RC |
| 361 | Rafael Landestoy | |
| 400 | Johnny Bench | |
| 401 | Johnny Bench | |
| 427 | Ron Oester | |
| 459 | Bruce Berenyi | |
| 492 | Joe Price | |
| 525 | Ray Knight | |
| 562 | Mike O'Berry | |
| 595 | Dave Collins | |
| 620 | Ken Griffey Sr. | |
| 621 | Ken Griffey Sr. | |
| 660 | Dave Concepcion | |
| 661 | Dave Concepcion | |
| 700 | George Foster | |
| 701 | George Foster | |
| 723 | Junior Kennedy | |
| 756 | Ken Griffey | |
| 756 | Tom Seaver | |
| 763 | Tom Hume | |
| 785 | Dan Driessen | |
| | | |
| --- | --- | --- |
| 35 | Willie Aikens | |
| 67 | Rich Gale | |
| 96 | George Brett | |
| 96 | Larry Gura | |
| 104 | Rance Mulliniks | |
| 132 | Lee May | |
| 173 | Jamie Quirk | |
| 200 | George Brett | |
| 201 | George Brett | |
| 230 | Willie Wilson | |
| 264 | Dan Quisenberry | |
| 297 | Clint Hurdle | |
| 329 | U.L. Washington | |
| 362 | Jim Wright | |
| 397 | Ken Brett | |
| 429 | John Wathan | |
| 462 | Dave Chalk | |
| 471 | Atlee Hammaker | RC |
| 471 | Mike Jones | RC |
| 471 | Darryl Motley | RC |
| 495 | Dennis Leonard | |
| 549 | George Brett | |
| 594 | Renie Martin | |
| 625 | Hal McRae | |
| 645 | Frank White | |
| 646 | Frank White | |
| 693 | Cesar Geronimo | |
| 725 | Amos Otis | |
| 726 | Amos Otis | |
| 759 | Paul Splittorff | |
| 790 | Larry Gura | |
| | | |
| --- | --- | --- |
| 39 | Lou Whitaker | |
| 64 | Lynn Jones | |
| 105 | Kirk Gibson | |
| 133 | Pat Underwood | |
| 137 | George Cappuzzello | RC |
| 165 | Jack Morris | |
| 184 | Mick Kelleher | |
| 211 | Dan Petry | |
| 238 | Kevin Saucier | |
| 261 | Howard Bailey | RC |
| 261 | Marty Castillo | RC |
| 261 | Dave Rucker | RC |
| 266 | Rick Leach | RC |
| 286 | Bill Fahey | |
| 319 | Dave Rozema | |
| 369 | Champ Summers | |
| 391 | Dave Tobik | |
| 423 | Stan Papi | |
| 450 | Jack Morris | |
| 475 | Alan Trammell | |
| 488 | Ron Jackson | |
| 504 | Rick Peters | |
| 535 | Lance Parrish | |
| 556 | Jack Morris | |
| 575 | Al Cowens | |
| 603 | Richie Hebner | |
| 629 | John Wockenfuss | |
| 666 | Steve Kemp | |
| 666 | Dan Petry | |
| 670 | Steve Kemp | |
| 691 | Dan Schatzeder | |
| 728 | Aurelio Lopez | |
| 753 | Tom Brookens | |
| 784 | Milt Wilcox | |
| | | |
| --- | --- | --- |
| 18 | Fernando Arroyo | |
| 42 | Rick Sofield | |
| 69 | Al Williams | |
| 92 | Brad Havens | RC |
| 123 | Danny Goodwin | |
| 153 | Roger Erickson | |
| 193 | Darrell Jackson | |
| 222 | Butch Wynegar | |
| 253 | Chuck Baker | |
| 281 | John Verhoeven | |
| 309 | Pete Redfern | |
| 353 | Jack O'Connor | RC |
| 379 | Rob Wilfong | |
| 396 | John Castino | |
| 396 | Fernando Arroyo | |
| 409 | Don Cooper | RC |
| 438 | Pete Mackanin | |
| 467 | Mickey Hatcher | |
| 519 | Glenn Adams | |
| 560 | Doug Corbett | |
| 584 | Hosken Powell | |
| 612 | Gary Ward | |
| 644 | John Castino | |
| 676 | Sal Butera | |
| 738 | Dave Engle | |
| 766 | Lenny Faedo | RC |
| 766 | Kent Hrbek | RC |
| 766 | Tim Laudner | RC |
| 767 | Roy Smalley | |
| | | |
| --- | --- | --- |
| 13 | Lamar Johnson | |
| 44 | Britt Burns | |
| 76 | Greg Pryor | |
| 85 | Lynn McGlothen | |
| 110 | Carlton Fisk | |
| 111 | Carlton Fisk | |
| 140 | Ron LeFlore | |
| 176 | Dewey Robinson | |
| 206 | Tony Bernazard | |
| 216 | Chet Lemon | |
| 216 | Dennis Lamp | |
| 237 | Rusty Kuntz | |
| 269 | Jim Essian | |
| 299 | Steve Trout | |
| 328 | Ed Farmer | |
| 363 | Bob Molinaro | |
| 398 | Mike Squires | |
| 428 | LaMarr Hoyt | |
| 461 | Richard Dotson | |
| 493 | Chet Lemon | |
| 521 | Bill Almon | |
| 554 | Carlton Fisk | |
| 563 | Ross Baumgarten | |
| 597 | Wayne Nordhagen | |
| 599 | Jay Loviglio | RC |
| 599 | Reggie Patterson | RC |
| 599 | Leo Sutherland | RC |
| 622 | Dennis Lamp | |
| 654 | Jim Morrison | |
| 684 | Harold Baines | |
| 714 | Jerry Koosman | |
| 720 | Greg Luzinski | |
| 721 | Greg Luzinski | |
| 736 | Jerry Turner | |
| 748 | Marc Hill | |
| 778 | Kevin Hickey | RC |
| | | |
| --- | --- | --- |
| 2 | Ron Davis | |
| 9 | Ron Guidry | |
| 10 | Ron Guidry | |
| 45 | Rick Cerone | |
| 75 | Tommy John | |
| 83 | Steve Balboni | RC |
| 83 | Andy McGaffigan | RC |
| 83 | Andre Robertson | RC |
| 109 | Dave Revering | |
| 142 | Dave LaRoche | |
| 154 | Dennis Werth | |
| 175 | Jerry Mumphrey | |
| 208 | Bobby Murcer | |
| 240 | Bucky Dent | |
| 241 | Bucky Dent | |
| 275 | Bob Watson | |
| 300 | Reggie Jackson | |
| 301 | Reggie Jackson | |
| 334 | Aurelio Rodriguez | |
| 349 | George Frazier | |
| 373 | Gene Nelson | RC |
| 405 | Rick Reuschel | |
| 439 | Dave Righetti | RC |
| 472 | Oscar Gamble | |
| 486 | Jerry Mumphrey | |
| 486 | Tommy John | |
| 505 | Graig Nettles | |
| 506 | Graig Nettles | |
| 538 | Lou Piniella | |
| 548 | Willie Randolph | |
| 550 | Bucky Dent | |
| 551 | Reggie Jackson | |
| 553 | Dave Winfield | |
| 557 | Rich Gossage | |
| 569 | Willie Randolph | |
| 570 | Willie Randolph | |
| 600 | Dave Winfield | |
| 635 | Ron Davis | |
| 669 | Larry Milbourne | |
| 694 | Dave Wehrmeister | |
| 706 | Barry Foote | |
| 735 | Rudy May | |
| 770 | Rich Gossage | |
| 771 | Rich Gossage | |
| 791 | Bobby Brown | |
| | |
| --- | --- |
| 129 | Checklist 1-132 |
| 226 | Checklist 133-264 |
| 394 | Checklist 265-396 |
| 491 | Checklist 397-528 |
| 634 | Checklist 529-660 |
| 789 | Checklist 661-792 |