If 1972 Topps U.S. Presidents trading cards look familiar to you, it's perfectly normal. This set reuses the images from the 1956 Topps Presidents set with some obvious updates for presidents elected after that sets release.
This set also includes candidates for the 1972 election as the final seven cards on the checklist.
What makes this series most unique for collectors is probably the 15 mini campaign posters that were distributed in packs. Each poster measures approximately 5×7 and are blank backed with the numbering (# of 15) on the bottom corner of the front.
Clicking a link within this checklist will direct you to an affiliate retailer or to relevant eBay listings.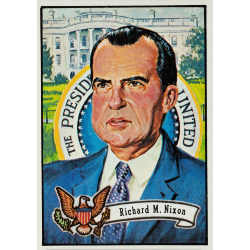 1972 Topps U.S Presidents Checklist
Base Set – 43 Cards
Campaign Posters (POS) – 15 Cards
| # | Politician | Office |
| --- | --- | --- |
| 1 | George Washington | President |
| 2 | John Adams | President |
| 3 | Thomas Jefferson | President |
| 4 | James Madison | President |
| 5 | James Monroe | President |
| 6 | John Quincy Adams | President |
| 7 | Andrew Jackson | President |
| 8 | Martin Van Buren | President |
| 9 | William Henry Harrison | President |
| 10 | John Tyler | President |
| 11 | James K. Polk | President |
| 12 | Zachary Taylor | President |
| 13 | Millard Fillmore | President |
| 14 | Franklin Pierce | President |
| 15 | James Buchanan | President |
| 16 | Abraham Lincoln | President |
| 17 | Andrew Johnson | President |
| 18 | Ulysses S. Grant | President |
| 19 | Rutherford B. Hayes | President |
| 20 | James A. Garfield | President |
| 21 | Chester A. Arthur | President |
| 22 | Grover Cleveland | President |
| 23 | Benjamin Harrison | President |
| 24 | William McKinley | President |
| 25 | Theodore Roosevelt | President |
| 26 | William Howard Taft | President |
| 27 | Woodrow Wilson | President |
| 28 | Warren G. Harding | President |
| 29 | Calvin Coolidge | President |
| 30 | Herbert C. Hoover | President |
| 31 | Franklin D. Roosevelt | President |
| 32 | Harry S. Truman | President |
| 33 | Dwight D. Eisenhower | President |
| 34 | John F. Kennedy | President |
| 35 | Lyndon B. Johnson | President |
| 36 | Richard M. Nixon | President |
| 37 | Shirley Chisholm | Candidate |
| 38 | Hubert Humphrey | Candidate |
| 39 | John Lindsay | Candidate |
| 40 | George McGovern | Candidate |
| 41 | Edmund Muskie | Candidate |
| 42 | Edward Kennedy | Candidate |
| 43 | George Wallace | Candidate |
| POS1 | Abraham Lincoln | Candidate |
| POS2 | William Howard Taft | Candidate |
| POS3 | John F. Kennedy | Candidate |
| POS4 | Harry Truman | Candidate |
| POS5 | I Like Ike | Candidate |
| POS6 | Calvin Coolidge | Candidate |
| POS7 | LBJ | Candidate |
| POS8 | Ulysses S. Grant | Candidate |
| POS9 | Woodrow Wilson | Candidate |
| POS10 | George Washington | Candidate |
| POS11 | Teddy Roosevelt | Candidate |
| POS12 | Thomas Jefferson | Candidate |
| POS13 | Franklin D. Roosevelt | Candidate |
| POS14 | Herbert Hoover | Candidate |
| POS15 | John Quincy Adams | Candidate |