1969 Topps Mod Squad trading cards feature scenes from the hit television series which ran from 1968 to 1973.
The front of each card shows a still from the series, bordered in purple tie-dye and captioned. The reverse is 1/3 explanation of the story and 2/3 puzzle piece which can be combined with other cards in the series.
Individual cards are often found on eBay and usually sell for under $3 which makes this a fairly simple and inexpensive set to compile.
Sometimes this set is referenced as a 1968 release, probably due to the copyright listing on the back of the card stating as such. That copyright, though, is for the photograph and not associated with the release date of the cards which, according to Topps, is 1969.
The packaging for this set was highlighted in the 2018 Topps 80th Anniversary Wrapper Art series of on-demand cards. The card design for this set was utilized for a 2016 Topps Throwback Thursday release.
Clicking a link within the checklist will direct you to an affiliate retailer or to relevant eBay listings for that card.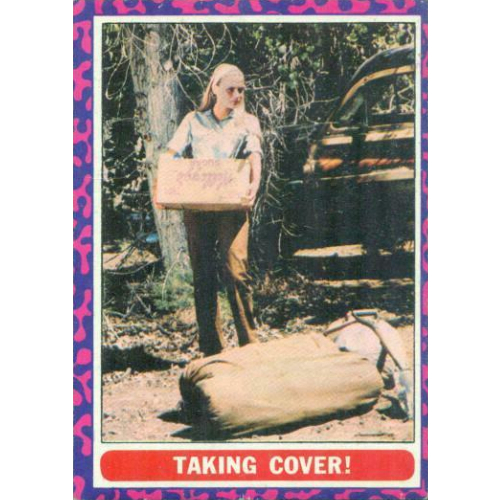 1969 Topps Mod Squad Checklist
| # | Card Title |
| --- | --- |
| 1 | Campsite Meeting! |
| 2 | Taking Cover! |
| 3 | A New Assignment! |
| 4 | Pete's Plan! |
| 5 | The Decision! |
| 6 | Julie in Disguise! |
| 7 | A Familiar Face! |
| 8 | Mod Photographer! |
| 9 | Pete and Linc Undercover! |
| 10 | Julie's Report! |
| 11 | Planning a Trap! |
| 12 | Bewildered Girl! |
| 13 | Attacked! |
| 14 | The Beating! |
| 15 | Floored! |
| 16 | The Final Blow! |
| 17 | Comforting Words! |
| 18 | Pete's Scheme! |
| 19 | On the Beach! |
| 20 | Sunbathing Detective! |
| 21 | Illegal Entry! |
| 22 | Important Discovery! |
| 23 | Escape! |
| 24 | Stop or I'll Shoot! |
| 25 | Under Arrest! |
| 26 | Disturbed Detectives! |
| 27 | Reunion! |
| 28 | Final Instructions! |
| 29 | Countdown Hour! |
| 30 | Trouble Brewing! |
| 31 | Riot! |
| 32 | The Protesters! |
| 33 | Happy Trio! |
| 34 | Show Time! |
| 35 | Theater Night! |
| 36 | At the Museum! |
| 37 | A New Caper! |
| 38 | Police Doctor! |
| 39 | At the Zoo! |
| 40 | Taking a Break! |
| 41 | Pete's Bag! |
| 42 | Julie Unwinds |
| 43 | Capt. Adam Greer |
| 44 | Linc Hayes |
| 45 | Miss Lipton's Day Off |
| 46 | Rich Rebel |
| 47 | The In Crowd |
| 48 | Mod Squad's Mentor |
| 49 | Hippie Cop |
| 50 | Mr. Clarence Williams III |
| 51 | Miss Peggy Lipton |
| 52 | Mr. Michael Cole |
| 53 | Lady Cop |
| 54 | The Mod Squad |
| 55 | Young Detectives |