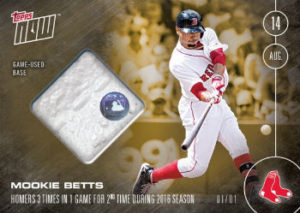 Fresh off the massive success of their Ichiro relic cards last week, Topps is now honoring Boston Red Sox outfielder, Mookie Betts with a series of limited relic cards. Mookie Betts, over the weekend, became the second player in Red Sox history to hit three home runs in a single game twice in the same season. The first to achieve the feat was Ted Williams.
While this may not sound like a stat worthy of its own baseball card, High Heat Stats was quick to point out that he is only the 22nd player in baseball history to hit this milestone making it a shade rarer than pitching a perfect game. High Heat Stats, who you should follow on Twitter, also pulled up a few other stats as they relate to Betts.
Most WAR, last 365 days

Trout, Donaldson 9.0
Bryant, Altuve 8.4
Betts 8.2
Lindor 7.9
C Seager 7.3
Machado 7.1
Beltre, Bradley, Eaton 6.0

— High Heat Stats MLB (@HighHeatStats) August 15, 2016
Mookie Betts' last 162 games

51 doubles, 7 triples, 34 homers
.320/.362/.558
47 walks, 98 K
26/31 stolen bases
131 runs, 113 RBI#RedSox

— High Heat Stats MLB (@HighHeatStats) August 15, 2016
BREAKING NEWS: "Rogue One" script has leaked, revealing that Darth Vader's middle name is Taxi, explaining why he hides in the Death Star.

— High Heat Stats MLB (@HighHeatStats) August 14, 2016
Ok, that last one had nothing to do with Mookie Betts but it didn't get the love it deserved on Twitter.
Topps is honoring this latest feather in Betts' cap with several cards in their Topps Now series. Topps Now is a daily offering of online exclusive cards available for a 24 hour period. In general, cards are printed for as many people that order them but on occasions, such as this, Topps adds an even more limited card into the mix.
Beyond the standard base card (355) which features Mookie and Ted Williams on the face and will be printed as demand warrants, there are five relic cards that feature Betts and a piece of one of the bases from his big game. Each card is numbered as follows:
355B (Black): #/99, $99.99
355C (Blue): #/49, $149.99
355D (Purple): #/25, $249.99
355E (Red): #/10, $399.99
355F (Yellow): 1/1, $699.99
If the idea of owning a piece of this historic game excites you, you're not alone. The limited relic cards were sold out in less than two hours but, as is always the case, they are already appearing on eBay and will continue to in the coming weeks. You have until midday August 16, to purchase a base card from the Topps website.
Links to the eBay auctions can be found below and a complete checklist of Topps Now cards can be viewed under the tab at the top of this article.
---