From 1972 through 1977, Mego World's Greatest Super Heroes were the biggest name in comic book based action figures. Although primitive by today's standards, the many variations and modern scarcity continue to make Mego figures a highly collectible product.
The World's Greatest Super Heroes line of action figures was released through six different series runs and remains the only manufacturer to mix DC and Marvel comic characters in the same collection.
There were several packaging variations over the run of this line as well as changes to face molds, costume material, and packaged accessories.
Clicking a link within the checklist will direct you to an affiliate retailer or to relevant eBay listings.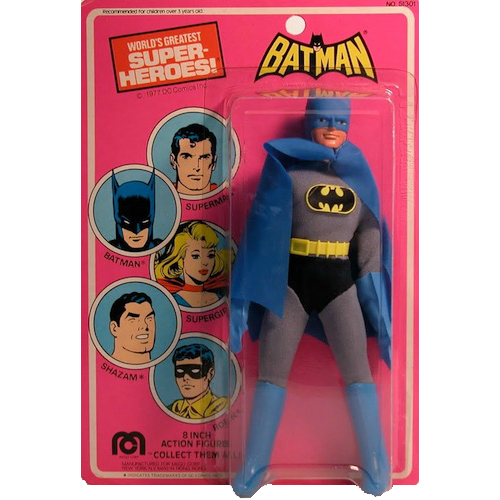 | Character | Year | Wave | Brand |
| --- | --- | --- | --- |
| Aquaman | 1972 | 1 | DC |
| Auqualad | 1977 | 6 | DC |
| Batgirl | 1974 | 3 | DC |
| Batman | 1972 | 1 | DC |
| Captain America | 1973 | 2 | Marvel |
| Catwoman | 1974 | 3 | DC |
| Conan | 1976 | 5 | Marvel |
| Falcon | 1975 | 4 | Marvel |
| Green Goblin | 1975 | 4 | Marvel |
| Hulk | 1975 | 4 | Marvel |
| Human Torch | 1976 | 5 | Marvel |
| Invisible Girl | 1976 | 5 | Marvel |
| Iron Man | 1975 | 4 | Marvel |
| Isis | 1976 | 5 | DC |
| Joker | 1974 | 3 | DC |
| Kid Flash | 1977 | 6 | DC |
| Lizard | 1975 | 4 | Marvel |
| Mr. Fantastic | 1976 | 5 | Marvel |
| Mr. Mxyzptlk | 1974 | 3 | DC |
| Penguin | 1974 | 3 | DC |
| Riddler | 1974 | 3 | DC |
| Robin | 1972 | 1 | DC |
| Shazam | 1974 | 3 | DC |
| Speedy | 1977 | 6 | DC |
| Spider-Man | 1973 | 2 | Marvel |
| Supergirl | 1974 | 3 | DC |
| Superman | 1972 | 1 | DC |
| Tarzan | 1973 | 2 | |
| The Thing | 1976 | 5 | Marvel |
| Thor | 1976 | 5 | Marvel |
| Wondergirl | 1977 | 6 | DC |
| Wonderwoman | 1974 | 3 | DC |