On March 12, 2018, the White House hosted the Houston Astros to celebrate their 2017 World Series victory and to commemorate the occasion, Topps has released a limited run baseball card which features Josh Reddick and Donald Trump.
The card (#ST09) is a part of the company's popular Topps Now program which issues cards daily and limits print runs to the number purchased in a 24 hour period. This is not the first Topps Now card for Reddick or Trump as the former has been the subject of several baseball cards and the latter has been the focus of several sets of serious and not-so-serious sets.
Most of the team was present at the traditional visit and the president was presented with a present — a Trump jersey with the number 17 on the back.
After meeting with the president, Josh Reddick posted an Instagram of himself standing behind the president's podium and tweeted his appreciation for the honor of meeting Mr. Trump.
What a great honor it was today to be at the White House. Thank you President Trump for having us! https://t.co/CAo1tdaiII

— Josh Reddick (@RealJoshReddick) March 12, 2018
The back of the card includes a picture of Jose Altuve smiling and shaking hands with the president, a contrast to the meme worthy scowl that quickly spread across Twitter the day before.
As with all Topps Now cards, this card is available exclusively online and only for 24 hours. You can use the links on this page to purchase your copy. A complete checklist for Topps Now cards is available by clicking the associated hub button on this article and final print runs for each card are updated daily.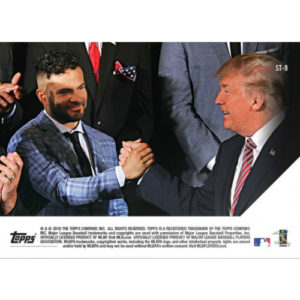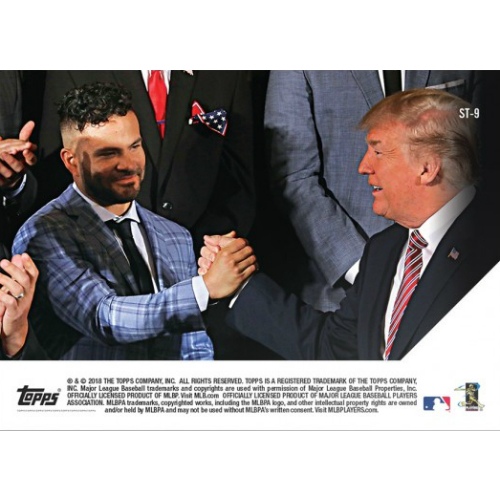 ---