This review of Eclipse is purposefully vague and free of any major spoilers.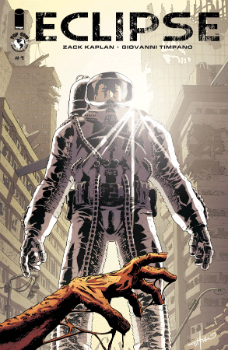 The debut issue of any new comic franchise can be a difficult balancing act between grabbing your audience and organically establishing an entire world of events and characters. Eclipse, the latest release from Image Comics, does a good job at balancing both.
The general premise of the story is that the sun had catastrophic flares resulting in the death of billions of people and requiring those who survived to live underground and only venture outside in the dark of night. While there is some narrative exposition in this book, writer Zack Kaplan did a fantastic job of establishing the present in the first three pages before the narrator began to divulge the past.
Just like a television pilot, though, there are times when the exposition seems unnatural and clumsy. The elevator conversation between the protagonist, David Baxter, and a security guard sent to collect him seemed like a clunky device for establishing Baxter's back story but it is a brief moment in an otherwise expertly written story.
Anybody who is a fan of film or comics or television has, undoubtedly, watched a post-apocalyptic story. Usually the impetus of these stories is a war, dictator, or zombie outbreak, but Eclipse revolves around a phenomenon that happens every single day, solar flares, and somewhat grounds this story in a haunting reality. While the tone and direction of this story is familiar to fans of the genre, the premise is captivating and inventive and forces the reader to question, "what if this really did happen."
The artwork of Giovanni Timpano is simultaneously detailed and vague, forcing the eye to see what it needs to see to progress the story line. The coloring is tonal, much like a film filter, with pages alternating between swaths of yellow, dark blues, greens, and purples. Conceptually, it serves to establish day versus night, indoor versus outdoor, but visually it fatigues the eyes and some frames become difficult to read as a result.
Admittedly, there are going to be readers who prefer this cinematic coloring over a more realistic (less filtered) coloring but that preference shouldn't take away from the fact that Timpano is excellent at framing his images and that the writing is outstanding.
Overall, Eclipse should draw your interest in the first few pages and entice you to at least give the first story arc a fair shake, if not make you a devoted reader for the duration.