The Eaglemoss Rick and Morty figurine collection features faithful recreations of the beloved characters from the Adult Swim series. The set was initially released with a four figure first wave but with an endless supply of characters as well as several more years of promised shows, this could end up being on of the largest Eaglemoss sets available.
Each figure is a metallic resin material standing 1:16 scale (between three and five inches depending on the character) and is hand painted. The base of each figure is inspired by the portal utilized in the series for traveling through time and space.
Eaglemoss also packages most of their figures with a book and this collection is no different. Each figure includes a 16 page illustrated magazine that includes information about the character.
Clicking a link within this checklist will direct you to an affiliate retailer or to relevant eBay listings for that figure.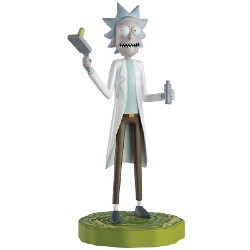 | Issue | Figure |
| --- | --- |
| 1 | Rick Sanchez |
| 2 | Morty Smith |
| 3 | Mr. Meeseeks |
| 4 | Summer Smith |
| 5 | Evil Rick |
| 6 | Evil Morty |
| 7 | Birdperson |
| 8 | Jerry Smith |