Eaglemoss Marvel Heavyweights are full cast metal figurines of some of Marvel's most beloved characters.
This figures in this set stray from the typical Eaglemoss model and do not come packaged with a character specific magazine. Instead, each figure — which measures between four and five inches — is packaged in a metal tin to extend the metal theme throughout the product.
Each figure stands atop a sturdy metal base with the Marvel logo engraved on the front.
This is the first "Heavyweight" collection to be released by Eaglemoss. Thanks to Marvel's extensive history in comics, television, and film, the checklist for this collection is potentially endless. Further, the designs of each character are based on specific storylines — Captain America from Infinity War or Iron Man from Civil War — which leaves the possibility for several characters to appear frequently in the collection.
Eaglemoss is no stranger to the Marvel Universe having previously released a Marvel Chess set which included over 100 different figures.
Our checklist includes all of the released figurines and will be updated as new figures are released. Clicking a link within the checklist will direct you to an affiliate retailer or to relevant eBay listings for that figure.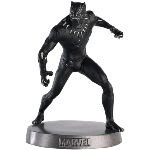 Eaglemoss Marvel Heavyweights Checklist
| Issue | Character |
| --- | --- |
| 1 | Iron Man |
| 2 | Captain America |
| 3 | Spider-Man |
| 4 | Groot |
| 5 | Black Panther |
| 7 | Ant-Man |
| 8 | Captain America (Avengers: Endgame) |
| 9 | Captain Marvel |
| 10 | Loki (Avengers) |
| 11 | Star-Lord (Avengers: Infinity War) |
| 12 | Thor (Avengers: Infinity War) |
| 13 | War Machine (Iron Man 2) |
| 14 | Winter Soldier (Avengers: Infinity War) |
| SE1 | Thanos |