In November, 2016, Dishonored 2 will be released to video game fans around the world as a followup to the popular 2012 game. To commemorate the second chapter in the action-adventure franchise, Funko Pop! will add five vinyl figures to their Games line.
Filling in the blanks between the last release in the series and the announced release of Five Nights at Freddy's retail exclusives, Dishonored 2 vinyl figurines will be numbered 121 through 125. Two of the figures, both "unmasked", are retail exclusives with #124 being sold only at Target and #125 available at GameStop.
A complete checklist of the line can be found under the tab at the top of this page but the Dishonored 2 figurines are released as follows:
121 – Emily
122 – Corvo
123 – Outsider
124 – Unmasked Emily
125 – Unmasked Corvo
The original Dishonored video game was released in 2012 to positive reviews and excellent sales numbers. The game, designed by Arkane Studios, was nominated for several industry awards and won Best Action Adventure Game (Spike), Best Environmental Design (Inside Gaming), and Best Overall Action Game (IGN) among many others.
Dishonored 2 allows gamers to play as either Emily or Corvo, her father and bodyguard, as they try to reclaim their throne 15 years after the conclusion of the previous game. At 2016's E3, Dishonored 2 was nominated for several awards and is a highly anticipated game.
The Funko vinyl figurines should begin appearing in stores in October ahead of the game's release. The Games subset of Funko Pop! collects the biggest characters from contemporary and classic games with 120+ different figures released thus far and 40+ variations for die hard collectors to track down.
Other franchises represented in the series include Pac-Man, Plants vs. Zombies, Borderlands, Gears of War, Doom, and Skyrim, to name a few. Variations and retail exclusives can often be found on the secondary market with links to those sources appearing at the bottom of this page.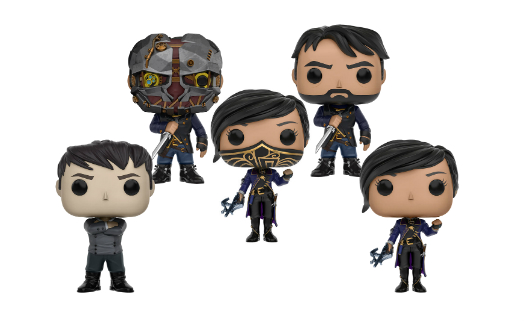 ---