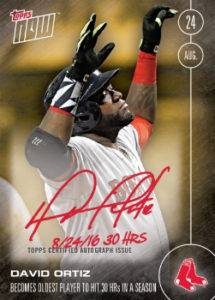 At age 40.281, David Ortiz has become the oldest player to log a 30 home run season and to commemorate the milestone, Topps Cards have issued a limited edition autograph Ortiz card.
David Ortiz is no stranger to the 30 HR benchmark. Each of his last four seasons have been 30+ seasons and ten of his 20 seasons in the majors have been at least 30+. Listing Big Papi's impressive stats is a waste of internet space as virtually every season he has played includes at least one remarkable statistic.
Most remarkable about his 30 (and presumably rising) home runs in 2016 is how quickly he hit them. In 2015, David Ortiz hit number 30 on September 5 and went on to log seven more onto his record by season's end. In 2014 he hit 30 on August 20, a few days ahead of this year, but would only go on to hit five more for the rest of the season. In 2013, Ortiz hit number 30 on September 27. With an average of six home runs per month, it is not beyond the realm of possibility that David Ortiz could complete his final season with close to 40 HRS to his name.
Top all of this off with the fact that Ortiz is posting a .322/.412/.637 batting line as of today (the highest SLG of his career and current AL leader), has a fourth consecutive 100+ RBI season, and is leading the leagues in doubles, it is safe to say that Ortiz, at 40, is still managing to leave the game at the top of his powers. Is there a reason he can't do five or six more seasons?
As they have done several times this season, Topps is honoring the achievement with a special edition addition to their popular Topps NOW product line. The NOW cards are available for only 24 hours and commemorate the previous day's highlights from around the game. Along with his base card, which will be printed to demand, are a series of limited autograph cards with specific print runs.
Standard – #/99, $199.99
Blue – #/49, $249.99
Purple – #/24, $349.99
Red – #/10, $599.99
Yellow – 1/1, $999.99
Having only been available for an hour, most of these cards (including the yellow 1/1) were already sold out and the remaining autograph cards are likely to be gone well before the 24 hour deadline.
If history is any indicator, online auctions (like the ones appearing at the bottom of this article) will be a collector's best bet at grabbing one of these incredibly limited cards. View the checklist at the top of this page to see final print runs of his base card as well as any other David Ortiz cards released in the Topps NOW series.
---