If you're a top dog in WWE for over two decades, you're going to be in a lot of battles and have plenty of feuds with Hall of Fame superstars. In the more recent years, The Undertaker is remembered for his feuds with the likes of HHH, Brock Lesnar, Shawn Michaels, hell, even Bray Wyatt. But, in his earlier years, the names are a lot different.
The likes of Hulk Hogan, Yokozuna, Ted DiBiase, and Jake "The Snake" Roberts were feuds Taker had in his first few years with WWE (then WWF). In addition to those, he also had one of his earliest feuds with a character up to the standards of his own.
2-0 First Feud: The Undertaker vs. Ultimate Warrior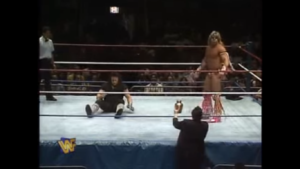 Making your debut in the WWE is an accomplishment, but if a wrestler is used incorrectly or doesn't find
their niche on the roster, they could be forgotten in a matter of weeks. The Undertaker, as we all know, was not one of those cases. After he earned his first win at WrestleMania (beginning The Streak), he had his first major feud with Ultimate Warrior.
Warrior was the first guest on the debut of Paul Bearer's on-air show, "Funeral Parlor" and when Bearer attempted to intimidate Ultimate Warrior, he grasped Bearer by the suit before The Undertaker came to his rescue and after striking Warrior with multiple urns threw him in a coffin and shut it. This set up the match between the two icons and later in the year, the two would face each other in a "body bag match" which was the first of its kind.
As the match began, The Undertaker attacked Ultimate Warrior as he slid inside the ring. This advantage, however, wouldn't last long as Warrior would take control inside the squared circle. The two would exchange shots as the match continued. The Undertaker, attempting to drain the life out of Warrior, repetitively choked him in the corner of the ring. This, of course, was all legal because of the match being no disqualification.
The Undertaker was given multiple piledrivers from Ultimate Warrior, but even this couldn't stop Taker. He regained control of the match and gave Ultimate Warrior a tombstone piledriver. But, while forcibly placing Warrior in the body bag, the competitor from Parts Unknown battled back and escaped.
Warrior, then began a train of clotheslines on The Undertaker before hitting Taker with his own urn (a move that's questionable from a face, but proved The Undertaker's strength to be somewhat overwhelming of Warrior).
The Ultimate Warrior defeated The Undertaker after the blow and Taker was left in the center of the ring in the bag. But, in total Taker fashion, he sat up (still encased in the black sack) before being freed by Paul Bearer.
It was the first major feud for The Undertaker and he had lost it. But, he proved you can't keep The Deadman down for long.
Featured image: 2015 Topps WWE Undisputed Card #1
---