10-0: Undertaker has a brother?!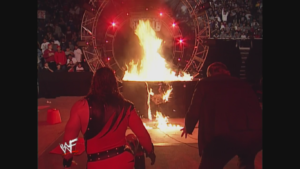 It had been teased for months that The Undertaker had a half-brother and that Paul Bearer was the father (I know, straight Maury type stuff), and at SummerSlam, Kane finally made his debut. Kane cost The Undertaker his Hell in a Cell match with Shawn Michaels after breaking into the cell and tombstoning Taker.
This set up a feud between the two brothers. However, Undertaker wanted no part of it.
Taker repeatedly turned down Kane's fight offers, though. That is, until, Kane locked Undertaker in a casket and lit it on fire. Ultimately, The Dead Man took a couple months off, then returned to set up a WrestleMania XIV match with Kane.
Prior to The Undertaker's entrance, Kane took out the hits-king Pete Rose with a tombstone pile-driver. Rose was special guest announcer for the participants, but wouldn't end up introducing either competitor.
As usual, The Prince of Darkness' entrance led to a thunderous ovation as the gongs bellowed inside the TD Garden, at the time Fleetcenter.
By the end of the match, tables had been broken, commentators had been flattened and Bearer had dripped more sweat than a kid drips melted ice cream.
He punished Kane with a choke slam from Hell and even a Tombstone, but Kane kicked out. Undertaker then hit Kane with a second — and third — Tombstone to end the match. However, Kane left the ring feeling like the winner after he crushed his brother's skull with a chair and Tombstone'd him on a chair as well.
11-0: Taker goes full psycopath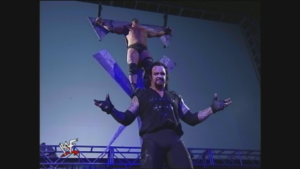 In 1999, Taker was on a war path as he was playing a villainous cult leader. His Ministry of Darkness was wreaking havoc on the good guys in WWF and even Mr. McMahon, who had to form an allegiance with Stone Cold Steve Austin. And on an episode of RAW, Stone Cold was placed on a cross featuring Taker's logo.
Taker and his group colluded to overthrow The Corporation and take over all of WWF. At the Rock Bottom: In Your House PPV, Taker lost to Austin due to interference from Kane.
---