If you've been following along with this series, The Undertaker had just won the WWF championship from Hulk Hogan and then lost the belt a week later to Hogan. Later, The Deadman would feud with Yokozuna who he faced at the Royal Rumble pay-per-view of 1994. The two faced each other in a casket match and with the help of some villains, Yokozuna defeated Taker. This loss was the last the WWE universe would see of The Undertaker for some time.
5-0 The Undertaker vs… The Undertaker?
While Taker allowed his back to heal, Ted DiBiase flaunted around a fraudulent Undertaker which he managed. While everyone knew that the phony wasn't the real Taker, the true demon of Death Valley didn't make his return until Summerslam, allowing DiBiase and his puppet Taker their shine for a few months.
The Undertaker returned to action as Bearer had a casket pushed to the ring before Taker's match with the "Underfaker". The casket was "announced" to be the same one Yokozuna had slammed shut earlier in the year at Rumble. Paul Bearer then went into the ring with his giant urn and a flash of light shined from the top as Bearer allowed the lid to come off. At the top of the stage entrance, a silhouette of Taker led to a tremendous pop from the crowd.
Taker came decked in a new secondary color — purple — to complement his black wardrobe. The back and forth match was tremendously called by Vince McMahon and Jerry "The King" Lawler who insisted on DiBiase's Taker being the real one.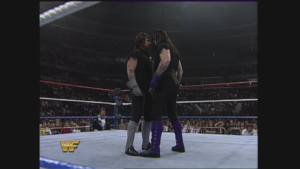 After DiBiase's Taker hit The Deadman with a choke slam, he gloated and allowed Taker time to recover. But, when The Undertaker stood to his feet, Faker hit him with a tombstone piledriver, which Taker once again sat up from. Taker then reversed an attempted second tombstone and hit the fraud with his own. He then hit him with a second and a third tombstone and got the three-second pin to earn the victory in his return.
Featured image: 1994 WWE Action Packed Gold #6G
---