The Undertaker was a once in a lifetime character, we can all agree upon that. His charisma — or lack thereof — is something we may never see again. And, two weeks ago when Taker aka Mark Calaway left his attire in the center of the ring, it signaled the end of an era.
As a life-long fan of The Undertaker, I felt like one article wouldn't be enough to properly exhibit just how important The Deadman was to not only the WWE(F) but to all of wrestling. So "A Proper Undertaking" will be a 21-week long series examining some of the best moments of The Undertaker and will put to rest the career of my all-time favorite wrestler.
As a kid, I never imagined The Undertaker not wrestling on a week in and week out basis, but as I got older and he was on television less, I started realizing just how important he was. When those gongs hit, my focus was 100 percent on the screen and as the lights went out, my entire body would freeze as I awaited his showing. Now, knowing he won't be a presence in the ring any more, it seems like my childhood has finally come to a close (at the age of 25).
If you ask why 21 weeks, I borrowed the number from his most memorable accomplishment: his 21-0 record at WrestleMania, better known as "The Streak".
1-0 The Debut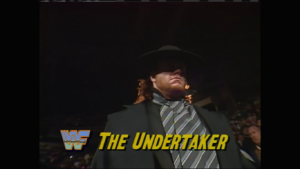 At WWF's 1990 Survivor Series, Ted DiBiase introduced the world to "The Undertaker". Taker was a part of Dibiase's Million Dollar Team and was the fourth member of the team that faced The Hart Foundation, Koko B. Ware and Dusty Rhodes.
While Taker didn't say a word, or show any signs of life other than walking for the most part, he immediately revealed how talented he was in the ring at 6'10" and 300 pounds. He gave Ware a tombstone piledriver, which as we all know now is his signature move, before pinning him, but he also eliminated Rhodes after doing a variation of his "Old School" move as we call it now.
Taker went on to be counted out in that match, however, as DiBiase earned the pin over Bret Hart to give the heel team the victory. But, the bigger story, obviously, was the introduction of the man with the cynical stare from Death Valley.
Though his entrance wasn't as prolonged as it has come to be in the last decade, it was just as sinister as it was last Sunday. The organ's chords were higher pitched and more extreme, but over the 27 years of hearing his theme, it's still as spine-chilling as ever.
Taker began his career with Brother Love as his manager (and was counted out due to coming to Love's aid after Love had snuck in some cheap shots on Rhodes after The American Dream was thrown over the top rope by Taker), but after a few months, Love decided to let his buddy, Paul Bearer, take over as manager of The Undertaker.
Featured photo: 2016 Topps Heritage WWE trading card.
---