After his match with Mankind, The Undertaker continued to feud with the brown-masked maniac but the real story was after he left following his buried alive match, he returned to WWE, then WWF, as a darker, more gothic character. This was when he earned the nickname of…
8-0: The Lord of Darkness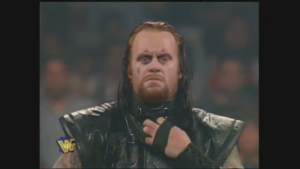 The Undertaker returned and was now draped in a long trench coat (with the sleeves cut) type of attire. He also modeled a tear drop tattoo under his right eye (for the dead, un-dead homies of course). Though he faced Mankind in multiple matches after his return, he ended up setting his sights on Executioner in 1996.
Executioner had prevented Taker from beating Paul Bearer to a pulp after he defeated Mankind at Survivor Series. So, at In Your House, Taker decided to lay the smacketh down on Executioner. However, Bearer, along with Mankind, continued to interfere in the match and the fight made its way from the ring to backstage in a matter of minutes.
Security halted Mankind's attempts at using a two-on-one advantage on Undertaker and he took Executioner all around the arena, inside and out. After Taker put the Executioner into a watery mote, Undertaker then read him his final rights and finished him off with a tombstone pile-driver.
9-0: Second World Title Win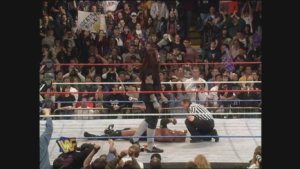 The Undertaker didn't win the Royal Rumble in 1997, but he did manage to get a shot at Psycho Sid for the WWF World Heavyweight Championship.
The storylines were abundant in this one, as was shown in the drama before the match. Shawn Michaels was on hand for the action sitting ringside and Bret Hart, whom Sid had defended his title against at the In Your House PPV mentioned above, made his opinion heard before being power-bomb'd by Sid.
Undertaker and Sid went back and forth, but Hart's interference at the end of the match would be the deciding factor. Sid had Taker in place for a power-bomb before Hart interrupted. Hart was punched by Sid and when Sid turned around to focus his attention on The Undertaker, he hit him with a tombstone to earn his second world title.
Featured Image: Chaos Comics Undertaker #2
---