Heel turns and face turns in the WWE are a common occurrence. The bad guy helps a good guy and now he's cheered or a good guy betrays a friend and now they're booed. It's all a part of the show. Unless it's a name like John Cena or Hulk Hogan (pre-NWO), there's more than likely going to be a few "turns" in their career. This holds true in the case of The Undertaker and one of his biggest moments in WWE(F) came when he turned his back on his then partner, Jake "The Snake" Roberts.
3-0 The Face Turn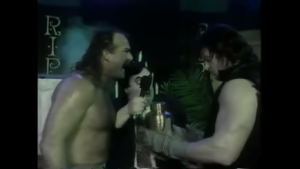 The Undertaker had been having tag team matches with partner Roberts for some time and the two seemed to be a great fit. However, when Roberts attempted to bombard Macho Man Randy Savage and Miss Elizabeth as they exited the ring and headed backstage, Taker snatched the chair Roberts was wielding and prevented the bludgeoning.
In a later episode of "The Funeral Parlor", Roberts confronted The Deadman and asked whose side he was on. Taker responded, "Not yours." And the face turn was complete. On that same episode, Roberts slammed Taker's hand in a casket after throwing his urn inside, and then gave The Phenom's manager, Paul Bearer, a DDT before hitting Taker with a steel chair while his hand was entrapped in the casket.
This set up a feud between The Undertaker and The Snake and it was encapsulated by a match at WrestleMania VIII.
Roberts dominated the beginning of the match as he relentlessly attacked Taker, but after a couple minutes the man from Death Valley took over. After a few minutes of a brutal beatdown of Roberts, he swung and countered Taker, then hit him with a vicious DDT. But, Taker, as only he could, sat up and took yet another DDT.
As the announcers stated that no one had ever gotten up from two DDTs, he arose. And just as Roberts went to attack Bearer, Taker met him outside the ring and hit him with a tombstone pile-driver. He then rolled him inside the ring and earned his second win at WrestleMania. This was the beginning of The Undertaker's first major push.