2023 Topps Star Wars Nexus trading cards are the second wave for this UK online exclusive. Every two weeks a group of cards, designed to merge into one large image, are released and sold as a single group through the Topps website. Final print runs are determined by consumer demand.
Set sizes vary depending on the subject matter of the artwork and cards are not numbered or titled in a traditional manner. There are also three different numbered color parallels for each release but the colors are not standard among each set. For example, in Set 2 the #/10 parallel is green but in Set 1 it is red. Parallels are distributed at random.
Clicking a link within this checklist will direct you to an affiliate retailer or to relevant eBay listings.

2023 Topps Star Wars Nexus Checklist
Base Set – TBD
Color Variant – #/10
Color Variant – #/5
Color Variant – 1/1
Total Cards – 5
Print Run – 191
Red – #/10
Blue – #/5
Gold – 1/1

Total Cards – 4
Print Run – 88
Green – #/10
Red – #/5
Gold – 1/1

Total Cards – 8
Print Run – 67
Blue – #/10
Red – #/5
Gold – 1/1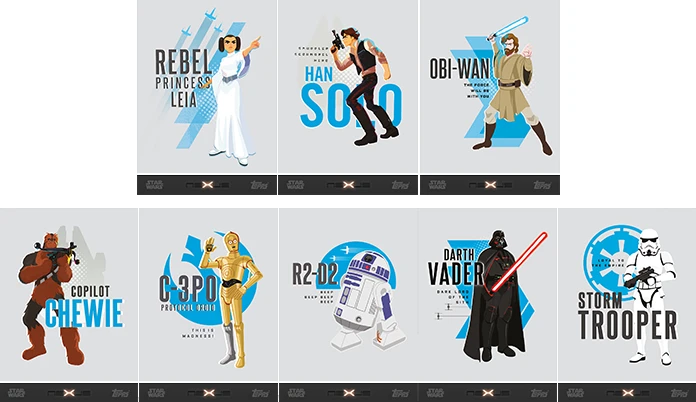 Total Cards – 7
Print Run – 93
Blue – #/10
Red – #/5
Gold – 1/1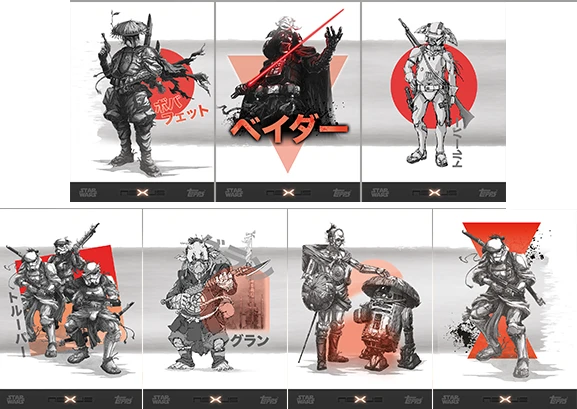 Total Cards – 8
Print Run – 82
Blue – #/10
Purple – #/5
Gold – 1/1
Total Cards – 6
Print Run – 101
Gray – #/10
Purple – #/5
Gold – 1/1
Total Cards – 7
Print Run – 135
Gray – #/10
Purple – #/5
Gold – 1/1

Total Cards – 5
Print Run – 96
Gray – #/10
Purple – #/5
Gold – 1/1

Total Cards – 5
Print Run – 160
Purple – #/10
Green – #/5
Gold – 1/1

Total Cards – 5
Print Run – 135
Blue/Purple – #/10
Green – #/5
Gold – 1/1

Total Cards – 6
Print Run – 126
Green – #/10
Purple – #/5
Gold – 1/1

Total Cards – 7
Print Run – 78
Blue – #/10
Red – #/5
Gold – 1/1
Total Cards – 4
Print Run – 149
Green – #/10
Purple – #/5
Gold – 1/1


Total Cards – 5
Print Run – 97
Blue – #/10
Red – #/5
Gold – 1/1

Total Cards – 5
Print Run –
Purple – #/10
Green – #5
Gold – 1/1