2022 Topps Sterling is the perfect set for collectors only interested in hits. Every card in this set is an autographed relic or relic card.
Each master box contains two mini-boxes containing an autographed relic card numbered to 25 or fewer or a 1/1 card.
This checklist includes all of the cards in the set and is organized by team. Scroll through the entire list or jump to a preferred team by selecting them from the list below. Clicking a link within the checklist will direct you to an affiliate retailer or to relevant eBay listings.
Release date – 5/18/22
Cards per pack – 1
Packs per hobby box – 2
Hobby boxes per case – 8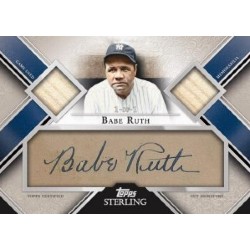 2022 Topps Sterling Baseball Checklist
Sterling Debuts (SBDB) – 4 Cards
Base – #/25
Blue 3 Relic – #/10
Red 4 Relic – #/5
Silver 5 Relic – 1/1
Sterling Seasons (SSAR) – 80 Cards
Base – #/25
Blue 3 Relic – #/10
Red 4 Relic – #/5
Silver 5 Relic – 1/1
Sterling Strikes (STAR) – 24 Cards
Base – #/25
Blue 3 Relic – #/10
Red 4 Relic – #/5
Silver 5 Relic – 1/1
Sterling Swings (SWAR) – 67 Cards
Base – #/25
Blue 3 Relic – #/10
Red 4 Relic – #/5
Silver 5 Relic – 1/1
Sterling Sets Dual Auto (SDAR) – 18 Cards
Base – #/15
Red 4 Relic – #/5
Silver 6 Relic – 1/1
Sterling Sets Triple Auto (STAR) – 13 Cards
Base – #/10
Red – #/5
Silver – 1/1
Sterling Splendor Jumbo Patch (SSJPA) – 38 Cards
Base – #/5
Red – #/3
Silver – 1/1
Autographed Bat Knob (ABK) – 29 Cards
Base – 1/1
Autographed Bat Nameplate (ABN) – 29 Cards
Base – 1/1
Jersey Letter Patch (JLP) – 72 Cards
Base – 1/1
Legendary Relics (LR) – 20 Cards
Base – 1/1
Bat Knob (BK) – 72 Cards
Base – 1/1
Bat Nameplate (BNP) – 75 Cards
Base – 1/1
Cut Signatures (CS) – 98 Cards
Base – 1/1
Legendary Cut Signatures (LCS) – 21 Cards
Base – 1/1
Angels
| | | |
| --- | --- | --- |
| SSAR-MT | Mike Trout | Auto Relic |
| SSAR-MTR | Mike Trout | Auto Relic |
| SSAR-NR | Nolan Ryan | Auto Relic |
| SSAR-SO | Shohei Ohtani | Auto Relic |
| STAR-NR1 | Nolan Ryan | Auto Relic |
| STAR-SO | Shohei Ohtani | Auto Relic |
| SWAR-MT | Mike Trout | Auto Relic |
| SWAR-RCA | Rod Carew | Auto Relic |
| SWAR-SO | Shohei Ohtani | Auto Relic |
| SDAR-GTR | Mike Trout | Auto Relic |
| SDAR-IO | Shohei Ohtani | Auto Relic |
| SDAR-RO | Nolan Ryan,Shohei Ohtani | Auto Relic |
| SDAR-TO | Shohei Ohtani, Mike Trout | Auto Relic |
| STAR-IMO | Shohei Ohtani | Auto Relic |
| STAR-RCT | Nolan Ryan, Mike Trout, Rod Carew | Auto Relic |
| SSJPA-MT | Mike Trout | Auto Relic |
| SSJPA-MT2 | Mike Trout | Auto Relic |
| SSJPA-RC | Rod Carew | Auto Relic |
| SSJPA-RJA | Reggie Jackson | Auto Relic |
| SSJPA-SHO | Shohei Ohtani | Auto Relic |
| ABK-MT | Mike Trout | Auto Relic |
| ABN-MT | Mike Trout | Auto Relic |
| ABN-RC | Rod Carew | Auto Relic |
| JLP-AP | Albert Pujols | Relic |
| JLP-MT | Mike Trout | Relic |
| JLP-ROD | Rod Carew | Relic |
| JLP-SO | Shohei Ohtani | Relic |
| BNP-MTR | Mike Trout | Relic |
| BNP-NC | Anthony Rendon | Relic |
Astros
| | | |
| --- | --- | --- |
| SSAR-JA | Jose Altuve | Auto Relic |
| SSAR-JB | Jeff Bagwell | Auto Relic |
| SSAR-NRY | Nolan Ryan | Auto Relic |
| SSAR-YA | Yordan Alvarez | Auto Relic |
| SWAR-JAL | Jose Altuve | Auto Relic |
| SWAR-JB | Jeff Bagwell | Auto Relic |
| SWAR-YA | Yordan Alvarez | Auto Relic |
| SSJPA-BRE | Alex Bregman | Auto Relic |
| SSJPA-JA | Jose Altuve | Auto Relic |
| SSJPA-YA | Yordan Alvarez | Auto Relic |
| ABN-BAG | Jeff Bagwell | Auto Relic |
| JLP-ABR | Alex Bregman | Relic |
| JLP-CBI | Craig Biggio | Relic |
| JLP-CC | Carlos Correa | Relic |
| JLP-IROD | Ivan Rodriguez | Relic |
| JLP-JA | Jose Altuve | Relic |
| JLP-YA | Yordan Alvarez | Relic |
| LR-NR | Nolan Ryan | Relic |
| BK-CBI | Craig Biggio | Relic |
| BK-CC | Carlos Correa | Relic |
| BK-JA | Jose Altuve | Relic |
| BK-YA | Yordan Alvarez | Relic |
| BNP-CBI | Craig Biggio | Relic |
| BNP-CC | Carlos Correa | Relic |
| BNP-JA | Jose Altuve | Relic |
| BNP-NR | Nolan Ryan | Relic |
| BNP-YA | Yordan Alvarez | Relic |
Athletics
| | | |
| --- | --- | --- |
| SSAR-MMC | Mark McGwire | Auto Relic |
| SSAR-RH | Rickey Henderson | Auto Relic |
| SSAR-RJA | Reggie Jackson | Auto Relic |
| SWAR-MM | Mark McGwire | Auto Relic |
| SWAR-RHE | Rickey Henderson | Auto Relic |
| SDAR-MH | Reggie Jackson, Rickey Henderson | Auto Relic |
| STAR-AGT | Reggie Jackson, Mark McGwire, Rickey Henderson | Auto Relic |
| SSJPA-RH | Rickey Henderson | Auto Relic |
| ABK-MMC | Mark McGwire | Auto Relic |
| ABN-MMC | Mark McGwire | Auto Relic |
| JLP-CHAP | Matt Chapman | Relic |
| JLP-ECK | Dennis Eckersley | Relic |
| JLP-RHE | Rickey Henderson | Relic |
| LR-RJ | Reggie Jackson | Relic |
| BK-JC | Jose Canseco | Relic |
| BK-MAC | Mark McGwire | Relic |
| BK-RH | Rickey Henderson | Relic |
| BNP-JC | Jose Canseco | Relic |
| BNP-MAC | Mark McGwire | Relic |
| BNP-RH | Rickey Henderson | Relic |
| CS-JCH | Jim "Catfish" Hunter | Relic |
Blue Jays
| | | |
| --- | --- | --- |
| SSAR-BB | Bo Bichette | Auto Relic |
| SSAR-GS | George Springer | Auto Relic |
| SSAR-VGJ | Vladimir Guerrero Jr. | Auto Relic |
| SSAR-VGR | Vladimir Guerrero Jr. | Auto Relic |
| SWAR-GS | George Springer | Auto Relic |
| SWAR-PMO2 | Paul Molitor | Auto Relic |
| SWAR-VGJ | Vladimir Guerrero Jr. | Auto Relic |
| SWAR-VGJ2 | Vladimir Guerrero Jr. | Auto Relic |
| SSJPA-VGJ | Vladimir Guerrero Jr. | Auto Relic |
| ABK-GS | George Springer | Auto Relic |
| ABK-VGJ | Vladimir Guerrero Jr. | Auto Relic |
| ABN-GS | George Springer | Auto Relic |
| ABN-VG | Vladimir Guerrero Jr. | Auto Relic |
| JLP-BBO | Bo Bichette | Relic |
| JLP-VG | Vladimir Guerrero Jr. | Relic |
| BK-BO | Bo Bichette | Relic |
| BK-VGJ | Vladimir Guerrero Jr. | Relic |
| BNP-BBI | Bo Bichette | Relic |
| BNP-VGJ | Vladimir Guerrero Jr. | Relic |
Braves
| | | |
| --- | --- | --- |
| SSAR-CJ | Chipper Jones | Auto Relic |
| SSAR-DM | Dale Murphy | Auto Relic |
| SSAR-FFR | Freddie Freeman | Auto Relic |
| SSAR-JS | John Smoltz | Auto Relic |
| SSAR-MAD | Greg Maddux | Auto Relic |
| SSAR-RAJ1 | Ronald Acuña Jr. | Auto Relic |
| SSAR-RAJ2 | Ronald Acuña Jr. | Auto Relic |
| SSAR-TG | Tom Glavine | Auto Relic |
| STAR-GM | Greg Maddux | Auto Relic |
| STAR-GMA | Greg Maddux | Auto Relic |
| STAR-GMX | Greg Maddux | Auto Relic |
| STAR-JS | John Smoltz | Auto Relic |
| STAR-TG | Tom Glavine | Auto Relic |
| STAR-TG2 | Tom Glavine | Auto Relic |
| SWAR-CJ | Chipper Jones | Auto Relic |
| SWAR-DMU | Dale Murphy | Auto Relic |
| SWAR-FFR | Freddie Freeman | Auto Relic |
| SWAR-RAJ | Ronald Acuña Jr. | Auto Relic |
| SWAR-RAJ2 | Ronald Acuña Jr. | Auto Relic |
| SDAR-JAJ | Chipper Jones, Ronald Acuña Jr. | Auto Relic |
| SDAR-JSA | Deion Sanders | Auto Relic |
| SDAR-MJO | Greg Maddux | Auto Relic |
| SDAR-SAJ | Ronald Acuña Jr. | Auto Relic |
| STAR-JGS | John Smoltz, Chipper Jones, Tom Glavine | Auto Relic |
| STAR-MJA | Dale Murphy, Freddie Freeman,Chipper Jones | Auto Relic |
| STAR-SAT | Ronald Acuña Jr. | Auto Relic |
| SSJPA-CJ | Chipper Jones | Auto Relic |
| SSJPA-FF | Freddie Freeman | Auto Relic |
| SSJPA-JS | John Smoltz | Auto Relic |
| SSJPA-RAJ | Ronald Acuña Jr. | Auto Relic |
| SSJPA-TGL | Tom Glavine | Auto Relic |
| ABK-RAJ | Ronald Acuña Jr. | Auto Relic |
| ABN-RAJ | Ronald Acuña Jr. | Auto Relic |
| JLP-CJ | Chipper Jones | Relic |
| JLP-FF | Freddie Freeman | Relic |
| JLP-OA | Ozzie Albies | Relic |
| JLP-RAJ | Ronald Acuña Jr | Relic |
| JLP-SMO | John Smoltz | Relic |
| JLP-TGL | Tom Glavine | Relic |
| LR-HA | Hank Aaron | Relic |
| LR-HA2 | Hank Aaron | Relic |
| BK-AJ | Andruw Jones | Relic |
| BK-CJ | Chipper Jones | Relic |
| BK-DM | Dale Murphy | Relic |
| BK-HA | Hank Aaron | Relic |
| BK-OA | Ozzie Albies | Relic |
| BK-RAJ | Ronald Acuña Jr. | Relic |
| BNP-CJ | Chipper Jones | Relic |
| BNP-DMU | Dale Murphy | Relic |
| BNP-GMA | Greg Maddux | Relic |
| BNP-HA | Hank Aaron | Relic |
| BNP-OA | Ozzie Albies | Relic |
| BNP-RA | Ronald Acuña Jr | Relic |
| CS-EMA | Eddie Mathews | Relic |
| CS-WS | Warren Spahn | Relic |
| LCS-EM | Eddie Mathews | Relic |
| LCS-HA | Hank Aaron | Relic |
| LCS-HA2 | Hank Aaron | Relic |
| LCS-WS | Warren Spahn | Relic |
Brewers
| | | |
| --- | --- | --- |
| SSAR-CYE | Christian Yelich | Auto Relic |
| SSAR-CYE2 | Christian Yelich | Auto Relic |
| SSAR-RY | Robin Yount | Auto Relic |
| SWAR-CY | Christian Yelich | Auto Relic |
| SWAR-CY2 | Christian Yelich | Auto Relic |
| SWAR-PMO | Paul Molitor | Auto Relic |
| SWAR-RY | Robin Yount | Auto Relic |
| SSJPA-CY | Christian Yelich | Auto Relic |
| ABK-RY | Robin Yount | Auto Relic |
| ABN-CY | Christian Yelich | Auto Relic |
| JLP-CY | Christian Yelich | Relic |
| BK-CY | Christian Yelich | Relic |
| BNP-CYE | Christian Yelich | Relic |
Browns
| | | |
| --- | --- | --- |
| CS-RF | Rick Ferrell | Relic |
| CS-SP | Satchel Paige | Relic |
Cardinals
| | | |
| --- | --- | --- |
| SSAR-AP | Albert Pujols | Auto Relic |
| SSAR-MM | Mark McGwire | Auto Relic |
| STAR-SC2 | Steve Carlton | Auto Relic |
| SWAR-PG | Paul Goldschmidt | Auto Relic |
| SWAR-PG2 | Paul Goldschmidt | Auto Relic |
| ABK-NA | Nolan Arenado | Auto Relic |
| ABK-SR | Ozzie Smith | Auto Relic |
| ABN-NA | Nolan Arenado | Auto Relic |
| ABN-OS | Ozzie Smith | Auto Relic |
| ABN-PG | Paul Goldschmidt | Auto Relic |
| JLP-LOU | Lou Brock | Relic |
| JLP-PG | Paul Goldschmidt | Relic |
| BK-NA | Nolan Arenado | Relic |
| BK-YM | Yadier Molina | Relic |
| BNP-NA | Nolan Arenado | Relic |
| BNP-YMO | Yadier Molina | Relic |
| CS-JM | Johnny Mize | Relic |
| CS-LBR | Lou Brock | Relic |
| CS-RS | Red Schoendienst | Relic |
| CS-SM | Stan Musial | Relic |
| LCS-JMI | Johnny Mize | Relic |
| LCS-LB | Lou Brock | Relic |
Cubs
| | | |
| --- | --- | --- |
| SSAR-KB | Kris Bryant | Auto Relic |
| SSAR-RS | Ryne Sandberg | Auto Relic |
| STAR-GMA2 | Greg Maddux | Auto Relic |
| SWAR-ARI | Anthony Rizzo | Auto Relic |
| SWAR-KBR | Kris Bryant | Auto Relic |
| SWAR-RS | Ryne Sandberg | Auto Relic |
| SDAR-SR | Mark Grace, Ryne Sandberg | Auto Relic |
| SSJPA-WCO | Willson Contreras | Auto Relic |
| ABK-KB | Kris Bryant | Auto Relic |
| ABK-RSA | Ryne Sandberg | Auto Relic |
| ABN-KB | Kris Bryant | Auto Relic |
| ABN-RS | Ryne Sandberg | Auto Relic |
| ABN-SS | Sammy Sosa | Auto Relic |
| JLP-AR | Anthony Rizzo | Relic |
| JLP-JBA | Javier Baez | Relic |
| JLP-KB | Kris Bryant | Relic |
| JLP-WC | Willson Contreras | Relic |
| BK-RYNE | Ryne Sandberg | Relic |
| BNP-AD | Andre Dawson | Relic |
| BNP-RS | Ron Santo | Relic |
| BNP-RSA | Ryne Sandberg | Relic |
| BNP-WCO | Willson Contreras | Relic |
| CS-BHE | Billy Herman | Relic |
| CS-EB | Ernie Banks | Relic |
| LCS-EB | Ernie Banks | Relic |
Diamondbacks
| | | |
| --- | --- | --- |
| SSAR-RJ | Randy Johnson | Auto Relic |
| STAR-RJO | Randy Johnson | Auto Relic |
Dodgers
| | | |
| --- | --- | --- |
| SSAR-MPI | Mike Piazza | Auto Relic |
| SSAR-WBU | Walker Buehler | Auto Relic |
| STAR-WB | Walker Buehler | Auto Relic |
| STAR-WB2 | Walker Buehler | Auto Relic |
| SSAR-CB2 | Cody Bellinger | Auto Relic |
| SWAR-CB | Cody Bellinger | Auto Relic |
| SSJPA-WB | Walker Buehler | Auto Relic |
| ABK-CB | Cody Bellinger | Auto Relic |
| ABK-SGA | Corey Seager | Auto Relic |
| ABN-AP | Albert Pujols | Auto Relic |
| JLP-AB1 | Adrian Beltre | Relic |
| JLP-CB | Cody Bellinger | Relic |
| JLP-CK | Clayton Kershaw | Relic |
| JLP-CSE | Corey Seager | Relic |
| JLP-JU | Julio Urias | Relic |
| JLP-MBE | Mookie Betts | Relic |
| JLP-WB | Walker Buehler | Relic |
| JLP-WM | Max Muncy | Relic |
| BK-CBE | Cody Bellinger | Relic |
| BNP-AP | Albert Pujols | Relic |
| BNP-CBE | Cody Bellinger | Relic |
| BNP-SG | Corey Seager | Relic |
| BNP-TTU | Trea Turner | Relic |
| CS-DDR | Don Drysdale | Relic |
| CS-DSN | Duke Snider | Relic |
| CS-GIL | Gil Hodges | Relic |
| CS-JRO | Jackie Robinson | Relic |
| CS-PWR | Pee Wee Reese | Relic |
| CS-RCA | Roy Campanella | Relic |
Expos
| | | |
| --- | --- | --- |
| SSAR-VG | Vladimir Guerrero | Auto Relic |
| SWAR-VG | Vladimir Guerrero | Auto Relic |
| BK-VG | Vladimir Guerrero | Relic |
| BNP-VG | Vladimir Guerrero | Relic |
Giants
| | | |
| --- | --- | --- |
| SSAR-BP | Buster Posey | Auto Relic |
| SSAR-WC | Will Clark | Auto Relic |
| SWAR-BP | Buster Posey | Auto Relic |
| SWAR-WC | Will Clark | Auto Relic |
| SWAR-WC2 | Will Clark | Auto Relic |
| SDAR-CP | Will Clark, Buster Posey | Auto Relic |
| SSJPA-BP | Buster Posey | Auto Relic |
| ABN-BP | Buster Posey | Auto Relic |
| LR-WM | Willie Mays | Relic |
| LR-WM2 | Willie Mays | Relic |
| BK-BPO | Buster Posey | Relic |
| BK-KB | Kris Bryant | Relic |
| BK-MAYS | Willie Mays | Relic |
| BK-OC | Orlando Cepeda | Relic |
| BK-WCL | Will Clark | Relic |
| BK-WM | Willie McCovey | Relic |
| BNP-KB | Kris Bryant | Relic |
| BNP-WC | Will Clark | Relic |
| BNP-WMC | Willie McCovey | Relic |
| CS-CH | Carl Hubbell | Relic |
| CS-GHP | George "High Pockets" Kelly | Relic |
| CS-MI | Monte Irvin | Relic |
| CS-MO | Mel Ott | Relic |
| CS-WM | Willie McCovey | Relic |
| LCS-WM | Willie McCovey | Relic |
Indians
No Cards
Mariners
| | | |
| --- | --- | --- |
| SSAR-I | Ichiro | Auto Relic |
| SSAR-IC | Ichiro | Auto Relic |
| SSAR-KG | Ken Griffey Jr. | Auto Relic |
| SSAR-KGR | Ken Griffey Jr. | Auto Relic |
| STAR-RJ | Randy Johnson | Auto Relic |
| SWAR-EM | Edgar Martinez | Auto Relic |
| SWAR-I | Ichiro | Auto Relic |
| SWAR-KGJ1 | Ken Griffey Jr. | Auto Relic |
| SDAR-G | Ken Griffey Jr. | Auto Relic |
| SDAR-GTR | Ken Griffey Jr. | Auto Relic |
| SDAR-IM | Ichiro | Auto Relic |
| SDAR-IO | Ichiro | Auto Relic |
| SDAR-MJO | Randy Johnson | Auto Relic |
| STAR-GJI | Ichiro, Ken Griffey Jr., Randy Johnson | Auto Relic |
| STAR-IMO | Ichiro | Auto Relic |
| ABK-KGJ | Ken Griffey Jr. | Auto Relic |
| ABN-KG | Ken Griffey Jr. | Auto Relic |
| JLP-KGJ | Ken Griffey Jr. | Relic |
| LR-I | Ichiro | Relic |
| LR-KG | Ken Griffey Jr. | Relic |
| BK-I | Ichiro | Relic |
| BK-KG | Ken Griffey Jr. | Relic |
| BNP-I | Ichiro | Relic |
| BNP-KG | Ken Griffey Jr. | Relic |
Marlins
| | | |
| --- | --- | --- |
| SSJPA-I | Ichiro | Auto Relic |
| JLP-CY2 | Christian Yelich | Relic |
| JLP-I | Ichiro | Relic |
Mets
| | | |
| --- | --- | --- |
| SSAR-DW | David Wright | Auto Relic |
| SSAR-PA | Pete Alonso | Auto Relic |
| SSAR-PIA | Mike Piazza | Auto Relic |
| SWAR-DWR | David Wright | Auto Relic |
| SWAR-PA | Pete Alonso | Auto Relic |
| SWAR-PA2 | Pete Alonso | Auto Relic |
| STAR-SWA | Pete Alonso, David Wright, Darryl Strawberry | Auto Relic |
| SSJPA-PM | Pedro Martinez | Auto Relic |
| JLP-JDG | Jacob deGrom | Relic |
| JLP-MP | Mike Piazza | Relic |
| JLP-PM | Pedro Martinez | Relic |
| BK-DWR | David Wright | Relic |
| BK-FL | Francisco Lindor | Relic |
| BK-GC | Gary Carter | Relic |
| BK-JB | Javier Baez | Relic |
| BK-MP | Mike Piazza | Relic |
| BK-PA | Pete Alonso | Relic |
| BNP-DW | David Wright | Relic |
| BNP-FL | Francisco Lindor | Relic |
| BNP-GCA | Gary Carter | Relic |
| BNP-JB | Javier Baez | Relic |
| BNP-MP | Mike Piazza | Relic |
| BNP-PAL | Pete Alonso | Relic |
| CS-GC | Gary Carter | Relic |
| LCS-TSE | Tom Seaver | Relic |
Nationals
| | | |
| --- | --- | --- |
| SSAR-JSO | Juan Soto | Auto Relic |
| SSAR-JSO2 | Juan Soto | Auto Relic |
| SSAR-SST | Stephen Strasburg | Auto Relic |
| STAR-SS | Stephen Strasburg | Auto Relic |
| SWAR-JS | Juan Soto | Auto Relic |
| SWAR-JS2 | Juan Soto | Auto Relic |
| SDAR-SAJ | Juan Soto | Auto Relic |
| STAR-SAT | Juan Soto | Auto Relic |
| JLP-JS | Juan Soto | Relic |
| JLP-MAX | Max Scherzer | Relic |
| JLP-SS | Stephen Strasburg | Relic |
| BK-TT | Trea Turner | Relic |
Orioles
| | | |
| --- | --- | --- |
| SSAR-CRJ | Cal Ripken Jr. | Auto Relic |
| SSAR-CRJ2 | Cal Ripken Jr. | Auto Relic |
| SWAR-CR | Cal Ripken Jr. | Auto Relic |
| SDAR-G | Cal Ripken Jr. | Auto Relic |
| SDAR-RMU | Cal Ripken Jr., Eddie Murray | Auto Relic |
| ABK-CRJ | Cal Ripken Jr. | Auto Relic |
| ABN-CR | Cal Ripken Jr. | Auto Relic |
| LR-CR | Cal Ripken Jr. | Relic |
| BK-CRJ | Cal Ripken Jr. | Relic |
| BK-EM | Eddie Murray | Relic |
| BNP-EM | Eddie Murray | Relic |
| CS-FRO | Frank Robinson | Relic |
Padres
| | | |
| --- | --- | --- |
| SSAR-FTJ | Fernando Tatis Jr. | Auto Relic |
| SWAR-FT | Fernando Tatis Jr. | Auto Relic |
| SWAR-FTJ | Fernando Tatis Jr. | Auto Relic |
| STAR-SAT | Fernando Tatis Jr. | Auto Relic |
| SSJPA-FTJ | Fernando Tatis Jr. | Auto Relic |
| SSJPA-MMA | Manny Machado | Auto Relic |
| ABK-FTJ | Fernando Tatis Jr. | Auto Relic |
| ABN-FTJ | Fernando Tatis Jr. | Auto Relic |
| JLP-FT | Fernando Tatis Jr. | Relic |
| JLP-MM | Manny Machado | Relic |
| JLP-RH2 | Rickey Henderson | Relic |
| JLP-TG | Tony Gwynn | Relic |
| LR-TG | Tony Gwynn | Relic |
| BK-FTJ | Fernando Tatis Jr. | Relic |
| BK-MMA | Manny Machado | Relic |
| BK-TGW | Tony Gwynn | Relic |
| BNP-FTJ | Fernando Tatis Jr. | Relic |
| BNP-MM | Manny Machado | Relic |
| BNP-TG | Tony Gwynn | Relic |
| CS-TG | Tony Gwynn | Relic |
| LCS-TG | Tony Gwynn | Relic |
Phillies
| | | |
| --- | --- | --- |
| SSAR-MSC | Mike Schmidt | Auto Relic |
| SSAR-SC | Steve Carlton | Auto Relic |
| STAR-SC | Steve Carlton | Auto Relic |
| SWAR-BH | Bryce Harper | Auto Relic |
| SWAR-JT1 | Jim Thome | Auto Relic |
| SWAR-MSC | Mike Schmidt | Auto Relic |
| SDAR-HT | Mike Schmidt, Bryce Harper | Auto Relic |
| STAR-CSH | Mike Schmidt, Steve Carlton, Bryce Harper | Auto Relic |
| SSJPA-AN | Aaron Nola | Auto Relic |
| SSJPA-BH | Bryce Harper | Auto Relic |
| SSJPA-JTR | J.T. Realmuto | Auto Relic |
| ABK-MSC | Mike Schmidt | Auto Relic |
| ABN-MS | Mike Schmidt | Auto Relic |
| JLP-AM | Andrew McCutchen | Relic |
| JLP-AN | Aaron Nola | Relic |
| JLP-BRY | Bryce Harper | Relic |
| JLP-JTR | J.T. Realmuto | Relic |
| JLP-SR | Scott Rolen | Relic |
| BK-AMC | Andrew McCutchen | Relic |
| BK-BH | Bryce Harper | Relic |
| BK-MS | Mike Schmidt | Relic |
| BK-RHO | Ryan Howard | Relic |
| BK-SR | Scott Rolen | Relic |
| BNP-AM | Andrew McCutchen | Relic |
| BNP-BH | Bryce Harper | Relic |
| CS-RA | Richie Ashburn | Relic |
| CS-RRO | Robin Roberts | Relic |
Pirates
| | | |
| --- | --- | --- |
| JLP-AMC | Andrew McCutchen | Relic |
| LR-HW | Honus Wagner | Relic |
| LR-HW2 | Honus Wagner | Relic |
| LR-RC | Roberto Clemente | Relic |
| CS-HWA | Honus Wagner | Relic |
| CS-RCL | Roberto Clemente | Relic |
| CS-RKI | Ralph Kiner | Relic |
| CS-WST | Willie Stargell | Relic |
| LCS-HW | Honus Wagner | Relic |
| LCS-WST | Willie Stargell | Relic |
Rangers
| | | |
| --- | --- | --- |
| SSAR-BEL | Adrian Beltre | Auto Relic |
| STAR-NR | Nolan Ryan | Auto Relic |
| STAR-NRY | Nolan Ryan | Auto Relic |
| ABN-ABE | Adrian Beltre | Auto Relic |
| ABN-IR | Ivan Rodriguez | Auto Relic |
| JLP-AB2 | Adrian Beltre | Relic |
| JLP-NR | Nolan Ryan | Relic |
| BK-ABE | Adrian Beltre | Relic |
| BK-JGON | Juan Gonzalez | Relic |
| BNP-ABE | Adrian Beltre | Relic |
| BNP-IR | Ivan Rodriguez | Relic |
Rays
| | | | |
| --- | --- | --- | --- |
| SBDB-VB | Vidal Brujan | RC | Auto Relic |
| SBDB-VB2 | Vidal Brujan | RC | Auto Relic |
| SBDB-WF | Wander Franco | RC | Auto Relic |
| SBDB-WF2 | Wander Franco | RC | Auto Relic |
| SSJPA-AM | Austin Meadows | | Auto Relic |
| BK-NCR | Nelson Cruz | | Relic |
| BK-RAR | Randy Arozarena | | Relic |
| BNP-AME | Austin Meadows | | Relic |
| SSJPA-WBO | Wade Boggs | | Auto Relic |
| JLP-WBO | Wade Boggs | | Relic |
Red Sox
| | | |
| --- | --- | --- |
| SSAR-CFI | Carlton Fisk | Auto Relic |
| SSAR-CY | Carl Yastrzemski | Auto Relic |
| SSAR-DO | David Ortiz | Auto Relic |
| SSAR-DOR | David Ortiz | Auto Relic |
| SSAR-MRA | Manny Ramirez | Auto Relic |
| SSAR-MRA2 | Manny Ramirez | Auto Relic |
| SSAR-PM | Pedro Martinez | Auto Relic |
| SSAR-PMA | Pedro Martinez | Auto Relic |
| SSAR-RCL | Roger Clemens | Auto Relic |
| SSAR-WB | Wade Boggs | Auto Relic |
| STAR-PMA | Pedro Martinez | Auto Relic |
| STAR-RCL | Roger Clemens | Auto Relic |
| SWAR-CYA | Carl Yastrzemski | Auto Relic |
| SWAR-DO | David Ortiz | Auto Relic |
| SWAR-JM | J.D. Martinez | Auto Relic |
| SWAR-MRAM | Manny Ramirez | Auto Relic |
| SWAR-RD | Rafael Devers | Auto Relic |
| SWAR-RDE | Rafael Devers | Auto Relic |
| SWAR-WB | Wade Boggs | Auto Relic |
| SDAR-OM | David Ortiz, Pedro Martinez | Auto Relic |
| STAR-YBC | Wade Boggs, Carl Yastrzemski, Carlton Fisk | Auto Relic |
| SSJPA-DO | David Ortiz | Auto Relic |
| SSJPA-DO2 | David Ortiz | Auto Relic |
| SSJPA-RD | Rafael Devers | Auto Relic |
| SSJPA-XB | Xander Bogaerts | Auto Relic |
| ABK-CY | Carl Yastrzemski | Auto Relic |
| ABK-JDM | J.D. Martinez | Auto Relic |
| ABK-JR | Jim Rice | Auto Relic |
| ABK-JV | Jason Varitek | Auto Relic |
| ABK-MRAM | Manny Ramirez | Auto Relic |
| ABK-RD | Rafael Devers | Auto Relic |
| ABK-WB | Wade Boggs | Auto Relic |
| ABK-XB | Xander Bogaerts | Auto Relic |
| ABN-MR | Manny Ramirez | Auto Relic |
| ABN-RD | Rafael Devers | Auto Relic |
| ABN-YAZ | Carl Yastrzemski | Auto Relic |
| JLP-DO | David Ortiz | Relic |
| JLP-DP | Dustin Pedroia | Relic |
| LR-TW | Ted Williams | Relic |
| LR-TW2 | Ted Williams | Relic |
| BK-CFI | Carlton Fisk | Relic |
| BK-DO | David Ortiz | Relic |
| BK-JDM | J.D. Martinez | Relic |
| BK-RD | Rafael Devers | Relic |
| BK-WB | Wade Boggs | Relic |
| BK-YAZ | Carl Yastrzemski | Relic |
| BNP-CF | Carlton Fisk | Relic |
| BNP-CY | Carl Yastrzemski | Relic |
| BNP-DO | David Ortiz | Relic |
| BNP-JDM | J.D. Martinez | Relic |
| BNP-JV | Jason Varitek | Relic |
| BNP-RD | Rafael Devers | Relic |
| BNP-WB | Wade Boggs | Relic |
| BNP-XB | Xander Bogaerts | Relic |
| CS-JF | Jimmie Foxx | Relic |
| CS-LB | Lou Boudreau | Relic |
| CS-TSP | Tris Speaker | Relic |
| CS-TW | Ted Williams | Relic |
| LCS-TS | Tris Speaker | Relic |
| LCS-TW | Ted Williams | Relic |
Reds
| | | |
| --- | --- | --- |
| SSAR-BL | Barry Larkin | Auto Relic |
| SSAR-JBE | Johnny Bench | Auto Relic |
| SSAR-JV | Joey Votto | Auto Relic |
| SWAR-BL | Barry Larkin | Auto Relic |
| SWAR-JBE | Johnny Bench | Auto Relic |
| SWAR-JV | Joey Votto | Auto Relic |
| SWAR-KGJ2 | Ken Griffey Jr. | Auto Relic |
| STAR-BLV | Johnny Bench, Joey Votto, Barry Larkin | Auto Relic |
| SSJPA-JV | Joey Votto | Auto Relic |
| SSJPA-KGJ | Ken Griffey Jr. | Auto Relic |
| JLP-BL | Barry Larkin | Relic |
| JLP-JVO | Joey Votto | Relic |
| JLP-KG | Ken Griffey Jr. | Relic |
| LR-FR | Frank Robinson | Relic |
| BK-BL | Barry Larkin | Relic |
| BK-JVO | Joey Votto | Relic |
| BNP-BL | Barry Larkin | Relic |
| BNP-JM | Joe Morgan | Relic |
| BNP-JVO | Joey Votto | Relic |
| BNP-TP | Tony Pérez | Relic |
| LCS-FR | Frank Robinson | Relic |
| LCS-JM | Joe Morgan | Relic |
Rockies
| | | |
| --- | --- | --- |
| ABK-LW | Larry Walker | Auto Relic |
| ABN-TS | Trevor Story | Auto Relic |
| JLP-LW | Larry Walker | Relic |
| JLP-TH | Todd Helton | Relic |
| JLP-TS | Trevor Story | Relic |
| BK-CB | Charlie Blackmon | Relic |
| BK-LW | Larry Walker | Relic |
| BK-TH | Todd Helton | Relic |
Royals
| | | |
| --- | --- | --- |
| SSAR-BJA | Bo Jackson | Auto Relic |
| SDAR-JSA | Bo Jackson | Auto Relic |
| JLP-SP | Salvador Perez | Relic |
| BNP-SP | Salvador Perez | Relic |
Tigers
| | | |
| --- | --- | --- |
| SSAR-MC | Miguel Cabrera | Auto Relic |
| SWAR-MC | Miguel Cabrera | Auto Relic |
| SSJPA-MC | Miguel Cabrera | Auto Relic |
| JLP-MAX2 | Max Scherzer | Relic |
| BK-MCA | Miguel Cabrera | Relic |
| BNP-MCA | Miguel Cabrera | Relic |
| CS-AK | Al Kaline | Relic |
| CS-CGE | Charlie Gehringer | Relic |
| CS-HG | Hank Greenberg | Relic |
| CS-TC | Ty Cobb | Relic |
| LCS-AK | Al Kaline | Relic |
Twins
| | | |
| --- | --- | --- |
| SSAR-RCA | Rod Carew | Auto Relic |
| SWAR-RC | Rod Carew | Auto Relic |
| SSJPA-BBU | Byron Buxton | Auto Relic |
| ABK-RC | Rod Carew | Auto Relic |
| JLP-BB | Byron Buxton | Relic |
| JLP-JBE | Jose Berrios | Relic |
| BK-KP | Kirby Puckett | Relic |
| BNP-BB | Byron Buxton | Relic |
| BNP-KP | Kirby Puckett | Relic |
| CS-HK | Harmon Killebrew | Relic |
| CS-KP | Kirby Puckett | Relic |
| LCS-KP | Kirby Puckett | Relic |
White Sox
| | | |
| --- | --- | --- |
| SSAR-FT | Frank Thomas | Auto Relic |
| SSAR-FT2 | Frank Thomas | Auto Relic |
| SWAR-FTH | Frank Thomas | Auto Relic |
| SWAR-LR | Luis Robert | Auto Relic |
| SWAR-LRO | Luis Robert | Auto Relic |
| ABN-FT | Frank Thomas | Auto Relic |
| JLP-FTH | Frank Thomas | Relic |
| JLP-JAB | Jose Abreu | Relic |
| BK-FT | Frank Thomas | Relic |
| BK-JAB | Jose Abreu | Relic |
| BNP-FT | Frank Thomas | Relic |
| BNP-JAB | Jose Abreu | Relic |
| CS-LA | Luke Appling | Relic |
Yankees
| | | |
| --- | --- | --- |
| SSAR-AJ | Aaron Judge | Auto Relic |
| SSAR-AR | Alex Rodriguez | Auto Relic |
| SSAR-CS | CC Sabathia | Auto Relic |
| SSAR-DJ | Derek Jeter | Auto Relic |
| SSAR-DMA | Don Mattingly | Auto Relic |
| SSAR-DMA2 | Don Mattingly | Auto Relic |
| SSAR-HM | Hideki Matsui | Auto Relic |
| SSAR-MR | Mariano Rivera | Auto Relic |
| SSAR-RHE | Rickey Henderson | Auto Relic |
| SSAR-RJA2 | Reggie Jackson | Auto Relic |
| STAR-AP | Andy Pettitte | Auto Relic |
| STAR-CC | CC Sabathia | Auto Relic |
| STAR-CLE | Roger Clemens | Auto Relic |
| STAR-MR | Mariano Rivera | Auto Relic |
| SWAR-AJ | Aaron Judge | Auto Relic |
| SWAR-AR | Alex Rodriguez | Auto Relic |
| SWAR-DM | Don Mattingly | Auto Relic |
| SWAR-DM2 | Don Mattingly | Auto Relic |
| SWAR-HM | Hideki Matsui | Auto Relic |
| SDAR-IM | Hideki Matsui | Auto Relic |
| SDAR-JM | Derek Jeter, Mariano Rivera | Auto Relic |
| SDAR-MJ | Don Mattingly, Aaron Judge | Auto Relic |
| STAR-IMO | Hideki Matsui | Auto Relic |
| STAR-MJJ | Aaron Judge, Don Mattingly, Reggie Jackson | Auto Relic |
| STAR-RJP | Derek Jeter, Mariano Rivera, Andy Pettitte | Auto Relic |
| SSJPA-CC | CC Sabathia | Auto Relic |
| SSJPA-DJ | Derek Jeter | Auto Relic |
| ABK-AR | Alex Rodriguez | Auto Relic |
| ABK-DJ | Derek Jeter | Auto Relic |
| ABK-RJ | Reggie Jackson | Auto Relic |
| ABN-AR | Alex Rodriguez | Auto Relic |
| ABN-DJ | Derek Jeter | Auto Relic |
| LR-BF | Yogi Berra | Relic |
| LR-BR | Babe Ruth | Relic |
| LR-BR2 | Babe Ruth | Relic |
| LR-DJ | Derek Jeter | Relic |
| BK-AROD | Alex Rodriguez | Relic |
| BK-DJ | Derek Jeter | Relic |
| BK-DMA | Don Mattingly | Relic |
| BK-GSH | Gary Sheffield | Relic |
| BK-GST | Giancarlo Stanton | Relic |
| BK-JPO | Jorge Posada | Relic |
| BK-RMA | Roger Maris | Relic |
| BNP-BG | Roger Maris | Relic |
| BNP-BW | Bernie Williams | Relic |
| BNP-DJ | Derek Jeter | Relic |
| BNP-GST | Giancarlo Stanton | Relic |
| BNP-KL | Anthony Rizzo | Relic |
| BNP-MT | Mark Teixeira | Relic |
| BNP-TH | Alex Rodriguez | Relic |
| CS-CST | Casey Stengel | Relic |
| CS-DL | Don Larsen | Relic |
| CS-JDI | Joe DiMaggio | Relic |
| CS-JGO | Joe Gordon | Relic |
| CS-PR | Phil Rizzuto | Relic |
| CS-RMA | Roger Maris | Relic |
| CS-WF | Whitey Ford | Relic |
| CS-WH | Waite Hoyt | Relic |
| CS-YB | Yogi Berra | Relic |
| LCS-BR | Babe Ruth | Relic |
| LCS-RM | Roger Maris | Relic |
| LCS-YB | Yogi Berra | Relic |
Celebrity Cut Signatures
| | | |
| --- | --- | --- |
| CS-AFR | Aretha Franklin | Relic |
| CS-AP | Arnold Palmer | Relic |
| CS-BCL | Bill Clinton | Relic |
| CS-BDA | Bette Davis | Relic |
| CS-BHO | Ben Hogan | Relic |
| CS-BL | Buck Leonard | Relic |
| CS-BR | Burt Reynolds | Relic |
| CS-CASH | Johnny Cash | Relic |
| CS-CC | Calvin Coolidge | Relic |
| CS-CG | Cary Grant | Relic |
| CS-DM | Douglas MacArthur | Relic |
| CS-DR | Debbie Reynolds | Relic |
| CS-DS | Dean Smith | Relic |
| CS-EH | Sir Edmund Hillary | Relic |
| CS-ER | Eleanor Roosevelt | Relic |
| CS-FA | Fred Astaire | Relic |
| CS-FDO | Fats Domino | Relic |
| CS-FH | Florence Henderson | Relic |
| CS-FR | Franklin Roosevelt | Relic |
| CS-GB | George W. Bush | Relic |
| CS-GBU | George Burns | Relic |
| CS-GF | Gerald Ford | Relic |
| CS-GHO | Gordie Howe | Relic |
| CS-GK | Grace Kelly | Relic |
| CS-HOOV | Herbert Hoover | Relic |
| CS-IB | Ingrid Bergman | Relic |
| CS-JAC | Jacques Cousteau | Relic |
| CS-JCA | Jimmy Carter | Relic |
| CS-JDO | Jimmy Doolittle | Relic |
| CS-JLA | Jake LaMotta | Relic |
| CS-JOH | Johnny Carson | Relic |
| CS-JS | Jimmy Stewart | Relic |
| CS-JW | John Wooden | Relic |
| CS-KH | Katharine Hepburn | Relic |
| CS-LOU | Louis Armstrong | Relic |
| CS-MG | Marvin Gaye | Relic |
| CS-MT | Margaret Thatcher | Relic |
| CS-MW | Mae West | Relic |
| CS-NR | Norman Rockwell | Relic |
| CS-NRE | Nancy Reagan | Relic |
| CS-RN | Richard Nixon | Relic |
| CS-RO | Roy Orbison | Relic |
| CS-RWI | Robin Williams | Relic |
| CS-SD | Sammy Davis Jr. | Relic |
| CS-SH | Warren Harding | Relic |
| CS-SR | Sugar Ray Robinson | Relic |
| CS-WW | Woodrow Wilson | Relic |