2022 Topps Star Wars Nexus trading cards are comprised of 10 individual sets which each combine to create a singular image. Set sizes range from five to nine cards and some offer a more thematic combination rather than an actual continual image.
Cards were released weekly and available for sale online for one week. Final print runs are determined based on consumer demand. There are also three color variants for each set which are numbered to 10, 5, and 1.
Clicking a link within this checklist will direct you to an affiliate retailer or to relevant eBay listings.

2022 Topps Star Wars Nexus Checklist
Total Cards – 5
Print Run – 342
Blue – #/10
Green – #/5
Gold – 1/1

Total Cards – 8
Print Run – 170
Purple – #/10
Red – #/5
Gold – 1/1

Total Cards – 8
Print Run – 140
Blue – #/10
Red – #/5
Gold – 1/1

Total Cards – 5
Print Run – 142
Red – #/10
Green – #/5
Gold – 1/1

Total Cards – 5
Print Run – 123
Purple – #/10
Gray – #/5
Gold – 1/1
Total Cards – 9
Print Run – 105
Black – #/10
Red – #/5
Gold – 1/1
Total Cards – 5
Print Run – 81
Grey – #/10
Purple – #/5
Gold – 1/1

Total Cards – 5
Print Run – 145
Red – #/10
Purple – #/5
Gold – 1/1
Total Cards – 7
Print Run – 144
Purple – #/10
Green – #/5
Gold – 1/1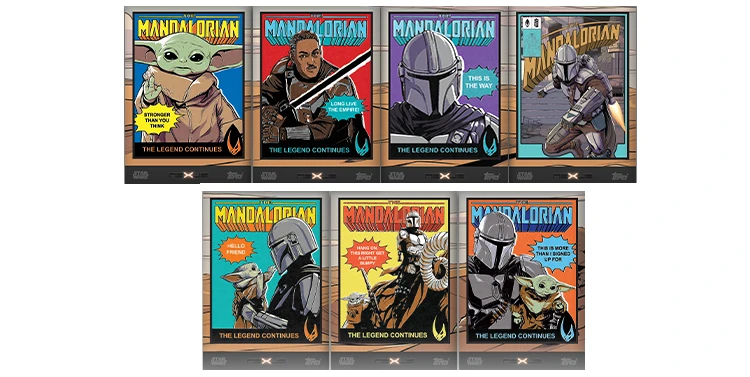 Total Cards – 6
Print Run – 112
Blue – #/10
Green – #/5
Gold – 1/1