2022 Topps Star Wars Finest trading cards cover the entire Star Wars universe including film, television, and books.
Each master box includes two hits, one of which will be an autograph or a sketch card.
This checklist is organized by subset. Scroll through the entire list or jump to a preferred subset by selecting it from the key below. Clicking a link within the checklist will direct you to an affiliate retailer or to relevant eBay listings.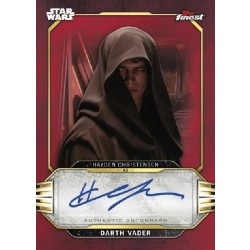 2022 Topps Star Wars Finest Checklist
Base Cards – 100 Cards
Refractor
Blue Refractor – #/150
Green Refractor – #/99
Gold Refractor – #/50
Orange Refractor – #/25
Black Refractor – #/10
Red Refractor – #/5
SuperFractor – 1/1
Extended Base (101-120) – 20 Cards
Gold Refractor – #/50
Red Refractor – #/5
SuperFractor – 1/1
Base Cards Auto (FA) – 69 Cards
Purple Refractor – #/299
Blue Refractor – #/199
Aqua Refractor – #/199
Green Refractor – #/99
Gold Refractor – #/50
Orange Refractor – #/25
Black Refractor – #/10
Red Refractor – #/5
SuperFractor – 1/1
High Republic Concept Art (HR) – 20 Cards
Gold Refractor – #/50
Red Refractor – #/5
SuperFractor – 1/1
The Mandalorian (MD) – 20 Cards
Gold Refractor – #/50
Red Refractor – #/5
SuperFractor – 1/1
| | |
| --- | --- |
| 1 | Adi Gallia |
| 2 | Admiral Ackbar |
| 3 | Ahsoka Tano |
| 4 | Allegiant General Pryde |
| 5 | Anakin Skywalker |
| 6 | Asajj Ventress |
| 7 | Axe Woves |
| 8 | Babu Frik |
| 9 | Bail Organa |
| 10 | Barriss Offee |
| 11 | Baze Malbus |
| 12 | BB-8 |
| 13 | Beaumont Kin |
| 14 | Bo-Katan Kryze |
| 15 | Burg |
| 16 | C-3PO |
| 17 | Cad Bane |
| 18 | Captain Phasma |
| 19 | Carson Teva |
| 20 | Cassian Andor |
| 21 | Chewbacca |
| 22 | Chirrut Îmwe |
| 23 | Chopper |
| 24 | Cid |
| 25 | Cobb Vanth |
| 26 | Count Dooku |
| 27 | Crosshair |
| 28 | Dark Side Rey |
| 29 | Darth Maul |
| 30 | Darth Vader |
| 31 | Dryden Vos |
| 32 | Echo |
| 33 | Even Piell |
| 34 | Ezra Bridger |
| 35 | Fennec Shand |
| 36 | Finn |
| 37 | First Order Stormtrooper |
| 38 | Frog Lady |
| 39 | Galen Erso |
| 40 | General Grievous |
| 41 | General Hux |
| 42 | Gor Koresh |
| 43 | Grand Inquisitor |
| 44 | Grand Moff Tarkin |
| 45 | Greef Karga |
| 46 | Grogu |
| 47 | Han Solo |
| 48 | Hera Syndulla |
| 49 | Hunter |
| 50 | Imperial Stormtrooper |
| 51 | Jannah |
| 52 | Jar Jar Binks |
| 53 | Jyn Erso |
| 54 | K-2SO |
| 55 | Kanan Jarrus |
| 56 | Kaydel Ko Connix |
| 57 | Koska Reeves |
| 58 | Kylo Ren |
| 59 | Lando Calrissian |
| 60 | Leia Organa |
| 61 | Lyra Erso |
| 62 | Mace Windu |
| 63 | Maz Kanata |
| 64 | Migs Mayfeld |
| 65 | Moff Gideon |
| 66 | Mon Mothma |
| 67 | Obi-Wan Kenobi |
| 68 | Ochi of Bestoon |
| 69 | Omega |
| 70 | Padmé Amidala |
| 71 | Palpatine |
| 72 | Peli Motto |
| 73 | Poe Dameron |
| 74 | Qi'ra |
| 75 | Director Krennic |
| 76 | Qui-Gon Jinn |
| 77 | Quinlan Vos |
| 78 | R2-D2 |
| 79 | Rex |
| 80 | Rey |
| 81 | Rose Tico |
| 82 | Sabine Wren |
| 83 | Saw Gerrera |
| 84 | Sith Trooper |
| 85 | Supreme Leader Snoke |
| 86 | Tech |
| 87 | The Armorer |
| 88 | The Client |
| 89 | The Mandalorian |
| 90 | Todo 360 |
| 91 | Trudgen |
| 92 | Valin Hess |
| 93 | Vice Admiral Holdo |
| 94 | Watto |
| 95 | Wrecker |
| 96 | Xi'an |
| 97 | Yoda |
| 98 | Zeb Orrelios |
| 99 | Zero |
| 100 | Zorii Bliss |
| | |
| --- | --- |
| 101 | Ahsoka Tano |
| 102 | Anakin Skywalker |
| 103 | BB-8 |
| 104 | C-3PO |
| 105 | Captain Phasma |
| 106 | Chewbacca |
| 107 | Count Dooku |
| 108 | Maul |
| 109 | Darth Vader |
| 110 | Fennec Shand |
| 111 | Grogu |
| 112 | Han Solo |
| 113 | Kylo Ren |
| 114 | General Leia Organa |
| 115 | Obi-Wan Kenobi |
| 116 | R2-D2 |
| 117 | Rey |
| 118 | The Mandalorian |
| 119 | Finn |
| 120 | Yoda |
Extended Base
High Republic Concept Art
| | |
| --- | --- |
| HR-1 | Avar Kriss |
| HR-2 | Loden Greatstorm |
| HR-3 | Sskeer |
| HR-4 | Keeve Trennis |
| HR-5 | Ram Jamoram |
| HR-6 | Vernestra Rwoh |
| HR-7 | Yoda |
| HR-8 | Orla Jareni |
| HR-9 | Bell Zettifar |
| HR-10 | Burryaga |
| HR-11 | Reath Silas |
| HR-12 | Lula Talisola |
| HR-13 | Chancellor Lina Soh |
| HR-14 | Affie Hollow |
| HR-15 | Leox Gyasi |
| HR-16 | Geode |
| HR-17 | The Nihil |
| HR-18 | Lourna Dee |
| HR-19 | Marchion Ro |
| HR-20 | Drengir |
| | |
| --- | --- |
| MD-1 | Grogu |
| MD-2 | The Mandalorian |
| MD-3 | Koska Reeves |
| MD-4 | Kuiil |
| MD-5 | IG-11 |
| MD-6 | Boba Fett |
| MD-7 | Fennec Shand |
| MD-8 | Greef Karga |
| MD-9 | Ahsoka Tano |
| MD-10 | Moff Gideon |
| MD-11 | The Armorer |
| MD-12 | Mayfeld |
| MD-13 | Cobb Vanth |
| MD-14 | Peli Motto |
| MD-15 | Bo-Katan Kryze |
| MD-16 | Frog Lady |
| MD-17 | The Client |
| MD-18 | Axe Woves |
| MD-19 | Valin Hess |
| MD-20 | Luke Skywalker |
| | |
| --- | --- |
| BF-1 | Boba Fett |
| BF-2 | Fennec Shand |
| | |
| --- | --- |
| BB-1 | Hunter |
| BB-2 | Wrecker |
| BB-3 | Tech |
| BB-4 | Crosshair |
| BB-5 | Echo |
| BB-6 | Omega |
| BB-7 | Vice Admiral Rampart |
| BB-8 | Admiral Tarkin |
| BB-9 | Nala Se |
| BB-10 | Lama Su |
| BB-11 | Cid |
| BB-12 | Cut Lawquane |
| BB-13 | Gregor |
| BB-14 | Cad Bane |
| BB-15 | Fennec Shand |
| BB-16 | Saw Gerrera |
| BB-17 | Bolo |
| BB-18 | Ketch |
| BB-19 | Hera Syndulla |
| BB-20 | Cham Syndulla |
Galaxy's Finest Heroes Diecut
| | |
| --- | --- |
| GF-1 | Luke Skywalker |
| GF-2 | Han Solo |
| GF-3 | Yoda |
| GF-4 | Leia Organa |
| GF-5 | The Mandalorian |
| GF-6 | Chewbacca |
| GF-7 | Rey |
| GF-8 | Finn |
| GF-9 | R2-D2 |
| GF-10 | Obi-Wan Kenobi |
| GF-11 | Lando Calrissian |
| GF-12 | Jyn Erso |
| GF-13 | Poe Dameron |
| GF-14 | Chirrut Îmwe |
| GF-15 | Ahsoka Tano |
| GF-16 | Saw Gerrera |
| GF-17 | Qui-Gon Jinn |
| GF-18 | Mace Windu |
| GF-19 | Rose Tico |
| GF-20 | Padmé Amidala |
Galaxy's Finest Heroes Auto
| | |
| --- | --- |
| GF-BDW | Billy Dee Williams |
| GF-LD | Laura Dern |
| GF-KMT | Kelly Marie Tran |
| GF-BL | Billie Lourd |
| GF-RA | Riz Ahmed |
| GF-FPJ | Freddie Prinze Jr. |
| GF-DY | Donnie Yen |
| GF-NA | Naomi Ackie |
| GF-JB | John Boyega |
| GF-AT | Alan Tudyk |
| GF-RD | Rosario Dawson |
| GF-JAT | James Arnold Taylor |
| GF-HQ | Hugh Quarshie |
| GF-AE | Ashley Eckstein |
| GF-JH | Jessica Henwick |
| GF-PL | Phil Lamarr |
| GF-OD | Olivia d'Abo |
| GF-TG | Taylor Gray |
| GF-RAD | Robin Atkin Downes |
| GF-PSL | Paul Sun-Hyung Lee |
| | |
| --- | --- |
| FA-DG | Domhnall Gleeson |
| FA-SMG | Sarah Michelle Gellar |
| FA-AE | Alden Ehrenreich |
| FA-WH | Werner Herzog |
| FA-FW | Forest Whitaker |
| FA-AS | Andy Serkis |
| FA-KMT | Kelly Marie Tran |
| FA-BL | Billie Lourd |
| FA-TC | Tim Curry |
| FA-DM | Dominic Monaghan |
| FA-MM | Mads Mikkelsen |
| FA-PB | Paul Bettany |
| FA-WD | Warwick Davis |
| FA-RP | Ron Perlman |
| FA-BM | Ben Mendelsohn |
| FA-TB | Tom Baker |
| FA-DY | Donnie Yen |
| FA-SW | Sam Witwer |
| FA-GT | George Takei |
| FA-PRU | Paul Reubens |
| FA-AB | Ahmed Best |
| FA-NA | Naomi Ackie |
| FA-SST | Stephen Stanton |
| FA-AT | Alan Tudyk |
| FA-GG | Greg Grunberg |
| FA-JI | Jason Isaacs |
| FA-MS | Meredith Salenger |
| FA-ES | Emily Swallow |
| FA-DB | Dante Briggins |
| FA-JB | Jeremy Bulloch |
| FA-CM | Cameron Monaghan |
| FA-MW | Matthew Wood |
| FA-AD | Annabelle Davis |
| FA-MD | Mark Dodson |
| FA-SL | Scott Lawrence |
| FA-CH | Clint Howard |
| FA-EK | Erin Kellyman |
| FA-BV | Brian Vernel |
| FA-ABR | Anna Brewster |
| FA-JA | Josef Altin |
| FA-VR | Vinette Robinson |
| FA-PL | Phil Lamarr |
| FA-CC | Crystal Clarke |
| FA-PK | Paul Kasey |
| FA-KK | Katy Kartwheel |
| FA-CP | Chris Parsons |
| FA-JC | Jim Cummings |
| FA-RO | Rena Owen |
| FA-IL | Ian Whyte |
| FA-DBB | Dee Bradley Baker |
| FA-AH | Alan Harris |
| FA-TE | Tom Edden |
| FA-RB | Richard Brake |
| FA-TR | Tim Rose |
| FA-JS | Jason Spisak |
| FA-MC | Michaela Cottrell |
| FA-AP | Angelique Perrin |
| FA-JT | John Tui |
| FA-APE | Alistair Petrie |
| FA-JD | Julie Dolan |
| FA-CB | Caroline Blakiston |
| FA-IMC | Ian McElhinney |
| FA-PW | Paul Warren |
| FA-RG | Rusty Goffe |
| FA-CA | Cas Anvar |
| FA-PA | Philip Alexander |
| FA-LC | Lily Cole |
| FA-VK | Valene Kane |
| FA-OFD | Oliver Ford Davies |
| | |
| --- | --- |
| MA-WH | Werner Herzog |
| MA-CW | Carl Weathers |
| MA-TW | Taika Waititi |
| MA-NN | Nick Nolte |
| MA-TM | Temuera Morrison |
| MA-GE | Giancarlo Esposito |
| MA-MV | Mercedes Varnado |
| MA-OA | Omid Abtahi |
| MA-DLI | Diana Lee Inosanto |
| MA-SK | Simon Kassianides |
| | |
| --- | --- |
| PA-HF | Harrison Ford |
| PA-NP | Natalie Portman |
| PA-EM | Ewan McGregor |
| PA-DR | Daisy Ridley |
| PA-SJ | Samuel L. Jackson |
| PA-AD | Adam Driver |
| PA-FJ | Felicity Jones |
| PA-CF | Carrie Fisher |
| PA-HC | Hayden Christensen |