2022 Topps Pristine marks the return of a brand Topps hasn't utilized in several years.
Each hobby box of Pristine includes 10 base card refractors and five insert cards as well as two on-card autographs and an autographed relic card. Four of the 10 base card refractor parallels included in each box will be "Pristine Refractors" which are all encased.
This checklist is organized by teams. To jump directly to a preferred team, simply select them from the list below. Clicking a link with this checklist will direct you to an affiliate retailer or to relevant eBay listings.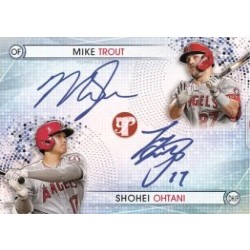 2022 Topps Pristine Checklist
Base Set – 300 Cards
Refractor – 1:1 pack
Purple Refractor – #/99
Pristine Blue Refractor – #/75
Pristine Gold Refractor – #/50
Gold Refractor – #/50
Pristine Orange Refractor – #/25
Orange Refractor – #/25
Pristine Red Refractor – #/5
Red Refractor – #/5
Pristine Black Refractor – 1/1
SuperFractor – 1/1
Pristine Borders (PB) – 20 Cards
Pure Power (PP) – 20 Cards
Pure Power Auto (PPA) – 21 Cards
Gold Refractor – #/50
Orange Refractor – #/25
SuperFractor – 1/1
Fresh Faces (FF) – 15 Cards
Fresh Faces Auto (FFA) – 15 Cards
Gold Refractor – #/50
Orange Refractor – #/25
SuperFractor – 1/1
Pristine Autographs (PA) – 76 Cards
Pristine Refractor – #/99
Gold Pristine Refractor – #/50
Orange Pristine Refractor – #/25
Black Pristine Refractor – 1/1
Popular Demand Autographs (PDA) – 24 Cards
Gold Refractor – #/50
Orange Refractor – #/25
Red Refractor – #/5
SuperFractor – 1/1
Popular Demand Auto Relic (PDAR) – 29 Cards
Orange Refractor – #/25
Pink Refractor – #/15
Red Refractor – #/5
SuperFractor – 1/1
Pristine Pair Dual Auto (PPDA) – 5 Cards
Pristine Refractor – #/5
SuperFractor – 1/1
Slice of a Star Auto Relic (SSAR) – 54 Cards
Pristine Refractor – #/99
Gold Refractor – #/50
Orange Refractor – #/25
Red Refractor – #/5
SuperFractor – 1/1
| | | | |
| --- | --- | --- | --- |
| 1 | Mike Trout | | |
| 33 | Rod Carew | | |
| 54 | Anthony Rendon | | |
| 86 | Nolan Ryan | | |
| 111 | Jo Adell | | |
| 189 | Shohei Ohtani | | |
| 201 | Reid Detmers | RC | |
| 203 | Brandon Marsh | RC | |
| 239 | Jared Walsh | | |
| 261 | Shohei Ohtani | | |
| 262 | Jared Walsh | | |
| PB-13 | Shohei Ohtani | | |
| PP-1 | Mike Trout | | |
| PA-BM | Brandon Marsh | RC | Auto |
| PA-MT | Mike Trout | | Auto |
| PA-RD | Reid Detmers | RC | Auto |
| PPDA-TO | Mike Trout, Shohei Ohtani | | Auto |
| PPA-SO | Shohei Ohtani | | Auto |
| FFA-BM | Brandon Marsh | RC | Auto |
| PDAR-MT | Mike Trout | | Auto Relic |
| SSAR-TH | Torii Hunter | | Auto Relic |
| | | | |
| --- | --- | --- | --- |
| 14 | Jose Altuve | | |
| 76 | Alex Bregman | | |
| 119 | Carlos Correa | | |
| 168 | Andy Pettitte | | |
| 176 | Justin Verlander | | |
| 191 | Yuli Gurriel | | |
| 197 | Yordan Alvarez | | |
| 207 | Ronnie Dawson | RC | |
| 240 | Chas McCormick | RC | |
| 254 | Michael Brantley | | |
| 259 | Jose Siri | RC | |
| PA-JV | Jose Altuve | | Auto |
| PDA-AB | Alex Bregman | | Auto |
| PDA-JA | Jose Altuve | | Auto |
| PPA-YA | Yordan Alvarez | | Auto |
| PDAR-AB | Alex Bregman | | Auto Relic |
| PDAR-RC | Roger Clemens | | Auto Relic |
| SSAR-JV | Jose Altuve | | Auto Relic |
| SSAR-YA | Yordan Alvarez | | Auto Relic |
| | | | |
| --- | --- | --- | --- |
| 53 | Reggie Jackson | | |
| 70 | Rickey Henderson | | |
| 90 | Starling Marte | | |
| 121 | Elvis Andrus | | |
| 146 | Matt Chapman | | |
| 180 | Matt Olson | | |
| 256 | Mark Canha | | |
| 294 | Matt Olson | | |
| PP-3 | Reggie Jackson | | |
| PA-BZ | Barry Zito | | Auto |
| PA-JC | Jose Canseco | | Auto |
| PA-MC | Matt Chapman | | Auto |
| PA-ME | Miguel Tejada | | Auto |
| PA-MO | Matt Olson | | Auto |
| PA-RHE | Rickey Henderson | | Auto |
| PDA-MC | Matt Chapman | | Auto |
| PPA-RJ | Reggie Jackson | | Auto |
| PDAR-MM | Mark McGwire | | Auto Relic |
| SSAR-MC | Matt Chapman | | Auto Relic |
| | | | |
| --- | --- | --- | --- |
| 56 | Joe Carter | | |
| 84 | Bo Bichette | | |
| 112 | Teoscar Hernandez | | |
| 126 | Hyun-Jin Ryu | | |
| 129 | Marcus Semien | | |
| 159 | Jose Berrios | | |
| 193 | Vladimir Guerrero JR. | | |
| 273 | Teoscar Hernandez | | |
| 278 | Vladimir Guerrero Jr. | | |
| 281 | Marcus Semien | | |
| PP-11 | Vladimir Guerrero Jr. | | |
| FF-6 | Bo Bichette | | |
| FF-10 | Vladimir Guerrero Jr. | | |
| PA-GS | George Springer | | Auto |
| PDA-GS | George Springer | | Auto |
| SSAR-HJ | Hyun-Jin Ryu | | Auto Relic |
| SSAR-JC | Joe Carter | | Auto Relic |
| SSAR-THE | Teoscar Hernandez | | Auto Relic |
| SSAR-VG | Vladimir Guerrero Jr. | | Auto Relic |
| | | | |
| --- | --- | --- | --- |
| 8 | Austin Riley | | |
| 49 | Ozzie Albies | | |
| 97 | Freddie Freeman | | |
| 139 | Greg Maddux | | |
| 145 | Ronald Acuña Jr. | | |
| 155 | Jorge Soler | | |
| 165 | Chipper Jones | | |
| 171 | Eddie Rosario | | |
| 200 | Hank Aaron | | |
| 208 | John Smoltz | | |
| 230 | Kyle Muller | RC | |
| 283 | Ozzie Albies | | |
| 289 | Freddie Freeman | | |
| PB-11 | Ronald Acuña Jr. | | |
| PB-16 | Freddie Freeman | | |
| PP-5 | Ronald Acuña Jr. | | |
| PP-12 | Hank Aaron | | |
| FF-3 | Kyle Muller | RC | |
| PA-DM | Dale Murphy | | Auto |
| PA-GM | Greg Maddux | | Auto |
| PA-KMU | Kyle Muller | RC | Auto |
| PDA-CJ | Chipper Jones | | Auto |
| PDAR-RAJ | Ronald Acuña Jr. | | Auto Relic |
| SSAR-AJ | Andruw Jones | | Auto Relic |
| SSAR-FF | Freddie Freeman | | Auto Relic |
| SSAR-JS | John Smoltz | | Auto Relic |
| | | | |
| --- | --- | --- | --- |
| 31 | Eduardo Escobar | | |
| 45 | Corbin Burnes | | |
| 74 | Lorenzo Cain | | |
| 80 | Robin Yount | | |
| 152 | Christian Yelich | | |
| 194 | Paul Molitor | | |
| 212 | Jake Cousins | RC | |
| 214 | Willy Adames | | |
| 241 | Freddy Peralta | | |
| 269 | Freddy Peralta | | |
| 271 | Corbin Burnes | | |
| PA-FP | Freddy Peralta | | Auto |
| PA-JCO | Jake Cousins | RC | Auto |
| PA-RY | Robin Yount | | Auto |
| PDA-CY | Christian Yelich | | Auto |
| PDAR-CY | Christian Yelich | | Auto Relic |
| SSAR-JH | Josh Hader | | Auto Relic |
| SSAR-KH | Keston Hiura | | Auto Relic |
| | | | |
| --- | --- | --- | --- |
| 25 | Paul Goldschmidt | | |
| 48 | Mark McGwire | | |
| 57 | Yadier Molina | | |
| 95 | Dylan Carlson | | |
| 172 | Ozzie Smith | | |
| 177 | Nolan Arenado | | |
| 233 | Paul DeJong | | |
| 260 | Lars Nootbaar | RC | |
| 291 | Nolan Arenado | | |
| PB-18 | Yadier Molina | | |
| PA-DC | Dylan Carlson | | Auto |
| PA-JF | Jack Flaherty | | Auto |
| PA-MM | Mark McGwire | | Auto |
| PA-NA | Nolan Arenado | | Auto |
| PA-OS | Ozzie Smith | | Auto |
| PA-PG | Paul Goldschmidt | | Auto |
| PDA-NA | Nolan Arenado | | Auto |
| PDA-PD | Paul DeJong | | Auto |
| PPDA-MG | Paul Goldschmidt, Mark McGwire | | Auto |
| PPA-MM | Mark McGwire | | Auto |
| PPA-PG | Paul Goldschmidt | | Auto |
| FFA-DC | Dylan Carlson | | Auto |
| PDAR-PG | Paul Goldschmidt | | Auto Relic |
| SSAR-PD | Paul DeJong | | Auto Relic |
| SSAR-YMO | Yadier Molina | | Auto Relic |
| | | | |
| --- | --- | --- | --- |
| 88 | Ernie Banks | | |
| 91 | Manuel Rodriguez | RC | |
| 100 | Sammy Sosa | | |
| 103 | Ryne Sandberg | | |
| 142 | Willson Contreras | | |
| 164 | Fergie Jenkins | | |
| 198 | Kyle Hendricks | | |
| 217 | Ron Santo | | |
| 250 | Greg Deichmann | RC | |
| 293 | Kris Bryant | | |
| PB-3 | Sammy Sosa | | |
| PA-AD | Andre Dawson | | Auto |
| PA-WC | Willson Contreras | | Auto |
| PDA-RS | Ryne Sandberg | | Auto |
| PPA-WC | Willson Contreras | | Auto |
| FFA-NM | Nick Madrigal | | Auto |
| SSAR-NG | Nomar Garciaparra | | Auto Relic |
| SSAR-WC | Willson Contreras | | Auto Relic |
| | | | |
| --- | --- | --- | --- |
| 12 | Zac Gallen | | |
| 16 | Randy Johnson | | |
| 39 | Carson Kelly | | |
| 106 | Ketel Marte | | |
| 195 | Luis Gonzalez | | |
| 226 | Seth Beer | RC | |
| 249 | Tyler Gilbert | RC | |
| PA-TGI | Tyler Gilbert | RC | Auto |
| | | | |
| --- | --- | --- | --- |
| 55 | Albert Pujols | | |
| 61 | Max Muncy | | |
| 104 | Trea Turner | | |
| 131 | Duke Snider | | |
| 134 | Walker Buehler | | |
| 136 | Mookie Betts | | |
| 150 | Corey Seager | | |
| 158 | Max Scherzer | | |
| 170 | Clayton Kershaw | | |
| 174 | Cody Bellinger | | |
| 175 | Jackie Robinson | | |
| 251 | Julio Urias | | |
| 275 | Max Muncy | | |
| 277 | Justin Turner | | |
| PB-9 | Clayton Kershaw | | |
| PP-8 | Mookie Betts | | |
| PA-WB | Walker Buehler | | Auto |
| SSAR-GA | Gary Sheffield | | Auto Relic |
| SSAR-MM | Max Muncy | | Auto Relic |
| SSAR-WB | Walker Buehler | | Auto Relic |
| SSAR-WS | Will Smith | | Auto Relic |
| | | | |
| --- | --- | --- | --- |
| 11 | Andre Dawson | | |
| 62 | Vladimir Guerrero | | |
| | | | |
| --- | --- | --- | --- |
| 10 | Christy Mathewson | | |
| 20 | Kris Bryant | | |
| 71 | Brandon Crawford | | |
| 77 | Mike Yastrzemski | | |
| 133 | Evan Longoria | | |
| 141 | Buster Posey | | |
| 143 | Willie Mays | | |
| 216 | Sammy Long | RC | |
| 270 | Brandon Crawford | | |
| PA-SL | Sammy Long | RC | Auto |
| PDA-KB | Kris Bryant | | Auto |
| PDAR-BP | Buster Posey | | Auto Relic |
| SSAR-BC | Brandon Crawford | | Auto Relic |
| SSAR-MY | Mike Yastrzemski | | Auto Relic |
| | | | |
| --- | --- | --- | --- |
| 3 | Amed Rosario | | |
| 15 | Jose Ramirez | | |
| 64 | Franmil Reyes | | |
| 192 | Shane Bieber | | |
| 244 | Ernie Clement | RC | |
| 284 | Jose Ramirez | | |
| PB-19 | Shane Bieber | | |
| PP-17 | Jose Ramirez | | |
| PA-JR | Jose Ramirez | | Auto |
| PA-SB | Shane Bieber | | Auto |
| PDA-SB | Shane Bieber | | Auto |
| PPA-JR | Jose Ramirez | | Auto |
| | | | |
| --- | --- | --- | --- |
| 13 | Kyle Seager | | |
| 23 | Ken Griffey Jr. | | |
| 32 | Edgar Martinez | | |
| 79 | Kyle Lewis | | |
| 151 | Jarred Kelenic | | |
| 156 | Mitch Haniger | | |
| 179 | Ichiro | | |
| 236 | Cal Raleigh | RC | |
| PB-5 | Ichiro | | |
| PP-18 | Ken Griffey Jr. | | |
| FF-5 | Jarred Kelenic | | |
| PA-CRA | Cal Raleigh | RC | Auto |
| PA-I | Ichiro | | Auto |
| PA-JK | Jarred Kelenic | | Auto |
| PA-JRO | Julio Rodriguez | RC | Auto |
| PA-KL | Kyle Lewis | | Auto |
| PPDA- GI | Ken Griffey Jr., Ichiro | | Auto |
| PPA-EM | Edgar Martinez | | Auto |
| FFA-JK | Jarred Kelenic | | Auto |
| FFA-KL | Kyle Lewis | | Auto |
| | | | |
| --- | --- | --- | --- |
| 58 | Sixto Sanchez | | |
| 72 | Gary Sheffield | | |
| 114 | Jazz Chisholm Jr. | | |
| 132 | Trevor Rogers | | |
| 140 | Ivan Rodriguez | | |
| 252 | Bryan De La Cruz | RC | |
| 264 | Trevor Rogers | | |
| FF-14 | Bryan De La Cruz | RC | |
| PDA-IR | Ivan Rodriguez | | Auto |
| SSAR-I | Ichiro | | Auto Relic |
| | | | |
| --- | --- | --- | --- |
| 2 | Jacob deGrom | | |
| 44 | Pete Alonso | | |
| 51 | Tom Seaver | | |
| 93 | Francisco Lindor | | |
| 148 | Michael Conforto | | |
| 162 | Javier Baez | | |
| 187 | Gary Carter | | |
| 223 | Tylor Megill | RC | |
| PB-12 | Francisco Lindor | | |
| PP-2 | Mike Piazza | | |
| PP-7 | Pete Alonso | | |
| PP-10 | Javier Baez | | |
| FF-11 | Tylor Megill | RC | |
| PA-DW | David Wright | | Auto |
| PA-MS | Marcus Stroman | | Auto |
| PA-PAL | Pete Alonso | | Auto |
| PA-TMG | Tylor Megill | RC | Auto |
| PDA-DW | David Wright | | Auto |
| PPDA-PA | Mike Piazza, Pete Alonso | | Auto |
| PPA-MP | Mike Piazza | | Auto |
| PPA-PA | Pete Alonso | | Auto |
| PDAR-PA | Pete Alonso | | Auto Relic |
| SSAR-JM | Jeff McNeil | | Auto Relic |
| | | | |
| --- | --- | --- | --- |
| 34 | Juan Soto | | |
| 42 | Stephen Strasburg | | |
| 215 | Josiah Gray | RC | |
| 255 | Mason Thompson | RC | |
| 288 | Juan Soto | | |
| PB-15 | Juan Soto | | |
| PP-6 | Juan Soto | | |
| FF-7 | Josiah Gray | RC | |
| PA-JG | Josiah Gray | RC | Auto |
| PA-JS | Juan Soto | | Auto |
| PA-PC | Patrick Corbin | | Auto |
| PDA-JS | Juan Soto | | Auto |
| PPA-JSO | Juan Soto | | Auto |
| PDAR-JS | Juan Soto | | Auto Relic |
| PDAR-SS | Stephen Strasburg | | Auto Relic |
| | | | |
| --- | --- | --- | --- |
| 18 | Ryan Mountcastle | | |
| 19 | Trey Mancini | | |
| 27 | Eddie Murray | | |
| 36 | Cedric Mullins | | |
| 59 | Cal Ripken Jr. | | |
| 196 | Frank Robinson | | |
| 232 | Spenser Watkins | RC | |
| 287 | Cedric Mullins | | |
| PA-CRJ | Cal Ripken Jr. | | Auto |
| PA-JPA | Jim Palmer | | Auto |
| PDA-CR | Cal Ripken Jr. | | Auto |
| PDA-TM | Trey Mancini | | Auto |
| FFA-RM | Ryan Mountcastle | | Auto |
| PDAR-CRJ | Cal Ripken Jr. | | Auto Relic |
| PDAR-TM | Trey Mancini | | Auto Relic |
| | | | |
| --- | --- | --- | --- |
| 9 | Fernando Tatis Jr. | | |
| 17 | Yu Darvish | | |
| 29 | Adam Frazier | | |
| 69 | Tony Gwynn | | |
| 120 | Blake Snell | | |
| 184 | Manny Machado | | |
| 185 | Joe Musgrove | | |
| 267 | Manny Machado | | |
| 279 | Jake Cronenworth | | |
| 297 | Fernando Tatis Jr. | | |
| PB-20 | Yu Darvish | | |
| PP-9 | Fernando Tatis Jr. | | |
| FF-1 | Fernando Tatis Jr. | | |
| PA-CJA | CJ Abrams | RC | Auto |
| PDAR-FTJ | Fernando Tatis Jr. | | Auto Relic |
| SSAR-MMA | Manny Machado | | Auto Relic |
| | | | |
| --- | --- | --- | --- |
| 24 | J.T. Realmuto | | |
| 78 | Jim Thome | | |
| 96 | Bryce Harper | | |
| 98 | Aaron Nola | | |
| 102 | Mike Schmidt | | |
| 117 | Andrew McCutchen | | |
| 182 | Rhys Hoskins | | |
| 237 | Kyle Gibson | | |
| 246 | Matt Vierling | RC | |
| 257 | Zack Wheeler | | |
| 265 | Zack Wheeler | | |
| 280 | J.T. Realmuto | | |
| PP-19 | Bryce Harper | | |
| PA-AN | Aaron Nola | | Auto |
| PA-RH | Rhys Hoskins | | Auto |
| PA-ZW | Zack Wheeler | | Auto |
| PDA-BH | Bryce Harper | | Auto |
| PDA-JR | J.T. Realmuto | | Auto |
| PPA-RH | Ryan Howard | | Auto |
| PPA-RHS | Rhys Hoskins | | Auto |
| FFA-LW | Luke Williams | RC | Auto |
| PDAR-BH | Bryce Harper | | Auto Relic |
| PDAR-RH | Rhys Hoskins | | Auto Relic |
| SSAR-AN | Aaron Nola | | Auto Relic |
| SSAR-JR | J.T. Realmuto | | Auto Relic |
| SSAR-SC | Steve Carlton | | Auto Relic |
| SSAR-SR | Scott Rolen | | Auto Relic |
| SSAR-ZW | Zack Wheeler | | Auto Relic |
| | | | |
| --- | --- | --- | --- |
| 67 | Ke'Bryan Hayes | | |
| 82 | Roberto Clemente | | |
| 137 | Bryan Reynolds | | |
| 163 | Willie Stargell | | |
| 222 | Rodolfo Castro | RC | |
| 224 | Max Kranick | RC | |
| 227 | Hoy Park | RC | |
| 248 | Oneil Cruz | RC | |
| 285 | Bryan Reynolds | | |
| PB-1 | Roberto Clemente | | |
| FF-2 | Ke'Bryan Hayes | | |
| PA-MKR | Max Kranick | RC | Auto |
| PA-ONC | Oneil Cruz | RC | Auto |
| FFA-KH | Ke'Bryan Hayes | | Auto |
| | | | |
| --- | --- | --- | --- |
| 50 | Adolis Garcia | | |
| 75 | Juan Gonzalez | | |
| 105 | Alex Rodriguez | | |
| 161 | Nick Solak | | |
| 210 | Yonny Hernandez | RC | |
| 228 | Joe Barlow | RC | |
| 243 | Curtis Terry | RC | |
| 266 | Adolis Garcia | | |
| 300 | Joey Gallo | | |
| PB-8 | Adrian Beltre | | |
| PA-RDE | Yonny Hernandez | RC | Auto |
| PPA-AG | Adolis Garcia | | Auto |
| PPA-JG | Juan Gonzalez | | Auto |
| | | | |
| --- | --- | --- | --- |
| 7 | Brandon Lowe | | |
| 41 | Tyler Glasnow | | |
| 43 | Wade Boggs | | |
| 73 | Joey Wendle | | |
| 123 | Randy Arozarena | | |
| 206 | Wander Franco | RC | |
| 218 | Shane Baz | RC | |
| 221 | Austin Meadows | | |
| 253 | Vidal Brujan | RC | |
| 258 | Mike Zunino | | |
| PB-17 | Randy Arozarena | | |
| FF-4 | Vidal Brujan | RC | |
| FF-9 | Wander Franco | RC | |
| PA-RA | Randy Arozarena | | Auto |
| PA-SBA | Shane Baz | RC | Auto |
| PA-TG | Tyler Glasnow | | Auto |
| PA-VB | Vidal Brujan | RC | Auto |
| PA-WF | Wander Franco | RC | Auto |
| FFA-VB | Vidal Brujan | RC | Auto |
| FFA-WF | Wander Franco | RC | Auto |
| SSAR-BL | Brandon Lowe | | Auto Relic |
| SSAR-NC | Nelson Cruz | | Auto Relic |
| SSAR-RA | Randy Arozarena | | Auto Relic |
| SSAR-WF | Wander Franco | RC | Auto Relic |
| | | | |
| --- | --- | --- | --- |
| 5 | Rafael Devers | | |
| 6 | Pedro Martinez | | |
| 22 | David Ortiz | | |
| 26 | Kyle Schwarber | | |
| 94 | Alex Verdugo | | |
| 115 | Manny Ramirez | | |
| 122 | Ted Williams | | |
| 124 | Roger Clemens | | |
| 127 | Xander Bogaerts | | |
| 149 | Carl Yastrzemski | | |
| 160 | J.D. Martinez | | |
| 178 | Enrique Hernandez | | |
| 204 | Jarren Duran | RC | |
| 220 | Connor Wong | RC | |
| 274 | Rafael Devers | | |
| 290 | J.D. Martinez | | |
| 298 | Xander Bogaerts | | |
| 299 | Nathan Eovaldi | | |
| PB-6 | Pedro Martinez | | |
| PP-16 | Rafael Devers | | |
| FF-13 | Jarren Duran | RC | |
| PA-JDU | Jarren Duran | RC | Auto |
| PA-XB | Xander Bogaerts | | Auto |
| PDA-XB | Xander Bogaerts | | Auto |
| PPA-MV | Mo Vaughn | | Auto |
| FFA-JDN | Jarren Duran | RC | Auto |
| PDAR-DO | David Ortiz | | Auto Relic |
| PDAR-RD | Rafael Devers | | Auto Relic |
| PDAR-XB | Xander Bogaerts | | Auto Relic |
| SSAR-AV | Alex Verdugo | | Auto Relic |
| SSAR-RD | Rafael Devers | | Auto Relic |
| | | | |
| --- | --- | --- | --- |
| 37 | Johnny Bench | | |
| 65 | Joe Morgan | | |
| 85 | Barry Larkin | | |
| 118 | Jesse Winker | | |
| 130 | Joey Votto | | |
| 154 | Mike Moustakas | | |
| 166 | Nick Castellanos | | |
| 219 | TJ Friedl | RC | |
| 231 | Jonathan India | | |
| 247 | Tony Santillan | RC | |
| 292 | Jesse Winker | | |
| 295 | Nick Castellanos | | |
| PP-14 | Jesse Winker | | |
| PA-SG | Sonny Gray | | Auto |
| PA-TP | Tony Pérez | | Auto |
| PA-TS | Tony Santillan | RC | Auto |
| PPA-JW | Jesse Winker | | Auto |
| PDAR-BL | Barry Larkin | | Auto Relic |
| SSAR-JVO | Joey Votto | | Auto Relic |
| SSAR-JW | Jesse Winker | | Auto Relic |
| | | | |
| --- | --- | --- | --- |
| 40 | Trevor Story | | |
| 52 | Raimel Tapia | | |
| 101 | Charlie Blackmon | | |
| 109 | Larry Walker | | |
| 138 | Colton Welker | RC | |
| 173 | Ryan McMahon | | |
| 186 | Todd Helton | | |
| 242 | German Marquez | | |
| 268 | German Marquez | | |
| PA-LW | Larry Walker | | Auto |
| SSAR-LW | Larry Walker | | Auto Relic |
| | | | |
| --- | --- | --- | --- |
| 81 | Whit Merrifield | | |
| 108 | Salvador Perez | | |
| 125 | Andrew Benintendi | | |
| 167 | George Brett | | |
| 211 | Jackson Kowar | RC | |
| 229 | Emmanuel Rivera | RC | |
| 263 | Whit Merrifield | | |
| 286 | Salvador Perez | | |
| PA-BWJ | Bobby Witt Jr. | RC | Auto |
| PA-JKO | Jackson Kowar | RC | Auto |
| PDA-BJ | Bo Jackson | | Auto |
| PPA-JS | Jorge Soler | | Auto |
| SSAR-AB | Andrew Benintendi | | Auto Relic |
| | | | |
| --- | --- | --- | --- |
| 21 | Miguel Cabrera | | |
| 35 | Jeimer Candelario | | |
| 66 | Al Kaline | | |
| 135 | Casey Mize | | |
| 147 | Alan Trammell | | |
| 235 | Matt Manning | RC | |
| PB-7 | Miguel Cabrera | | |
| FF-8 | Matt Manning | RC | |
| PA-CM | Casey Mize | | Auto |
| PA-MMA | Matt Manning | RC | Auto |
| PPA-CF | Cecil Fielder | | Auto |
| FFA-CM | Casey Mize | | Auto |
| FFA-MM | Matt Manning | RC | Auto |
| PDAR-MC | Miguel Cabrera | | Auto Relic |
| SSAR-IR | Ivan Rodriguez | | Auto Relic |
| | | | |
| --- | --- | --- | --- |
| 4 | Byron Buxton | | |
| 30 | Max Kepler | | |
| 63 | Josh Donaldson | | |
| 68 | Harmon Killebrew | | |
| 83 | Torii Hunter | | |
| 110 | Kirby Puckett | | |
| 128 | Joe Ryan | RC | |
| 199 | Joe Mauer | | |
| 202 | Griffin Jax | RC | |
| 213 | Alex Kirilloff | | |
| 276 | Nelson Cruz | | |
| PB-2 | Rod Carew | | |
| PB-14 | Max Kepler | | |
| PA-AK | Alex Kirilloff | | Auto |
| PA-MK | Max Kepler | | Auto |
| PA-TH | Torii Hunter | | Auto |
| PDA-BB | Byron Buxton | | Auto |
| FFA-AK | Alex Kirilloff | | Auto |
| PDAR-BB | Byron Buxton | | Auto Relic |
| PDAR-JM | Joe Mauer | | Auto Relic |
| SSAR-JD | Josh Donaldson | | Auto Relic |
| SSAR-MK | Max Kepler | | Auto Relic |
| | | | |
| --- | --- | --- | --- |
| 60 | Jose Abreu | | |
| 113 | Dick Allen | | |
| 116 | Frank Thomas | | |
| 144 | Andrew Vaughn | | |
| 169 | Yoan Moncada | | |
| 181 | Eloy Jimenez | | |
| 183 | Luis Robert | | |
| 188 | Tim Anderson | | |
| 205 | Jake Burger | RC | |
| 209 | Gavin Sheets | RC | |
| 234 | Lance Lynn | | |
| 245 | Liam Hendriks | | |
| 272 | Liam Hendriks | | |
| 296 | Tim Anderson | | |
| PB-10 | Jose Abreu | | |
| PP-20 | Frank Thomas | | |
| FF-15 | Gavin Sheets | RC | |
| PA-EJ | Eloy Jimenez | | Auto |
| PA-FT | Frank Thomas | | Auto |
| PA-GSH | Gavin Sheets | RC | Auto |
| PA-JBU | Jake Burger | RC | Auto |
| PDA-EJ | Eloy Jimenez | | Auto |
| PDA-TA | Tim Anderson | | Auto |
| PPA-LR | Luis Robert | | Auto |
| FFA-JBU | Jake Burger | RC | Auto |
| PDAR-JA | Jose Abreu | | Auto Relic |
| PDAR-LR | Luis Robert | | Auto Relic |
| SSAR-BJ | Bo Jackson | | Auto Relic |
| SSAR-FT | Frank Thomas | | Auto Relic |
| SSAR-JA | Jose Abreu | | Auto Relic |
| SSAR-TA | Tim Anderson | | Auto Relic |
| | | | |
| --- | --- | --- | --- |
| 28 | Mariano Rivera | | |
| 38 | Joey Gallo | | |
| 46 | Gleyber Torres | | |
| 47 | Giancarlo Stanton | | |
| 87 | Lou Gehrig | | |
| 89 | DJ LeMahieu | | |
| 92 | Derek Jeter | | |
| 99 | Aaron Judge | | |
| 107 | Gary Sanchez | | |
| 153 | Anthony Rizzo | | |
| 157 | Gerrit Cole | | |
| 190 | Babe Ruth | | |
| 225 | Luis Gil | RC | |
| 238 | Hideki Matsui | | |
| 282 | Aaron Judge | | |
| PB-4 | Mariano Rivera | | |
| PP-4 | Dave Winfield | | |
| PP-13 | Babe Ruth | | |
| PP-15 | Aaron Judge | | |
| FF-12 | Luis Gil | RC | |
| PA-AJ | Aaron Judge | | Auto |
| PA-DMA | Don Mattingly | | Auto |
| PA-LGI | Luis Gil | RC | Auto |
| PDA-CS | CC Sabathia | | Auto |
| PPDA-JR | Mariano Rivera, Derek Jeter | | Auto |
| PPA-DW | Dave Winfield | | Auto |
| PDAR-AJ | Aaron Judge | | Auto Relic |
| PDAR-ARD | Alex Rodriguez | | Auto Relic |
| PDAR-DJ | Derek Jeter | | Auto Relic |
| PDAR-GT | Gleyber Torres | | Auto Relic |
| SSAR-AC | Aroldis Chapman | | Auto Relic |
| SSAR-AP | Andy Pettitte | | Auto Relic |
| SSAR-CS | CC Sabathia | | Auto Relic |
| SSAR-DL | DJ LeMahieu | | Auto Relic |
| SSAR-GU | Gio Urshela | | Auto Relic |
| SSAR-MR | Mariano Rivera | | Auto Relic |