2022 Topps Now Book of Boba Fett trading cards are an on-demand collection that retells the story from the Mandalorian spin-off in real time. Each week, following the release of an episode, five cards are added to the set by Topps and available for one week. Final print runs are determined by consumer demand.
The first season of the series, which premiered on Disney+ at the end of December, 2021, contains seven episodes.
Our checklist includes all of the cards and final print runs. Clicking a link within the checklist will direct you to an affiliate retailer or to relevant eBay listings.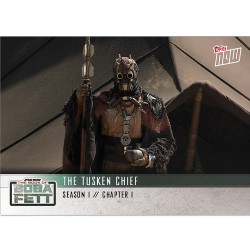 2022 Topps Now Book of Boba Fett Checklist
Base Set – TBD
Red – #/10
Gold – 1/1
| # | Title | Print Run |
| --- | --- | --- |
| 1 | Boba Fett on the Throne | 2623 |
| 2 | Garsa Fwip | 2623 |
| 3 | Boba Fett, Fennec Shand, and Fett's Gamorrean Guards | 2623 |
| 4 | The Tusken Chief | 2623 |
| 5 | Fennec Shand in Action | 2623 |
| 6 | Mayor Mok Shaiz | 1630 |
| 7 | The Twins | 1630 |
| 8 | Boba Fett Delivers the Speeder Bikes | 1630 |
| 9 | Tatooine Repulsor Train | 1630 |
| 10 | Boba Fett Crafts his Gaderffii Stick | 1630 |
| 11 | The Modifiers | 1510 |
| 12 | Boba Fett Departs the Destroyed Tusken Camp | 1510 |
| 13 | Krrsantan's Failed Assassination Attempt | 1510 |
| 14 | Boba Fett's Rancor | 1510 |
| 15 | The Chase | 1510 |
| 16 | Boba Fett Saves Fennec Shand | 1453 |
| 17 | Boba Fett Attacks the Speeder Bike Gang | 1453 |
| 18 | Making Camp Outside of Boba Fett's Starship | 1453 |
| 19 | Krrsantan | 1453 |
| 20 | Boba Fett Hosts a Banquet | 1453 |
| 21 | The Mandalorian Hunts a Bounty | 1769 |
| 22 | The Armorer and the Darksaber | 1769 |
| 23 | The Mandalorian Duels Paz Vizsla | 1769 |
| 24 | The Mandalorian's Custom N-1 Starfighter | 1769 |
| 25 | Fennec Shand pays the Mandalorian a Visit | 1769 |
| 26 | The Mandalorian and R2-D2 | 2005 |
| 27 | The Mandalorian and Ahsoka Tano | 2005 |
| 28 | Discussing Strategy | 2005 |
| 29 | Cad Bane | 2005 |
| 30 | Luke Skywalker Gives Grogu an Ultimatum | 2005 |
| 31 | Boba Fett and The Mandalorian | 1920 |
| 32 | Boba Fett Rides the Rancor | 1920 |
| 33 | Boba Fett defeats Cad Bane | 1920 |
| 34 | Grogu Soothes the Rancor | 1920 |
| 35 | Victory | 1920 |