2022 Topps Inception baseball cards focus on the most collectible players in baseball with a mix of current super stars, emerging stars, and the 2022 MLB rookie class.
Each box contains one pack of seven cards and is guaranteed to include one autograph or autograph relic card as well as two base card parallels.
Each case of Inception has a guarantee of four Inception Autograph Patch Cards, one Inception Silver Signings autograph card, and one autograph Jumbo Patch Card or autograph Jumbo Hat Patch card.
Release date – 3/30/2022
Cards per pack – 7
Packs per hobby box – 1
Hobby boxes per case – 16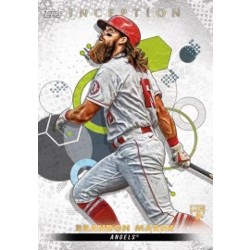 2022 Topps Inception Baseball Checklist
Base Set – 100 Cards
Green – Limited
Purple – #/150
Magenta – #/99
Red – #/75
Orange – #/50
Blue – #/25
Inception – 1/1
Rookie and Emerging Stars Auto (BRES) – 83 Cards
Base – #
Magenta – #/99
Red – #/75
Orange – #/50
Blue – #/25
Green – #/125
Inception – 1/1
Inception Silver Singings (ISS) – 40 Cards
Gold Ink – #/25
Gold Ink Inception – 1/1
Inception Dawn of Greatness Auto (IDA) – 10 Cards
Base – #/20
Orange – #/10
Blue – #/5
Inception -1/1
Short Print Inception Auto (SP) – 8 Cards
Base – #/10
Inception Auto Patch (IAP) – 57 Cards
Magenta – #/75 or fewer
Red – #/25
Orange – #/10
Blue – #/6
Green – #/99 or fewer
Inception – 1/1
Inception Auto Jumbo Patch (IAJP) – 32 Cards
Orange – #/25
Blue – #/10
Red – #/50
Inception – 1/1
Inception Auto Jumbo Hat Patch (IAJH) – 29 Cards
Team Logo – #/5
New Era Logo – #/5
MLB Logo – #/5
Inception Auto Team Logo Patch (ITBC) – 17 Cards
Base – #/2
Inception Auto Letter Book (ILBC) – 18 Cards
Base – #/2
Gameday Gear Auto Relic Book (GGAR) – 7 Cards
Base – #/5
Inception – 1/1
Inception Auto Batting Glove (IBGR) – 9 Cards
Base – #/25
Inception Strap – 1/1
Inception Logo – 1/1
Inception Auto Laundry Tag Book (LTBC) – 14 Cards
Base – 1/1
Inception Auto MLB Logo Book (SLBC) – 14 Cards
Base – 1/1
Inception Dual Auto Relic Book (IDRBC) – 6 Cards
Base – #/3
Inception – 1/1
Inception Auto Game Socks (AGSR) – 22 Cards
Base – #/3
Inception – 1/1
Angels
| | | | |
| --- | --- | --- | --- |
| 1 | Mike Trout | | |
| 42 | Anthony Rendon | | |
| 50 | Shohei Ohtani | | |
| 74 | Reid Detmers | RC | |
| 88 | Brandon Marsh | RC | |
| IAP-RDE | Reid Detmers | RC | Auto/Relic |
| IAJH-RDE | Reid Detmers | RC | Auto/Relic |
| ITBC-SO | Shohei Ohtani | | Auto/Relic |
| ILBC-MT | Mike Trout | | Auto/Relic |
| ILBC-SO | Shohei Ohtani | | Auto/Relic |
| LTBC-SO | Shohei Ohtani | | Auto/Relic |
| SLBC-SO | Shohei Ohtani | | Auto/Relic |
| IDRBC-TO | Mike Trout | | Auto/Relic |
| IDRBC-TO | Shohei Ohtani | | Auto/Relic |
| AGSR-RD | Reid Detmers | RC | Auto/Relic |
| BRES-BM | Brandon Marsh | RC | Auto |
| BRES-RDT | Reid Detmers | RC | Auto |
| BRES-SO | Shohei Ohtani | | Auto |
| ISS-BM | Brandon Marsh | RC | Auto |
| ISS-SO | Shohei Ohtani | | Auto |
| SP-MT | Mike Trout | | Auto |
Astros
| | | | |
| --- | --- | --- | --- |
| 37 | Jose Altuve | | |
| 41 | Alex Bregman | | |
| IAP-ABN | Alex Bregman | | Auto/Relic |
| IAP-JME | Jake Meyers | RC | Auto/Relic |
| IAP-JSI | Jose Siri | RC | Auto/Relic |
| IAP-YA | Yordan Alvarez | | Auto/Relic |
| ITBC-JM | Jake Meyers | RC | Auto/Relic |
| ILBC-JM | Jake Meyers | RC | Auto/Relic |
| BRES-JM | Jake Meyers | RC | Auto |
| BRES-JSI | Jose Siri | RC | Auto |
| BRES-YA | Yordan Alvarez | | Auto |
| ISS-JM | Jake Meyers | RC | Auto |
| ISS-YA | Yordan Alvarez | | Auto |
| SP-JAT | Jose Altuve | | Auto |
Athletics
| | | | |
| --- | --- | --- | --- |
| 69 | Matt Chapman | | |
| 70 | Matt Olson | | |
| IDA-JD | Josh Donaldson | | Auto |
| IDA-MMG | Mark McGwire | | Auto |
Blue Jays
| | | | |
| --- | --- | --- | --- |
| 49 | Jose Berrios | | |
| 51 | Bo Bichette | | |
| 65 | Vladimir Guerrero Jr. | | |
| IAP-OLO | Otto Lopez | RC | Auto/Relic |
| IAJP-VGJ | Vladimir Guerrero Jr. | | Auto/Relic |
| IAJH-VG | Vladimir Guerrero Jr. | | Auto/Relic |
| ITBC-VG | Vladimir Guerrero Jr. | | Auto/Relic |
| ILBC-VG | Vladimir Guerrero Jr. | | Auto/Relic |
| LTBC-VG | Vladimir Guerrero Jr. | | Auto/Relic |
| SLBC-VG | Vladimir Guerrero Jr. | | Auto/Relic |
| AGSR-BB | Bo Bichette | | Auto/Relic |
| AGSR-VG | Vladimir Guerrero Jr. | | Auto/Relic |
| GGAR-VG | Vladimir Guerrero Jr. | | Auto/Relic |
| ISS-VG | Vladimir Guerrero Jr. | | Auto |
Braves
| | | | |
| --- | --- | --- | --- |
| 13 | Ozzie Albies | | |
| 59 | Kyle Muller | RC | |
| 68 | Dansby Swanson | | |
| 92 | Ronald Acuña Jr. | | |
| 100 | Freddie Freeman | | |
| IAP-ARY | Austin Riley | | Auto/Relic |
| IAP-KM | Kyle Muller | RC | Auto/Relic |
| IAJP-KM | Kyle Muller | RC | Auto/Relic |
| IAJH-KM | Kyle Muller | RC | Auto/Relic |
| ITBC-KM | Kyle Muller | RC | Auto/Relic |
| ILBC-KM | Kyle Muller | RC | Auto/Relic |
| BRES-AR | Austin Riley | | Auto |
| BRES-CP | Cristian Pache | | Auto |
| BRES-IA | Ian Anderson | | Auto |
| BRES-KM | Kyle Muller | RC | Auto |
| ISS-ARI | Austin Riley | | Auto |
| ISS-KM | Kyle Muller | RC | Auto |
| SP-FF | Freddie Freeman | | Auto |
Brewers
| | | | |
| --- | --- | --- | --- |
| 30 | Christian Yelich | | |
| 54 | Corbin Burnes | | |
| IAP-AAS | Aaron Ashby | RC | Auto/Relic |
| IAP-JC | Jake Cousins | RC | Auto/Relic |
| BRES-AAS | Aaron Ashby | RC | Auto |
| BRES-FP | Freddy Peralta | | Auto |
| BRES-JCS | Jake Cousins | RC | Auto |
| IDA-PM | Paul Molitor | | Auto |
Cardinals
| | | | |
| --- | --- | --- | --- |
| 28 | Paul Goldschmidt | | |
| 45 | Nolan Arenado | | |
| 83 | Yadier Molina | | |
| IAP-DC | Dylan Carlson | | Auto/Relic |
| IAP-LN | Lars Nootbaar | RC | Auto/Relic |
| IAJP-LNO | Lars Nootbaar | RC | Auto/Relic |
| IAJH-LN | Lars Nootbaar | RC | Auto/Relic |
| AGSR-LN | Lars Nootbaar | RC | Auto/Relic |
| IBGR-LN | Lars Nootbaar | RC | Auto/Relic |
| BRES-ARN | Angel Rondon | RC | Auto |
| BRES-DC | Dylan Carlson | | Auto |
| BRES-LN | Lars Nootbaar | RC | Auto |
Cubs
| | | | |
| --- | --- | --- | --- |
| 19 | Willson Contreras | | |
| 25 | Kyle Hendricks | | |
| 81 | Ian Happ | | |
| IAP-ARI | Alfonso Rivas | RC | Auto/Relic |
| IAP-BM | Brailyn Marquez | | Auto/Relic |
| IAP-NM | Nick Madrigal | | Auto/Relic |
| IAJP-ARI | Alfonso Rivas | RC | Auto/Relic |
| IAJH-ARI | Alfonso Rivas | RC | Auto/Relic |
| IAJH-NH | Nico Hoerner | | Auto/Relic |
| AGSR-AR | Alfonso Rivas | RC | Auto/Relic |
| GGAR-AR | Alfonso Rivas | RC | Auto/Relic |
| BRES-ARI | Alfonso Rivas | RC | Auto |
| BRES-GD | Greg Deichmann | RC | Auto |
| BRES-NM | Nick Madrigal | | Auto |
| IDA-GM | Greg Maddux | | Auto |
| IDA-LS | Lee Smith | | Auto |
Diamondbacks
C
| | | | |
| --- | --- | --- | --- |
| 73 | Josh Rojas | | |
| IAP-SBE | Seth Beer | RC | Auto/Relic |
| IAJP-SBE | Seth Beer | RC | Auto/Relic |
| IAJH-SBE | Seth Beer | RC | Auto/Relic |
| AGSR-SB | Seth Beer | RC | Auto/Relic |
| BRES-DEL | Drew Ellis | RC | Auto |
| BRES-JMC | Jake McCarthy | RC | Auto |
| BRES-SB | Seth Beer | RC | Auto |
| BRES-TG | Tyler Gilbert | RC | Auto |
| ISS-TG | Tyler Gilbert | RC | Auto |
Dodgers
| | | | |
| --- | --- | --- | --- |
| 7 | Trea Turner | | |
| 9 | Cody Bellinger | | |
| 64 | Max Muncy | | |
| 77 | Mookie Betts | | |
| 84 | Max Scherzer | | |
| IAP-AJA | Andre Jackson | RC | Auto/Relic |
| IAJH-WB | Walker Buehler | | Auto/Relic |
| BRES-AJN | Andre Jackson | RC | Auto |
| BRES-GL | Gavin Lux | | Auto |
Expos
| | | | |
| --- | --- | --- | --- |
| IDA-VG | Vladimir Guerrero | | Auto |
Giants
| | | | |
| --- | --- | --- | --- |
| 12 | Mike Yastrzemski | | |
| 26 | Brandon Crawford | | |
| 85 | Buster Posey | | |
| 97 | Kris Bryant | | |
| BRES-SL | Sammy Long | RC | Auto |
Guardians
| | | | |
| --- | --- | --- | --- |
| 14 | Shane Bieber | | |
| 82 | Jose Ramirez | | |
| IAP-EC | Ernie Clement | RC | Auto/Relic |
| IAJH-EC | Ernie Clement | RC | Auto/Relic |
| AGSR-EC | Ernie Clement | RC | Auto/Relic |
| IBGR-EC | Ernie Clement | RC | Auto/Relic |
| BRES-EC | Ernie Clement | RC | Auto |
Mariners
| | | | |
| --- | --- | --- | --- |
| 3 | Cal Raleigh | RC | |
| 67 | Kyle Lewis | | |
| IAP-CR | Cal Raleigh | RC | Auto/Relic |
| IAP-JKN | Jarred Kelenic | | Auto/Relic |
| IAJP-CR | Cal Raleigh | RC | Auto/Relic |
| IAJH-CR | Cal Raleigh | RC | Auto/Relic |
| IAJH-KL | Kyle Lewis | | Auto/Relic |
| ITBC-JK | Jarred Kelenic | | Auto/Relic |
| ILBC-JK | Jarred Kelenic | | Auto/Relic |
| LTBC-JK | Jarred Kelenic | | Auto/Relic |
| SLBC-JK | Jarred Kelenic | | Auto/Relic |
| IDRBC-LK | Kyle Lewis | | Auto/Relic |
| IDRBC-LK | Jarred Kelenic | | Auto/Relic |
| AGSR-CR | Cal Raleigh | RC | Auto/Relic |
| AGSR-JK | Jarred Kelenic | | Auto/Relic |
| IBGR-CR | Cal Raleigh | RC | Auto/Relic |
| GGAR-CR | Cal Raleigh | RC | Auto/Relic |
| BRES-CR | Cal Raleigh | RC | Auto |
| BRES-JK | Jarred Kelenic | | Auto |
| BRES-LG | Logan Gilbert | | Auto |
| ISS-CR | Cal Raleigh | RC | Auto |
| ISS-JK | Jarred Kelenic | | Auto |
| ISS-KL | Kyle Lewis | | Auto |
Marlins
| | | | |
| --- | --- | --- | --- |
| 55 | Bryan De La Cruz | RC | |
| 80 | Jazz Chisholm Jr. | | |
| IAP-BDC | Bryan De La Cruz | RC | Auto/Relic |
| IAP-JCM | Jazz Chisholm Jr. | | Auto/Relic |
| IAP-NFO | Nick Fortes | RC | Auto/Relic |
| IAJP-BDLC | Bryan De La Cruz | RC | Auto/Relic |
| IAJH-BDLC | Bryan De La Cruz | RC | Auto/Relic |
| IAJH-JC | Jazz Chisholm Jr. | | Auto/Relic |
| ITBC-BD | Bryan De La Cruz | RC | Auto/Relic |
| ILBC-BC | Bryan De La Cruz | RC | Auto/Relic |
| LTBC-BD | Bryan De La Cruz | RC | Auto/Relic |
| SLBC-BC | Bryan De La Cruz | RC | Auto/Relic |
| AGSR-BDC | Bryan De La Cruz | RC | Auto/Relic |
| BRES-BDLC | Bryan De La Cruz | RC | Auto |
| BRES-JC | Jazz Chisholm Jr. | | Auto |
| BRES-MTH | Zach Thompson | RC | Auto |
| BRES-SS | Sixto Sanchez | | Auto |
| BRES-TR | Trevor Rogers | | Auto |
| ISS-BDLC | Bryan De La Cruz | RC | Auto |
Mets
| | | | |
| --- | --- | --- | --- |
| 6 | Pete Alonso | | |
| 18 | Tylor Megill | RC | |
| 36 | Francisco Lindor | | |
| 72 | Jacob deGrom | | |
| IAP-PA | Pete Alonso | | Auto/Relic |
| IAP-TM | Tylor Megill | RC | Auto/Relic |
| IAJP-PA | Pete Alonso | | Auto/Relic |
| IAJP-TM | Tylor Megill | RC | Auto/Relic |
| IAJH-TM | Tylor Megill | RC | Auto/Relic |
| ITBC-PA | Pete Alonso | | Auto/Relic |
| ILBC-PA | Pete Alonso | | Auto/Relic |
| LTBC-PA | Pete Alonso | | Auto/Relic |
| SLBC-PA | Pete Alonso | | Auto/Relic |
| AGSR-PA | Pete Alonso | | Auto/Relic |
| BRES-PA | Pete Alonso | | Auto |
| BRES-TM | Tylor Megill | RC | Auto |
| ISS-PA | Pete Alonso | | Auto |
| ISS-TM | Tylor Megill | RC | Auto |
Nationals
| | | | |
| --- | --- | --- | --- |
| 27 | Josiah Gray | RC | |
| 40 | Stephen Strasburg | | |
| 60 | Juan Soto | | |
| IAP-JG | Josiah Gray | RC | Auto/Relic |
| IAP-JS | Juan Soto | | Auto/Relic |
| IAJP-JG | Josiah Gray | RC | Auto/Relic |
| IAJP-JS | Juan Soto | | Auto/Relic |
| IAJH-JG | Josiah Gray | RC | Auto/Relic |
| ITBC-JG | Josiah Gray | RC | Auto/Relic |
| ITBC-JS | Juan Soto | | Auto/Relic |
| ILBC-JG | Josiah Gray | RC | Auto/Relic |
| ILBC-JS | Juan Soto | | Auto/Relic |
| LTBC-JG | Josiah Gray | RC | Auto/Relic |
| LTBC-JS | Juan Soto | | Auto/Relic |
| SLBC-JG | Josiah Gray | RC | Auto/Relic |
| SLBC-JS | Juan Soto | | Auto/Relic |
| AGSR-JG | Josiah Gray | RC | Auto/Relic |
| BRES-JG | Josiah Gray | RC | Auto |
| BRES-JS | Juan Soto | | Auto |
| BRES-RAS | Riley Adams | RC | Auto |
| ISS-JG | Josiah Gray | RC | Auto |
| ISS-JS | Juan Soto | | Auto |
Orioles
| | | | |
| --- | --- | --- | --- |
| 57 | Ryan Mountcastle | | |
| 71 | Cedric Mullins | | |
| IAP-CMS | Cedric Mullins | | Auto/Relic |
| IAP-RM | Ryan Mountcastle | | Auto/Relic |
| IAJP-RM | Ryan Mountcastle | | Auto/Relic |
| BRES-AW | Alexander Wells | RC | Auto |
| BRES-MD | Marcos Diplan | RC | Auto |
| BRES-RM | Ryan Mountcastle | | Auto |
| BRES-SW | Spenser Watkins | RC | Auto |
| ISS-RM | Ryan Mountcastle | | Auto |
| IDA-MM | Manny Machado | | Auto |
Padres
| | | | |
| --- | --- | --- | --- |
| 2 | Jake Cronenworth | | |
| 20 | Manny Machado | | |
| 86 | Fernando Tatis Jr. | | |
| 95 | Yu Darvish | | |
| IAP-FT | Fernando Tatis Jr. | | Auto/Relic |
| BRES-FT | Fernando Tatis Jr. | | Auto |
| BRES-RKN | Reiss Knehr | RC | Auto |
| IDA-AR | Anthony Rizzo | | Auto |
| SP-MM | Manny Machado | | Auto |
Phillies
| | | | |
| --- | --- | --- | --- |
| 21 | Bryce Harper | | |
| 29 | Andrew McCutchen | | |
| 35 | J.T. Realmuto | | |
| 76 | Luke Williams | RC | |
| 94 | Rhys Hoskins | | |
| 96 | Matt Vierling | RC | |
| IAP-AB | Alec Bohm | | Auto/Relic |
| IAP-LW | Luke Williams | RC | Auto/Relic |
| IAP-MV | Matthew Vierling | RC | Auto/Relic |
| IAJP-LW | Luke Williams | RC | Auto/Relic |
| IAJP-MV | Matt Vierling | RC | Auto/Relic |
| IAJH-LW | Luke Williams | RC | Auto/Relic |
| IAJH-MV | Matthew Vierling | RC | Auto/Relic |
| ITBC-LW | Luke Williams | RC | Auto/Relic |
| ILBC-LW | Luke Williams | RC | Auto/Relic |
| BRES-AB | Alec Bohm | | Auto |
| BRES-LW | Luke Williams | RC | Auto |
| BRES-MV | Matthew Vierling | RC | Auto |
| ISS-AB | Alec Bohm | | Auto |
| ISS-LW | Luke Williams | RC | Auto |
| IDA-RS | Ryne Sandberg | | Auto |
| SP-BH | Bryce Harper | | Auto |
Pirates
| | | | |
| --- | --- | --- | --- |
| 17 | Ke'Bryan Hayes | | |
| 56 | Oneil Cruz | RC | |
| 78 | Bryan Reynolds | | |
| IAP-KH | Ke'Bryan Hayes | | Auto/Relic |
| IAJP-KH | Ke'Bryan Hayes | | Auto/Relic |
| BRES-HP | HOY Jun Park | RC | Auto |
| BRES-MK | Max Kranick | RC | Auto |
| ISS-KH | Ke'Bryan Hayes | | Auto |
Rangers
| | | | |
| --- | --- | --- | --- |
| 47 | Curtis Terry | RC | |
| 93 | Adolis Garcia | | |
| IAP-CT | Curtis Terry | RC | Auto/Relic |
| IAP-YHE | Yonny Hernandez | RC | Auto/Relic |
| IAP-YPO | Yohel Pozo | RC | Auto/Relic |
| IAJP-YPO | Yohel Pozo | RC | Auto/Relic |
| IAJH-YH | Yonny Hernandez | RC | Auto/Relic |
| ITBC-YH | Yonny Hernandez | RC | Auto/Relic |
| ILBC-YH | Yonny Hernandez | RC | Auto/Relic |
| LTBC-YH | Yonny Hernandez | RC | Auto/Relic |
| SLBC-YHE | Yonny Hernandez | RC | Auto/Relic |
| AGSR-YH | Yonny Hernandez | RC | Auto/Relic |
| IBGR-YH | Yonny Hernandez | RC | Auto/Relic |
| GGAR-YH | Yonny Hernandez | RC | Auto/Relic |
| BRES-AG | Adolis Garcia | | Auto |
| BRES-CT | Curtis Terry | RC | Auto |
| BRES-GOT | Glenn Otto | RC | Auto |
| BRES-JBL | Joe Barlow | RC | Auto |
| BRES-YH | Yonny Hernandez | RC | Auto |
| BRES-YP | Yohel Pozo | RC | Auto |
| ISS-AG | Adolis Garcia | | Auto |
| ISS-JBA | Joe Barlow | RC | Auto |
| ISS-YH | Yonny Hernandez | RC | Auto |
| IDA-IR | Ivan Rodriguez | | Auto |
Rays
| | | | |
| --- | --- | --- | --- |
| 10 | Brandon Lowe | | |
| 39 | Wander Franco | RC | |
| 52 | Tyler Glasnow | | |
| 62 | Shane Baz | RC | |
| 66 | Vidal Brujan | RC | |
| 98 | Randy Arozarena | | |
| IAP-JLO | Josh Lowe | RC | Auto/Relic |
| IAP-RAZ | Randy Arozarena | | Auto/Relic |
| IAP-SBA | Shane Baz | RC | Auto/Relic |
| IAP-VB | Vidal Brujan | RC | Auto/Relic |
| IAP-WF | Wander Franco | RC | Auto/Relic |
| IAJP-JLO | Josh Lowe | RC | Auto/Relic |
| IAJP-RA | Randy Arozarena | | Auto/Relic |
| IAJP-SBA | Shane Baz | RC | Auto/Relic |
| IAJP-VB | Vidal Brujan | RC | Auto/Relic |
| IAJP-WF | Wander Franco | RC | Auto/Relic |
| IAJH-VB | Vidal Brujan | RC | Auto/Relic |
| IAJH-WF | Wander Franco | RC | Auto/Relic |
| ITBC-VB | Vidal Brujan | RC | Auto/Relic |
| ITBC-WF | Wander Franco | RC | Auto/Relic |
| ILBC-VB | Vidal Brujan | RC | Auto/Relic |
| ILBC-WF | Wander Franco | RC | Auto/Relic |
| LTBC-VB | Vidal Brujan | RC | Auto/Relic |
| LTBC-WF | Wander Franco | RC | Auto/Relic |
| SLBC-VB | Vidal Brujan | RC | Auto/Relic |
| SLBC-WF | Wander Franco | RC | Auto/Relic |
| IDRBC-FB | Wander Franco | | Auto/Relic |
| IDRBC-FB | Vidal Brujan | | Auto/Relic |
| AGSR-VB | Vidal Brujan | RC | Auto/Relic |
| AGSR-WF | Wander Franco | RC | Auto/Relic |
| IBGR-WF | Wander Franco | RC | Auto/Relic |
| OBGR-VB | Vidal Brujan | | |
| GGAR-VB | Vidal Brujan | RC | Auto/Relic |
| GGAR-WF | Wander Franco | RC | Auto/Relic |
| BRES-JL | Josh Lowe | RC | Auto |
| BRES-RA | Randy Arozarena | | Auto |
| BRES-SBA | Shane Baz | RC | Auto |
| BRES-VB | Vidal Brujan | RC | Auto |
| BRES-WF | Wander Franco | RC | Auto |
| ISS-RAZ | Randy Arozarena | | Auto |
| ISS-VB | Vidal Brujan | RC | Auto |
| ISS-WF | Wander Franco | RC | Auto |
Red Sox
| | | | |
| --- | --- | --- | --- |
| 24 | Enrique Hernandez | | |
| 33 | Xander Bogaerts | | |
| 75 | Rafael Devers | | |
| 79 | Jarren Duran | RC | |
| IAP-JD | Jarren Duran | RC | Auto/Relic |
| IAP-RD | Rafael Devers | | Auto/Relic |
| IAJP-JD | Jarren Duran | RC | Auto/Relic |
| IAJP-RD | Rafael Devers | | Auto/Relic |
| IAJH-JD | Jarren Duran | RC | Auto/Relic |
| IAJH-RD | Rafael Devers | | Auto/Relic |
| ITBC-JD | Jarren Duran | RC | Auto/Relic |
| ILBC-JDN | Jarren Duran | RC | Auto/Relic |
| LTBC-JDN | Jarren Duran | RC | Auto/Relic |
| SLBC-JD | Jarren Duran | RC | Auto/Relic |
| IDRBC-DD | Rafael Devers | | Auto/Relic |
| IDRBC-DD | Jarren Duran | | Auto/Relic |
| AGSR-JD | Jarren Duran | RC | Auto/Relic |
| IBGR-JD | Jarren Duran | RC | Auto/Relic |
| GGAR-JD | Jarren Duran | RC | Auto/Relic |
| BRES-AV | Alex Verdugo | | Auto |
| BRES-JDR | Jarren Duran | RC | Auto |
| ISS-BDC | Bobby Dalbec | | Auto |
| ISS-JDN | Jarren Duran | RC | Auto |
| ISS-RD | Rafael Devers | | Auto |
Reds
| | | | |
| --- | --- | --- | --- |
| 31 | Tony Santillan | RC | |
| 48 | Joey Votto | | |
| 87 | Jesse Winker | | |
| 91 | Mike Moustakas | | |
| IAP-RFR | TJ Friedl | RC | Auto/Relic |
| IAJP-TRI | TJ Friedl | RC | Auto/Relic |
| IAJP-TS | Tony Santillan | RC | Auto/Relic |
| IAJH-TS | Tony Santillan | RC | Auto/Relic |
| BRES-AL | Alejo Lopez | RC | Auto |
| BRES-TJF | TJ Friedl | RC | Auto |
| BRES-TS | Tony Santillan | RC | Auto |
| ISS-TS | Tony Santillan | RC | Auto |
| SP-JV | Joey Votto | | Auto |
Rockies
| | | | |
| --- | --- | --- | --- |
| 90 | German Marquez | | |
| IAP-RVI | Ryan Vilade | RC | Auto/Relic |
| IAJP-CWE | Colton Welker | RC | Auto/Relic |
| IAJP-RVI | Ryan Vilade | RC | Auto/Relic |
| OBGR-RV | Ryan Vilade | RC | Auto/Relic |
| BRES-RV | Ryan Vilade | RC | Auto |
Royals
| | | | |
| --- | --- | --- | --- |
| 8 | Salvador Perez | | |
| 46 | Whit Merrifield | | |
| 89 | Jackson Kowar | RC | |
| IAP-JK | Jackson Kowar | RC | Auto/Relic |
| IAJH-JK | Jackson Kowar | RC | Auto/Relic |
| BRES-ER | Emmanuel Rivera | RC | Auto |
| BRES-JKR | Jackson Kowar | RC | Auto |
| ISS-ER | Emmanuel Rivera | RC | Auto |
Tigers
| | | | |
| --- | --- | --- | --- |
| 5 | Miguel Cabrera | | |
| 43 | Matt Manning | RC | |
| IAP-CM | Casey Mize | | Auto/Relic |
| IAP-MM | Matt Manning | RC | Auto/Relic |
| IAJP-MM | Matt Manning | RC | Auto/Relic |
| IAJH-MM | Matt Manning | RC | Auto/Relic |
| AGSR-MM | Matt Manning | RC | Auto/Relic |
| BRES-CM | Casey Mize | | Auto |
| BRES-MMG | Matt Manning | RC | Auto |
| ISS-MM | Matt Manning | RC | Auto |
Twins
| | | | |
| --- | --- | --- | --- |
| 44 | Josh Donaldson | | |
| 61 | Max Kepler | | |
| 63 | Byron Buxton | | |
| IAP-AK | Alex Kirilloff | | Auto/Relic |
| IAP-GJX | Griffin Jax | RC | Auto/Relic |
| IAP-JRY | Joe Ryan | RC | Auto/Relic |
| IAJP-JR | Joe Ryan | RC | Auto/Relic |
| IAJH-GJ | Griffin Jax | RC | Auto/Relic |
| ITBC-JR | Joe Ryan | RC | Auto/Relic |
| ILBC-JR | Joe Ryan | RC | Auto/Relic |
| LTBC-JR | Joe Ryan | RC | Auto/Relic |
| SLBC-JR | Joe Ryan | RC | Auto/Relic |
| AGSR-JR | Joe Ryan | RC | Auto/Relic |
| BRES-CB | Charlie Barnes | RC | Auto |
| BRES-GJ | Griffin Jax | RC | Auto |
| BRES-JRY | Joe Ryan | RC | Auto |
| ISS-GJ | Griffin Jax | RC | Auto |
| ISS-JRY | Joe Ryan | RC | Auto |
| SP-JD | Josh Donaldson | | Auto |
White Sox
| | | | |
| --- | --- | --- | --- |
| 4 | Jake Burger | RC | |
| 16 | Tim Anderson | | |
| 22 | Jose Abreu | | |
| 34 | Luis Robert | | |
| 53 | Eloy Jimenez | | |
| 58 | Gavin Sheets | RC | |
| IAP-EJ | Eloy Jimenez | | Auto/Relic |
| IAP-GS | Gavin Sheets | RC | Auto/Relic |
| IAP-JBG | Jake Burger | RC | Auto/Relic |
| IAP-LR | Luis Robert | | Auto/Relic |
| IAJP-GS | Gavin Sheets | RC | Auto/Relic |
| IAJP-LR | Luis Robert | | Auto/Relic |
| IAJH-EJ | Eloy Jimenez | | Auto/Relic |
| IAJH-GS | Gavin Sheets | RC | Auto/Relic |
| ITBC-GS | Gavin Sheets | RC | Auto/Relic |
| ITBC-LR | Luis Robert | | Auto/Relic |
| ILBC-GS | Gavin Sheets | RC | Auto/Relic |
| ILBC-LR | Luis Robert | | Auto/Relic |
| LTBC-GS | Gavin Sheets | RC | Auto/Relic |
| LTBC-LR | Luis Robert | | Auto/Relic |
| SLBC-GS | Gavin Sheets | RC | Auto/Relic |
| SLBC-LR | Luis Robert | | Auto/Relic |
| IDRBC-RJ | Eloy Jimenez | | Auto/Relic |
| IDRBC-RJ | Luis Robert | | Auto/Relic |
| IDRBC-SB | Gavin Sheets | | Auto/Relic |
| IDRBC-SB | Jake Burger | | Auto/Relic |
| AGSR-EJ | Eloy Jimenez | | Auto/Relic |
| AGSR-GS | Gavin Sheets | RC | Auto/Relic |
| AGSR-LR | Luis Robert | | Auto/Relic |
| IBGR-GS | Gavin Sheets | RC | Auto/Relic |
| BRES-AVG | Andrew Vaughn | | Auto |
| BRES-GS | Gavin Sheets | RC | Auto |
| BRES-JBG | Jake Burger | RC | Auto |
| BRES-RGO | Romy Gonzalez | RC | Auto |
| ISS-AV | Andrew Vaughn | | Auto |
| ISS-EJ | Eloy Jimenez | | Auto |
| ISS-GS | Gavin Sheets | RC | Auto |
| ISS-JB | Jake Burger | RC | Auto |
| ISS-LR | Luis Robert | | Auto |
Yankees
| | | | |
| --- | --- | --- | --- |
| 11 | Gerrit Cole | | |
| 15 | DJ LeMahieu | | |
| 23 | Giancarlo Stanton | | |
| 32 | Gleyber Torres | | |
| 38 | Luis Gil | RC | |
| 99 | Aaron Judge | | |
| IAP-LGI | Luis Gil | RC | Auto/Relic |
| IAJP-LG | Luis Gil | RC | Auto/Relic |
| IAJH-LG | Luis Gil | RC | Auto/Relic |
| AGSR-LG | Luis Gil | RC | Auto/Relic |
| BRES-DG | Deivi Garcia | | Auto |
| BRES-LGI | Luis Gil | RC | Auto |
| BRES-SR | Stephen Ridings | RC | Auto |
| BRES-TA | Trey Amburgey | RC | Auto |
| ISS-LG | Luis Gil | RC | Auto |
| SP-AR | Anthony Rizzo | | Auto |