2022 Topps Heritage baseball cards are inspired by the 1973 Topps baseball card design and feature a load of insert sets, autographs, and relic cards.
Hobby boxes include one autograph or relic card as well as a box loader.
This checklist is separated by team. Scroll through the entire list or select a team from the list below to go directly to their checklist. Clicking a link within the checklist may direct you to an affiliate retailer or to relevant eBay listings.
Release date – 3/11/22
Cards per hobby pack – 9
Packs per hobby box – 24
Hobby boxes per case – 12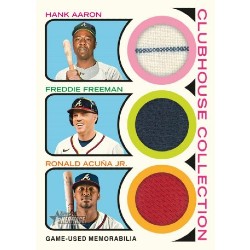 2022 Topps Heritage Baseball Checklist
Base Set – 500 Cards
Chrome Refractor – #/573
Chrome Silver – #/373
Chrome Black Border – #/73
Chrome Gold Border – #/5
SuperFractor – 1/1
Mini – #/100
Error
Player Icon Color Swap
Throwback Uniform – Ultra Rare
Image Variant
Team and Name Color Swap
Nickname
Black Bordered – #/50
Flip Stock – #/5
New Age Performers (NAP) – 25 Cards
Then and Now (TAN) – 15 Cards
Baseball Flashbacks (BF) – 15 Cards
News Flashbacks (NF) – 15 Cards
1973 Topps Comics (73TC) – 25 Cards
1973 Topps Candy Lids – 25
1973 Venezuela Stamps – 25
1973 Oversized Topps (OB) – 50 Cards
Base – Limited to 1,000 each
Auto – Limited to 25 or fewer
1973 Topps Pin Ups (73PU) – 25 Cards
Real One Auto (ROA) – 71 Cards
Red Ink – #/73
Real One Dual Auto (RODA) – 4 Cards
Base – #/25 or fewer
Real One Triple Auto (ROTA) – 3 Cards
Base – #/5
Clubhouse Collection Auot/Relic (CCAR) – 9 Cards
Base – #/25 or fewer
Patch – 1/1
Clubhouse Collection Dual Auto/Relic (CDAR) – 3 Cards
Base – #/10 or fewer
Patch – 1/1
Flashbacks Auto Relics (FAR) – 11 Cards
Patch – 1/1
Clubhouse Collection Relics (CC) – 93 Cards
Gold – #/99
Patch – 1/1
Clubhouse Collection Dual Relic (CCD) – 10 Cards
Base – #/73
Patch – 1/1
Clubhouse Collection Triple Relic (CCT) – 10 Cards
Base – #/25
Patch – 1/1
Clubhouse Collection Quad Relic (CCQ) – 10 Cards
Base – #/10
Patch – 1/1
1973 Mint (73M) – 50 Cards
Nickel – #/15
Dime – #/10
Quarter – #/5
Half Dollar – 1/1
1973 Postal Stamp (73PS) – 20 Cards
Base – #/50
1973 Baseball Cut Signatures (BCS) – 10 Cards
Base – 1/1
1973 Celebrity Cut Signatures (CCS) – 10 Cards
Base – 1/1
Angels
| | | | |
| --- | --- | --- | --- |
| 10 | Jared Walsh | | |
| 10 | Jared Walsh | | Chrome |
| 10 | Jared Walsh | | Mini |
| 17 | Justin Upton | | |
| 24 | Reid Detmers | | |
| 24 | Reid Detmers | RC | Chrome |
| 24 | Reid Detmers | RC | Mini |
| 70 | Austin Warren | RC | |
| 100 | Mike Trout | | |
| 100 | Mike Trout | | Chrome |
| 100 | Mike Trout | | Mini |
| 100 | Mike Trout | | Error SP |
| 100 | Mike Trout | | Color Swap |
| 100 | Mike Trout | | Image Variant |
| 100 | Mike Trout | | Team/Name Swap |
| 100 | Mike Trout | | Nickname |
| 150 | Shohei Ohtani | | |
| 150 | Shohei Ohtani | | Chrome |
| 150 | Shohei Ohtani | | Mini |
| 150 | Shohei Ohtani | | Error SP |
| 150 | Shohei Ohtani | | Color Swap |
| 150 | Shohei Ohtani | | Throwback Uniform |
| 150 | Shohei Ohtani | | Image Variant |
| 150 | Shohei Ohtani | | Team/Name Swap |
| 150 | Shohei Ohtani | | Nickname |
| 158 | Raisel Iglesias | | |
| 160 | Anthony Rendon | | |
| 160 | Anthony Rendon | | Mini |
| 176 | Brandon Marsh | RC | |
| 176 | Brandon Marsh | RC | Chrome |
| 176 | Brandon Marsh | RC | Mini |
| 176 | Brandon Marsh | RC | Throwback Uniform |
| 176 | Brandon Marsh | RC | Image Variant |
| 176 | Brandon Marsh | RC | Team/Name Swap |
| 247 | David Fletcher | | |
| 247 | David Fletcher | | Mini |
| 256 | Jose Siri | RC | Mini |
| 341 | Mike Trout | | |
| 345 | Phil Gosselin | | |
| 351 | Tyler Wade | | |
| 410 | Max Stassi | | Short Print |
| 421 | Taylor Ward | | Short Print |
| 73M-MT | Mike Trout | | Relic |
| 73M-SO | Shohei Ohtani | | Relic |
| 73PU-1 | Mike Trout | | |
| 73PU-10 | Shohei Ohtani | | |
| 73TC-1 | Mike Trout | | |
| 73TC-5 | Shohei Ohtani | | |
| Candy Lid 1 | Mike Trout | | |
| Candy Lid 15 | Shohei Ohtani | | |
| CC-ARN | Anthony Rendon | | Relic |
| CC-BM | Brandon Marsh | RC | Relic |
| CC-MT | Mike Trout | | Relic |
| CC-SO | Shohei Ohtani | | Relic |
| CCAR-MT | Mike Trout | | Auto Relic |
| CCAR-SO | Shohei Ohtani | | Auto Relic |
| CCD-RO | Shohei Ohtani, Nolan Ryan | | Relic |
| CCQ-RRTO | Shohei Ohtani, Nolan Ryan, Mike Trout, Frank Robinson | | Relic |
| NAP-2 | Brandon Marsh | RC | |
| NAP-4 | Shohei Ohtani | | |
| OB-MT | Mike Trout | | |
| OB-SO | Shohei Ohtani | | |
| ROA-MT | Mike Trout | | Auto |
| ROA-RD | Reid Detmers | RC | Auto |
| ROA-SO | Shohei Ohtani | | Auto |
| RODA-OT | Mike Trout, Shohei Ohtani | | Auto |
| ROTA-ROT | Mike Trout | | Auto |
| ROTA-ROT | Shohei Ohtani | | Auto |
| Stamps 1 | Mike Trout | | |
| Stamps 15 | Shohei Ohtani | | |
| 473 | Nolan Ryan | | Short Print |
| 73M-NR | Nolan Ryan | | Relic |
| 73PS-FR | Frank Robinson | | Relic |
| 73PS-NR | Nolan Ryan | | Relic |
| BCS-FR | Frank Robinson | | Relic |
| BF-1 | Nolan Ryan | | |
| BF-11 | Nolan Ryan | | |
| BF-14 | Frank Robinson | | |
| ROTA-ROT | Nolan Ryan | | Auto |
| TAN-RR | Nolan Ryan | | |
Astros
| | | | |
| --- | --- | --- | --- |
| 43 | Jose Altuve | | |
| 43 | Jose Altuve | | Mini |
| 67 | Yuli Gurriel | | |
| 104 | Alex Bregman | | |
| 104 | Alex Bregman | | Chrome |
| 104 | Alex Bregman | | Mini |
| 104 | Alex Bregman | | Image Variant |
| 104 | Alex Bregman | | Team/Name Swap |
| 105 | Justin Verlander | | |
| 105 | Justin Verlander | | Mini |
| 128 | Kyle Tucker | | |
| 128 | Kyle Tucker | | Mini |
| 130 | Cristian Javier | | |
| 145 | Yuli Gurriel | | |
| 145 | Yuli Gurriel | | Mini |
| 171 | Lance McCullers Jr. | | |
| 182 | Chas McCormick | RC | |
| 182 | Michael Brantley | | Chrome |
| 187 | Zack Greinke | | |
| 187 | Zack Greinke | | Mini |
| 189 | Yordan Alvarez | | |
| 189 | Yordan Alvarez | | Chrome |
| 189 | Yordan Alvarez | | Mini |
| 206 | Jose Altuve | | |
| 218 | Ryan Pressly | | |
| 248 | Martin Maldonado | | |
| 256 | Jose Siri | RC | |
| 320 | Jake Odorizzi | | |
| 375 | Framber Valdez | | |
| 409 | Aledmys Diaz | | Short Print |
| 424 | Jason Castro | | Short Print |
| 449 | Ryne Stanek | | Short Print |
| 73M-AB | Alex Bregman | | Relic |
| Candy Lid 18 | Jose Altuve | | |
| CC-AB | Alex Bregman | | Relic |
| CC-CC | Carlos Correa | | Relic |
| CC-JAV | Jose Altuve | | Relic |
| CC-JV | Justin Verlander | | Relic |
| CC-YA | Yordan Alvarez | | Relic |
| CC-ZG | Zack Greinke | | Relic |
| CCT-ABC | Carlos Correa, Alex Bregman, Yordan Alvarez | | Relic |
| NAP-20 | Jose Siri | RC | |
| OB-AB | Alex Bregman | | |
| OB-YA | Yordan Alvarez | | |
| ROA-CM | Chas McCormick | RC | Auto |
| ROA-YA | Yordan Alvarez | | Auto |
| Stamps 18 | Alex Bregman | | |
| TAN-CG | Yuli Gurriel | | |
Athletics
| | | | |
| --- | --- | --- | --- |
| 8 | Jed Lowrie | | |
| 38 | Chris Bassitt | | |
| 48 | Matt Olson | | |
| 48 | Matt Olson | | Chrome |
| 48 | Matt Olson | | Mini |
| 59 | Matt Chapman | | |
| 59 | Matt Chapman | | Chrome |
| 59 | Matt Chapman | | Mini |
| 118 | Mitch Moreland | | |
| 233 | Josh Harrison | | |
| 296 | James Kaprielian | | |
| 322 | Sean Manaea | | |
| 328 | Seth Brown | | |
| 342 | Stephen Piscotty | | |
| 360 | Cole Irvin | | |
| 361 | Elvis Andrus | | |
| 390 | Sean Murphy | | |
| 440 | Chad Pinder | | Short Print |
| 466 | Yusmeiro Petit | | Short Print |
| 73M-MO | Matt Olson | | Relic |
| 73M-RJ | Reggie Jackson | | Relic |
| 73PS-RJ | Reggie Jackson | | Relic |
| 73PU-23 | Reggie Jackson | | |
| 73TC-9 | Reggie Jackson | | |
| CC-MC | Matt Chapman | | Relic |
| CC-MO | Matt Olson | | Relic |
| CCQ-JBTH | Catfish Hunter, Reggie Jackson,Vida Blue, Gene Tenace | | Relic |
| FAR-GT | Gene Tenace | | Auto Relic |
| FAR-RJ | Reggie Jackson | | Auto Relic |
| OB-MO | Matt Olson | | |
| OB-RJ | Reggie Jackson | | |
| ROA-OC | Orlando Cepeda | | Auto |
| ROA-RJ | Reggie Jackson | | Auto |
| TAN-JG | Reggie Jackson | | |
| TAN-JP | Reggie Jackson | | |
Blue Jays
| | | | |
| --- | --- | --- | --- |
| 61 | Robbie Ray | | |
| 63 | Robbie Ray | | |
| 68 | Vladimir Guerrero Jr. | | |
| 115 | Kevin Gausman | | |
| 132 | Robbie Ray | | Mini |
| 168 | Hyun-Jin Ryu | | |
| 168 | Hyun-Jin Ryu | | Mini |
| 228 | Randal Grichuk | | |
| 238 | George Springer | | Chrome |
| 262 | Bo Bichette | | |
| 262 | Bo Bichette | | Chrome |
| 262 | Bo Bichette | | Mini |
| 262 | Bo Bichette | | Throwback Uniform |
| 269 | Vladimir Guerrero Jr. | | |
| 269 | Vladimir Guerrero Jr. | | Chrome |
| 269 | Vladimir Guerrero Jr. | | Mini |
| 269 | Vladimir Guerrero Jr. | | Error SP |
| 269 | Vladimir Guerrero Jr. | | Color Swap |
| 269 | Vladimir Guerrero Jr. | | Throwback Uniform |
| 269 | Vladimir Guerrero Jr. | | Image Variant |
| 269 | Vladimir Guerrero Jr. | | Team/Name Swap |
| 286 | Marcus Semien | | Mini |
| 306 | Corey Dickerson | | |
| 338 | Cavan Biggio | | |
| 357 | Teoscar Hernandez | | |
| 357 | Teoscar Hernandez | | Chrome |
| 357 | Teoscar Hernandez | | Mini |
| 371 | Lourdes Gurriel Jr. | | |
| 399 | Jose Berrios | | |
| 399 | Jose Berrios | | Chrome |
| 399 | Jose Berrios | | Mini |
| 430 | Alek Manoah | | Short Print |
| 450 | Danny Jansen | | Short Print |
| 500 | Jordan Romano | | Short Print |
| 73M-VG | Vladimir Guerrero Jr. | | Relic |
| 73PU-13 | Vladimir Guerrero Jr. | | |
| 73TC-13 | Bo Bichette | | |
| 73TC-19 | Vladimir Guerrero Jr. | | |
| Candy Lid 19 | Vladimir Guerrero Jr. | | |
| CC-BB | Bo Bichette | | Relic |
| CC-CBG | Cavan Biggio | | Relic |
| CC-GSR | George Springer | | Relic |
| CC-HR | Hyun-Jin Ryu | | Relic |
| CC-JB | Jose Berrios | | Relic |
| CC-VG | Vladimir Guerrero Jr. | | Relic |
| CCAR-VG | Vladimir Guerrero Jr. | | Auto Relic |
| CCD-GB | Bo Bichette, Vladimir Guerrero Jr. | | Relic |
| CCT-GBH | Bo Bichette, Vladimir Guerrero Jr., Teoscar Hernandez | | Relic |
| NAP-3 | Vladimir Guerrero Jr. | | |
| OB-BB | Bo Bichette | | |
| OB-VG | Vladimir Guerrero Jr. | | |
| ROA-TH | Teoscar Hernandez | | Auto |
| Stamps 19 | Vladimir Guerrero Jr. | | |
| TAN-JG | Vladimir Guerrero Jr. | | |
| TAN-PR | Robbie Ray | | |
| TAN-RR | Robbie Ray | | |
Braves
| | | | |
| --- | --- | --- | --- |
| 19 | Max Fried | | |
| 53 | Will Smith | | |
| 62 | Adam Duvall | | |
| 93 | Adam Duvall | | |
| 101 | Charlie Morton | | |
| 148 | Dansby Swanson | | |
| 148 | Dansby Swanson | | Mini |
| 193 | Austin Riley | | |
| 193 | Austin Riley | | Chrome |
| 193 | Austin Riley | | Mini |
| 194 | Mike Soroka | | |
| 202 | Ozzie Albies | | Mini |
| 203 | Eddie Rosario | | |
| 205 | Austin Riley | | |
| 207 | Dansby Swanson | | |
| 208 | Adam Duvall | | |
| 209 | Jorge Soler | | |
| 210 | Freddie Freeman | | |
| 223 | Ronald Acuña Jr. | | |
| 223 | Ronald Acuña Jr. | | Chrome |
| 223 | Ronald Acuña Jr. | | Mini |
| 223 | Ronald Acuña Jr. | | Color Swap |
| 223 | Ronald Acuña Jr. | | Image Variant |
| 223 | Ronald Acuña Jr. | | Team/Name Swap |
| 280 | Kyle Muller | RC | |
| 280 | Kyle Muller | RC | Chrome |
| 356 | Ian Anderson | | |
| 356 | Ian Anderson | | Mini |
| 378 | Ozzie Albies | | |
| 378 | Ozzie Albies | | Chrome |
| 396 | Travis d'Arnaud | | |
| 429 | Freddie Freeman | | Short Print |
| 429 | Freddie Freeman | | Chrome |
| 429 | Freddie Freeman | | Mini |
| 429 | Freddie Freeman | | Image Variant |
| 429 | Freddie Freeman | | Team/Name Swap |
| 438 | Ehire Adrianza | | Short Print |
| 464 | Jesse Chavez | | Short Print |
| 475 | Hank Aaron | | Short Print |
| 483 | Orlando Arcia | | Short Print |
| 73M-FF | Freddie Freeman | | Relic |
| 73M-HA | Hank Aaron | | Relic |
| 73M-RA | Ronald Acuña Jr. | | Relic |
| 73PS-HA | Hank Aaron | | Relic |
| 73PU-21 | Hank Aaron | | |
| 73PU-9 | Ronald Acuña Jr. | | |
| 73TC-12 | Ronald Acuña Jr. | | |
| 73TC-22 | Hank Aaron | | |
| BCS-HA | Hank Aaron | | Relic |
| BF-3 | Phil Niekro | | |
| BF-9 | Hank Aaron | | |
| Candy Lid 12 | Ronald Acuña Jr. | | |
| Candy Lid 21 | Freddie Freeman | | |
| Candy Lid 22 | Hank Aaron | | |
| CC-DS | Dansby Swanson | | Relic |
| CC-FF | Freddie Freeman | | Relic |
| CC-OA | Ozzie Albies | | Relic |
| CC-RAJ | Ronald Acuña Jr. | | Relic |
| CCD-AA | Ronald Acuña Jr., Hank Aaron | | Relic |
| CCT-AFA | Ronald Acuña Jr., Freddie Freeman, Hank Aaron | | Relic |
| NAP-9 | Ronald Acuña Jr. | | |
| OB-FF | Freddie Freeman | | |
| OB-HA | Hank Aaron | | |
| OB-RAJ | Ronald Acuña Jr. | | |
| ROA-DE | Darrell Evans | | Auto |
| ROA-KM | Kyle Muller | RC | Auto |
| Stamps 12 | Ronald Acuña Jr. | | |
| Stamps 21 | Freddie Freeman | | |
| Stamps 22 | Hank Aaron | | |
| TAN-ES | Darrell Evans | | |
| TAN-SD | Adam Duvall | | |
Brewers
| | | | |
| --- | --- | --- | --- |
| 3 | Freddy Peralta | | |
| 3 | Freddy Peralta | | Chrome |
| 7 | Luis Urias | | |
| 15 | Corbin Burnes | | |
| 15 | Corbin Burnes | | Chrome |
| 15 | Corbin Burnes | | Mini |
| 56 | Rowdy Tellez | | |
| 63 | Corbin Burnes | | |
| 116 | Jake Cousins | RC | |
| 123 | Christian Yelich | | |
| 123 | Christian Yelich | | Chrome |
| 123 | Christian Yelich | | Mini |
| 123 | Christian Yelich | | Image Variant |
| 123 | Christian Yelich | | Team/Name Swap |
| 144 | Willy Adames | | |
| 156 | Hunter Renfroe | | |
| 174 | Lorenzo Cain | | |
| 174 | Lorenzo Cain | | Mini |
| 219 | Adrian Houser | | |
| 327 | Josh Hader | | |
| 329 | Devin Williams | | |
| 336 | Eric Lauer | | |
| 353 | Brandon Woodruff | | |
| 355 | Kolten Wong | | |
| 432 | Omar Narvaez | | Short Print |
| 454 | Luke Maile | | Short Print |
| 485 | Aaron Ashby | RC | Short Print |
| Candy Lid 9 | Christian Yelich | | |
| CC-CY | Christian Yelich | | Relic |
| CC-JHR | Josh Hader | | Relic |
| CC-KH | Keston Hiura | | Relic |
| CCAR-CY | Christian Yelich | | Auto Relic |
| OB-CYH | Christian Yelich | | |
| ROA-CY | Christian Yelich | | Auto |
| ROA-JC | Jake Cousins | RC | Auto |
| Stamps 9 | Christian Yelich | | |
| TAN-SB | Corbin Burnes | | |
Cardinals
| | | | |
| --- | --- | --- | --- |
| 32 | Lars Nootbaar | RC | |
| 42 | Adam Wainwright | | |
| 103 | Alex Reyes | | |
| 141 | Edmundo Sosa | | |
| 143 | Tommy Edman | | |
| 220 | Paul DeJong | | |
| 220 | Paul DeJong | | Mini |
| 238 | Paul Goldschmidt | | |
| 238 | Paul Goldschmidt | | Mini |
| 243 | Harrison Bader | | |
| 246 | Tyler O'Neill | | |
| 259 | Dylan Carlson | | |
| 259 | Dylan Carlson | | Mini |
| 279 | Yadier Molina | | |
| 279 | Yadier Molina | | Chrome |
| 279 | Yadier Molina | | Mini |
| 279 | Yadier Molina | | Image Variant |
| 279 | Yadier Molina | | Team/Name Swap |
| 323 | Jon Lester | | |
| 382 | Steven Matz | | |
| 402 | Matt Carpenter | | Short Print |
| 416 | Nolan Arenado | | Short Print |
| 416 | Nolan Arenado | | Chrome |
| 416 | Nolan Arenado | | Mini |
| 476 | Tris Speaker | | Short Print |
| 490 | Kwang-Hyun Kim | | Short Print |
| 490 | Jack Flaherty | | Chrome |
| 73M-LB | Lou Brock | | Relic |
| 73M-NA | Nolan Arenado | | Relic |
| 73M-YM | Yadier Molina | | Relic |
| 73PS-LB | Lou Brock | | Relic |
| 73PU-11 | Yadier Molina | | |
| 73TC-16 | Paul Goldschmidt | | |
| BCS-LB | Lou Brock | | Relic |
| Candy Lid 16 | Nolan Arenado | | |
| CC-PG | Paul Goldschmidt | | Relic |
| CC-YMA | Yadier Molina | | Relic |
| CCD-BG | Lou Brock, Bob Gibson | | Relic |
| CCT-BGT | Joe Torre, Lou Brock, Bob Gibson | | Relic |
| NAP-15 | Dylan Carlson | | |
| OB-NA | Nolan Arenado | | |
| OB-YM | Yadier Molina | | |
| ROA-NA | Nolan Arenado | | Auto |
| ROA-PG | Paul Goldschmidt | | Auto |
| ROA-TMC | Tim McCarver | | Auto |
| ROA-TSM | Ted Simmons | | Auto |
| ROTA-BMP | Yadier Molina | | Auto |
| Stamps 16 | Yadier Molina | | |
| TAN-BT | Lou Brock | | |
Cubs
| | | | |
| --- | --- | --- | --- |
| 46 | Willson Contreras | | |
| 46 | Willson Contreras | | Chrome |
| 46 | Willson Contreras | | Mini |
| 69 | Alfonso Rivas | RC | |
| 69 | Alfonso Rivas | RC | Mini |
| 71 | Greg Deichmann | RC | |
| 71 | Greg Deichmann | RC | Chrome |
| 180 | Rafael Ortega | | |
| 221 | Ian Happ | | |
| 235 | Kyle Hendricks | | |
| 235 | Kyle Hendricks | | Chrome |
| 235 | Kyle Hendricks | | Mini |
| 263 | Alec Mills | | |
| 265 | Matt Duffy | | |
| 276 | Patrick Wisdom | | |
| 276 | Patrick Wisdom | | Chrome |
| 276 | Patrick Wisdom | | Mini |
| 278 | Harold Ramirez | | |
| 291 | Manuel Rodriguez | RC | |
| 291 | Manuel Rodriguez | RC | Mini |
| 301 | Yan Gomes | | |
| 309 | Nico Hoerner | | |
| 314 | Nick Madrigal | | |
| 324 | Frank Schwindel | | |
| 332 | Jason Heyward | | |
| 418 | Codi Heuer | | Short Print |
| 419 | Sergio Alcantara | | Short Print |
| 435 | Keegan Thompson | | Short Print |
| 73M-FJ | Fergie Jenkins | | Relic |
| 73M-RS | Ron Santo | | Relic |
| 73M-WC | Willson Contreras | | Relic |
| 73PS-BW | Billy Williams | | Relic |
| 73PS-RS | Ron Santo | | Relic |
| 73TC-21 | Ron Santo | | |
| BCS-RS | Ron Santo | | Relic |
| CC-JH | Jason Heyward | | Relic |
| CC-WC | Willson Contreras | | Relic |
| CCQ-SWBR | Ron Santo, Anthony Rizzo,Kris Bryant, Billy Williams | | Relic |
| NAP-5 | Patrick Wisdom | | |
| OB-WC | Willson Contreras | | |
| ROA-FJ | Fergie Jenkins | | Auto |
| ROA-RM | Rick Monday | | Auto |
| ROA-WC | Willson Contreras | | Auto |
Diamondbacks
| | | | |
| --- | --- | --- | --- |
| 21 | Jordan Luplow | | |
| 36 | Tyler Gilbert | RC | |
| 37 | Josh Rojas | | |
| 71 | Henry Ramos | RC | |
| 71 | Henry Ramos | RC | Chrome |
| 77 | Seth Beer | RC | |
| 77 | Seth Beer | RC | Chrome |
| 77 | Seth Beer | RC | Mini |
| 78 | Daulton Varsho | | |
| 109 | Carson Kelly | | |
| 135 | Nick Ahmed | | |
| 163 | Ketel Marte | | |
| 163 | Ketel Marte | | Chrome |
| 175 | Luis Frias | RC | |
| 175 | Luis Frias | RC | Mini |
| 234 | Mark Melancon | | |
| 255 | David Peralta | | |
| 294 | Zac Gallen | | |
| 346 | Pavin Smith | | |
| 365 | Christian Walker | | |
| 491 | Matt Peacock | | Short Print |
| 496 | Josh VanMeter | | Short Print |
| CC-KM | Ketel Marte | | Relic |
| ROA-SBR | Seth Beer | RC | Auto |
| ROA-TG | Tyler Gilbert | RC | Auto |
Dodgers
| | | | |
| --- | --- | --- | --- |
| 1 | Albert Pujols | | |
| 35 | Dustin May | | |
| 53 | Will Smith | | Mini |
| 64 | Trea Turner | | |
| 65 | Julio Urias | | |
| 67 | Trea Turner | | |
| 70 | Conner Greene | RC | |
| 127 | Walker Buehler | | |
| 127 | Walker Buehler | | Chrome |
| 127 | Walker Buehler | | Mini |
| 200 | Will Smith | | |
| 202 | Cody Bellinger | | |
| 222 | Zach McKinstry | | |
| 312 | Chris Taylor | | |
| 330 | A.J. Pollock | | |
| 337 | Julio Urias | | |
| 337 | Julio Urias | | Chrome |
| 337 | Julio Urias | | Mini |
| 368 | Max Muncy | | |
| 368 | Max Muncy | | Mini |
| 383 | Justin Turner | | |
| 383 | Justin Turner | | Mini |
| 386 | Mookie Betts | | |
| 386 | Mookie Betts | | Chrome |
| 386 | Mookie Betts | | Mini |
| 386 | Mookie Betts | | Color Swap |
| 386 | Mookie Betts | | Image Variant |
| 386 | Mookie Betts | | Team/Name Swap |
| 387 | Kenley Jansen | | |
| 397 | Gavin Lux | | |
| 397 | Gavin Lux | | Mini |
| 423 | Joe Kelly | | Short Print |
| 434 | Matt Beaty | | Short Print |
| 434 | Trea Turner | | Chrome |
| 465 | Austin Barnes | | Short Print |
| 480 | Brusdar Graterol | | Short Print |
| 497 | Cody Bellinger | | Short Print |
| 497 | Cody Bellinger | | Chrome |
| 497 | Cody Bellinger | | Mini |
| 497 | Cody Bellinger | | Image Variant |
| 497 | Cody Bellinger | | Team/Name Swap |
| 73M-CK | Clayton Kershaw | | Relic |
| 73M-MB | Mookie Betts | | Relic |
| 73M-WB | Walker Buehler | | Relic |
| 73PU-2 | Mookie Betts | | |
| 73TC-8 | Mookie Betts | | |
| Candy Lid 2 | Clayton Kershaw | | |
| CC-AP | Albert Pujols | | Relic |
| CC-CB | Cody Bellinger | | Relic |
| CC-CK | Clayton Kershaw | | Relic |
| CC-GL | Gavin Lux | | Relic |
| CC-MB | Mookie Betts | | Relic |
| CC-MM | Max Muncy | | Relic |
| CC-MS | Max Scherzer | | Relic |
| CC-TT | Trea Turner | | Relic |
| CCQ-KBBS | Clayton Kershaw, Mookie Betts, Cody Bellinger, Corey Seager | | Relic |
| CCT-SKB | Clayton Kershaw, Walker Buehler, Don Sutton | | Relic |
| NAP-16 | Julio Urias | | |
| OB-CB | Cody Bellinger | | |
| OB-MB | Mookie Betts | | |
| ROA-AP | Albert Pujols | | Auto |
| Stamps 2 | Mookie Betts | | |
| TAN-BT | Trea Turner | | |
| TAN-PT | Trea Turner | | |
| TAN-SU | Julio Urias | | |
Giants
| | | | |
| --- | --- | --- | --- |
| 11 | Mike Yastrzemski | | |
| 11 | Mike Yastrzemski | | Chrome |
| 11 | Mike Yastrzemski | | Mini |
| 13 | Buster Posey | | |
| 13 | Buster Posey | | Chrome |
| 13 | Buster Posey | | Mini |
| 13 | Buster Posey | | Team/Name Swap |
| 14 | Evan Longoria | | |
| 91 | Alex Dickerson | | |
| 95 | Brandon Crawford | | |
| 95 | Brandon Crawford | | Mini |
| 129 | Wilmer Flores | | |
| 236 | Austin Slater | | |
| 271 | Thairo Estrada | | |
| 290 | Alex Wood | | |
| 293 | Jake McGee | | |
| 317 | Anthony DeSclafani | | |
| 358 | Logan Webb | | |
| 359 | LaMonte Wade | | |
| 379 | Sammy Long | RC | |
| 388 | Brandon Belt | | |
| 388 | Brandon Belt | | Mini |
| 433 | Tyler Rogers | | Short Print |
| 439 | Tommy La Stella | | Short Print |
| 448 | Steven Duggar | | Short Print |
| 458 | Johnny Cueto | | Short Print |
| 463 | Alex Cobb | | Short Print |
| 469 | Kervin Castro | RC | Short Print |
| 481 | Darin Ruf | | Short Print |
| 73M-BP | Buster Posey | | Relic |
| 73M-WM | Willie McCovey | | Relic |
| 73PS-WMY | Willie McCovey | | Relic |
| 73PU-12 | Buster Posey | | |
| 73PU-18 | Willie McCovey | | |
| BCS-BB | Bobby Bonds | | Relic |
| BCS-WM | Willie McCovey | | Relic |
| BF-10 | Willie McCovey | | |
| Candy Lid 17 | Buster Posey | | |
| CC-BC | Brandon Crawford | | Relic |
| CC-BP | Buster Posey | | Relic |
| CC-KB | Kris Bryant | | Relic |
| CCT-MPC | Willie McCovey, Brandon Crawford, Buster Posey | | Relic |
| OB-BP | Buster Posey | | |
| OB-WMV | Willie McCovey | | |
| ROA-SL | Sammy Long | RC | Auto |
| ROTA-BMP | Buster Posey | | Auto |
| Stamps 17 | Buster Posey | | |
Guardians
| | | | |
| --- | --- | --- | --- |
| 242 | Jose Ramirez | | Mini |
| 20 | Triston McKenzie | | |
| 51 | Cal Quantrill | | |
| 167 | Josh Naylor | | |
| 172 | Amed Rosario | | |
| 230 | Shane Bieber | | |
| 230 | Shane Bieber | | Chrome |
| 230 | Shane Bieber | | Mini |
| 240 | Zach Plesac | | |
| 242 | Jose Ramirez | | |
| 242 | Jose Ramirez | | Chrome |
| 253 | Bobby Bradley | | |
| 277 | Ernie Clement | RC | |
| 304 | Myles Straw | | |
| 335 | Aaron Civale | | |
| 364 | Franmil Reyes | | |
| 394 | Emmanuel Clase | | |
| 400 | Yu Chang | | |
| 401 | Bryan Shaw | | Short Print |
| 405 | Austin Hedges | | Short Print |
| 406 | Eli Morgan | RC | Short Print |
| 407 | Wilson Ramos | | Short Print |
| 73M-JR | Jose Ramirez | | Relic |
| 73PU-17 | Jose Ramirez | | |
| 73TC-15 | Jose Ramirez | | |
| CC-JR | Jose Ramirez | | Relic |
| OB-JR | Jose Ramirez | | |
| ROA-EC | Ernie Clement | RC | Auto |
| ROA-JRZ | Jose Ramirez | | Auto |
Mariners
| | | | |
| --- | --- | --- | --- |
| 74 | Abraham Toro | | |
| 94 | Chris Flexen | | |
| 96 | Jarred Kelenic | | |
| 96 | Jarred Kelenic | | Chrome |
| 96 | Jarred Kelenic | | Mini |
| 132 | Robbie Ray | | |
| 134 | Tom Murphy | | |
| 136 | Ty France | | |
| 142 | Logan Gilbert | | |
| 146 | Jake Fraley | | |
| 152 | Yusei Kikuchi | | |
| 251 | Dylan Moore | | |
| 261 | Kyle Lewis | | |
| 261 | Kyle Lewis | | Chrome |
| 261 | Kyle Lewis | | Mini |
| 316 | J.P. Crawford | | |
| 343 | Luis Torrens | | |
| 367 | Cal Raleigh | RC | |
| 367 | Cal Raleigh | RC | Chrome |
| 367 | Cal Raleigh | RC | Mini |
| 369 | Tyler Anderson | | |
| 374 | Kyle Seager | | |
| 437 | Marco Gonzalez | | Short Print |
| 447 | Taylor Trammell | | Short Print |
| 495 | Paul Sewald | | Short Print |
| CC-JK | Jarred Kelenic | | Relic |
| CC-MH | Mitch Haniger | | Relic |
| NAP-12 | Jarred Kelenic | | |
| OB-JK | Jarred Kelenic | | |
| ROA-CR | Cal Raleigh | RC | Auto |
Marlins
| | | | |
| --- | --- | --- | --- |
| 39 | Lewis Brinson | | |
| 71 | Brian Miller | RC | |
| 71 | Brian Miller | RC | Chrome |
| 73 | Zach Pop | RC | |
| 73 | Zach Thompson | RC | |
| 73 | Anthony Bender | RC | |
| 73 | Anthony Bender | RC | Chrome |
| 73 | Zach Pop | RC | Chrome |
| 73 | Zach Thompson | RC | Chrome |
| 85 | Jesus Luzardo | | |
| 120 | Jazz Chisholm Jr. | | |
| 120 | Jazz Chisholm Jr. | | Chrome |
| 120 | Jazz Chisholm Jr. | | Mini |
| 147 | Sandy Alcantara | | |
| 149 | Nick Fortes | RC | |
| 184 | Jacob Stallings | | |
| 198 | Joey Wendle | | |
| 224 | Miguel Rojas | | |
| 252 | Avisail Garcia | | |
| 275 | Jesus Sanchez | | |
| 283 | Trevor Rogers | | |
| 298 | Jesus Aguilar | | |
| 334 | Bryan De La Cruz | RC | |
| 334 | Bryan De La Cruz | RC | Chrome |
| 334 | Bryan De La Cruz | RC | Mini |
| 412 | Garrett Cooper | | Short Print |
| 451 | Isan Diaz | | Short Print |
| 467 | Pablo Lopez | | Short Print |
| NAP-13 | Jazz Chisholm Jr. | | |
| NAP-14 | Bryan De La Cruz | RC | |
| OB-JC | Jazz Chisholm Jr. | | |
| ROA-BDLC | Bryan De La Cruz | RC | Auto |
Mets
| | | | |
| --- | --- | --- | --- |
| 18 | Kevin Pillar | | |
| 40 | Dominic Smith | | |
| 54 | Pete Alonso | | |
| 54 | Pete Alonso | | Chrome |
| 54 | Pete Alonso | | Mini |
| 54 | Pete Alonso | | Throwback Uniform |
| 54 | Pete Alonso | | Image Variant |
| 54 | Pete Alonso | | Team/Name Swap |
| 80 | Edwin Diaz | | |
| 82 | Brandon Nimmo | | |
| 106 | Starling Marte | | |
| 126 | Taijuan Walker | | |
| 140 | Tylor Megill | RC | |
| 140 | Tylor Megill | RC | Chrome |
| 140 | Tylor Megill | RC | Mini |
| 196 | Francisco Lindor | | |
| 196 | Francisco Lindor | | Chrome |
| 196 | Francisco Lindor | | Mini |
| 196 | Francisco Lindor | | Throwback Uniform |
| 196 | Francisco Lindor | | Image Variant |
| 196 | Francisco Lindor | | Team/Name Swap |
| 196 | Francisco Lindor | | Nickname |
| 231 | Michael Conforto | | |
| 231 | Michael Conforto | | Chrome |
| 250 | Jacob deGrom | | |
| 250 | Jacob deGrom | | Chrome |
| 250 | Jacob deGrom | | Mini |
| 250 | Jacob deGrom | | Color Swap |
| 250 | Jacob deGrom | | Image Variant |
| 250 | Jacob deGrom | | Team/Name Swap |
| 250 | Jacob deGrom | | Nickname |
| 254 | Eduardo Escobar | | |
| 313 | Jonathan Villar | | |
| 344 | James McCann | | |
| 389 | Jeff McNeil | | |
| 411 | Trevor May | | Short Print |
| 414 | Jose Peraza | | Short Print |
| 453 | J.D. Davis | | Short Print |
| 73M-FL | Francisco Lindor | | Relic |
| 73M-Jd | Jacob deGrom | | Relic |
| 73M-PA | Pete Alonso | | Relic |
| 73M-TS | Tom Seaver | | Relic |
| 73M-WMY | Willie Mays | | Relic |
| 73PS-TS | Tom Seaver | | Relic |
| 73PS-WM | Willie Mays | | Relic |
| 73PU-16 | Pete Alonso | | |
| 73PU-19 | Willie Mays | | |
| 73PU-7 | Jacob deGrom | | |
| 73TC-14 | Pete Alonso | | |
| 73TC-23 | Willie Mays | | |
| BCS-TS | Tom Seaver | | Relic |
| BF-12 | Tom Seaver | | |
| BF-6 | Willie Mays | | |
| Candy Lid 10 | Jacob deGrom | | |
| Candy Lid 14 | Francisco Lindor | | |
| Candy Lid 23 | Willie Mays | | |
| CC-FL | Francisco Lindor | | Relic |
| CC-JDG | Jacob deGrom | | Relic |
| CC-JMC | Jeff McNeil | | Relic |
| CC-PA | Pete Alonso | | Relic |
| CCAR-PA | Pete Alonso | | Auto Relic |
| CCQ-SMdL | Willie Mays, Tom Seaver, Francisco Lindor, Jacob deGrom | | Relic |
| OB-FL | Francisco Lindor | | |
| OB-JDG | Jacob deGrom | | |
| OB-PA | Pete Alonso | | |
| OB-WM | Willie Mays | | |
| ROA-PA | Pete Alonso | | Auto |
| Stamps 10 | Jacob deGrom | | |
| Stamps 14 | Francisco Lindor | | |
| Stamps 23 | Willie Mays | | |
| TAN-SB | Tom Seaver | | |
| TAN-SU | Tom Seaver | | |
| TAN-SW | Tom Seaver | | |
Nationals
| | | | |
| --- | --- | --- | --- |
| 113 | Mason Thompson | RC | |
| 125 | Josiah Gray | RC | |
| 125 | Josiah Gray | RC | Chrome |
| 125 | Josiah Gray | RC | Mini |
| 139 | Stephen Strasburg | | |
| 139 | Stephen Strasburg | | Chrome |
| 154 | Juan Soto | | |
| 154 | Juan Soto | | Chrome |
| 154 | Juan Soto | | Mini |
| 154 | Juan Soto | | Color Swap |
| 154 | Juan Soto | | Image Variant |
| 154 | Juan Soto | | Team/Name Swap |
| 159 | Lane Thomas | | |
| 199 | Ryan Zimmerman | | |
| 229 | Victor Robles | | |
| 289 | Josh Bell | | |
| 308 | Alcides Escobar | | |
| 348 | Patrick Corbin | | |
| 348 | Patrick Corbin | | Mini |
| 403 | Stephen Strasburg | | Mini |
| 428 | Carter Kieboom | | Short Print |
| 444 | Yadiel Hernandez | | Short Print |
| 73M-JS | Juan Soto | | Relic |
| 73M-SS | Stephen Strasburg | | Relic |
| 73PU-3 | Juan Soto | | |
| 73TC-3 | Juan Soto | | |
| Candy Lid 3 | Juan Soto | | |
| CC-JS | Juan Soto | | Relic |
| CC-SS | Stephen Strasburg | | Relic |
| NAP-22 | Josiah Gray | RC | |
| NAP-7 | Juan Soto | | |
| OB-JS | Juan Soto | | |
| OB-SS | Stephen Strasburg | | |
| ROA-JG | Josiah Gray | RC | Auto |
| ROA-MTH | Mason Thompson | RC | Auto |
| ROA-SS | Stephen Strasburg | | Auto |
| Stamps 3 | Juan Soto | | |
| TAN-ES | Juan Soto | | |
Orioles
| | | | |
| --- | --- | --- | --- |
| 33 | Anthony Santander | | |
| 49 | Austin Hays | | |
| 72 | Mike Baumann | RC | |
| 72 | Zac Lowther | RC | |
| 72 | Spenser Watkins | RC | |
| 72 | Zac Lowther | RC | Chrome |
| 72 | Mike Baumann | RC | Chrome |
| 72 | Spenser Watkins | RC | Chrome |
| 232 | Cedric Mullins | | |
| 232 | Cedric Mullins | | Chrome |
| 232 | Cedric Mullins | | Mini |
| 307 | Rougned Odor | | |
| 325 | John Means | | |
| 362 | DJ Stewart | | |
| 443 | Matt Harvey | | Short Print |
| 443 | Trey Mancini | | Chrome |
| 499 | Maikel Franco | | Short Print |
| 499 | Ryan Mountcastle | | Chrome |
| 73M-BR | Brooks Robinson | | Relic |
| 73PS-BR | Brooks Robinson | | Relic |
| CC-RM | Ryan Mountcastle | | Relic |
| CC-TM | Trey Mancini | | Relic |
| FAR-BR | Brooks Robinson | | Auto Relic |
| OB-BR | Brooks Robinson | | |
| ROA-BR | Brooks Robinson | | Auto |
| ROA-CMS | Cedric Mullins | | Auto |
| ROA-RME | Ryan Mountcastle | | Auto |
| ROA-SW | Spenser Watkins | RC | Auto |
| ROTA-RPR | Cal Ripken Jr. | | Auto |
| ROTA-RPR | Brooks Robinson | | Auto |
| ROTA-RPR | Jim Palmer | | Auto |
| TAN-PR | Jim Palmer | | |
Padres
| | | | |
| --- | --- | --- | --- |
| 57 | Jake Cronenworth | | |
| 57 | Jake Cronenworth | | Mini |
| 66 | Mark Melancon | | |
| 68 | Fernando Tatis Jr. | | |
| 88 | Fernando Tatis Jr. | | |
| 88 | Fernando Tatis Jr. | | Chrome |
| 88 | Fernando Tatis Jr. | | Mini |
| 88 | Fernando Tatis Jr. | | Error SP |
| 88 | Fernando Tatis Jr. | | Color Swap |
| 88 | Fernando Tatis Jr. | | Throwback Uniform |
| 88 | Fernando Tatis Jr. | | Image Variant |
| 88 | Fernando Tatis Jr. | | Team/Name Swap |
| 88 | Fernando Tatis Jr. | | Nickname |
| 190 | Trent Grisham | | |
| 264 | Jurickson Profar | | |
| 274 | Jorge Alfaro | | |
| 288 | Wil Myers | | |
| 331 | Blake Snell | | |
| 331 | Blake Snell | | Mini |
| 352 | Tommy Pham | | |
| 366 | Eric Hosmer | | |
| 422 | Victor Caratini | | Short Print |
| 426 | Tim Hill | | Short Print |
| 442 | Ryan Weathers | | Short Print |
| 442 | Yu Darvish | | Chrome |
| 482 | Manny Machado | | Short Print |
| 482 | Manny Machado | | Chrome |
| 482 | Manny Machado | | Mini |
| 73M-FT | Fernando Tatis Jr. | | Relic |
| 73M-MM | Manny Machado | | Relic |
| 73PU-14 | Fernando Tatis Jr. | | |
| 73TC-20 | Fernando Tatis Jr. | | |
| BF-7 | Dave Winfield | | |
| Candy Lid 20 | Fernando Tatis Jr. | | |
| CC-EH | Eric Hosmer | | Relic |
| CC-FT | Fernando Tatis Jr. | | Relic |
| CC-MMO | Manny Machado | | Relic |
| CC-YD | Yu Darvish | | Relic |
| CCD-TM | Fernando Tatis Jr., Manny Machado | | Relic |
| CCT-TMD | Yu Darvish, Fernando Tatis Jr., Manny Machado | | Relic |
| NAP-8 | Fernando Tatis Jr. | | |
| OB-FT | Fernando Tatis Jr. | | |
| OB-MM | Manny Machado | | |
| Stamps 20 | Fernando Tatis Jr. | | |
| TAN-ST | Fernando Tatis Jr. | | |
Phillies
| | | | |
| --- | --- | --- | --- |
| 60 | Odubel Herrera | | |
| 61 | Zack Wheeler | | |
| 108 | Brad Miller | | |
| 117 | Jean Segura | | |
| 124 | J.T. Realmuto | | |
| 124 | J.T. Realmuto | | Mini |
| 245 | Bryce Harper | | |
| 245 | Bryce Harper | | Chrome |
| 245 | Bryce Harper | | Mini |
| 245 | Bryce Harper | | Color Swap |
| 245 | Bryce Harper | | Throwback Uniform |
| 245 | Bryce Harper | | Image Variant |
| 245 | Bryce Harper | | Team/Name Swap |
| 245 | Bryce Harper | | Nickname |
| 285 | Didi Gregorius | | |
| 292 | Matt Vierling | RC | |
| 302 | Freddy Galvis | | |
| 319 | Aaron Nola | | |
| 319 | Aaron Nola | | Mini |
| 326 | Rhys Hoskins | | |
| 326 | Rhys Hoskins | | Chrome |
| 326 | Rhys Hoskins | | Mini |
| 333 | Zack Wheeler | | |
| 333 | Zack Wheeler | | Chrome |
| 333 | Zack Wheeler | | Mini |
| 377 | Hans Crouse | RC | |
| 455 | Andrew Knapp | | Short Print |
| 486 | Kyle Gibson | | Short Print |
| 73M-AM | Andrew McCutchen | | Relic |
| 73M-BH | Bryce Harper | | Relic |
| 73M-MS | Mike Schmidt | | Relic |
| 73PS-MS | Mike Schmidt | | Relic |
| 73PU-8 | Bryce Harper | | |
| 73TC-11 | Bryce Harper | | |
| Candy Lid 11 | Bryce Harper | | |
| CC-AM | Andrew McCutchen | | Relic |
| CC-ANL | Aaron Nola | | Relic |
| CC-BH | Bryce Harper | | Relic |
| CC-JTR | J.T. Realmuto | | Relic |
| CC-RH | Rhys Hoskins | | Relic |
| CCD-SH | Mike Schmidt, Bryce Harper | | Relic |
| CCQ-SCHH | Mike Schmidt, Bryce Harper, Rhys Hoskins, Steve Carlton | | Relic |
| CDAR-SH | Bryce Harper | | Auto Relic |
| CDAR-SH | Mike Schmidt | | Auto Relic |
| FAR-MS | Mike Schmidt | | Auto Relic |
| FAR-SC | Steve Carlton | | Auto Relic |
| OB-BH | Bryce Harper | | |
| ROA-LW | Luke Williams | RC | Auto |
| ROA-MV | Matt Vierling | RC | Auto |
| RODA-SH | Mike Schmidt, Bryce Harper | | Auto |
| Stamps 11 | Bryce Harper | | |
| TAN-SW | Zack Wheeler | | |
Pirates
| | | | |
| --- | --- | --- | --- |
| 22 | Anthony Alford | | |
| 25 | Kevin Newman | | |
| 41 | Yoshi Tsutsugo | | |
| 50 | Roberto Clemente | | |
| 157 | Oneil Cruz | RC | |
| 157 | Oneil Cruz | RC | Chrome |
| 157 | Oneil Cruz | RC | Mini |
| 157 | Oneil Cruz | RC | Image Variant |
| 165 | Rodolfo Castro | RC | |
| 273 | Hoy Park | RC | |
| 318 | Ke'Bryan Hayes | | |
| 318 | Ke'Bryan Hayes | | Chrome |
| 318 | Ke'Bryan Hayes | | Mini |
| 372 | Bryan Reynolds | | |
| 372 | Bryan Reynolds | | Mini |
| 391 | Colin Moran | | |
| 392 | Max Kranick | RC | |
| 457 | Wilmer Difo | | Short Print |
| 459 | Michael Perez | | Short Print |
| 487 | Chris Stratton | | Short Print |
| 73M-RC | Roberto Clemente | | Relic |
| 73PS-RC | Roberto Clemente | | Relic |
| 73PS-WS | Willie Stargell | | Relic |
| 73PU-24 | Roberto Clemente | | |
| 73TC-25 | Roberto Clemente | | |
| BCS-WS | Willie Stargell | | Relic |
| BF-4 | Roberto Clemente | | |
| Candy Lid 25 | Roberto Clemente | | |
| CCT-SOH | Al Oliver, Ke'Bryan Hayes, Willie Stargell | | Relic |
| FAR-DP | Dave Parker | | Auto Relic |
| NAP-10 | Ke'Bryan Hayes | | |
| OB-RC | Roberto Clemente | | |
| Stamps 25 | Roberto Clemente | | |
| TAN-SD | Willie Stargell | | |
| TAN-ST | Willie Stargell | | |
Rangers
| | | | |
| --- | --- | --- | --- |
| 70 | Glenn Otto | RC | |
| 79 | Yonny Hernandez | RC | |
| 79 | Yonny Hernandez | RC | Mini |
| 79 | Yonny Hernandez | RC | Throwback Uniform |
| 83 | Adolis Garcia | | |
| 83 | Adolis Garcia | | Mini |
| 92 | Joe Barlow | RC | |
| 119 | DJ Peters | | |
| 153 | Isiah Kiner-Falefa | | |
| 183 | Nick Solak | | |
| 197 | Nathaniel Lowe | | |
| 286 | Marcus Semien | | |
| 441 | Andy Ibanez | RC | Short Print |
| 460 | John King | | Short Print |
| 479 | Charlie Culberson | | Short Print |
| NAP-17 | Adolis Garcia | | |
| NAP-24 | Joe Barlow | RC | |
| ROA-CT | Curtis Terry | RC | Auto |
| ROA-YH | Yonny Hernandez | RC | Auto |
Rays
| | | | |
| --- | --- | --- | --- |
| 1 | Nelson Cruz | | |
| 16 | Austin Meadows | | |
| 23 | Ryan Yarbrough | | |
| 28 | Brett Phillips | | |
| 31 | Mike Zunino | | |
| 55 | Randy Arozarena | | |
| 55 | Randy Arozarena | | Chrome |
| 55 | Randy Arozarena | | Mini |
| 90 | Vidal Brujan | | |
| 90 | Vidal Brujan | RC | Chrome |
| 90 | Vidal Brujan | RC | Mini |
| 161 | Shane Baz | RC | |
| 161 | Shane Baz | RC | Chrome |
| 161 | Shane Baz | RC | Mini |
| 204 | Randy Arozarena | | |
| 206 | Brandon Lowe | | Mini |
| 226 | Brandon Lowe | | |
| 226 | Brandon Lowe | | Chrome |
| 303 | Josh Lowe | RC | |
| 303 | Josh Lowe | RC | Mini |
| 310 | Tyler Glasnow | | |
| 347 | Wander Franco | RC | |
| 347 | Wander Franco | RC | Chrome |
| 347 | Wander Franco | RC | Mini |
| 347 | Wander Franco | RC | Error SP |
| 347 | Wander Franco | RC | Color Swap |
| 347 | Wander Franco | RC | Throwback Uniform |
| 347 | Wander Franco | RC | Image Variant |
| 347 | Wander Franco | RC | Team/Name Swap |
| 350 | Manuel Margot | | |
| 363 | Yandy Diaz | | |
| 393 | Ji-Man Choi | | |
| 425 | Francisco Mejia | | Short Print |
| 462 | Pete Fairbanks | | Short Print |
| 488 | Luis Patiño | | Short Print |
| 73M-WF | Wander Franco | RC | Relic |
| 73PU-4 | Wander Franco | RC | |
| 73TC-4 | Wander Franco | RC | |
| Candy Lid 4 | Wander Franco | RC | |
| CC-BL | Brandon Lowe | | Relic |
| CC-RA | Randy Arozarena | | Relic |
| CC-VB | Vidal Brujan | RC | Relic |
| CC-WF | Wander Franco | RC | Relic |
| NAP-1 | Wander Franco | RC | |
| NAP-19 | Shane Baz | RC | |
| OB-RA | Randy Arozarena | | |
| OB-WF | Wander Franco | RC | |
| ROA-JW | Josh Lowe | RC | Auto |
| ROA-SB | Shane Baz | RC | Auto |
| ROA-VB | Vidal Brujan | RC | Auto |
| ROA-WF | Wander Franco | RC | Auto |
| Stamps 4 | Wander Franco | RC | |
Red Sox
| | | | |
| --- | --- | --- | --- |
| 34 | Rafael Devers | | |
| 34 | Rafael Devers | | Mini |
| 34 | Rafael Devers | | Image Variant |
| 34 | Rafael Devers | | Team/Name Swap |
| 34 | Rafael Devers | | Nickname |
| 81 | Alex Verdugo | | |
| 81 | Alex Verdugo | | Chrome |
| 81 | Alex Verdugo | | Mini |
| 99 | J.D. Martinez | | |
| 99 | J.D. Martinez | | Mini |
| 121 | Nick Pivetta | | |
| 173 | Xander Bogaerts | | |
| 173 | Xander Bogaerts | | Chrome |
| 173 | Xander Bogaerts | | Mini |
| 188 | Enrique Hernandez | | |
| 188 | Enrique Hernandez | | Mini |
| 201 | Kike Hernandez | | |
| 211 | Jarren Duran | RC | |
| 211 | Jarren Duran | RC | Chrome |
| 211 | Jarren Duran | RC | Mini |
| 211 | Jarren Duran | RC | Image Variant |
| 211 | Jarren Duran | RC | Team/Name Swap |
| 212 | Rich Hill | | |
| 213 | Christian Vazquez | | |
| 244 | Bobby Dalbec | | |
| 244 | Rafael Devers | | Chrome |
| 244 | Bobby Dalbec | | Mini |
| 249 | Connor Wong | RC | |
| 311 | Nathan Eovaldi | | |
| 376 | Matt Barnes | | |
| 417 | Travis Shaw | | Short Print |
| 472 | Cy Young | | Short Print |
| 489 | Christian Arroyo | | Short Print |
| 73M-CY | Carl Yastrzemski | | Relic |
| 73M-RD | Rafael Devers | | Relic |
| 73M-XB | Xander Bogaerts | | Relic |
| 73PS-CY | Carl Yastrzemski | | Relic |
| 73PU-15 | Rafael Devers | | |
| 73PU-20 | Carl Yastrzemski | | |
| 73TC-17 | Rafael Devers | | |
| CC-JD | Jarren Duran | RC | Relic |
| CC-JM | J.D. Martinez | | Relic |
| CC-KS | Kyle Schwarber | | Relic |
| CC-RD | Rafael Devers | | Relic |
| CC-XB | Xander Bogaerts | | Relic |
| CCD-CB | Xander Bogaerts, Orlando Cepeda | | Relic |
| CCQ-FYBD | Xander Bogaerts, Rafael Devers,Carl Yastrzemski, Carlton Fisk | | Relic |
| FAR-CY | Carl Yastrzemski | | Auto Relic |
| NAP-23 | Jarren Duran | RC | |
| NAP-6 | Rafael Devers | | |
| OB-CY | Carl Yastrzemski | | |
| OB-RD | Rafael Devers | | |
| OB-XB | Xander Bogaerts | | |
| ROA-JD | Jarren Duran | RC | Auto |
Reds
| | | | |
| --- | --- | --- | --- |
| 2 | Tyler Mahle | | |
| 4 | Mike Moustakas | | |
| 4 | Mike Moustakas | | Chrome |
| 27 | Eugenio Suarez | | |
| 52 | Joey Votto | | |
| 52 | Joey Votto | | Chrome |
| 52 | Joey Votto | | Mini |
| 52 | Joey Votto | | Image Variant |
| 52 | Joey Votto | | Team/Name Swap |
| 97 | Tyler Naquin | | |
| 98 | TJ Friedl | RC | |
| 98 | TJ Friedl | RC | Chrome |
| 98 | TJ Friedl | RC | Mini |
| 107 | Kyle Farmer | | |
| 131 | Jonathan India | | |
| 131 | Jonathan India | | Mini |
| 214 | Tony Santillan | RC | |
| 215 | Luis Castillo | | |
| 217 | Ronnie Dawson | RC | |
| 282 | Sonny Gray | | |
| 282 | Sonny Gray | | Mini |
| 315 | Jesse Winker | | |
| 315 | Jesse Winker | | Mini |
| 415 | Vladimir Gutierrez | | Short Print |
| 420 | Aristides Aquino | | Short Print |
| 484 | Asdrubal Cabrera | | Short Print |
| 498 | Tyler Stephenson | | Short Print |
| 73M-JB | Johnny Bench | | Relic |
| 73M-JV | Joey Votto | | Relic |
| 73PS-JB | Johnny Bench | | Relic |
| 73PS-JM | Joe Morgan | | Relic |
| 73PU-22 | Johnny Bench | | |
| BCS-JM | Joe Morgan | | Relic |
| BF-5 | Johnny Bench | | |
| Candy Lid 5 | Joey Votto | | |
| CC-JVO | Joey Votto | | Relic |
| CC-JW | Jesse Winker | | Relic |
| CC-NC | Nick Castellanos | | Relic |
| CCQ-BPMC | Tony Pérez, Joe Morgan, Johnny Bench, Dave Concepcion | | Relic |
| CCT-VCW | Nick Castellanos, Joey Votto, Jesse Winker | | Relic |
| CDAR-BV | Joey Votto | | Auto Relic |
| CDAR-BV | Johnny Bench | | Auto Relic |
| FAR-JB | Johnny Bench | | Auto Relic |
| FAR-TP | Tony Pérez | | Auto Relic |
| OB-JB | Johnny Bench | | |
| OB-JV | Joey Votto | | |
| ROA-AL | Alejo Lopez | RC | Auto |
| ROA-GF | George Foster | | Auto |
| ROA-JBN | Johnny Bench | | Auto |
| ROA-JV | Joey Votto | | Auto |
| ROA-TF | TJ Friedl | RC | Auto |
| ROA-TS | Tony Santillan | RC | Auto |
| RODA-BV | Johnny Bench, Joey Votto | | Auto |
| ROTA-BMP | Johnny Bench | | Auto |
| Stamps 5 | Joey Votto | | |
| TAN-PT | Tony Pérez | | |
Rockies
| | | | |
| --- | --- | --- | --- |
| 26 | Charlie Blackmon | | |
| 29 | Raimel Tapia | | |
| 87 | Brendan Rodgers | | |
| 112 | Ryan Vilade | RC | |
| 112 | Ryan Vilade | RC | Mini |
| 114 | Ryan McMahon | | |
| 138 | C.J. Cron | | |
| 162 | Antonio Senzatela | | |
| 178 | Connor Joe | | |
| 270 | German Marquez | | |
| 281 | Colton Welker | RC | |
| 281 | Colton Welker | RC | Mini |
| 297 | Yonathan Daza | | |
| 446 | Austin Gomber | | Short Print |
| 456 | Sam Hilliard | | Short Print |
| 468 | Dom Nunez | | Short Print |
| CC-GM | German Marquez | | Relic |
| CC-TS | Trevor Story | | Relic |
| ROA-RV | Ryan Vilade | RC | Auto |
Royals
| | | | |
| --- | --- | --- | --- |
| 5 | Adalberto Mondesi | | |
| 30 | Andrew Benintendi | | |
| 30 | Andrew Benintendi | | Mini |
| 62 | Salvador Perez | | |
| 64 | Whit Merrifield | | |
| 68 | Salvador Perez | | |
| 89 | Whit Merrifield | | |
| 102 | Mike Minor | | |
| 155 | Jackson Kowar | RC | |
| 155 | Jackson Kowar | RC | Chrome |
| 191 | Carlos Santana | | |
| 192 | Emmanuel Rivera | RC | |
| 192 | Emmanuel Rivera | RC | Mini |
| 260 | Nicky Lopez | | |
| 267 | Salvador Perez | | |
| 267 | Salvador Perez | | Chrome |
| 267 | Salvador Perez | | Mini |
| 272 | Michael Taylor | | |
| 305 | Hunter Dozier | | |
| 408 | Ryan O'Hearn | | Short Print |
| 436 | Edward Olivares | | Short Print |
| 470 | Danny Duffy | | Short Print |
| 73M-SP | Salvador Perez | | Relic |
| 73TC-18 | Salvador Perez | | |
| Candy Lid 8 | Salvador Perez | | |
| CC-ABI | Andrew Benintendi | | Relic |
| CC-SP | Salvador Perez | | Relic |
| OB-SP | Salvador Perez | | |
| ROA-AO | Amos Otis | | Auto |
| ROA-B | Andrew Benintendi | | Auto |
| ROA-JKW | Jackson Kowar | RC | Auto |
| TAN-JP | Salvador Perez | | |
| TAN-MG | John Mayberry | | |
Tigers
| | | | |
| --- | --- | --- | --- |
| 1 | Miguel Cabrera | | |
| 58 | Robbie Grossman | | |
| 75 | Niko Goodrum | | |
| 86 | Willi Castro | | |
| 111 | Tucker Barnhart | | |
| 170 | Jeimer Candelario | | |
| 195 | Eric Haase | | |
| 227 | Matt Manning | RC | |
| 227 | Matt Manning | RC | Chrome |
| 227 | Matt Manning | RC | Mini |
| 300 | Akil Baddoo | | |
| 321 | Dustin Garneau | | |
| 340 | Miguel Cabrera | | |
| 340 | Miguel Cabrera | | Chrome |
| 340 | Miguel Cabrera | | Mini |
| 398 | Casey Mize | | |
| 404 | Jake Rogers | | Short Print |
| 452 | Kyle Funkhouser | | Short Print |
| 471 | Ty Cobb | | Short Print |
| 73M-AK | Al Kaline | | Relic |
| 73M-MC | Miguel Cabrera | | Relic |
| 73PS-AK | Al Kaline | | Relic |
| 73TC-10 | Miguel Cabrera | | |
| CC-JBZ | Javier Baez | | Relic |
| CC-MCB | Miguel Cabrera | | Relic |
| CCAR-MC | Miguel Cabrera | | Auto Relic |
| CCD-KC | Miguel Cabrera, Al Kaline | | Relic |
| OB-MC | Miguel Cabrera | | |
| ROA-FH | Frank Howard | | Auto |
| ROA-JH | John Hiller | | Auto |
| ROA-MC | Miguel Cabrera | | Auto |
| ROA-MMG | Matt Manning | RC | Auto |
Twins
| | | | |
| --- | --- | --- | --- |
| 12 | Andrelton Simmons | | |
| 76 | Ryan Jeffers | | |
| 110 | Josh Donaldson | | |
| 110 | Josh Donaldson | | Chrome |
| 110 | Josh Donaldson | | Mini |
| 110 | Josh Donaldson | | Throwback Uniform |
| 110 | Josh Donaldson | | Nickname |
| 122 | Max Kepler | | |
| 151 | Alex Kirilloff | | |
| 186 | Byron Buxton | | |
| 186 | Byron Buxton | | Chrome |
| 186 | Byron Buxton | | Mini |
| 237 | Luis Arraez | | |
| 257 | Jorge Polanco | | |
| 257 | Jorge Polanco | | Mini |
| 268 | Griffin Jax | RC | |
| 268 | Griffin Jax | RC | Chrome |
| 370 | Joe Ryan | RC | |
| 370 | Joe Ryan | RC | Chrome |
| 370 | Joe Ryan | RC | Mini |
| 384 | Miguel Sano | | |
| 395 | Michael Pineda | | |
| 413 | Caleb Thielbar | | Short Print |
| 427 | Willians Astudillo | | Short Print |
| 427 | Kenta Maeda | | Chrome |
| 461 | Jake Cave | | Short Print |
| 73M-HK | Harmon Killebrew | | Relic |
| 73M-RCW | Rod Carew | | Relic |
| 73PS-HK | Harmon Killebrew | | Relic |
| 73PS-RCW | Rod Carew | | Relic |
| 73PU-25 | Harmon Killebrew | | |
| 73TC-24 | Harmon Killebrew | | |
| BCS-HK | Harmon Killebrew | | Relic |
| BF-15 | Rod Carew | | |
| Candy Lid 24 | Harmon Killebrew | | |
| CC-BBX | Byron Buxton | | Relic |
| CC-JDN | Josh Donaldson | | Relic |
| CCAR-JDN | Josh Donaldson | | Auto Relic |
| CCD-CO | Tony Oliva, Rod Carew | | Relic |
| CCQ-KCOB | Rod Carew, Harmon Killebrew, Tony Oliva, Bert Blyleven | | Relic |
| CCT-BKB | Jim Kaat, Bert Blyleven, Jose Berrios | | Relic |
| CDAR-OC | Tony Oliva | | Auto Relic |
| CDAR-OC | Rod Carew | | Auto Relic |
| FAR-RC | Rod Carew | | Auto Relic |
| FAR-TO | Tony Oliva | | Auto Relic |
| NAP-18 | Joe Ryan | RC | |
| OB-BBX | Byron Buxton | | |
| OB-HK | Harmon Killebrew | | |
| OB-JD | Josh Donaldson | | |
| ROA-JDN | Josh Donaldson | | Auto |
| ROA-JK | Jim Kaat | | Auto |
| ROA-JRY | Joe Ryan | RC | Auto |
| ROA-MK | Max Kepler | | Auto |
| ROA-RC | Rod Carew | | Auto |
| ROA-TO | Tony Oliva | | Auto |
| RODA-OC | Rod Carew, Tony Oliva | | Auto |
| Stamps 24 | Harmon Killebrew | | |
| Stamps 8 | Byron Buxton | | |
| TAN-CG | Rod Carew | | |
White Sox
| | | | |
| --- | --- | --- | --- |
| 6 | Liam Hendriks | | |
| 6 | Liam Hendriks | | Chrome |
| 9 | Yoan Moncada | | |
| 45 | Dylan Cease | | |
| 47 | Yasmani Grandal | | |
| 66 | Liam Hendriks | | |
| 84 | Jose Abreu | | |
| 84 | Jose Abreu | | Chrome |
| 84 | Jose Abreu | | Mini |
| 133 | Dallas Keuchel | | |
| 137 | Lance Lynn | | |
| 164 | Romy Gonzalez | RC | |
| 164 | Romy Gonzalez | RC | Mini |
| 179 | Eloy Jimenez | | |
| 179 | Eloy Jimenez | | Chrome |
| 179 | Eloy Jimenez | | Mini |
| 179 | Eloy Jimenez | | Throwback Uniform |
| 181 | Gavin Sheets | RC | |
| 181 | Gavin Sheets | RC | Chrome |
| 185 | Carlos Rodon | | |
| 185 | Carlos Rodon | | Chrome |
| 216 | Lucas Giolito | | |
| 239 | Brian Goodwin | | |
| 241 | Tim Anderson | | |
| 241 | Tim Anderson | | Chrome |
| 241 | Tim Anderson | | Mini |
| 241 | Tim Anderson | | Throwback Uniform |
| 266 | Andrew Vaughn | | |
| 266 | Andrew Vaughn | | Mini |
| 295 | Luis Robert | | |
| 295 | Luis Robert | | Chrome |
| 295 | Luis Robert | | Mini |
| 295 | Luis Robert | | Color Swap |
| 295 | Luis Robert | | Throwback Uniform |
| 295 | Luis Robert | | Image Variant |
| 295 | Luis Robert | | Team/Name Swap |
| 295 | Luis Robert | | Nickname |
| 380 | Leury Garcia | | |
| 381 | Jake Burger | RC | |
| 403 | Ryan Tepera | | Short Print |
| 445 | Adam Engel | | Short Print |
| 494 | Reynaldo Lopez | | Short Print |
| 73M-LR | Luis Robert | | Relic |
| 73PU-5 | Luis Robert | | |
| 73TC-2 | Eloy Jimenez | | |
| 73TC-6 | Luis Robert | | |
| BF-13 | Wilbur Wood | | |
| Candy Lid 6 | Luis Robert | | |
| CC-DK | Dallas Keuchel | | Relic |
| CC-EJ | Eloy Jimenez | | Relic |
| CC-JA | Jose Abreu | | Relic |
| CC-LR | Luis Robert | | Relic |
| CC-YM | Yoan Moncada | | Relic |
| NAP-11 | Luis Robert | | |
| NAP-25 | Andrew Vaughn | | |
| OB-EJ | Eloy Jimenez | | |
| OB-LR | Luis Robert | | |
| ROA-GS | Gavin Sheets | RC | Auto |
| ROA-JA | Jose Abreu | | Auto |
| ROA-JB | Jake Burger | RC | Auto |
| ROA-TA | Tim Anderson | | Auto |
| Stamps 6 | Luis Robert | | |
| TAN-WC | Wilbur Wood | | |
Yankees
| | | | |
| --- | --- | --- | --- |
| 44 | Aaron Judge | | |
| 44 | Aaron Judge | | Chrome |
| 65 | Gerrit Cole | | |
| 166 | Gerrit Cole | | |
| 166 | Gerrit Cole | | Chrome |
| 166 | Gerrit Cole | | Mini |
| 166 | Gerrit Cole | | Image Variant |
| 166 | Gerrit Cole | | Team/Name Swap |
| 169 | DJ LeMahieu | | |
| 169 | DJ LeMahieu | | Mini |
| 177 | Luis Severino | | |
| 201 | Aaron Judge | | Mini |
| 201 | Aaron Judge | | Color Swap |
| 201 | Aaron Judge | | Throwback Uniform |
| 201 | Aaron Judge | | Image Variant |
| 201 | Aaron Judge | | Team/Name Swap |
| 201 | Aaron Judge | | Nickname |
| 225 | Giancarlo Stanton | | |
| 225 | Giancarlo Stanton | | Chrome |
| 225 | Giancarlo Stanton | | Mini |
| 258 | Gary Sanchez | | |
| 258 | Gary Sanchez | | Mini |
| 284 | Gio Urshela | | |
| 287 | Aroldis Chapman | | |
| 287 | Aroldis Chapman | | Mini |
| 299 | Gleyber Torres | | |
| 299 | Gleyber Torres | | Chrome |
| 299 | Gleyber Torres | | Mini |
| 339 | Joey Gallo | | |
| 349 | Brett Gardner | | |
| 354 | Jordan Montgomery | | |
| 373 | Luis Gil | RC | |
| 373 | Luis Gil | RC | Chrome |
| 373 | Luis Gil | RC | Mini |
| 385 | Luke Voit | | |
| 431 | Kyle Higashioka | | Short Print |
| 474 | Mariano Rivera | | Short Print |
| 478 | Alex Rodriguez | | Short Print |
| 492 | Chad Green | | Short Print |
| 493 | Miguel Andujar | | Short Print |
| 73M-AJ | Aaron Judge | | Relic |
| 73M-GS | Giancarlo Stanton | | Relic |
| 73PU-6 | Aaron Judge | | |
| 73TC-7 | Aaron Judge | | |
| BF-2 | Ron Blomberg | | |
| Candy Lid 13 | Gerrit Cole | | |
| Candy Lid 7 | Aaron Judge | | |
| CC-AC | Aroldis Chapman | | Relic |
| CC-AJ | Aaron Judge | | Relic |
| CC-AR | Anthony Rizzo | | Relic |
| CC-DL | DJ LeMahieu | | Relic |
| CC-GC | Gerrit Cole | | Relic |
| CC-GS | Giancarlo Stanton | | Relic |
| CC-GT | Gleyber Torres | | Relic |
| CCAR-AJ | Aaron Judge | | Auto Relic |
| CCAR-AR | Anthony Rizzo | | Auto Relic |
| CCD-MC | Gerrit Cole, Thurman Munson | | Relic |
| CCQ-JCST | Giancarlo Stanton, Gerrit Cole, Gleyber Torres, Aaron Judge | | Relic |
| NAP-21 | Luis Gil | RC | |
| OB-AJ | Aaron Judge | | |
| OB-GC | Gerrit Cole | | |
| OB-GS | Giancarlo Stanton | | |
| ROA-AJ | Aaron Judge | | Auto |
| ROA-AR | Anthony Rizzo | | Auto |
| ROA-LGI | Luis Gil | RC | Auto |
| Stamps 13 | Gerrit Cole | | |
| Stamps 7 | Aaron Judge | | |
| TAN-MG | Joey Gallo | | |
| TAN-WC | Gerrit Cole | | |
Non Baseball
| | | |
| --- | --- | --- |
| CCS-BW | Barry White | Relic |
| CCS-DB | David Bowie | Relic |
| CCS-DS | Don Shula | Relic |
| CCS-GF | Gerald Ford | Relic |
| CCS-JD | James Dean | Relic |
| CCS-JL | John Lennon | Relic |
| CCS-MB | Marlon Brando | Relic |
| CCS-RF | Redd Foxx | Relic |
| CCS-RN | Richard Nixon | Relic |
| CCS-WC | Wilt Chamberlain | Relic |
| NF-1 | EUROPEAN ECONOMIC COMMUNITY IS FORMED | |
| NF-10 | ENDANGERED SPECIES ACT PASSED | |
| NF-11 | GEORGE STEINBRENNER PURCHASES THE YANKEES | |
| NF-12 | NASA LAUNCHES SKYLAB SPACE STATION | |
| NF-13 | SEARS TOWER COMPLETED IN CHICAGO | |
| NF-14 | "BATTLE OF THE SEXES" MATCH | |
| NF-15 | WATERGATE HEARINGS BEGIN | |
| NF-2 | PARIS PEACE ACCORD IS SIGNED | |
| NF-3 | LONDON BRIDGE OPENS | |
| NF-4 | PRESIDENT NIXON SWORN IN FOR SECOND TERM | |
| NF-5 | THE WORLD TRADE CENTER DEDICATED | |
| NF-6 | CHICAGO BOARD OPTIONS EXCHANGE OPENS | |
| NF-7 | US SENATE VOTES TO CONFIRM GERALD FORD AS VICE PRESIDENT | |
| NF-8 | HENRY KISSINGER BEGINS TERM AS SECRETARY OF STATE | |
| NF-9 | BOSPHORUS BRIDGE COMPLETED | |