2022 Topps Gypsy Queen baseball cards blend the classic look of the beloved tobacco cards with modern players and parallels. There are several parallels debuting in the 2022 edition and a limited number of insert sets.
Every hobby box includes two autographs and three exclusive chrome cards.
This checklist is organized by baseball team. Scroll through the entire list or jump to a preferred team by selecting them from the list below. Clicking a link within the checklist will direct you to an affiliate retailer or to relevant eBay listings.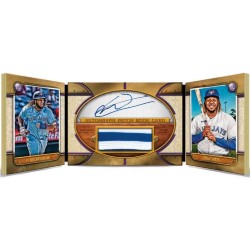 2022 Topps Gypsy Queen Checklist
Base Set – 320 Cards
Missing Nameplate
Burnt Umber – #/399
Indigo – #/250
Turquoise – #/199
Blue – #/150
Mauve – #/75
Black & White – #/50
Ruby Red Foil – #/10
Black – 1/1
Base Set Short Prints
Missing Nameplate
Blue – #/150
Black – 1/1
Chrome Base
Indigo Refractor – #/150
Blue Refractor – #/99
Gold Refractor – #/50
Red Refractor – #/5
SuperFractor – 1/1
Crystal Gazing Die Cut (CG) – 22 Cards
Indigo – #/250
Black – 1/1
GQ Autographs (GQA) – 89 Cards
Indigo – #/150
Blue – #/99
Black & White – #/50
Black – 1/1
Mini Rookie Auto (MRA) – 5 Cards
Base – #/Varied
Black & White – #/50
Black Foil – 1/1
GQ Gem Mini Auto (GGA) – 15 Cards
Base – #/Varied
Black Foil – 1/1
Image Variation Auto (IVA) – 8 Cards
Base – #/Varied
Black & White – #/42
Black – 1/1
Astrological Chrome Auto (ACA) – 10 Cards
Base – #/99
SuperFractor – 1/1
GQ Chrome Auto Variation (GCA) – 10 Cards
Base – #/25
SuperFractor – 1/1
Autograph Garments (AG) – 8 Cards
Base – #/50
Black – 1/1
Auto Patch Book (APBC) – 12 Cards
Base – #/20
Black – 1/1
Pull up Sock Auto (PUSA) – 2 Cards
Base – #/10
Black – 1/1
Autographed Lineup Cards (ALC) – 15 Cards
Base – 1/1
Angels
| | | | |
| --- | --- | --- | --- |
| 39 | Shohei Ohtani | | |
| 39 | Shohei Ohtani | | Jackie Robinson Variant |
| 39 | Shohei Ohtani | | GQ Gem Minis |
| 39 | Shohei Ohtani | | GQ Chrome |
| 57 | Jo Adell | | |
| 57 | Jo Adell | | GQ Chrome |
| 72 | Mike Trout | | |
| 72 | Mike Trout | | Jackie Robinson Variant |
| 72 | Mike Trout | | GQ Chrome |
| 77 | Justin Upton | | |
| 81 | Jared Walsh | | |
| 198 | Reid Detmers | RC | |
| 198 | Reid Detmers | RC | GQ Chrome |
| 209 | Anthony Rendon | | |
| 261 | Brandon Marsh | RC | |
| 261 | Brandon Marsh | RC | GQ Chrome |
| CG-18 | Jo Adell | | |
| CG-6 | Brandon Marsh | RC | |
| GGA-SO | Shohei Ohtani | | Auto |
| GQA-BMA | Brandon Marsh | RC | Auto |
| GQA-JAB | Jim Abbott | | Auto |
| GQA-MT | Mike Trout | | Auto |
| GQA-RDE | Reid Detmers | RC | Auto |
| GQA-SO | Shohei Ohtani | | Auto |
| MRA-RD | Reid Detmers | RC | Auto |
Astros
| | | | |
| --- | --- | --- | --- |
| 16 | Cristian Javier | | |
| 46 | Michael Brantley | | |
| 46 | Michael Brantley | | GQ Chrome |
| 48 | Justin Verlander | | |
| 105 | Carlos Correa | | |
| 178 | Alex Bregman | | |
| 178 | Alex Bregman | | GQ Chrome |
| 217 | Yordan Alvarez | | |
| 217 | Yordan Alvarez | | GQ Chrome |
| 231 | Jose Altuve | | |
| 231 | Jose Altuve | | GQ Gem Minis |
| 231 | Jose Altuve | | GQ Chrome |
| 262 | Kyle Tucker | | |
| 277 | Zack Greinke | | |
| 279 | Yuli Gurriel | | |
| ACA-AB | Alex Bregman | | Auto |
| ACA-MB | Michael Brantley | | Auto |
| ALC-JA | Jose Altuve | | Auto/Relic |
| ALC-YA | Yordan Alvarez | | Auto/Relic |
| APBC-AB | Alex Bregman | | Auto/Relic |
| APBC-YA | Yordan Alvarez | | Auto/Relic |
| GCA-MB | Michael Brantley | | Auto |
| GGA-JA | Jose Altuve | | Auto |
| GQA-CMC | Chas McCormick | RC | Auto |
| IVA-YA | Yordan Alvarez | | Auto |
Athletics
| | | | |
| --- | --- | --- | --- |
| 83 | Sean Murphy | | |
| 98 | Matt Olson | | |
| 98 | Matt Olson | | GQ Chrome |
| 253 | Matt Chapman | | |
| 253 | Matt Chapman | | GQ Chrome |
| 270 | James Kaprielian | | |
| GQA-GP | Rollie Fingers | | Auto |
| GQA-JC | Jose Canseco | | Auto |
Blue Jays
| | | | |
| --- | --- | --- | --- |
| 18 | Vladimir Guerrero Jr. | | |
| 18 | Vladimir Guerrero Jr. | | GQ Chrome |
| 47 | Alejandro Kirk | | |
| 61 | Alek Manoah | | |
| 78 | Hyun Jin Ryu | | |
| 78 | Hyun-Jin Ryu | | GQ Chrome |
| 102 | Jose Berrios | | |
| 131 | Kevin Gausman | | |
| 132 | Bo Bichette | | |
| 132 | Bo Bichette | | GQ Chrome |
| 135 | Cavan Biggio | | |
| 159 | Santiago Espinal | | |
| 168 | Nate Pearson | | |
| 189 | Hyun-Jin Ryu | | |
| 189 | Hyun-Jin Ryu | | GQ Gem Minis |
| 218 | George Springer | | |
| 218 | George Springer | | GQ Gem Minis |
| 218 | George Springer | | GQ Chrome |
| 247 | Otto Lopez | RC | |
| 260 | Teoscar Hernandez | | |
| 300 | Lourdes Gurriel Jr. | | |
| ACA-VGJ | Vladimir Guerrero Jr. | | Auto |
| ALC-VGJ | Vladimir Guerrero Jr. | | Auto/Relic |
| APBC-VGJ | Vladimir Guerrero Jr. | | Auto/Relic |
| CG-1 | Bo Bichette | | |
| GGA-GS | George Springer | | Auto |
| GQA-AMA | Alek Manoah | | Auto |
| GQA-CD | Carlos Delgado | | Auto |
| GQA-KS | Kevin Smith | RC | Auto |
| GQA-VGJ | Vladimir Guerrero Jr. | | Auto |
| IVA-VGJ | Vladimir Guerrero Jr. | | Auto |
Braves
| | | | |
| --- | --- | --- | --- |
| 3 | William Contreras | | |
| 25 | Ian Anderson | | |
| 25 | Ian Anderson | | Jackie Robinson Variant |
| 31 | Kyle Wright | | |
| 36 | Ozzie Albies | | |
| 36 | Ozzie Albies | | Jackie Robinson Variant |
| 41 | Dansby Swanson | | |
| 41 | Dansby Swanson | | Jackie Robinson Variant |
| 44 | Spencer Strider | RC | |
| 53 | Eddie Rosario | | |
| 68 | Ronald Acuña Jr. | | |
| 68 | Ronald Acuña Jr. | | Jackie Robinson Variant |
| 68 | Ronald Acuña Jr. | | GQ Gem Minis |
| 68 | Ronald Acuña Jr. | | GQ Chrome |
| 82 | Joc Pederson | | |
| 97 | Adam Duvall | | |
| 137 | Cristian Pache | | |
| 143 | Freddie Freeman | | |
| 143 | Freddie Freeman | | Jackie Robinson Variant |
| 143 | Freddie Freeman | | GQ Chrome |
| 169 | Travis d'Arnaud | | |
| 197 | Kyle Muller | RC | |
| 199 | Jorge Soler | | |
| 199 | Jorge Soler | | GQ Chrome |
| 200 | Austin Riley | | |
| 213 | Orlando Arcia | | |
| 214 | Mike Soroka | | |
| 296 | Max Fried | | |
| 319 | Hank Aaron | | Short Print |
| ACA-AR | Austin Riley | | Auto |
| APBC-FF | Freddie Freeman | | Auto/Relic |
| CG-20 | Cristian Pache | | |
| GQA-DM | Dale Murphy | | Auto |
| GQA-WC | William Contreras | | Auto |
Brewers
Ch
| | | | |
| --- | --- | --- | --- |
| 49 | Aaron Ashby | RC | |
| 51 | Devin Williams | | |
| 153 | Christian Yelich | | |
| 153 | Christian Yelich | | GQ Chrome |
| 166 | Keston Hiura | | |
| 177 | Corbin Burnes | | |
| 191 | Willy Adames | | |
| 194 | Josh Hader | | |
| 256 | Brandon Woodruff | | |
| ALC-CY | Christian Yelich | | Auto/Relic |
| APBC-CY | Christian Yelich | | Auto/Relic |
| GQA-CY | Christian Yelich | | Auto |
| GQA-JCO | Jake Cousins | RC | Auto |
| GQA-KW | Kolten Wong | | Auto |
Browns
| | | | |
| --- | --- | --- | --- |
| 315 | Satchel Paige | | Short Print |
Cardinals
| | | | |
| --- | --- | --- | --- |
| 14 | Yadier Molina | | |
| 14 | Yadier Molina | | Jackie Robinson Variant |
| 14 | Yadier Molina | | GQ Gem Minis |
| 60 | Lars Nootbaar | RC | |
| 111 | Paul DeJong | | |
| 111 | Paul DeJong | | Jackie Robinson Variant |
| 127 | Anderson Tejeda | | |
| 274 | Paul Goldschmidt | | |
| 274 | Paul Goldschmidt | | Jackie Robinson Variant |
| 274 | Paul Goldschmidt | | GQ Chrome |
| 280 | Juan Yepez | RC | |
| 284 | Nolan Arenado | | |
| 284 | Nolan Arenado | | Jackie Robinson Variant |
| 284 | Nolan Arenado | | GQ Gem Minis |
| 284 | Nolan Arenado | | GQ Chrome |
| 291 | Dylan Carlson | | |
| 291 | Dylan Carlson | | Jackie Robinson Variant |
| 291 | Dylan Carlson | | GQ Chrome |
| 294 | Matt Carpenter | | |
| 294 | Matt Carpenter | | Jackie Robinson Variant |
| 295 | Jack Flaherty | | |
| 303 | Stan Musial | | Short Print |
| AG-DC | Dylan Carlson | | Auto/Relic |
| ALC-DC | Dylan Carlson | | Auto/Relic |
| APBC-YM | Yadier Molina | | Auto/Relic |
| CG-22 | Dylan Carlson | | |
| GCA-NA | Nolan Arenado | | Auto |
| GQA-DC | Dylan Carlson | | Auto |
| GQA-LN | Lars Nootbaar | RC | Auto |
| GQA-TM | Tim McCarver | | Auto |
| IVA-DC | Dylan Carlson | | Auto |
Cubs
| | | | |
| --- | --- | --- | --- |
| 3 | Willson Contreras | | City Connect |
| 3 | Willson Contreras | | GQ Gem Minis |
| 50 | Greg Deichmann | RC | |
| 113 | Clint Frazier | | |
| 117 | Marcus Stroman | | |
| 196 | Brailyn Marquez | | |
| 201 | Nick Madrigal | | |
| 201 | Nick Madrigal | | GQ Chrome |
| 212 | David Bote | | |
| 297 | Willson Contreras | | |
| 318 | Ernie Banks | | Short Print |
| CG-13 | Nick Madrigal | | |
| GQA-GD | Greg Deichmann | RC | Auto |
| GQA-MS | Marcus Stroman | | Auto |
Diamondbacks
| | | | |
| --- | --- | --- | --- |
| 33 | Stuart Fairchild | RC | |
| 112 | Pavin Smith | | |
| 134 | Seth Beer | RC | |
| 226 | Geraldo Perdomo | | |
| 236 | Daulton Varsho | | |
| 245 | Ketel Marte | | |
| 245 | Ketel Marte | | City Connect |
| 245 | Ketel Marte | | GQ Chrome |
| 292 | Luis Frias | RC | |
| GQA-DE | Drew Ellis | RC | Auto |
| GQA-DV | Daulton Varsho | | Auto |
| GQA-GPE | Geraldo Perdomo | | Auto |
| GQA-JMU | Seth Beer | RC | Auto |
| GQA-SF | Stuart Fairchild | RC | Auto |
Dodgers
| | | | |
| --- | --- | --- | --- |
| 12 | Will Smith | | |
| 29 | Dustin May | | |
| 65 | Zach McKinstry | | |
| 75 | Trea Turner | | |
| 75 | Justin Turner | | City Connect |
| 75 | Trea Turner | | GQ Chrome |
| 80 | Cody Bellinger | | |
| 80 | Cody Bellinger | | City Connect |
| 80 | Cody Bellinger | | GQ Chrome |
| 101 | Max Muncy | | |
| 101 | Max Muncy | | City Connect |
| 138 | Clayton Kershaw | | |
| 183 | Walker Buehler | | |
| 183 | Walker Buehler | | City Connect |
| 183 | Walker Buehler | | GQ Gem Minis |
| 254 | Justin Turner | | |
| 269 | Mookie Betts | | |
| 269 | Mookie Betts | | Jackie Robinson Variant |
| 269 | Mookie Betts | | GQ Chrome |
| 275 | Albert Pujols | | |
| 275 | Albert Pujols | | GQ Chrome |
| 301 | Jackie Robinson | | Short Print |
| 311 | Roy Campanella | | Short Print |
| 320 | Don Drysdale | | Short Print |
| ACA-MM | Max Muncy | | Auto |
| AG-SG | Steve Garvey | | Auto/Relic |
| GGA-WB | Walker Buehler | | Auto |
| GQA-AP | Albert Pujols | | Auto |
| GQA-SG | Steve Garvey | | Auto |
Giants
| | | | |
| --- | --- | --- | --- |
| 4 | Wilmer Flores | | |
| 4 | Wilmer Flores | | City Connect |
| 76 | Mike Yastrzemski | | |
| 76 | Mike Yastrzemski | | Jackie Robinson Variant |
| 76 | Mike Yastrzemski | | City Connect |
| 121 | Evan Longoria | | |
| 205 | Brandon Crawford | | |
| 205 | Brandon Crawford | | City Connect |
| 264 | Kris Bryant | | |
| 264 | Kris Bryant | | GQ Chrome |
| 278 | Joey Bart | | |
| 278 | Joey Bart | | City Connect |
| 278 | Joey Bart | | GQ Chrome |
| 312 | Willie Mays | | Short Print |
| ACA-JB | Joey Bart | | Auto |
| CG-15 | Joey Bart | | |
| GQA-BC | Brandon Crawford | | Auto |
Guardians
| | | | |
| --- | --- | --- | --- |
| 21 | Zach Plesac | | |
| 84 | Triston McKenzie | | |
| 88 | Shane Bieber | | |
| 88 | Shane Bieber | | GQ Gem Minis |
| 119 | Franmil Reyes | | |
| 251 | Jose Ramirez | | |
| 251 | Jose Ramirez | | GQ Chrome |
| 266 | Amed Rosario | | |
| 293 | Andres Gimenez | | |
| GCA-JR | Jose Ramirez | | Auto |
| GQA-ZP | Zach Plesac | | Auto |
Mariners
| | | | |
| --- | --- | --- | --- |
| 71 | Jarred Kelenic | | |
| 71 | Jarred Kelenic | | GQ Chrome |
| 118 | Logan Gilbert | | |
| 123 | Kyle Lewis | | |
| 123 | Kyle Lewis | | GQ Chrome |
| 176 | Adam Frazier | | |
| 176 | Adam Frazier | | GQ Chrome |
| 185 | Cal Raleigh | RC | |
| 185 | Cal Raleigh | RC | GQ Chrome |
| 186 | Marco Gonzales | | |
| 216 | Taylor Trammell | | |
| 229 | Evan White | | |
| 241 | Mitch Haniger | | |
| 309 | Ken Griffey Jr. | | Short Print |
| 316 | Ichiro | | Short Print |
| CG-12 | Jarred Kelenic | | |
| GQA-AF | Adam Frazier | | Auto |
| GQA-AT | Abraham Toro | | Auto |
| GQA-CR | Cal Raleigh | RC | Auto |
| GQA-I | Ichiro | | Auto |
| GQA-JK | Jarred Kelenic | | Auto |
| IVA-JK | Jarred Kelenic | | Auto |
Marlins
| | | | |
| --- | --- | --- | --- |
| 2 | Lewin Diaz | | |
| 35 | Bryan De La Cruz | RC | |
| 37 | Jazz Chisholm Jr. | | |
| 37 | Jazz Chisholm Jr. | | Jackie Robinson Variant |
| 37 | Jazz Chisholm Jr. | | City Connect |
| 37 | Jazz Chisholm Jr. | | GQ Chrome |
| 43 | Brian Anderson | | |
| 74 | Jesus Sanchez | | |
| 74 | Jesus Sanchez | | City Connect |
| 150 | Pablo Lopez | | |
| 152 | Edward Cabrera | RC | |
| 152 | Edward Cabrera | RC | GQ Chrome |
| 243 | Jesus Luzardo | | |
| 250 | Sixto Sanchez | | |
| 271 | Sandy Alcantara | | |
| 271 | Sandy Alcantara | | City Connect |
| 290 | Jesus Aguilar | | |
| CG-16 | Jazz Chisholm Jr. | | |
| CG-21 | Edward Cabrera | RC | |
| GQA-BCR | Bryan De La Cruz | RC | Auto |
| GQA-JDE | Jose Devers | | Auto |
| GQA-JSA | Jesus Sanchez | | Auto |
| GQA-LD | Lewin Diaz | | Auto |
Mets
| | | | |
| --- | --- | --- | --- |
| 63 | Max Scherzer | | |
| 63 | Max Scherzer | | GQ Chrome |
| 73 | Eduardo Escobar | | |
| 100 | Michael Conforto | | |
| 130 | Jacob deGrom | | |
| 130 | Jacob deGrom | | Jackie Robinson Variant |
| 130 | Jacob deGrom | | GQ Gem Minis |
| 130 | Jacob deGrom | | GQ Chrome |
| 133 | Edwin Diaz | | |
| 142 | Brandon Nimmo | | |
| 147 | Carlos Carrasco | | |
| 167 | Starling Marte | | |
| 208 | Francisco Lindor | | |
| 208 | Francisco Lindor | | Jackie Robinson Variant |
| 208 | Francisco Lindor | | GQ Chrome |
| 211 | Pete Alonso | | |
| 211 | Pete Alonso | | Jackie Robinson Variant |
| 211 | Pete Alonso | | GQ Gem Minis |
| 211 | Pete Alonso | | GQ Chrome |
| 244 | Jeff McNeil | | |
| 255 | Dominic Smith | | |
| 308 | Mike Piazza | | Short Print |
| AG-DW | David Wright | | Auto/Relic |
| ALC-MS | Marcus Stroman | | Auto/Relic |
| ALC-PA | Pete Alonso | | Auto/Relic |
| APBC-MP | Mike Piazza | | Auto/Relic |
| APBC-PA | Pete Alonso | | Auto/Relic |
| GGA-PA | Pete Alonso | | Auto |
| GQA-KR | Mark Canha | | Auto |
| GQA-PM | Patrick Mazeika | RC | Auto |
| GQA-RD | Ron Darling | | Auto |
| PUSA-PA | Pete Alonso | | Auto/Relic |
Nationals
| | | | |
| --- | --- | --- | --- |
| 32 | Josh Bell | | |
| 56 | Stephen Strasburg | | |
| 109 | Andrew Young | | |
| 164 | Josiah Gray | RC | |
| 164 | Josiah Gray | RC | GQ Chrome |
| 207 | Juan Soto | | |
| 207 | Juan Soto | | Jackie Robinson Variant |
| 207 | Juan Soto | | GQ Gem Minis |
| 207 | Juan Soto | | GQ Chrome |
| 215 | Luis Garcia | | |
| 223 | Keibert Ruiz | | |
| 287 | Patrick Corbin | | |
| GQA-JG | Josiah Gray | RC | Auto |
| GQA-JS | Juan Soto | | Auto |
| GQA-RA | Riley Adams | RC | Auto |
| MRA-JG | Josiah Gray | RC | Auto |
| PUSA-JS | Juan Soto | | Auto/Relic |
Orioles
| | | | |
| --- | --- | --- | --- |
| 54 | Rougned Odor | | |
| 182 | Dean Kremer | | |
| 188 | Ryan Mountcastle | | |
| 188 | Ryan Mountcastle | | GQ Gem Minis |
| 188 | Ryan Mountcastle | | GQ Chrome |
| 190 | Cedric Mullins | | |
| 193 | Austin Hays | | |
| 257 | Trey Mancini | | |
| AG-EM | Eddie Murray | | Auto/Relic |
| CG-7 | Ryan Mountcastle | | |
| GQA-CM | Cedric Mullins | | Auto |
| GQA-JJ | Jahmai Jones | | Auto |
Padres
| | | | |
| --- | --- | --- | --- |
| 27 | Eric Hosmer | | |
| 38 | Trent Grisham | | |
| 45 | Blake Snell | | |
| 45 | Blake Snell | | GQ Gem Minis |
| 86 | Manny Machado | | |
| 86 | Manny Machado | | GQ Gem Minis |
| 86 | Manny Machado | | GQ Chrome |
| 90 | Ha-Seong Kim | | |
| 90 | Ha-Seong Kim | | GQ Chrome |
| 94 | Luis Campusano | | |
| 96 | Mike Clevinger | | |
| 129 | Ryan Weathers | | |
| 145 | Chris Paddack | | |
| 148 | Jake Cronenworth | | |
| 148 | Jake Cronenworth | | GQ Chrome |
| 149 | Wil Myers | | |
| 210 | Tommy Pham | | |
| 238 | Jurickson Profar | | |
| 267 | Fernando Tatis Jr. | | |
| 267 | Fernando Tatis Jr. | | GQ Gem Minis |
| 267 | Fernando Tatis Jr. | | GQ Chrome |
| 285 | Yu Darvish | | |
| 285 | Yu Darvish | | GQ Chrome |
| AG-JC | Jake Cronenworth | | Auto/Relic |
| ALC-FTJ | Fernando Tatis Jr. | | Auto/Relic |
| ALC-JC | Jake Cronenworth | | Auto/Relic |
| GCA-MM | Manny Machado | | Auto |
| GGA-BS | Blake Snell | | Auto |
| GGA-FTJ | Fernando Tatis Jr. | | Auto |
| GQA-JCR | Jake Cronenworth | | Auto |
| GQA-LC | Luis Campusano | | Auto |
Phillies
| | | | |
| --- | --- | --- | --- |
| 5 | Luke Williams | RC | |
| 40 | Didi Gregorius | | |
| 69 | Andrew McCutchen | | |
| 69 | Andrew McCutchen | | Jackie Robinson Variant |
| 69 | Andrew McCutchen | | GQ Chrome |
| 89 | Jean Segura | | |
| 192 | Rhys Hoskins | | |
| 192 | Rhys Hoskins | | Jackie Robinson Variant |
| 192 | Rhys Hoskins | | GQ Gem Minis |
| 192 | Rhys Hoskins | | GQ Chrome |
| 203 | Hans Crouse | RC | |
| 220 | J.T. Realmuto | | |
| 220 | J.T. Realmuto | | Jackie Robinson Variant |
| 220 | J.T. Realmuto | | GQ Chrome |
| 237 | Alec Bohm | | |
| 237 | Alec Bohm | | Jackie Robinson Variant |
| 237 | Alec Bohm | | GQ Chrome |
| 242 | Aaron Nola | | |
| 242 | Aaron Nola | | GQ Chrome |
| 272 | Bryce Harper | | |
| 272 | Bryce Harper | | Jackie Robinson Variant |
| 272 | Bryce Harper | | GQ Gem Minis |
| 272 | Bryce Harper | | GQ Chrome |
| 282 | Matt Vierling | RC | |
| 289 | Zack Wheeler | | |
| CG-8 | Alec Bohm | | |
| GCA-BH | Bryce Harper | | Auto |
| GGA-BH | Bryce Harper | | Auto |
| GGA-RH | Rhys Hoskins | | Auto |
| GQA-MV | Matt Vierling | RC | Auto |
Pirates
| | | | |
| --- | --- | --- | --- |
| 1 | Hoy Park | RC | |
| 1 | Hoy Park | RC | GQ Chrome |
| 30 | Oneil Cruz | RC | |
| 30 | Oneil Cruz | RC | GQ Chrome |
| 58 | Ke'Bryan Hayes | | |
| 58 | Ke'Bryan Hayes | | GQ Gem Minis |
| 58 | Ke'Bryan Hayes | | GQ Chrome |
| 85 | Miguel Yajure | | |
| 240 | Rodolfo Castro | RC | |
| 240 | Rodolfo Castro | RC | GQ Chrome |
| 288 | Bryan Reynolds | | |
| 304 | Roberto Clemente | | Short Print |
| 305 | Honus Wagner | | Short Print |
| AG-KH | Ke'Bryan Hayes | | Auto/Relic |
| CG-11 | Ke'Bryan Hayes | | |
| CG-4 | Oneil Cruz | RC | |
| GQA-KHA | Ke'Bryan Hayes | | Auto |
| GQA-OC | Oneil Cruz | RC | Auto |
| MRA-RC | Rodolfo Castro | RC | Auto |
Rangers
| | | | |
| --- | --- | --- | --- |
| 7 | Leody Taveras | | |
| 11 | Dane Dunning | | |
| 103 | Adolis Garcia | | |
| 103 | Adolis Garcia | | GQ Chrome |
| 122 | Corey Seager | | |
| 122 | Corey Seager | | GQ Chrome |
| 128 | Spencer Howard | | |
| 179 | Sam Huff | | |
| 235 | Sherten Apostel | | |
| 252 | Marcus Semien | | |
| GQA-AAL | A.J. Alexy | RC | Auto |
| GQA-MSE | Marcus Semien | | Auto |
| GQA-YH | Yonny Hernandez | RC | Auto |
| GQA-YP | Yohel Pozo | RC | Auto |
Rays
| | | | |
| --- | --- | --- | --- |
| 17 | Vidal Brujan | RC | |
| 17 | Vidal Brujan | RC | GQ Gem Minis |
| 17 | Vidal Brujan | RC | GQ Chrome |
| 24 | Drew Rasmussen | | |
| 42 | Brandon Lowe | | |
| 52 | Josh Lowe | RC | |
| 52 | Josh Lowe | RC | GQ Chrome |
| 79 | Randy Arozarena | | |
| 79 | Randy Arozarena | | GQ Chrome |
| 91 | Shane Baz | RC | |
| 124 | Austin Meadows | | |
| 175 | Tyler Glasnow | | |
| 187 | Nelson Cruz | | |
| 187 | Nelson Cruz | | GQ Chrome |
| 204 | Ji-man Choi | | |
| 225 | Luis Patiño | | |
| 228 | Corey Kluber | | |
| 228 | Corey Kluber | | GQ Chrome |
| 230 | Shane McClanahan | | |
| 299 | Wander Franco | RC | |
| 299 | Wander Franco | RC | GQ Gem Minis |
| 299 | Wander Franco | RC | GQ Chrome |
| AG-RA | Randy Arozarena | | Auto/Relic |
| APBC-RA | Randy Arozarena | | Auto/Relic |
| APBC-WF | Wander Franco | RC | Auto/Relic |
| CG-2 | Wander Franco | RC | |
| CG-3 | Vidal Brujan | RC | |
| GCA-VB | Vidal Brujan | RC | Auto |
| GCA-WF | Wander Franco | RC | Auto |
| GGA-WF | Wander Franco | RC | Auto |
| GQA-BL | Brandon Lowe | | Auto |
| GQA-JLO | Josh Lowe | RC | Auto |
| GQA-LP | Luis Patiño | | Auto |
| GQA-TW | Taylor Walls | | Auto |
| GQA-VB | Vidal Brujan | RC | Auto |
| GQA-WF | Wander Franco | RC | Auto |
| MRA-WF | Wander Franco | RC | Auto |
Red Sox
| | | | |
| --- | --- | --- | --- |
| 8 | Christian Vazquez | | |
| 15 | J.D. Martinez | | |
| 15 | J.D. Martinez | | City Connect |
| 15 | J.D. Martinez | | GQ Chrome |
| 22 | Xander Bogaerts | | |
| 22 | Xander Bogaerts | | City Connect |
| 22 | Xander Bogaerts | | GQ Chrome |
| 28 | Enrique Hernandez | | |
| 28 | Enrique Hernandez | | City Connect |
| 66 | Connor Wong | RC | |
| 93 | Rafael Devers | | |
| 93 | Rafael Devers | | City Connect |
| 93 | Rafael Devers | | GQ Gem Minis |
| 93 | Rafael Devers | | GQ Chrome |
| 110 | Kyle Schwarber | | |
| 110 | Kyle Schwarber | | GQ Chrome |
| 126 | Jackie Bradley Jr. | | |
| 157 | Chris Sale | | |
| 157 | Chris Sale | | City Connect |
| 161 | Bobby Dalbec | | |
| 172 | Alex Verdugo | | |
| 172 | Alex Verdugo | | City Connect |
| 221 | Jarren Duran | RC | |
| 221 | Jarren Duran | RC | GQ Chrome |
| 276 | Nathan Eovaldi | | |
| 276 | Nathan Eovaldi | | City Connect |
| 298 | Tanner Houck | | |
| 306 | Ted Williams | | Short Print |
| ACA-JD | Jarren Duran | RC | Auto |
| ALC-BD | Bobby Dalbec | | Auto/Relic |
| CG-5 | Jarren Duran | RC | |
| GCA-RD | Rafael Devers | | Auto |
| GCA-XB | Xander Bogaerts | | Auto |
| GQA-CSE | Connor Seabold | RC | Auto |
| GQA-GW | Garrett Whitlock | | Auto |
| GQA-JD | Jarren Duran | RC | Auto |
| MRA-JD | Jarren Duran | RC | Auto |
Reds
| | | | |
| --- | --- | --- | --- |
| 19 | Nick Castellanos | | |
| 34 | Jonathan India | | |
| 34 | Jonathan India | | GQ Chrome |
| 62 | Jose Barrero | | |
| 87 | Luis Castillo | | |
| 92 | Alejo Lopez | RC | |
| 125 | Mike Moustakas | | |
| 140 | Tyler Stephenson | | |
| 141 | Sonny Gray | | |
| 154 | Joey Votto | | |
| 154 | Joey Votto | | GQ Gem Minis |
| 154 | Joey Votto | | GQ Chrome |
| 195 | Eugenio Suarez | | |
| 273 | Jesse Winker | | |
| 273 | Jesse Winker | | GQ Chrome |
| ACA-JI | Jonathan India | | Auto |
| CG-19 | Jose Barrero | | |
| CG-9 | Jonathan India | | |
| GGA-JV | Joey Votto | | Auto |
| GQA-JBA | Jose Barrero | | Auto |
| GQA-JW | Jesse Winker | | Auto |
| GQA-TA | Trey Amburgey | RC | Auto |
| GQA-TS | Tyler Stephenson | | Auto |
| GQA-VG | Vladimir Gutierrez | | Auto |
| IVA-JB | Jose Barrero | | Auto |
Rockies
| | | | |
| --- | --- | --- | --- |
| 23 | Charlie Blackmon | | |
| 23 | Charlie Blackmon | | GQ Chrome |
| 114 | Trevor Story | | |
| 114 | Trevor Story | | GQ Chrome |
| 173 | Ryan Vilade | RC | |
| 258 | Colton Welker | RC | |
Royals
| | | | |
| --- | --- | --- | --- |
| 10 | Edward Olivares | | |
| 20 | Adalberto Mondesi | | |
| 104 | Jackson Kowar | RC | |
| 104 | Jackson Kowar | RC | GQ Chrome |
| 106 | Carlos Santana | | |
| 120 | Whit Merrifield | | |
| 156 | Andrew Benintendi | | |
| 156 | Andrew Benintendi | | GQ Chrome |
| 184 | Salvador Perez | | |
| 184 | Salvador Perez | | GQ Gem Minis |
| 222 | Brady Singer | | |
| 224 | Angel Zerpa | RC | |
| 314 | Bo Jackson | | Short Print |
| GQA-BJ | Bo Jackson | | Auto |
| GQA-BS | Brady Singer | | Auto |
| GQA-BWJ | Bobby Witt Jr. | RC | Auto |
Tigers
| | | | |
| --- | --- | --- | --- |
| 64 | Daz Cameron | | |
| 116 | Javier Baez | | |
| 116 | Javier Baez | | GQ Chrome |
| 151 | Miguel Cabrera | | |
| 151 | Miguel Cabrera | | GQ Chrome |
| 165 | Isaac Paredes | | |
| 171 | Casey Mize | | |
| 239 | Tarik Skubal | | |
| 268 | Akil Baddoo | | |
| 281 | Matt Manning | RC | |
| 281 | Matt Manning | RC | GQ Chrome |
| 283 | Willi Castro | | |
| 307 | Ty Cobb | | Short Print |
| AG-CM | Casey Mize | | Auto/Relic |
| ALC-CM | Casey Mize | | Auto/Relic |
| APBC-MC | Miguel Cabrera | | Auto/Relic |
| CG-17 | Casey Mize | | |
| GQA-AB | Akil Baddoo | | Auto |
| GQA-CMI | Casey Mize | | Auto |
| GQA-DCA | Daz Cameron | | Auto |
| GQA-MC | Miguel Cabrera | | Auto |
| GQA-TSK | Tarik Skubal | | Auto |
Twins
| | | | |
| --- | --- | --- | --- |
| 13 | Byron Buxton | | |
| 13 | Byron Buxton | | GQ Chrome |
| 107 | Joe Ryan | RC | |
| 136 | Max Kepler | | |
| 136 | Max Kepler | | GQ Chrome |
| 139 | Brent Rooker | | |
| 146 | Josh Donaldson | | |
| 146 | Josh Donaldson | | Jackie Robinson Variant |
| 146 | Josh Donaldson | | GQ Gem Minis |
| 146 | Josh Donaldson | | GQ Chrome |
| 162 | Luis Arraez | | |
| 162 | Luis Arraez | | Jackie Robinson Variant |
| 181 | Curtis Terry | RC | |
| 206 | Miguel Sano | | |
| 234 | Alex Kirilloff | | |
| 234 | Alex Kirilloff | | GQ Gem Minis |
| 234 | Alex Kirilloff | | GQ Chrome |
| 249 | Kenta Maeda | | |
| 265 | Ryan Jeffers | | |
| ACA-AK | Alex Kirilloff | | Auto |
| ACA-KM | Kenta Maeda | | Auto |
| CG-14 | Alex Kirilloff | | |
| GCA-BB | Byron Buxton | | Auto |
| GGA-AK | Alex Kirilloff | | Auto |
| GGA-JD | Josh Donaldson | | Auto |
| GQA-AK | Alex Kirilloff | | Auto |
| GQA-CT | Curtis Terry | RC | Auto |
| GQA-JKA | Jim Kaat | | Auto |
| GQA-RJ | Ryan Jeffers | | Auto |
White Sox
| | | | |
| --- | --- | --- | --- |
| 55 | Jake Burger | RC | |
| 55 | Jake Burger | RC | GQ Chrome |
| 67 | Lucas Giolito | | |
| 67 | Lucas Giolito | | City Connect |
| 95 | Lance Lynn | | |
| 108 | Garrett Crochet | | |
| 155 | Jose Abreu | | |
| 155 | Jose Abreu | | City Connect |
| 155 | Jose Abreu | | Field of Dreams Variant |
| 155 | Jose Abreu | | GQ Chrome |
| 158 | Yoan Moncada | | |
| 158 | Yoan Moncada | | Jackie Robinson Variant |
| 163 | Eloy Jimenez | | |
| 163 | Eloy Jimenez | | Field of Dreams Variant |
| 174 | Luis Robert | | |
| 174 | Luis Robert | | Jackie Robinson Variant |
| 174 | Luis Robert | | Field of Dreams Variant |
| 174 | Luis Robert | | GQ Chrome |
| 180 | Andrew Vaughn | | |
| 180 | Andrew Vaughn | | Jackie Robinson Variant |
| 180 | Andrew Vaughn | | City Connect |
| 180 | Andrew Vaughn | | Field of Dreams Variant |
| 180 | Andrew Vaughn | | GQ Gem Minis |
| 180 | Andrew Vaughn | | GQ Chrome |
| 219 | Dallas Keuchel | | |
| 233 | Romy Gonzalez | RC | |
| 259 | Gavin Sheets | RC | |
| 259 | Gavin Sheets | RC | GQ Chrome |
| 263 | Yasmani Grandal | | |
| 263 | Yasmani Grandal | | City Connect |
| 286 | Tim Anderson | | |
| 286 | Tim Anderson | | City Connect |
| 286 | Tim Anderson | | Field of Dreams Variant |
| 286 | Tim Anderson | | GQ Gem Minis |
| 286 | Tim Anderson | | GQ Chrome |
| ALC-AV | Andrew Vaughn | | Auto/Relic |
| ALC-EJ | Eloy Jimenez | | Auto/Relic |
| ALC-JAB | Jose Abreu | | Auto/Relic |
| CG-10 | Andrew Vaughn | | |
| GGA-AV | Andrew Vaughn | | Auto |
| GQA-AV | Andrew Vaughn | | Auto |
| GQA-GS | Gavin Sheets | RC | Auto |
| IVA-AV | Andrew Vaughn | | Auto |
| IVA-EJ | Eloy Jimenez | | Auto |
| IVA-JA | Jose Abreu | | Auto |
Yankees
| | | | |
| --- | --- | --- | --- |
| 6 | Aaron Judge | | |
| 6 | Aaron Judge | | Field of Dreams Variant |
| 6 | Aaron Judge | | GQ Gem Minis |
| 6 | Aaron Judge | | GQ Chrome |
| 9 | Giancarlo Stanton | | |
| 9 | Giancarlo Stanton | | Field of Dreams Variant |
| 9 | Giancarlo Stanton | | GQ Chrome |
| 26 | Clarke Schmidt | | |
| 59 | Gio Urshela | | |
| 70 | Luke Voit | | |
| 99 | Aroldis Chapman | | |
| 99 | Aroldis Chapman | | GQ Chrome |
| 115 | Gerrit Cole | | |
| 115 | Gerrit Cole | | GQ Chrome |
| 144 | DJ LeMahieu | | |
| 144 | DJ LeMahieu | | Field of Dreams Variant |
| 160 | Anthony Rizzo | | |
| 160 | Anthony Rizzo | | GQ Chrome |
| 170 | Gleyber Torres | | |
| 170 | Gleyber Torres | | GQ Chrome |
| 202 | Brett Gardner | | |
| 202 | Brett Gardner | | Field of Dreams Variant |
| 227 | Gary Sanchez | | |
| 232 | Deivi Garcia | | |
| 246 | Luis Gil | RC | |
| 246 | Luis Gil | RC | GQ Chrome |
| 248 | Joey Gallo | | |
| 248 | Joey Gallo | | Field of Dreams Variant |
| 248 | Joey Gallo | | GQ Chrome |
| 302 | Babe Ruth | | Short Print |
| 310 | Yogi Berra | | Short Print |
| 313 | Roger Maris | | Short Print |
| 317 | Derek Jeter | | Short Print |
| ALC-AJ | Aaron Judge | | Auto/Relic |
| APBC-AJ | Aaron Judge | | Auto/Relic |
| GGA-AJ | Aaron Judge | | Auto |
| GQA-CS | Clarke Schmidt | | Auto |
| GQA-DG | Deivi Garcia | | Auto |
| GQA-DJ | Derek Jeter | | Auto |
| GQA-EF | Estevan Florial | | Auto |